JAC has joined forces with technology companies such as Baidu, iFLYTEK, Horizon Robotics, etc. in the fields of intelligent driving, intelligent networking, and artificial intelligence.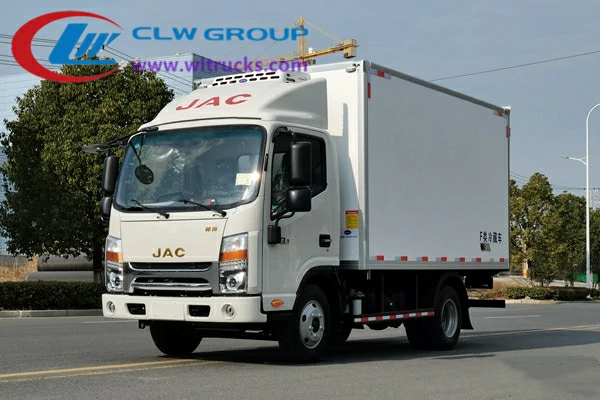 Relying on the cooperation with the above-mentioned companies, this company has been able to maintain its position in the industry during the transformation of the "New Four Modernizations".
JAC series products have also become mid-stream products in the market, such as this JAC Shuailing 4 ton fridge truck!
This car uses the JAC Shuiling Q3 single-row 1.7-meter-wide cab, an upright A-pillar design, a wider field of vision, an upgraded sedan interior, and a multi-function steering wheel with integrated fixed-speed cruise and power steering;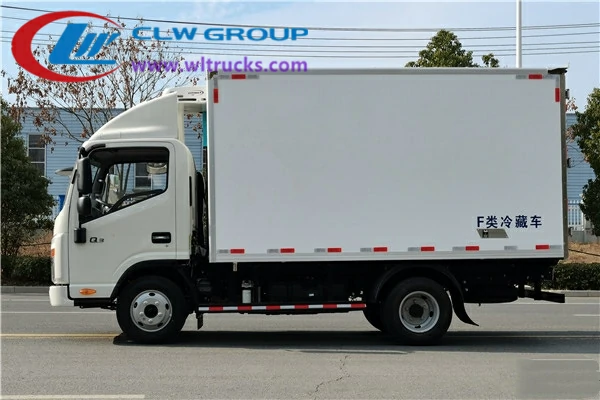 Central lock, electric doors and windows, boneless wipers, Shanghai Songzhi air conditioner, high-power cooling and fast, trip computer, electric doors, and windows, reversing video, electric heating rearview mirror, rain and fog weather are safer and more convenient and enjoy a new driving experience.
Power is equipped with Jianghuai Ruijie special HFC4DB3-2E National VI diesel 130 horsepower, Ankang technology, stable performance, low fuel consumption, low failure rate!
It is matched with Xingrui's 5-speed gearbox and finely ground gears without running-in; 60,000 kilometers for maintenance, compared with 20,000 kilometers for competing products, which can save maintenance time and costs.
It adopts a wheelbase of 2.85 meters, 650R16 tubeless tires, 2T front axle, 4T rear axle, 4/5+6 leaf springs, 24V dual batteries, 120L aluminum alloy fuel tank, pneumatic drum type, and air-cut brakes are safer.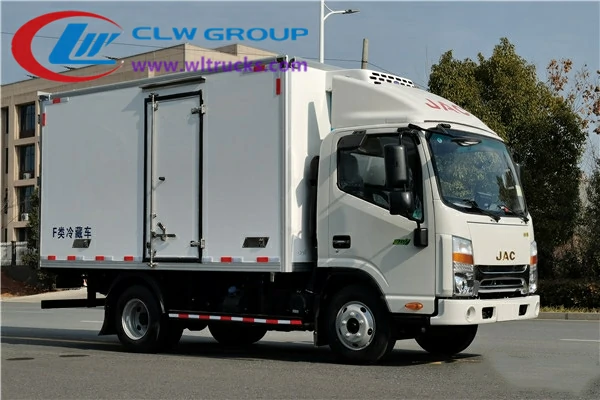 The vehicle is 5.58 meters long, 2.31 meters wide, and 3.135 meters high. The total mass is 4.495 tons, the curb weight is 3.21 tons, and the rated load is 4 tons;
The body size is 3.7 meters in length, 2.05 meters in width, and 2.1 meters in height. The volume of the body is 16m3, which is quite good for light refrigerated trucks.
Car body craft: The body material is made of glass fiber reinforced plastic inside and outside, the middle is 8CM polyurethane insulation board, the rear double door, the right side of the body is optional to open the side door, the bottom is made of patterned non-slip aluminum plate, and the front drain hole;
The door side strips use labyrinth rubber sealing strips, aluminum alloy profile edging, stainless steel corners, stainless steel door locks, stainless steel door frames, and hinges, and energy-saving LED lighting in the compartment.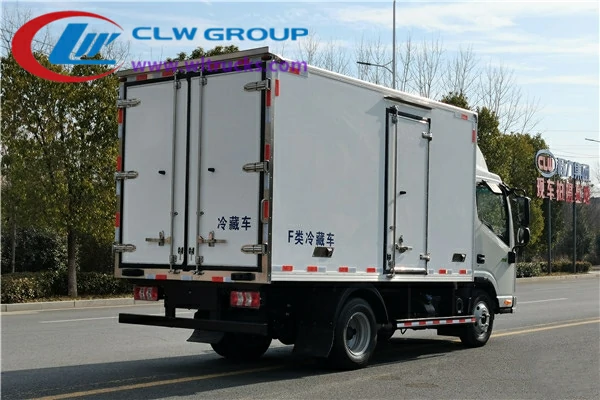 The refrigeration unit brands can be selected from brands such as Yide, Hurricane, Huatai, Kelly, Kaixue, Hanxue, Lengwang, Carrier, etc., and refrigeration units can be selected from minus 5-15°C.
Other optional configurations include movable frame meat hooks, butt-connected slide rails, straight-line slide rails, ventilation slots, temperature insulation panels, internal stainless steel, etc.
The product advantage of this JAC Shuailing 4 ton fridge truck is the export brand of Shuailing, and it is the king of light truck refrigerated trucks. The gearbox and rear axle have a long maintenance cycle, which saves time, worry, and money.
The ultra-practical aluminum alloy fuel tank does not rust, leak, or crack, and can be grilled by fire; the electric heating rear-view mirror without fear of wind and snow, and the rust-free aluminum alloy air cylinder, the brakes are safer and more suitable for pulling seafood.