In Refrigerated Van, new models are also a lot of brands, such as Dongfeng popular, Foton, SAIC Maxus, etc.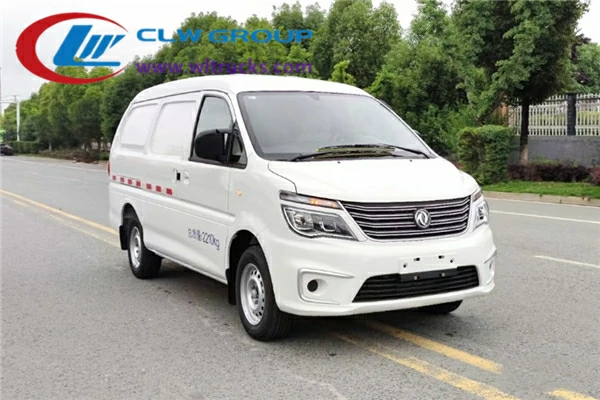 The refrigerated van ride is comfortable and stable. Because the frame girder is stamped with a 4mm high-quality steel plate, it has good torsion resistance, strong bearing capacity, and is not easy to deform. The sidewall is strengthened with an anti-collision bar, with good safety;
Especially under various road conditions, it has superior comprehensive performance and is more stable and comfortable than the general bread refrigerator truck, which ensures the comfort of personnel and has a good protective effect on the items in the refrigerator.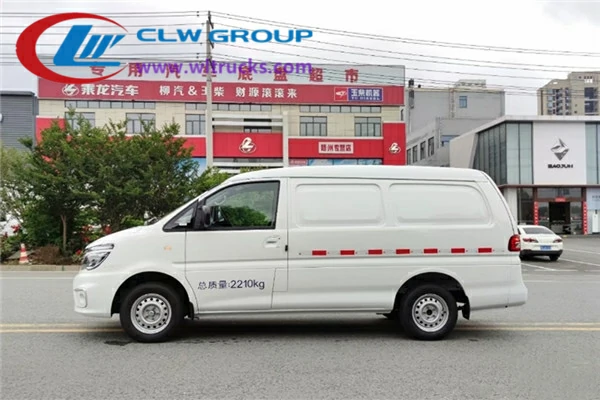 Dongfeng 1 ton refrigerated van adopts Dongfeng Fengxing V3 bread cab. The net is decorated with four silver-plated inscription strips, inverted design, and blackened headlights on both sides, which look atmospheric and fashionable.
Standard configuration includes directional assistance, air conditioning, electric doors and windows, central lock, remote key, ABS + EBD, sedan design, and high comfort.
The power is equipped with a Mitsubishi gasoline 122 HP engine, matched with a 5-speed gearbox, with 3M wheelbase and 195 / 70r15 vacuum tire, strong bearing capacity, rear-wheel drive, and other configurations, and high comfort.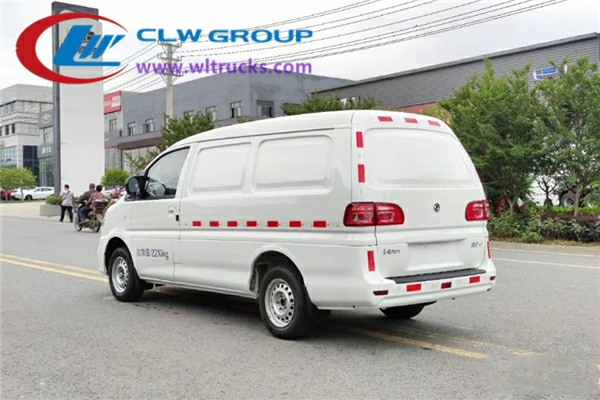 This car is 5.145 meters long, 1.72 meters wide and 2.15 meters high, with a total mass of 2.21 tons, a curb mass of 1.62 tons, a rated load mass of 0.46 tons, a car-size of 2.13 meters long, 1.4 meters wide, and 1.12 meters high, and a car volume of 3.3 square meters. It is quite right for a small bread refrigerator car.
The car body is manufactured by the integrated production line of vacuum adsorption and hydraulic adsorption, and the sandwich composite bonding process. The thermal insulation performance reaches world-class standards.
The car body is made of inner FRP, the middle insulation layer is XPS extruded polystyrene board, the rear double door is opened, the right side of the car body is front, and the bottom is made of the patterned anti-skid aluminum plate;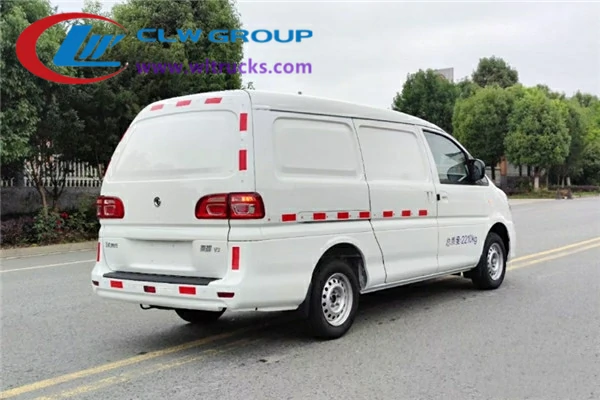 The front drainage hole, door edge strip adopts labyrinth rubber sealing strip, aluminum alloy profile edging, stainless steel corner wrapping, stainless steel door lock, stainless steel door frame, and hinge, and energy-saving LED lighting in the compartment.
The car body has the characteristics of no light absorption, good heat insulation, strong hardness, and oxidation resistance. The refrigeration unit is optional with – 5 degrees and – 15 degrees, and the components are optional with temperature and humidity recorder, five side ventilation slot, etc.
Dongfeng 1 ton refrigerated van is light and fast, and is the pioneer of the urban cold chain;
Comfortable driving, simple and practical, reflecting the characteristics of urban short distance; The vehicle is beautiful, reduces the energy dissipation, and has better refrigeration and thermal insulation effect.