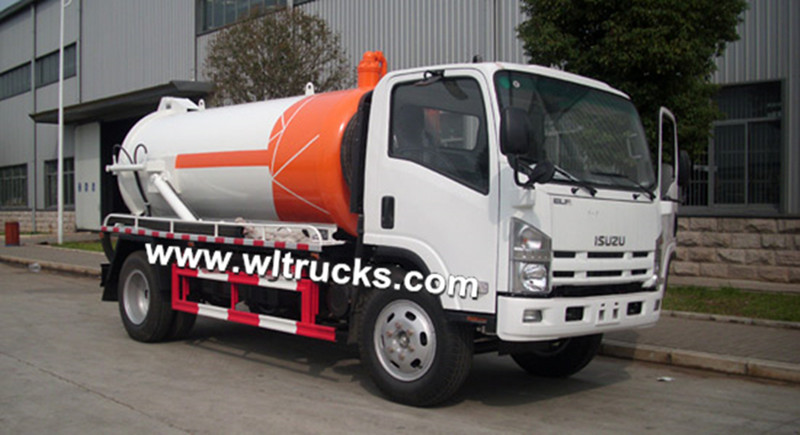 Isuzu brand 8m3 sewer vacuum sewage suction truck is a new type of sanitation vehicle that collects, transfers, cleans, and transports sludge, sewage, and avoids secondary pollution. The sewage suction truck can self-absorb and discharge. It has fast working speed, large capacity and convenient transportation. It is suitable for collecting and transporting feces, mud, Liquid substances such as crude oil.
Isuzu brand 8m3 sewer vacuum sewage suction truc-k adopts the domestic technology-leading vacuum pump of the sewage suction truck, which has a large suction force and a long suction range. It is especially suitable for the suction, shipment and discharge of sludge in the sewer, especially for sucking sewage mud, silt, stones, and bricks. Large objects such as blocks.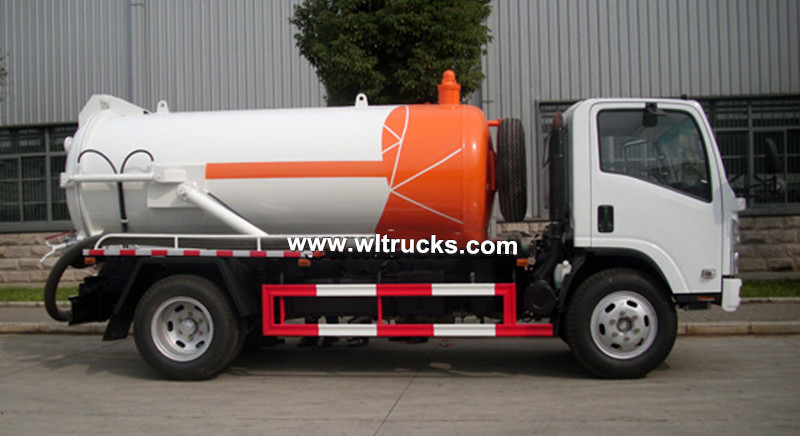 Isuzu 8m3 sewage suction truck top configuration:
   The tank body of the Dongfeng special chassis sewage suction truck is cylindrical, made of 6mm thick high-quality carbon steel steel plate of Wuhan Iron and Steel, with a sewage suction window at the front of the tank, a hand washing device, a lifting device, a 5 meter suction pipe, and a variety of tanks Color selection, the rest are made according to the factory standard configuration. The vehicle is equipped with a high-power vacuum sewage suction pump and a high-quality hydraulic system. The head of the tank body is die-casted at one time, the tank body can be opened behind, and the double top is self-unloading. The dirt in the tank can be dumped directly through the back cover, and it has the characteristics of high vacuum (more suction than fecal suction truck), large tonnage, high efficiency, and wider use.

 (Vertical suction range: ≥8 m, working pressure: 8500Pa, theoretical pumping speed: 120L/S, shaft power: ≤13kw, inlet and outlet diameter: 50mm, full tank time: <5 min, full tank time: <4min. The sewage suction truck adopts high-power vacuum pump, one-time die-casting head, thickened pressure-resistant tank, and double-top hydraulic system. It is a more powerful model than the suction truck.

   Optional configuration: hand washing device, liquid level sight tube, rear window, hydraulic alarm device, sprinkler function, high pressure cleaning function.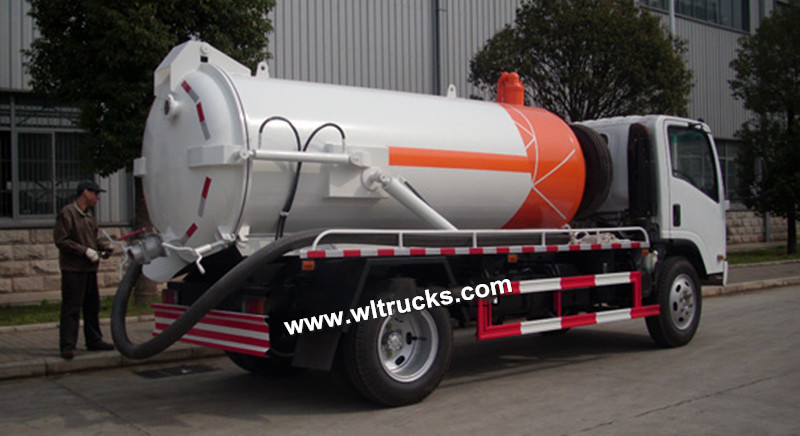 Working efficiency of sewage suction truck :
| | | | |
| --- | --- | --- | --- |
| Suction efficiency | 10 minutes | Sewage efficiency | 5 minutes |
| Horizontal suction | 50-70 meters | Vertical suction | 8-10 meters |
| Control method | Electric control + manual | Operating position | Cab + front of tank |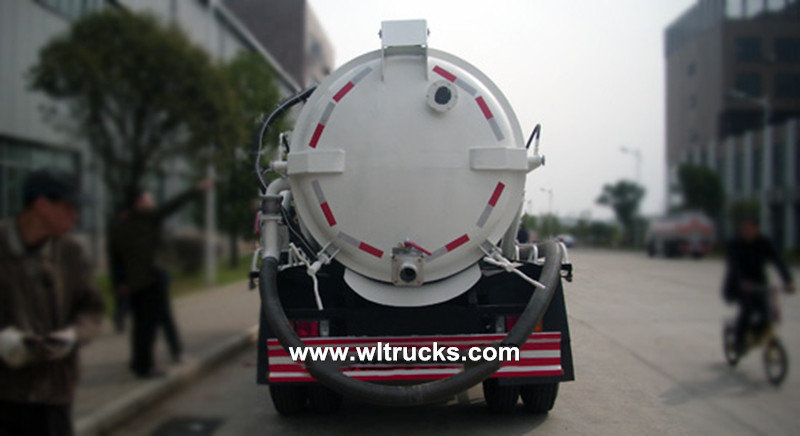 Six advantages of Isuzu brand 8m3 sewer vacuum sewage suction truck chassis:
◆ Strong power-equipped with domestic famous power, strong power, faster speed, up to 120km/h; optimized power transmission system, power transmission is more stable, and the vehicle performance is stronger.
◆ Comfortable driving-the engine adopts an electronically controlled fuel injection system, which runs smoothly and softly, with low noise, low vibration, and more comfortable driving; standard power steering, clutch assist, lighter steering, smoother shifting, and better handling performance; The standard sunroof, adjustable steering wheel, and front and rear adjustable seats give you a car-like driving experience.
◆Environmental and fuel-efficient-the engine adopts electronically controlled high-pressure common rail system, precise fuel injection, fine atomization, improve fuel efficiency, reduce fuel consumption; reasonable power matching, stable driving, and fuel-efficient.
◆ Configuration upgrade-maintenance-free battery, service life of 3-4 years, 2 years longer than ordinary batteries, saving time and labor; Fuel tank upgrade, using anti-rust and anti-corrosion plastic fuel tank, reducing the weight of the vehicle and extending the service life.
◆ Safe and reliable-the body sheet metal is thickened, and the safety performance is high; the standard double collar brakes have good braking performance; the standard load sensing proportional valve is not biased, and the safety is high.
 ◆ Strong bearing capacity-straight beam riveted frame, thicker cross beam, thicker leaf spring, the strongest bearing capacity of the same kind of product; the rolled cargo compartment, thickened iron plate, sturdy and durable, not easy to be deformed, lengthened cargo Carriage, more loading.
Six advantages of the top of the Isuzu brand 8m3 sewer vacuum sewage suction truck:
1. There is sufficient vacuum for suction;
2. Set secondary protection to the vacuum pump to prevent pollution from entering the pump body;
3. The vacuum pump drive adopts manual operation, and the clutch is convenient;
4. The hydraulic oil pump and the vacuum pump act synchronously, and work reliably;
5. Adopt oil pressure to turn the tank and fully unload the mud;
 6. Beautiful appearance, easy operation and good performance.
Isuzu brand 8m3 sewer vacuum sewage suction truck Specification configuration
| | | | |
| --- | --- | --- | --- |
| product name: | Isuzu sewage suction truck | Dimensions (mm): | 6700x2180x2950 |
| Total mass: (kg) | 10000 | Approach/departure angle (°) | 21/15 |
| Rated mass: (kg) | 3600 | Front suspension/rear suspension (mm): | 1110/1775 |
| Curb weight: (kg) | 6205 | Maximum speed (km/h): | 110 |
Vehicle parameters
Chassis model:
QL11009KARY
Axle load:
3350/6650
Number of axes:
2
Fuel type:
Diesel
Wheelbase (mm):
3815
Front track (mm):
1680
Number of passengers in the cab:
3
Rear track (mm):
1650
Number of tires:
6
Number of springs:
Tire specifications:
235/75R17.5-14PR, 8.25-20-14PR, 8.25R20-14PR
Vehicle description:
GB17691-2005 (National IV), GB3847-2005
Chassis parameters
| | | | |
| --- | --- | --- | --- |
| engine model | Engine manufacturer | Displacement (ml) | Power (kw) |
| 4HK1-TCG40 | Qingling Isuzu (Chongqing) Engine Co., Ltd. | 5193 | 139 |
Engine parameters