There are many brands of 5000L water truck chassis, such as Dongfeng, Dayun, Foton, and other product series. For example, this affordable Foton 5000L fresh water tanker!
This car adopts Foton Kangrui H2 single row cab, powered by full diesel 115 horsepower, matched with WanLiYang 5-gear box, standard central lock, and electric glass;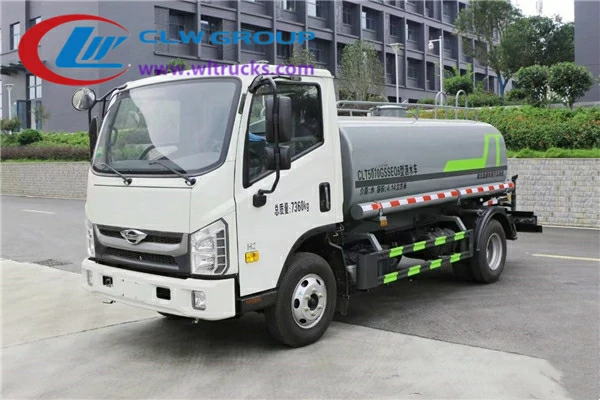 7.00R16 steel wire tire, 3360mm wheelbase, T-box, 5T rear axle and other configurations are adopted, with strong bearing capacity and high comfort.
The upper vehicle is 6.25 meters long, 2.065 meters wide and 2.4 meters high, with a total mass of 7.36 tons, a kerb mass of 3.22 tons and a rated load mass of 3.945 tons. The shape of the tank is square and circular;
The overall dimension of the tank is 3.4m long axis, 1.6m short axis, 1.1m high, and the effective volume of the tank is about 5M3.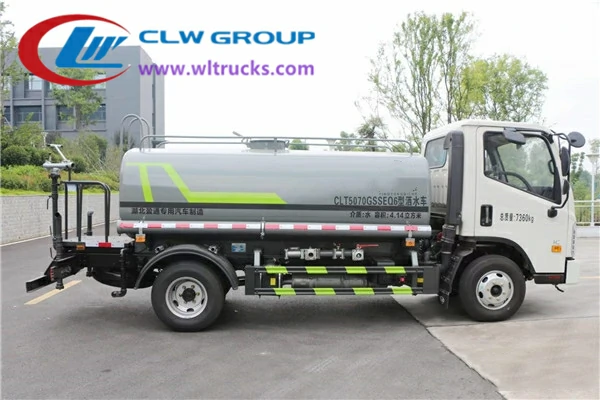 Side and rear protection: the side and rear protection materials are Q235 carbon steel, the connection method is bolt connection, and the section size of rear protection is 120 × 50mm, rear protection 430mm above the ground.
The tank body is made of carbon steel. A wave plate is made inside the tank body to prevent vibration. A liquid injection nozzle is made on the top of the tank body to facilitate feeding and later maintenance;
Guardrails are made on both sides of the top of the tank and ladders are made at the tail to facilitate staff to go up and down.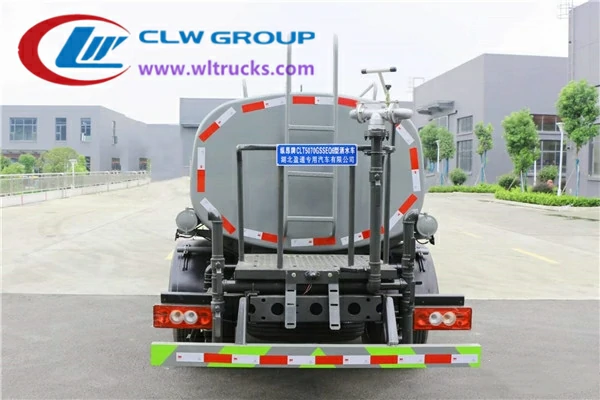 The main devices of this vehicle are water tanks and spraying devices. The installed water pump can pump in and out. It is equipped with an aluminum alloy outlet ball valve and inlet ball valve. It is also equipped with front flushing. Side spraying, rear spraying, and water gun are installed on the rear working platform.
It is mainly used for urban and rural landscaping, road spraying, dust removal and cooling.
The appearance of this Foton 5000L fresh water tanker is regular, but for the small water truck, the price is still very cost-effective, and the configuration is also good. You can consider starting!