Among the van-type transport vehicles for dangerous goods, the most convenient one in the urban area belongs to the pickup type explosion-proof vehicle. At present, there are several pickup brands on the market, such as Futian Yutu 8 pickup truck and Dongfeng XIAOBAWANG pickup truck. With high configuration and high comfort, they are the first choice for short-distance transport vehicles.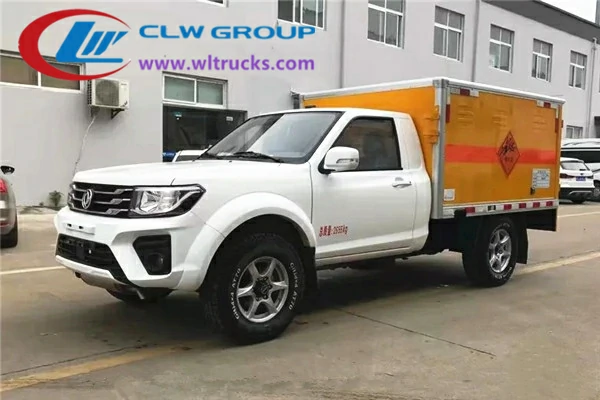 For example, this Dongfeng pickup 4WD 2.1m blasting equipment transport vehicle!
This car Dongfeng pickup 4WD single row cab, with silver-plated inscription decoration and blackened headlights, looks very atmospheric, multi-functional steering wheel, central lock, electric doors and windows, 7-inch screen MP5, adjustable driver's seat height, with front collision warning and track offset warning.
The power is equipped with Yuchai 165 HP engine, matched with a 5-speed gearbox, 3050mm wheelbase, 245 / 70r16 6pr vacuum tire, 60L oil tank, front and rear disc brake, double-wishbone front suspension, and leaf spring rear suspension, with strong bearing capacity.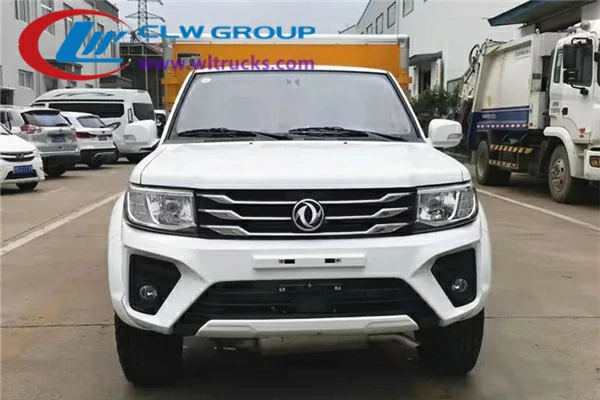 The whole vehicle is 5.85 meters long, 1.82 meters wide, 1.92 meters high, with a total mass of 2.655 tons, a kerb mass of 2.14 tons, and a rated mass of 0.385 tons; The car body is 2.1m long, 1.67m wide, 1.02M high and 3.6m in volume.
It is made in strict accordance with the announced size. The top of the car body is closed, and the right side of the car body is a single door. It adopts domestic advanced technology double-layer metal skeleton structure, cold-rolled steel plate outside, aluminum plate for interior decoration, and the interlayer is filled with heat insulation and flame-retardant materials;
The sidewall of the car body is equipped with rainproof natural ventilation holes, 1mm thick cold-rolled plate, one-time formed louvers, opposite doors are set at the tail, and the door lock is made of stainless steel, which is both beautiful and durable.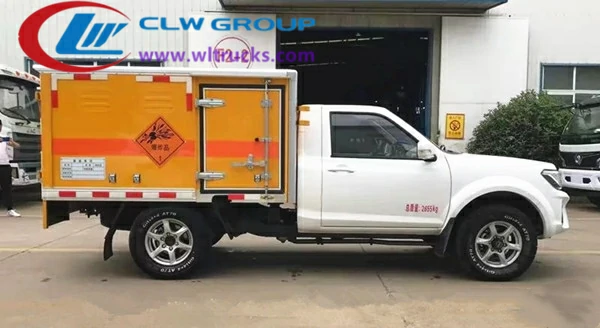 The interior is made of aluminum plate with good conductivity, with air holes, the lining is a rectangular tube, the skeleton is firm and stable, and the interior is filled with breathable, moisture-proof, and flame-retardant extruded plate. The four materials are compounded by modern technology;
The upper and lower aluminum alloy profiles on the outside of the car body are wrapped, the bottom plate and the front lower part of the car are covered with rubber, the rear door is double open, and the front part of the right side is single open, which is posted in strict accordance with the relevant national regulations on dangerous goods.
The vehicle is used to transport the packaging with independent container (bottle): black powder, compressed black powder, electric (nonelectric) detonator, blasting, special pyrotechnic products, smokeless powder, paste powder, blasting explosive, detonating cord, soft, igniting fuse;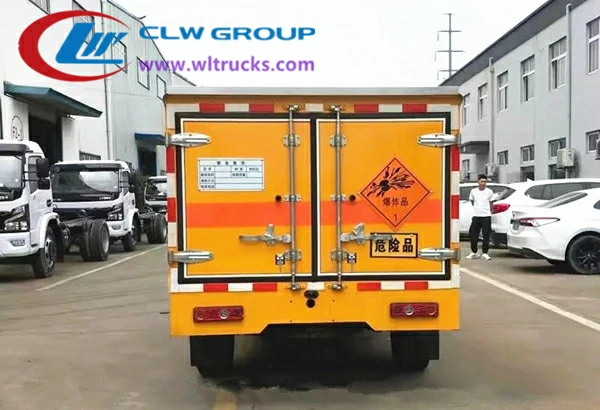 Projectile, with an explosive charge, shaped charge, without a detonator, shaped charge, without a detonator, nonelectric detonator assembly, for blasting, ammunition cartridge for oil well, solid propellant, ammunition cartridge for power plant, a commercial explosive charge, without a detonator, item number of Transporting Explosives:
1.1D,1.1D,1.1B,1.1B,1.1G,1.1C,1.3C,1.1D,1.1D,1.4G,1.1D,1.1D,1.1B,1.1B,1.3C,1.1C,1.3C,1.1D。
This Dongfeng pickup 4WD glove 2.1m explosion-proof vehicle is a new model this year. The safety factor of 4WD models has been improved a lot. There are also front collision warning, track offset warning, front disc braking, speed limiter, front exhaust pipe, explosion-proof tires, driving recorder with satellite positioning function, etc., so that the vehicle has received a lot of safety protection!