Telescopic boom lift truck integrates many advantages, and all aerial work devices are imported.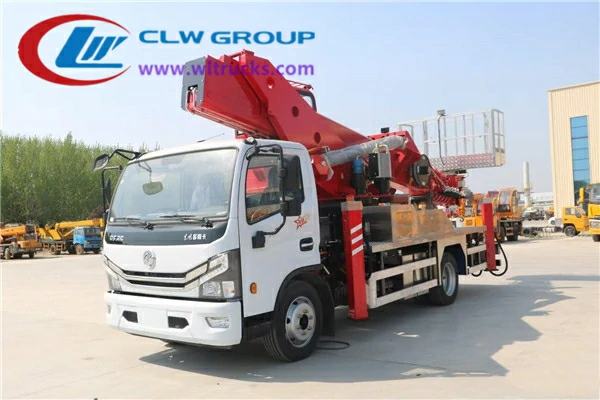 Compared with the common aerial work vehicles on the market, the model structure is more compact;
The overall length of the vehicle is less than 8.5 meters, the width is within 2.5 meters, and the height is about 3.7 meters, but the working height can reach 34 meters.
Just like this Dongfeng 34m telescopic boom lift truck!
This car adopts Dongfeng Duolika D7 single-row cab, equipped with electric doors and windows, air conditioning, multi-function steering wheel, Bluetooth, LED headlights, air brakes and other configurations as standard;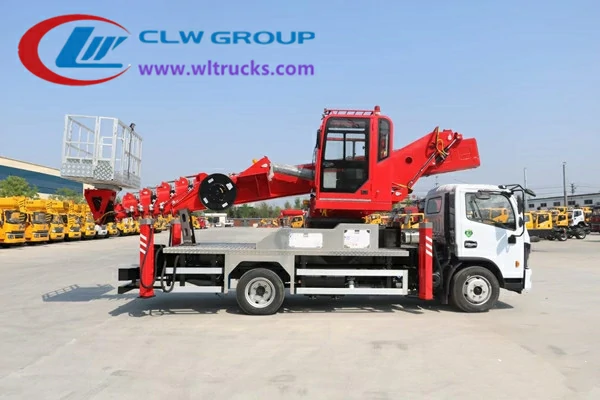 Equipped with Yuchai 165 horsepower engine, matching Wanliyang 6-speed gearbox, using 3.8 meters wheelbase, 245/70R19.5 tubeless tires, good bearing capacity.
Dongfeng 34m telescopic boom lift truck is 8.41 meters long, 2.4 meters wide and 3.65 meters high, with a total mass of 11.995 tons and a curb weight of 11.8 tons;
The protection materials are all Q235B, the side protection connection method is bolt connection, the rear protection section size: is 120×80mm, the height from the ground is 320mm, and the rear protection connection method is welding connection.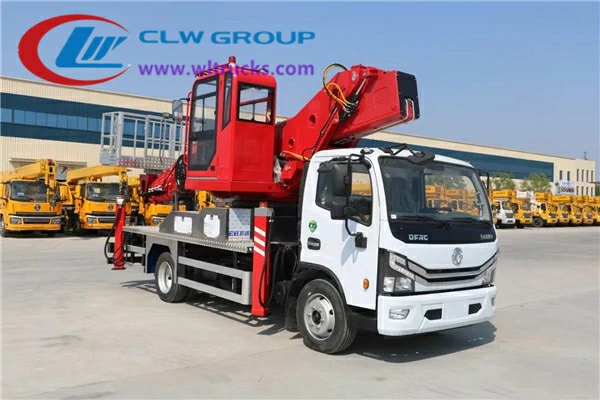 The upper boom is made into a six-section hexagonal telescopic boom. The working height of the boom is 34 meters. The boom can be synchronously retracted and the maximum working range is 19 meters.
The electric torque remote control with bus control can display the length, height, angle, etc. The whole vehicle is equipped with four hydraulic telescopic outriggers (up and down telescopic and horizontal telescopic) and 12 oil cylinders;
The outriggers are V-shaped at the front and V at the back, and the boom structure is a three-section hexagonal working arm, which is synchronously telescopic and 360° continuous rotation in both directions. The angle of the hanging basket can be adjusted to maintain balance.
Install the emergency pump, and wireless remote control, others are prepared according to factory standards. The rated load of the working bucket is 200kg.
Operation features: remote control, electronic control, manual operation, emergency four operation modes, the operation position is turntable, remote control operation.
Control form: ZYK bus control system, electro-hydraulic proportional control system to realize stepless speed regulation. The turntable operation and production operation room can protect from sun and rain, and it looks very high-end.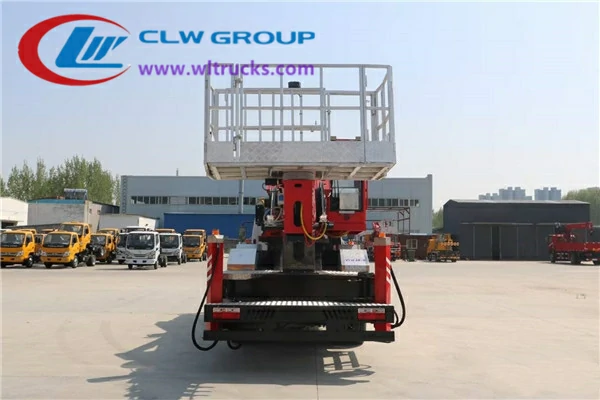 The whole vehicle also has safety equipment such as interlocking on and off, limit protection, soft leg protection, tilt alarm, emergency power source, and a two-way hydraulic balance valve.
In general, this Dongfeng 34m telescopic boom lift truck is a good choice in terms of workmanship and quality. The four oversized tool boxes made of stainless steel and the anti-skid walking platform made of patterned steel plate are both non-slip, beautiful and durable.
The vehicle adopts a hybrid arm type, which can realize two-section mechanical linkage synchronous folding and three-step synchronous expansion and contraction. The working bucket can be vertically lifted and lowered at a working height of 3-11 meters, and the working efficiency is high.