Everyone who knows diesel tanker knows that it mainly transports liquid food, waste oil, additives, lubricating oil, water, diesel, gasoline and other liquids;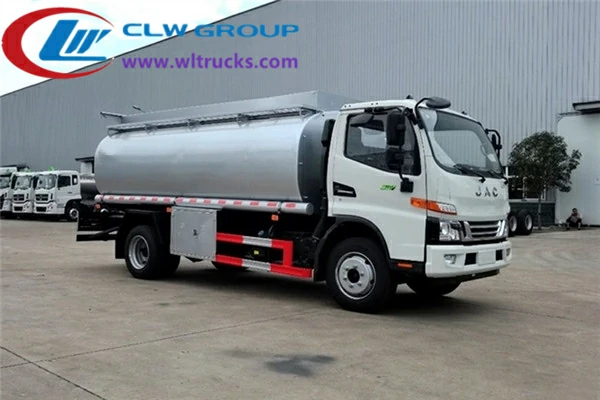 Today we will take a look at the JAC 12m3 diesel tanker!
This car uses the JAC Junling V7 single-row 2071 wide cab. The standard equipment includes central control lock, electric doors and windows, remote control keys, multi-function steering wheel, LED daytime running lights, ABS, air brake, original factory Air-conditioning, rotating, boneless wiper, automatic adjustment arm, exhaust brake, PTO and other configurations.
Equipped with Yunnei Power D30TCIF2 Euro VI 163 horsepower diesel engine, matched with Anhui Xingrui six-speed gearbox, using a 3845mm wheelbase, 3/7.2 ton front and rear axles, 245/70R19.5 14PR steel tires, etc. 21470(5+3)mm double-layer girder, strong bearing capacity.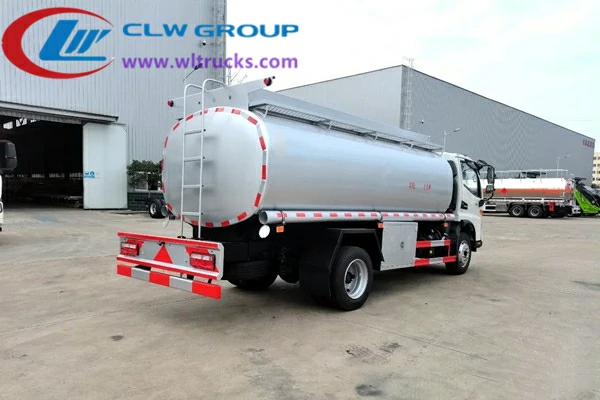 Chassis advantages:
"Bird cage type" high-strength steel frame structure, a four-level safety protection system for frame safety and protection safety, has passed the high-standard collision test and can drive off the test bench normally. Car-like, humanized internal design layout, convenient operation;
2、International top accessories: American Yanfeng Visteon instrument panel, Japanese Addis clutch, Ryan brake valve, Knorr ABS, Fuyao glass, American Johnson seat, Xingrui gearbox, GKN drive shaft, American AAM rear axle, German Mekron Automobile mirror, British Weir fuel filter, American BorgWarner EGR control valve;
3、Full synchronizer gearbox, thus effectively avoiding the impact of internal spline ring gear teeth, easy operation and low noise;
4、Strong power, high-strength load-bearing;
5, Standard local PTO, reserved remote PTO and throttle interface to meet the special needs of special vehicles.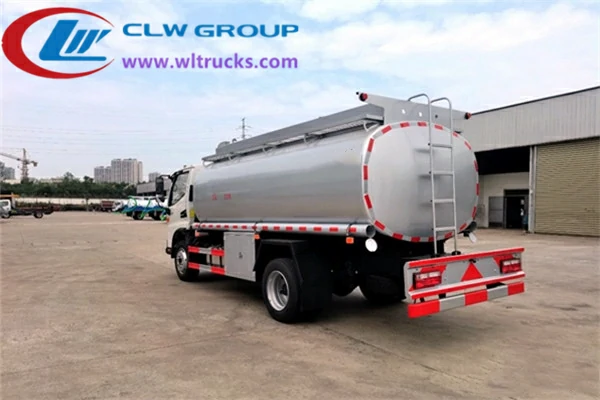 Advantages of the whole vehicle:
The vehicle is 6.95 meters long, 2.35 meters wide, and 3.15 meters high. The total mass is 11.92 tons, the curb weight is 5.3 tons, and the rated load mass is 6.425 tons;
The tank body is made of a carbon steel plate and lined with plastic; the tank system is a square circle, the outer dimension of the tank is 4.8 meters in length, 2.1 meters in width, and 1.48 meters in height. The effective volume of the tank is 12000 liters.
The side guard and rear guard are made of Q235 carbon steel, the side guard bolts are connected to the beam, and the rearguard is welded. The rear guard section size is 100×50 (mm):, the ground height is 450 (mm).
Advantages of Upper body:
A corrugated anti-wave board is installed every 2 meters inside the tank. When the tank is fully loaded, the brake can reduce the impact of the tank on the car body, play a role in safety protection, and fully automatic seamless welding.
The tank body is standard equipped with a single-storage, Shandong Qilu oil pump, the pump box is equipped with a European standard handle lock, a domestic tank port, a standard bottom valve, two self-flow valves, and two infusion pipes of the same length as the tank body.
The spray paint of the tank body is aluminum powder silver-gray; reflective strips and reflective tapes are attached.
This JAC 12m3 diesel tanker wants to transport other liquids, and the pumping system can choose to install vacuum suction pumps, gear pumps, self-priming pumps, acid-resistant pumps, etc. This product is deeply loved by customers and car owners.