Recently among the heavy air brands, the HOWO series are very common and popular in sanitation vehicles. The 4*2 chassis is much more used than N5W.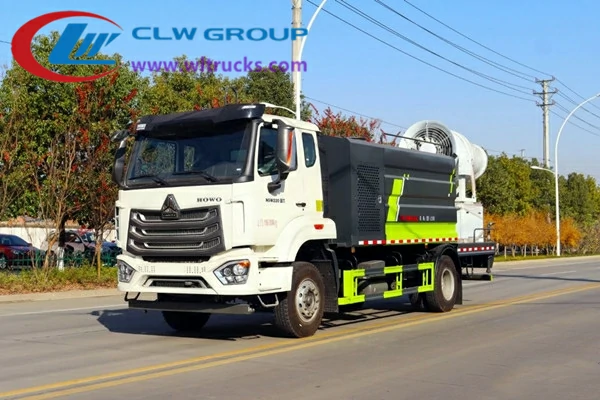 Just like this N5W HOWO disinfection truck!
This truck uses the new heavy-duty Volvo N5W flat-top 2.35-meter-wide semi-wide cab with a four-point floating cab;
The entrance is decorated with 3 U-shaped silver-plated inscription strips and an inverted ladder design; the lower two sides are cone-shaped combined headlights, and they are blackened, which is fashionable and atmospheric.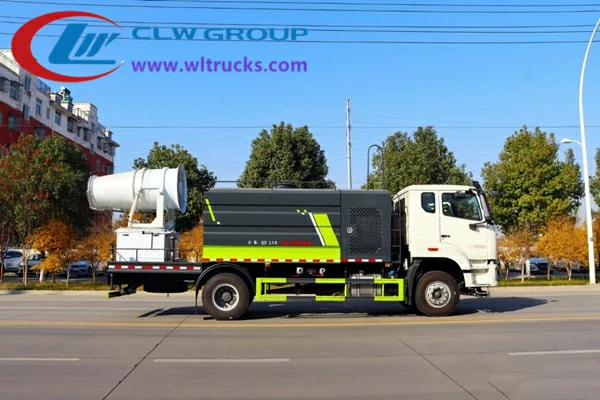 The standard configuration includes air conditioning, airbag seats, power take-off device, double-layer frame, ABS, driving recorder, central lock, electric glass remote control and other configurations. The configuration is luxurious and comfortable.
The chassis is equipped with Weichai's 220-horsepower diesel National VI engine, matched with Howo's 8-speed belt stepper; it adopts a 4.7-meter wheelbase, a German MAN 11-ton rear axle, a 10.00R20 steel tire, 250 through-layer double girders, strong Overloaded.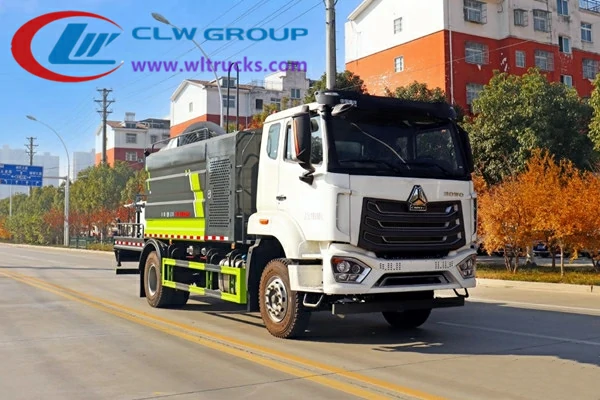 The whole vehicle is equipped with a square tank with a volume of 13000 liters. The special device is equipped with a high-power sprinkler pump, which can be self-priming and self-draining, with a fire interface, a flow valve, and a front flush, rear spray, side spray, and sprinkler cannon. Function.
The green sprinkler cannon has an adjustable spray shape, including straight, heavy rain, moderate rain, drizzle, and can be continuously adjusted. The range can reach 28 meters, and the vertical suction range is less than 7 meters, which is convenient to use.
An 80-meter fog cannon unit is also installed on the rear working platform, and the spray gun spray effect is good. The fog cannon unit has a remote control and manual operation, which is very convenient.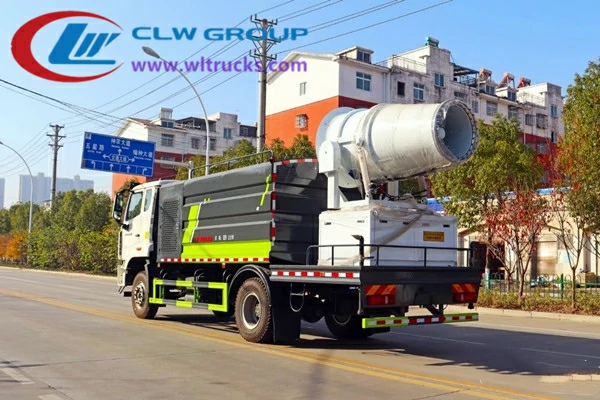 In addition to the dust reduction function, it also has the functions of road maintenance, garden irrigation, spraying, and disinfection. Pneumatic ball valves can also be installed according to user requirements so that it can be operated with one button in the cab.
This HOWO disinfection truck deluxe cab, double-carriage, super load-bearing, with step synchronization, can be hung in the gear, convenient and fast, it is the first choice for single-axle sanitation trucks!