Car carrier truck is mainly used for the transportation of small vehicles, such as family passenger cars, three-wheeled and four-wheeled electric vehicles, etc. It is a special type of transportation vehicle;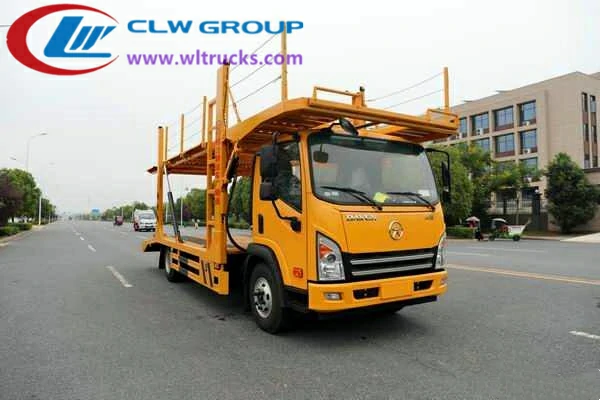 With the standardization of the car carrier truck market, large-scale illegal car carriers have been eliminated from the market, and small and medium-sized car carrier trucks have become the main products in the market, such as three-plate, five-plate and eight-plate car carriers;
Today, the editor will introduce to you a three-position car carrier truck type-DaYun 3 car hauler truck.
This car adopts the Universiade New Aopuli series chassis, equipped with Yunnei 170 horsepower engine, National VI emission standard, 3 liters displacement, peak torque up to 500 Nm, and matching Fast six-speed gearbox;
Fast is a high-quality gearbox brand recognized by the public, with smooth operation, strong accessory versatility, and convenient maintenance. The wheelbase is 4400mm. The Hande 1070 rear axle adopts a 200 partial double-layer girder structure with strong bearing capacity;
The 8.25R16 steel wire tire is selected. This tire has the advantages of a large ground contact area, good adhesion performance, good heat dissipation performance, and low rolling resistance. The fuel tank is made of aluminum alloy, and the volume of 120 liters provides sufficient power for the whole vehicle.
The whole vehicle adopts a yellow appearance, which has a very good visual sense. The appearance design of the new Aopuli series cab is simple, and the grille is decorated with chrome-plated bright strips to show the atmosphere and agility. The lights on both sides are designed with light strips, which can effectively improve the recognition of the vehicle;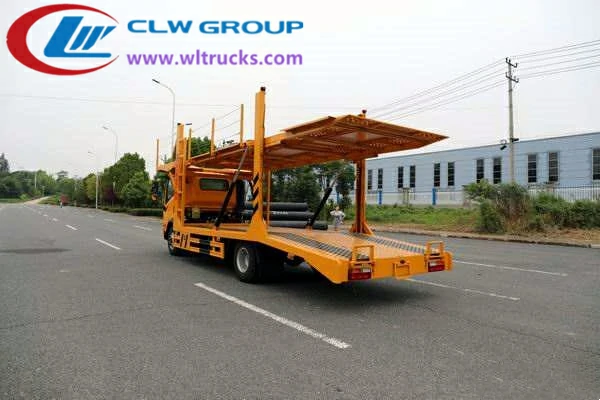 Rearview mirror combined structure, double lenses, large field of vision, no blind spots, and electric heating function, can ensure driving safety in rainy weather, 1995 cab width, the internal space is also large, the standard can accommodate three people, dark gray and Mocha brown double color matching, the interior texture is comparable to high-end cars, multi-function steering wheel, with cruise control and multimedia control functions, electric windows lift, easy to operate.
The upper body is made of low-alloy high-strength materials. The perforated plate structure, lightweight design, non-slip, wear-resistant and beautiful. The net length of the upper plate is 8.28 meters, the front is extended by 50 cm, and the two sides are equipped with protective fences. Three ordinary vehicles can be shipped. 'S car
The net length of the lower board is 6.2 meters, and the net space of the upper and lower boards is 1.87 meters. It can be loaded and transported into two family cars or SUVs. The whole vehicle is supported by multiple imported oil cylinders and is equipped with an imported hydraulic system as standard, which is safe and convenient to operate.
Such a high-quality DaYun 3 car hauler truck is mainly used for short-distance transportation and is very practical.