Chengli Special Automobile Co., Ltd. provides the lifting parameters of Sany Palfinger 5 ton truck mounted crane, the 5 ton truck mounted crane has a four-section boom with a full extension of 11.9 meters, and the front hydraulic outrigger can reach 5.1. Meters, four section boom can lift 820kg. Compared with the same tonnage truck-mounted crane, the Sany Palfinger 5 ton truck mounted crane has a longer extension and a greater lifting weight.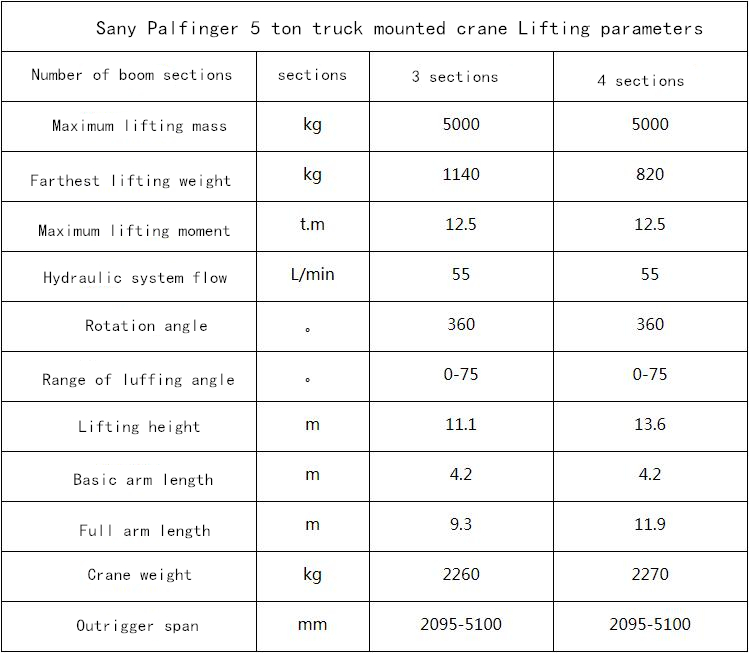 SANY PALFINGER 5 ton truck mounted crane adopts polygonal boom body, which is compromised and has strong bending resistance. Three-section boom or four-section boom can be selected. The boom body can be selected according to the needs of use. One more arm, 2.6 meters long. Compared with the two, the four-section arm of Sany Palfinger can extend farther, up to 11.9 meters.
It can lift 820kg at full extension. When the lifting goods are within a range of about 9 meters, the three-section boom is sufficient. When a wider lifting range is needed, the four-section boom needs to be selected. The outriggers are lifted during the entire truck-mounted hoisting process. To achieve good support, Sany truck-mounted cranes are equipped with front hydraulic outriggers as standard. The outrigger span can reach 5.1 meters. The rear outriggers can be fixed according to the road conditions and use environment. Single-cavity hydraulic rear outriggers, double-cavity Hydraulic rear outriggers.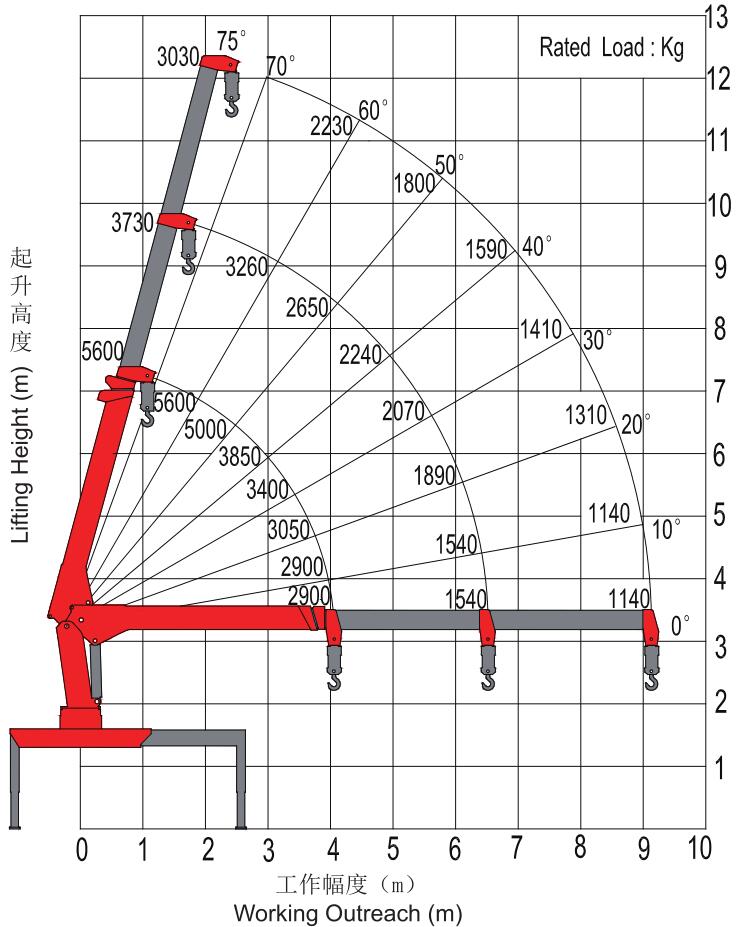 Sany truck mounted crane chassis and cranes can be freely selected and matched, which means that the same truck-mounted crane chassis can be equipped with different tonnages, different brands of truck-mounted cranes, and different chassis can also be equipped with the same brand and different tonnages. Car cranes have a relatively large selection.
Sany 5 ton truck mounted crane can be equipped with Dongfeng, Jiefang, Sinotruk, Foton and other brands of chassis. It is recommended to choose Cummins engine for long-term driving on relatively flat roads. There are more mountain roads and poor road conditions. It is recommended to choose jade. For diesel engines, Yunnei and Yuchai engines are recommended for use in plateau areas.
   Compared with other brands such as XCMG 5 ton truck mounted cranes, Sany 5-ton truck-mounted cranes have the advantages of long boom, freely combined movements for operation, and long service life of the hydraulic system. Sany Palfinger 5 The price of a ton truck crane is also higher than the price of a 5-ton truck crane such as XCMG.