There is a chemical transport vehicle in the dangerous goods transport vehicle, which is also called a corrosive tank transport vehicle.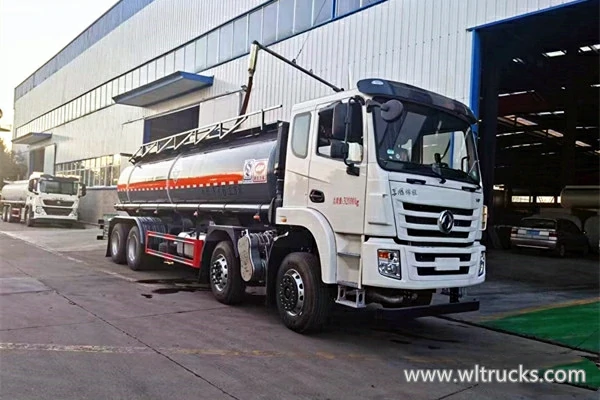 The chemical vehicle is mainly used for loading and unloading strong acids and alkalis, hydrochloric acid, dilute sulfuric acid, sodium hydroxide, phosphoric acid, dilute nitric acid, sodium hypochlorite, etc. It has strong corrosion Sexual liquid, dangerous chemical medium.
Take Dongfeng 18000L Corrosive items tanker truck as an example!
This car uses Qixing large floor semi-floating new V6 cab, standard equipped with airbag damping seats, black brushed upgraded instrument panel, LCD display with GPS function, multimedia display, and more Functional steering wheel, electric glass, central control door lock, original Dongfeng Pine air conditioner, sunshade and other configurations.
It is equipped with a Weichai 350 horsepower engine, matched with Shaanxi Gear 10-speed gearbox, with flange power take-off;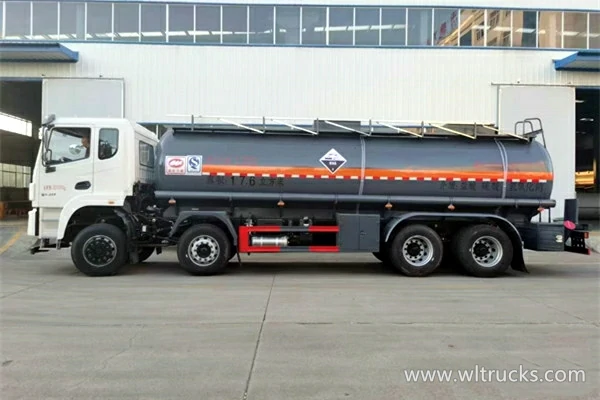 Adopts 1995+4200+1350mm wheelbase, 5.5T disc front axle, 13T Dana rear axle, 300mm*80( 7+4) Double-layer girder of equal cross-section, compound air suspension (steel and air mixed suspension), with power signs, GB7258 regulations, four locks in one (fuel tank, urea tank without cover);
Double solenoid valve, Disc front axle with brake electronic wear alarm, front tire explosion-proof, equipped with regenerative air reservoir, aluminum fuel tank (350L) left-mounted, 295/80R22.5 18PR tires, with EBS, tire pressure monitoring, anti-collision warning, lane departure The early warning is a national six hazardous chemical chassis.
The overall dimensions of this vehicle are 11.4 meters in length, 2.55 meters in width, and 3.35 meters in height.
The total mass is 32 tons, the curb weight is 13.35 tons, and the rated load mass is 18.52 tons; the tank body and the entire vehicle size are strictly manufactured in accordance with the announcement.
The outer dimension of the tank is 8500mm long, Φ1780 in diameter, and the effective volume of the tank is 17.6 cubic meters;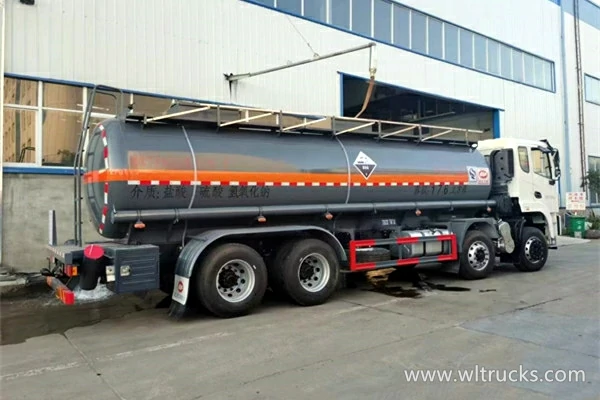 The protective material is Q235B carbon steel, the connection method is that the left and right sides and the rear protection are all-welded, and the rear protection section is 130 ×90mm, the rear protective ground clearance height is 460mm.
The tank body of this car is a full warehouse, lined with polyethylene plastic with a thickness of 16mm.
The lined surface is flat, smooth and strong, and has the advantages of non-leakage, non-toxicity, anti-aging, impact resistance, corrosion resistance, and long life.
Two all-plastic tank openings with all-plastic acid trays are installed on the top, and the top of the tank body is equipped with a square box-type upper coaming, and heavy asphalt is used in the coaming to prevent corrosion.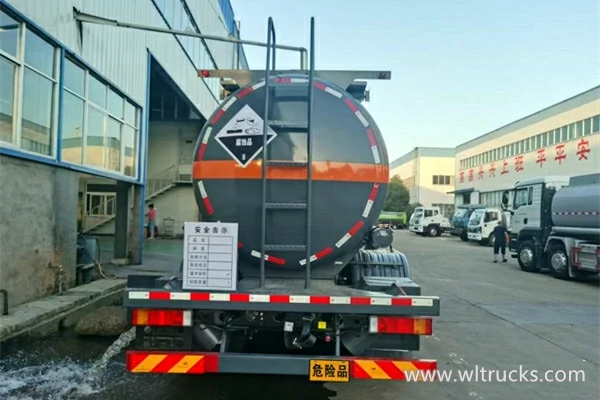 The bottom of the tank body is equipped with a DN100 stainless steel lined tetrafluoroethylene submarine valve (the submarine valve with sound and light alarm device), and a self-flowing port under the left and right beams of the tank body.
DN80 fluorine-lined ball valve is used to control the belt and the all-plastic protective box is purchased. Stainless steel lifting guardrail, checkered board walkway, rear ladder, a toolbox, two 8KG fire extinguishers, two PVC steel wire hoses, and PVC plastic gun barrels. The rest are configured according to the manufacturer's standard.
The tank body is painted with dark gray anticorrosive paint, with reflective strips, reflective plates, safety notices and other signs, and the tank signs are also affixed with "corrosive products" and other stickers.
Fire extinguisher barrels are made on both sides of the tank tail, and two large fire extinguishers can be placed, which is a must-have for dangerous goods transport vehicles.
The medium of this Dongfeng 18000L Corrosive items tanker truck is hydrochloric acid, sulfuric acid, and sodium hydroxide, which are all explosive, flammable, toxic, corrosive, and radioactive.
Production safety requirements for dangerous goods chemical tanker trucks are also better.
Other special vehicles should be strict, and the workmanship should be finer!