Dongfeng 3 ton sewage treatment vehicle adopts the Dongfeng Duolika chassis, with a length of 5.995 meters, a width of 1.99 meters, and a height of 2.75 meters.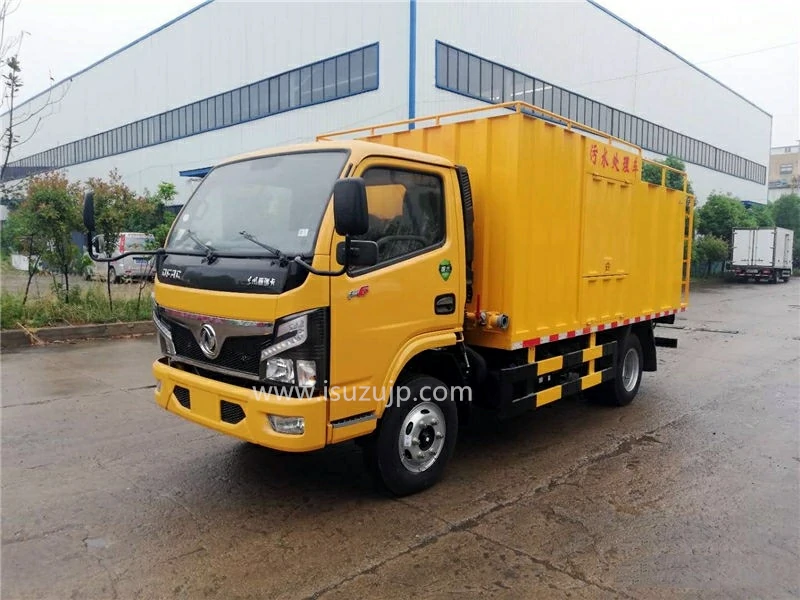 This car is specially designed and manufactured by our company for the sanitation, dredging and cleaning company. It uses a cylindrical filter and a shaftless spiral structure to treat the sewage in the septic tank to achieve solid-liquid separation, and it can be pumped and discharged.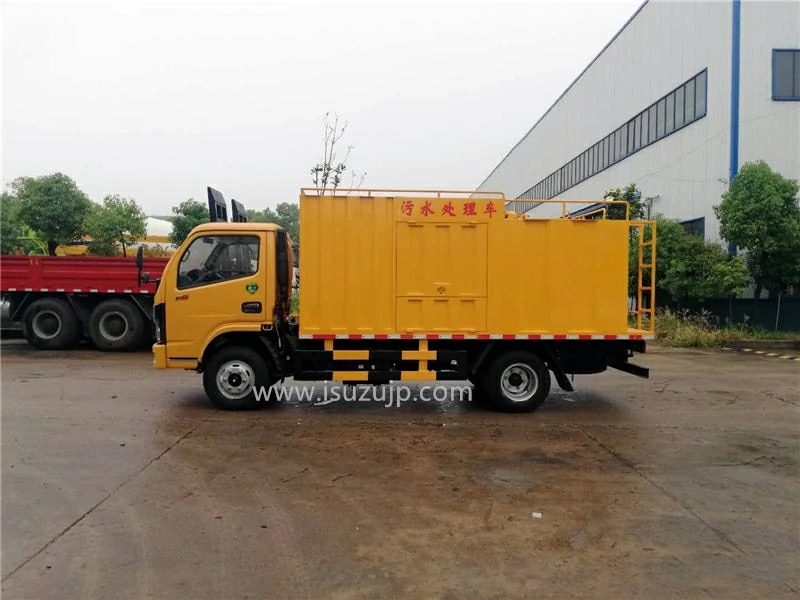 The extracted sewage does not need to be transported to another place for dumping like a traditional sewage suction truck but can be treated on the spot. The treated sewage is discharged through the municipal pipe network, and the dung can be directly packaged and treated as domestic garbage. This saves transportation costs and increases the processing speed.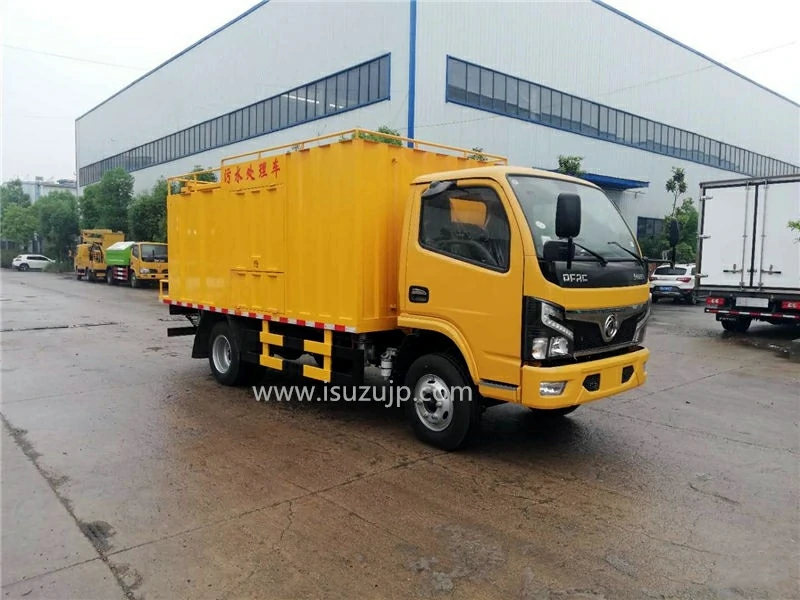 Dongfeng 3 ton sewage treatment vehicle is a semi-automated high-tech product that professionally treats septic tanks and quickly and harmlessly treats septic tank sewage.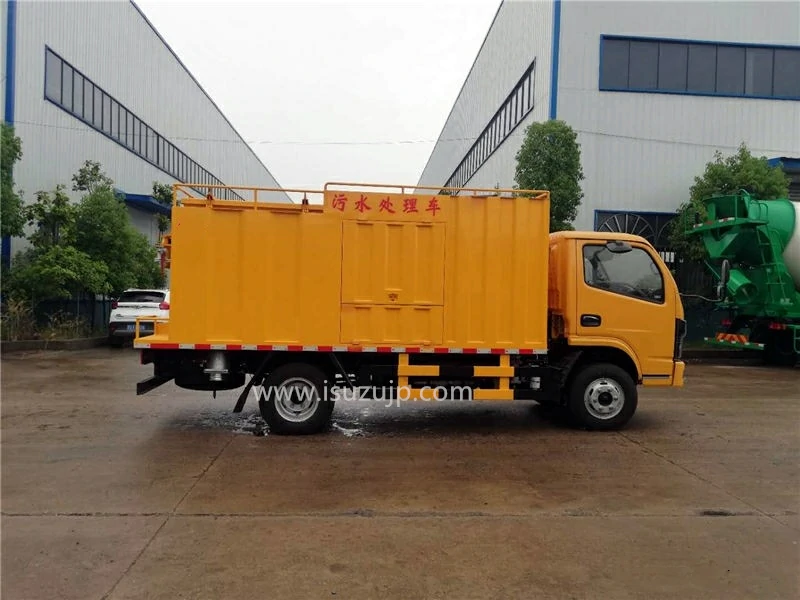 It is mainly used for the rapid and harmless treatment of septic tanks. At the same time, it can treat other sewage containing flocculating dirt well.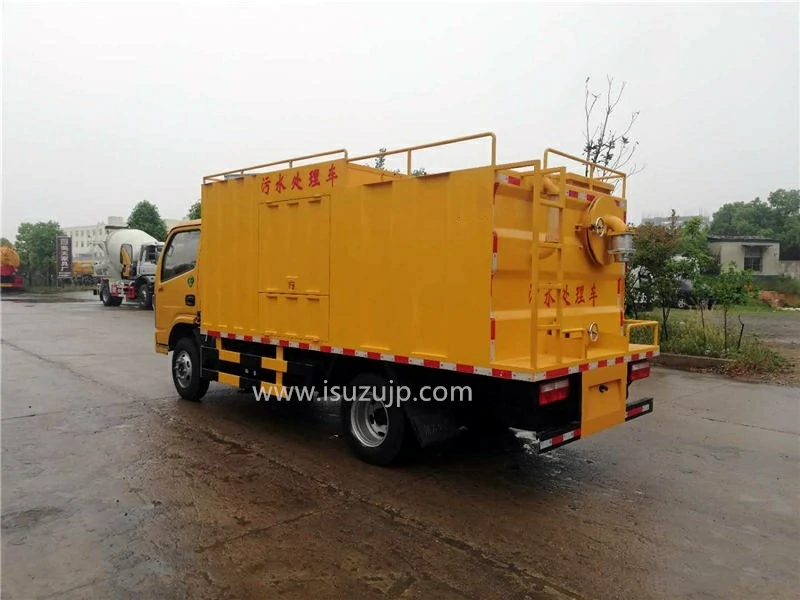 The vehicle can also be equipped with a high-pressure pump for pipe dredging. The pollution suction and purification vehicle is composed of a car chassis, a generator set, an electric control system, a sewage separation system, a dosing system, a spiral dewatering system, and a high-pressure cleaning system.
Dongfeng 3 ton sewage treatment vehicle has a high degree of automation and is easy to operate. On the basis of absorbing various technologies of similar products, various humanized designs have been carried out.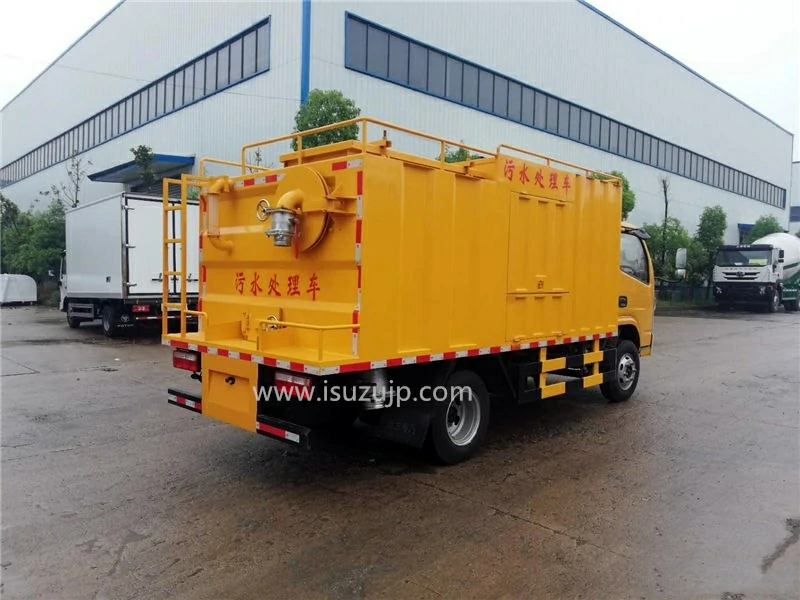 Its reasonable and reliable design ensures the speed of sewage treatment and reduces the cost of sewage treatment. The technical performance of the whole vehicle is in line with similar products.
The car sucks the dirt from the septic tank into the separation box through the water ring vacuum pump, and separates the unexplained inorganic matter from the dirt through the drum in the separation box, and spins it dry;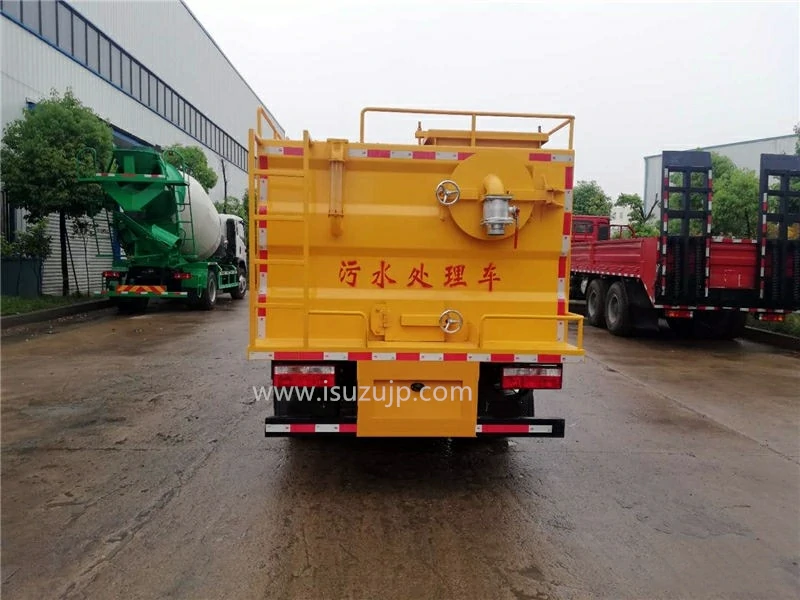 The separated sewage flows through the top sewage tank to the coagulation tank, and the chemical water in the dosing tank is injected into the coagulation tank through the dosing pump. The separated sewage and chemical water are fully reflected in the coagulation tank and flow to the stacked screw. The machine is used to dehydrate the snails, thereby squeezing the feces in the sewage into cakes and discharging the sewage up to the standard.
This vehicle can treat all flocculating sewage well.