Chenglong 4.2m refrigerator truck adopts Dongfeng Liuqi Chenglong L2 single row 2m wide cab, which is equipped with the central control door lock, electric door and window, remote control key, original air conditioner, multi-functional steering wheel and air brake as standard;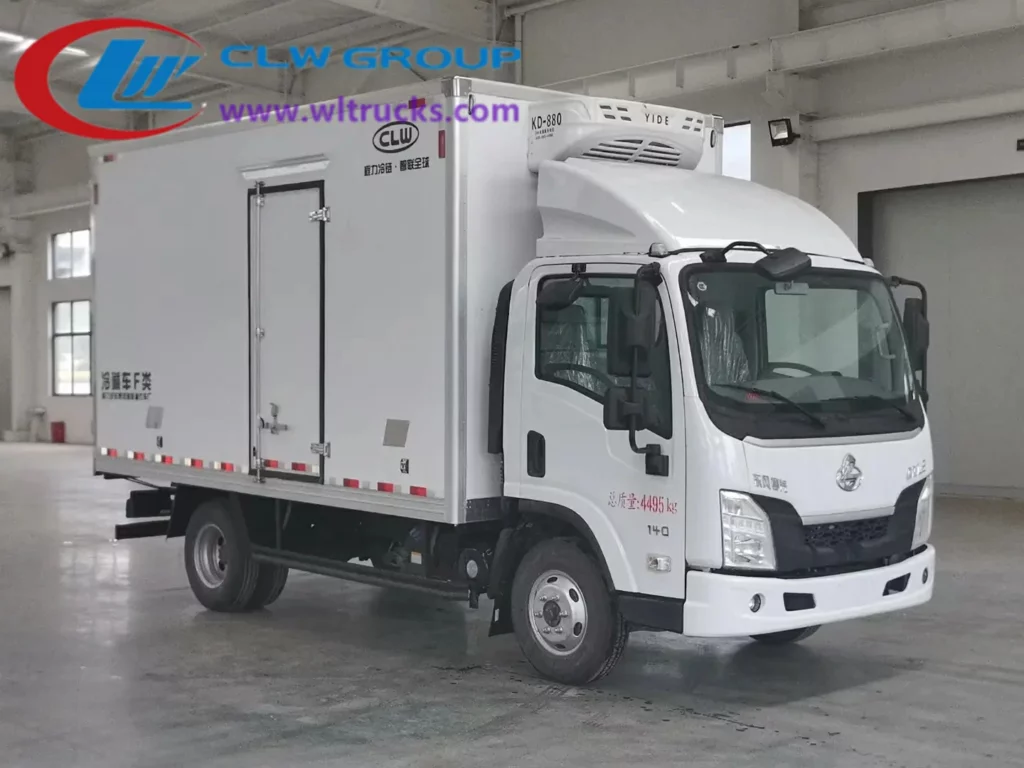 Electric horn, air horn, USB interface, cooling and heating cup holder, MP3 + Radio, manually adjustable electric heating rearview mirror, four-way multi-function, constant speed cruise and other configurations.
The accessories of the whole car are modular assembly, which makes maintenance easier and cab comfort higher.
The chassis is equipped with Euro VI Yuchai 140 HP engine, matched with WanLiYang 6-speed all-aluminum gearbox with original synchronizer gearbox, 3360 wheelbases, aluminum alloy air reservoir, 120L oil tank, 12V electrical system and ABS;
Automatic adjusting arm, T-box, 100Ah maintenance-free battery, 3 / 3 + 2 leaf spring, 7.00R16 steel tire, 2.5t front axle and 5T rear axle, strong bearing capacity and lightweight design.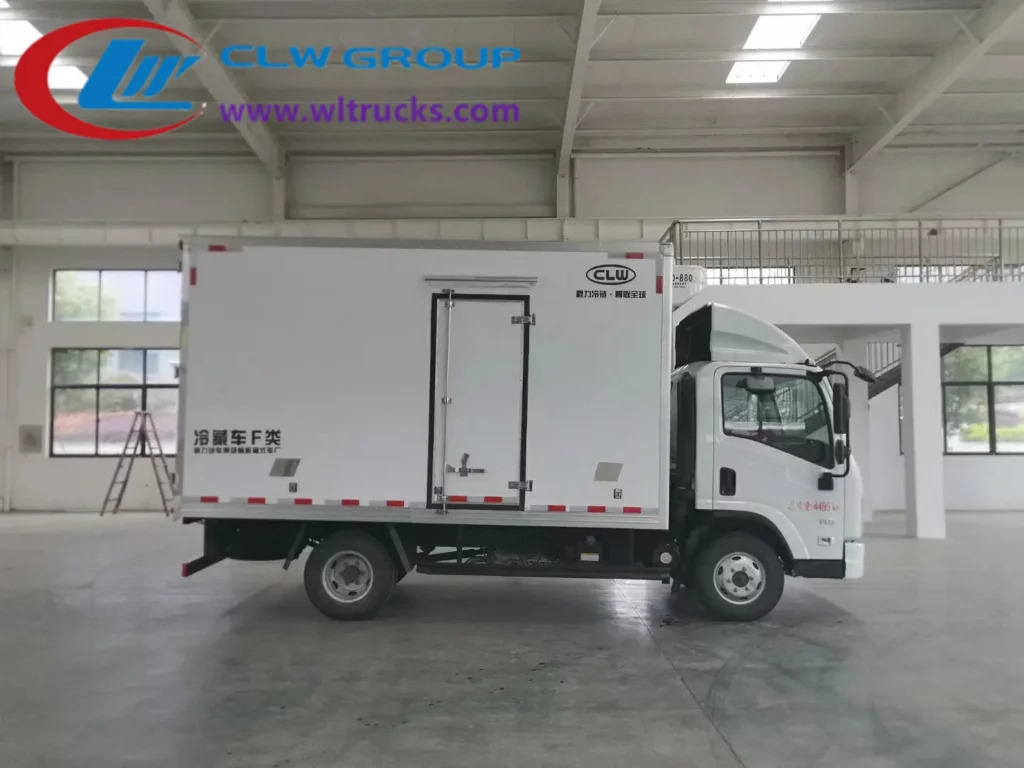 This car is 5.998 meters long, 2.3 meters wide and 3.36 meters high, with a total mass of 4.495 tons, a curb mass of 3.2 tons, a rated load mass of 1.1 tons, a car-size of 4.03 meters long, 2.08 meters wide and 2.2 meters high, and a car volume of 18 square meters, which is quite good for the blue brand refrigerated car.
Side and rear protection: the left and right sides and the rear lower part are made of Q235 carbon steel. The connection mode is that the left and right sides are connected by welding, the rear lower part is connected by bolts, and the rear lower part protection: Section Size 120 × 50 (mm), 375 (mm) above the ground.
Process of car body: the car body is made of inner and outer FRP, 8cm polyurethane insulation board in the middle, double door in the back, side door in the front on the right side of the car body, pattern anti-skid aluminum plate at the bottom and drainage hole at the front;
The door edge strip adopts labyrinth rubber sealing strip, aluminum alloy profile edge wrapping, stainless steel corner wrapping, stainless steel door lock, stainless steel door frame and hinge, and energy-saving LED lighting in the compartment.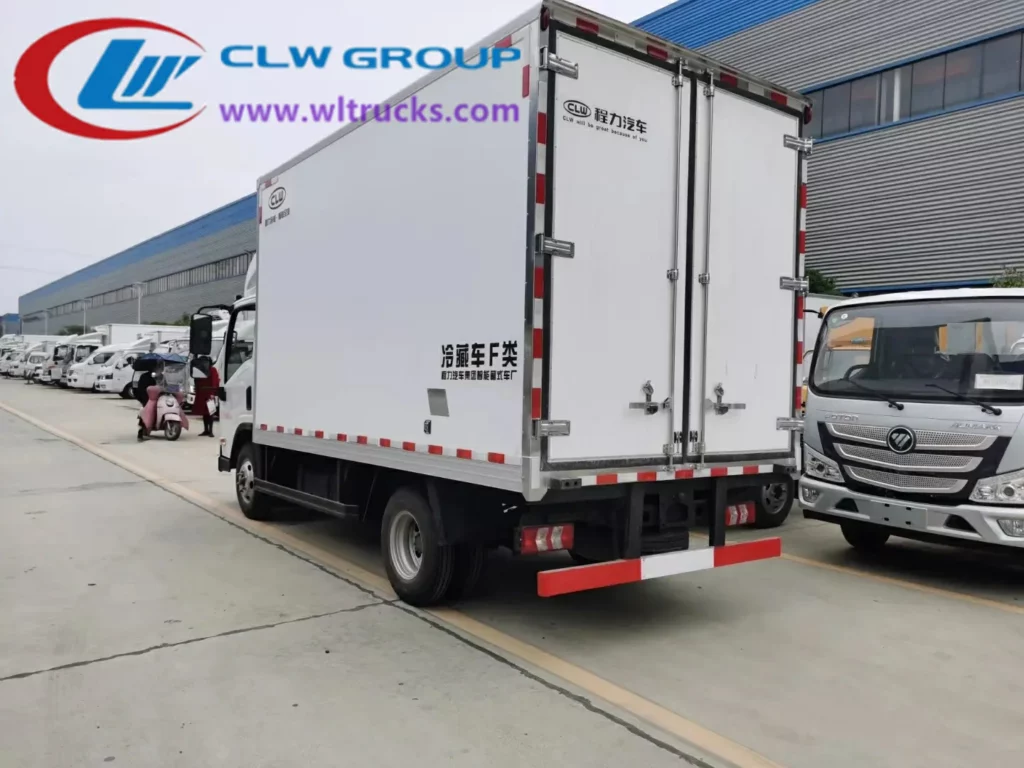 The refrigeration unit of Chenglong 4.2m refrigerator truck is the refrigerator of Xinghui xh-480. The brands can also choose Yide, Yufeng, Huatai, Kelly, Kaixue, Hanxue, Thermo King, Carrier and other brands;
The refrigeration unit can choose a refrigeration unit with a temperature of minus 5-15 °. Other optional configurations include movable frame meat hook, butt joint slide rail, straight row slide rail, ventilation slot, temperature insulation plate, inner stainless steel, etc.
This Chenglong 4.2m refrigerator truck has the advantages of low price and fuel saving. The lightweight chassis design makes the volume of the box larger. It is a good choice!