How much do you know about compressed air foam fire trucks? In fact, it is easy to understand that it is equipped with an air compressor on the ordinary foam fire truck.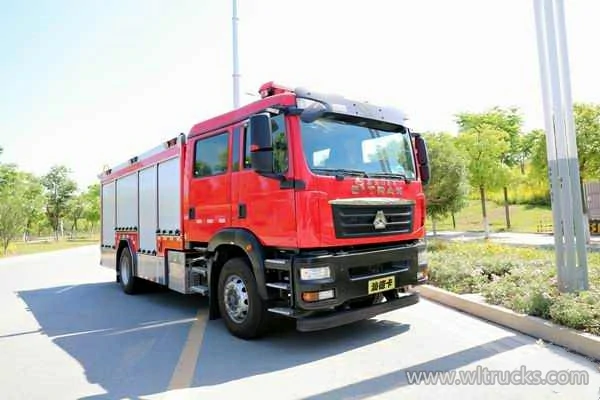 Compared with the foam fire truck without an air compressor, the truck has high fire fighting efficiency, less water consumption, environmental protection, and long-distance transportation. advantage.
Today, the editor will take the SITRAK compressed air foam fire truck of Sinotruk as an example to give you an in-depth understanding:
Sinotruk SITRAK compressed air foam fire truck adopts Sinotruk SITRAK double-row cab, which can seat 2+4 people as standard;
It is equipped with a 340-horsepower engine of Sinotruk, with a maximum power of 251KW and a maximum torque of 1,250 Nm.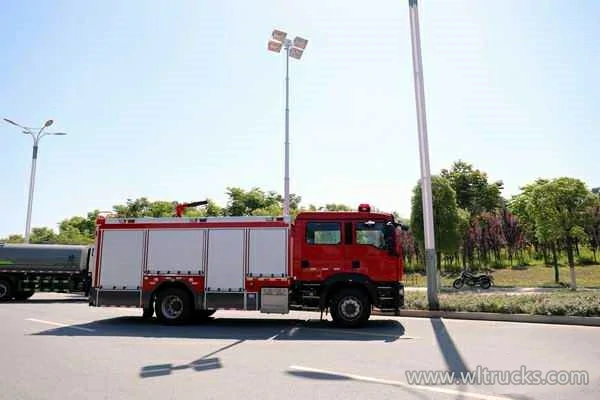 Equipped with 315/80R22.5 tires, power windows, air, ABS and other configurations are standard.
The overall size of the vehicle is 8700X2530X3600mm, the total mass is 17,800kg, the rated load mass is 5000kg, and the curb weight is 12350kg.
The total volume of the upper tank is 4.997 cubic meters, the volume of the water tank: 4.000 cubic meters, and the size of the water tank: 2090×1400×1430mm;
A type foam liquid tank volume: 0.291 cubic meters, A-type foam liquid tank size: 505×420×1430mm;
Class B foam liquid tank volume: 0.686 cubic meters, Class B foam liquid tank size: 510×980×1430mm.
The car adopts an integral side protection structure, rear protection device material: Q235A, cross-sectional size (width × height) (mm): 60×120mm, connection with the vehicle: bolt connection, rear protection ground clearance: 435mm.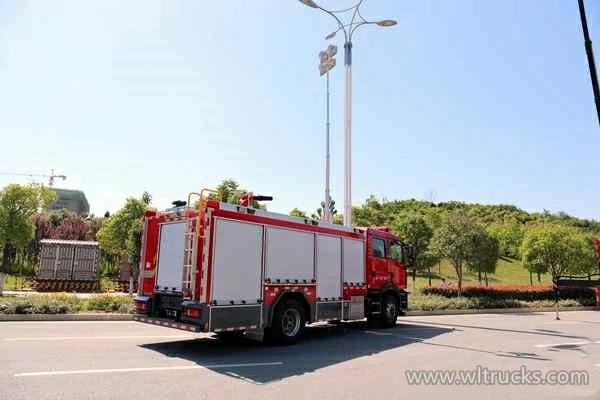 Through the configuration, it is understood that this car is equipped with two types of foam types, A type foam and B type foam, so it can extinguish both types A fire (solid fire) and type B fire (liquid fire), so that it can be used in actual fire fighting. Switching at any time effectively enhances actual combat adaptability and also improves rescue efficiency.
Which places is this compressed air foam fire truck suitable for? This vehicle is suitable for extinguishing class A and class B fires, fires in limited enclosed spaces, and control of liquid petroleum gas and liquefied natural gas fires.
Such as: solid material warehouses, flammable liquid warehouses, industrial plants with fire hazards, underground construction projects, engine rooms of various ships, valuable equipment and materials, flammable and flammable liquids, and flowing fires of liquefied petroleum gas and liquefied natural gas.
Therefore, when purchasing a fire truck, you must pay attention to the choice according to the location. For the purchase of a foam fire truck, it is even more necessary to understand which type of fire is suitable for extinguishing the type of foam loaded.
This is the end of the introduction about this Sinotruk SITRAK compressed air foam fire truck. Users who are interested in this car can inquire on Chengli's official website.