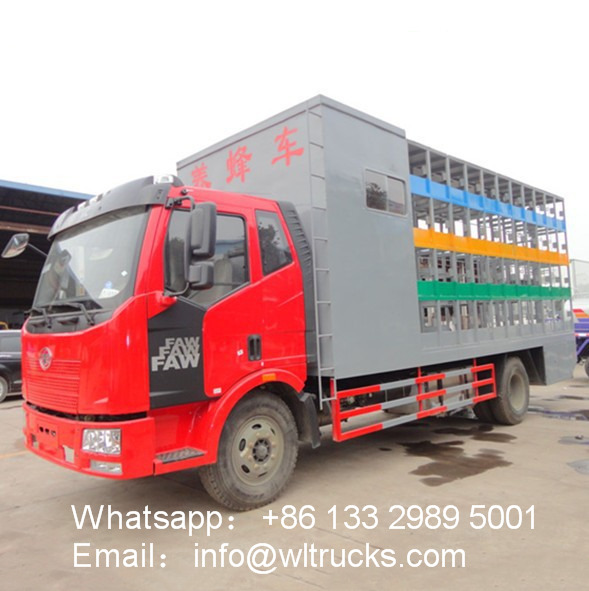 FAW 80 to 96 Boxes Beekeeping truck Adopt FAW J6 cab, Xichai 150 horsepower engine, 6 speed gearbox. The Vehicle size is 8970*2500*3780mm
product Introduction:
---
1. The middle of the beekeeping vehicle is a multi-layer frame. The front end of the beehive is equipped with a lifting device, which is convenient for loading and unloading.
2. The space between the two beehives is the workplace, and the beekeeping lane should have a working platform (lifting platform) to collect and manage the bee colony. The top of the passage should have sun-proof, rain-proof roof, good ventilation and drainage function. The collection of bee products has been completed on the truck.
3. The left and right sides of the beehive consist of frames for loading the beehive. The frame should have a device for fixing the hive and a platform for the bees to fly down.
4. The living office space should enable the beekeeper to rest, work, and modern facilities such as air conditioning, TV, shower room, and work platform, so as to reduce the boring wild life and improve the quality of life.
5. There is also a storage box in the lower part of the car, which is convenient to store the production of various bee products and living utensils, which is very suitable for professional beekeeping in the wild.
6. The roof is equipped with solar energy and energy storage system. In addition to transporting bee colonies, beekeeping vehicles can also transport honey barrels, bee products, bee products, etc.
FAW 80 to 96 Boxes Beekeeping truck Specification:
---
Air Conditioner is optional

Automative metallic paint

Equipped with at least 80 -96 bee container on one truck

Equipped with independent living space, installing satellite TV, smoke

lampblack machine, kitchen three-piece, refrigerators and other modern facilities are optional according

to clients' demand.

FAW J6 beekeeping car is a yellow card beekeeping car declared by our factory according to market demand. The car can be equipped with living area and no living area. It can be fixed with 80 boxes of beehives on both sides of the living area without living area. The 96 boxes of beehives can be fixed on both sides, which is the first model of beekeepers.
With living area: fixed box of 80 beehives on both sides, living room free paint interior, bunk bed, lighting, charging socket, set of car door, living area to beekeeping area design iron door, 2500W gasoline generator.
Without living area: 96 boxes of
walkways with fixed bedding on both sides , designed with one-button lock beehive, tool box, bee platform, food grade stainless steel drinking water tank and tire cooling system, design toolbox, honey mining platform, The top of the middle walkway can be raised by 1 meter. Each fixed beehive is designed to be independent, convenient for ventilation, and the tail is designed with an electric crane.
Beekeeping vehicle detailed picture:
---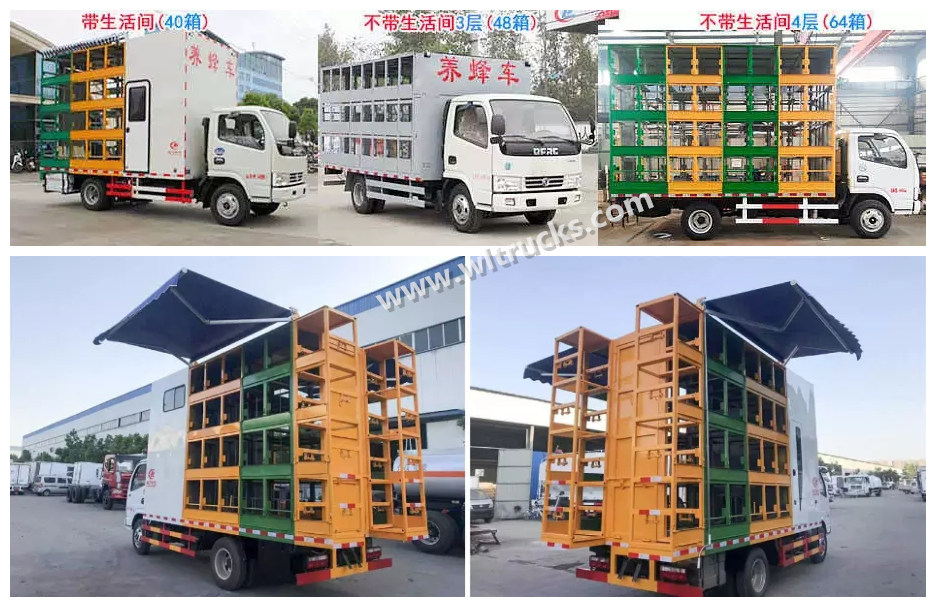 Beekeeping trucks Multi-angle picture:
---