Foton 3000 liter sewage suction trucks Specification:

Foton 3000 liter sewage suction trucks tank body is made of 6mm thick carbon steel plate, equipped with a powerful sewage suction pump. The car model is small and flexible, with a small steering radius and adapts to the small and complex road conditions of the community.
---
Detailed configuration of the vehicle:
Vehicle name:
Foton 3000 liter sewage suction trucks
Manufacturer
Chengli Special Purpose Vehicle Co., Ltd.
Total quality
4294
Tank volume
1.5 cubic meters
Tonnage
1260
Tank size:
( Straight length × diameter) (mm): 2400 × 960
Chassis model
Futian era
Vehicle size
5250 * 1750 * 2100 (mm)
Number of axes
2
Wheelbase
2600mm
Number of tires:
6
Tire specifications
6.00R15LT 10PR
Fuel
Diesel
Emission Standards
Country Five
Configuration introduction
Transport medium: liquid dirt, density: 800 kg / m3, effective volume of tank: 3 m3;

1. The tank size (straight length × diameter) (mm) is: 2400 × 960 .

2. Text spraying and local details can be changed, and the color of the car body follows the announcement.

Top-loading configuration: The tank body of the sewage suction truck is made of WISCO's national standard high-quality carbon steel sheet, and is formed in one time by the advanced rotomolding process. It has high-strength corrosion resistance, a high-power vacuum pump is installed, and the suction power is large and the suction range is far. The device can be equipped with an electronic alarm device; an anti-overflow device is installed to prevent the sewage from being filled up to the vacuum pump system. The installation has a hydraulic lifting self-unloading function, which is convenient for dumping all kinds of dirt and sludge. The hydraulic pressure of the rear tank door is automatically opened, which is convenient for cleaning the sediment in the tank, and can be self-priming and self-draining, which is convenient to use.
Foton 3000 liter sewage suction trucks Working parameter
---
Suction speed

Fill up in 10 minutes

Tank material

Carbon steel Q345, stainless steel 304

Blowdown speed

Finished in a single 8 minutes

Medium and small tank thickness

5 mm tank, 6 mm head, 4 mm partition

Suction horizontal distance

Up to 80 meters

Thickness of large tank

Tank body 6-8 mm, head 8 mm, partition 5 mm

Vertical depth of suction

Up to 9 meters

Sewage suction pump

Small Veyron single pump, large Veyron double pump

Operation method

Manual + pneumatic + hydraulic

Leak-proof treatment

Rubber strip + hydraulic lock + manual lock

Operating position

Cab + car side

Tailgate form

The tailgate is fully open, the tail is fully open

Blowdown method

Hydraulic lift dumping + air blowdown

Other standard

Sight liquid window, hydraulic gauge, 8 meter suction pipe, tail gravity valve, anti-overflow valve, negative pressure meter.

Optional configuration

Liquid full alarm self-stop, water ring vacuum pump, anti-corrosion treatment in the tank, solid-liquid separation filter cartridge + hydraulic auger, Honda sprinkler pump + sprinkler
Foton 3000 liter sewage suction trucks Working parameter New craft
---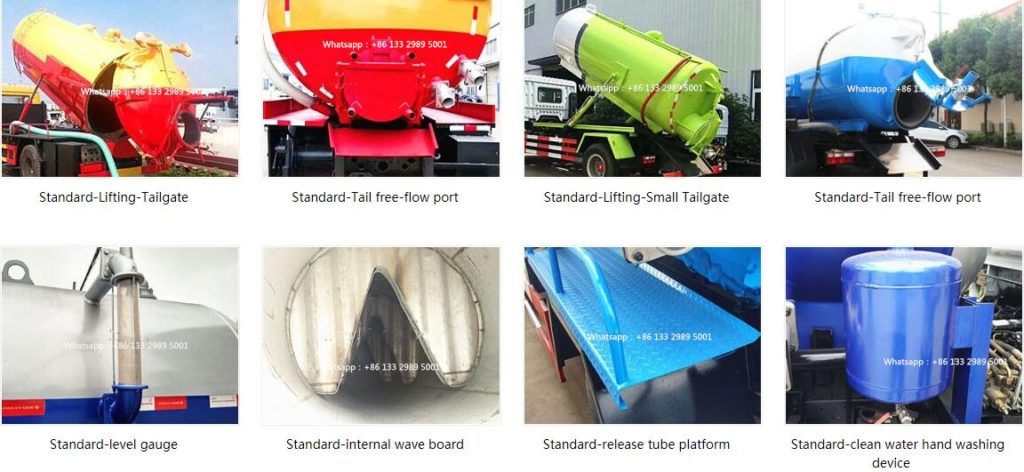 Foton 3000 liter sewage suction trucks Optional configuration
---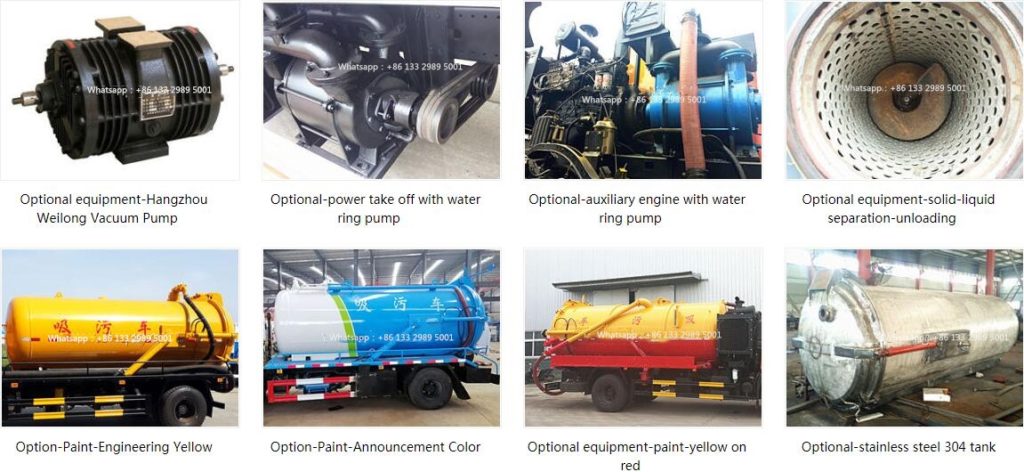 Foton 3000 liter sewage suction trucks Detailed image
---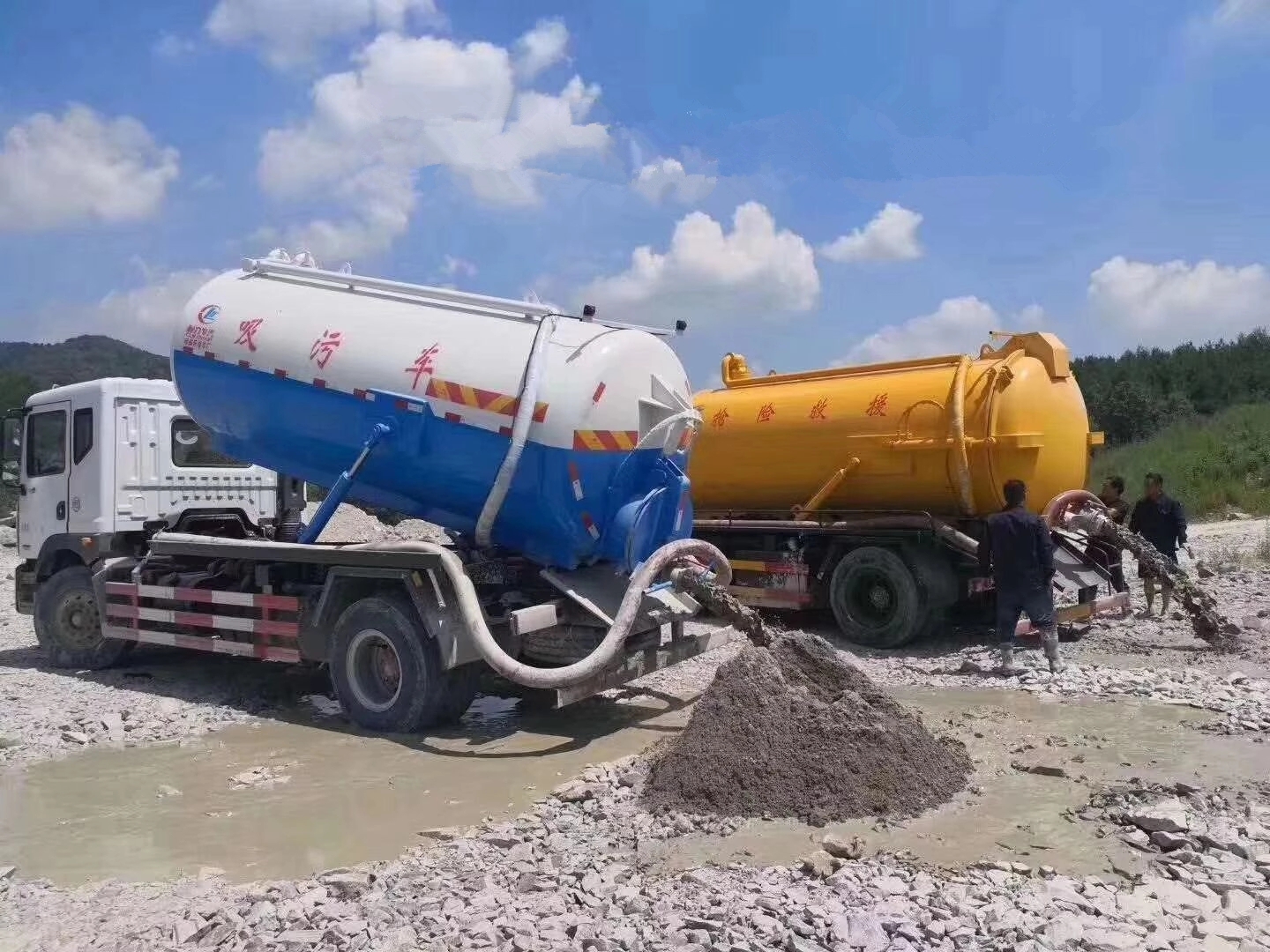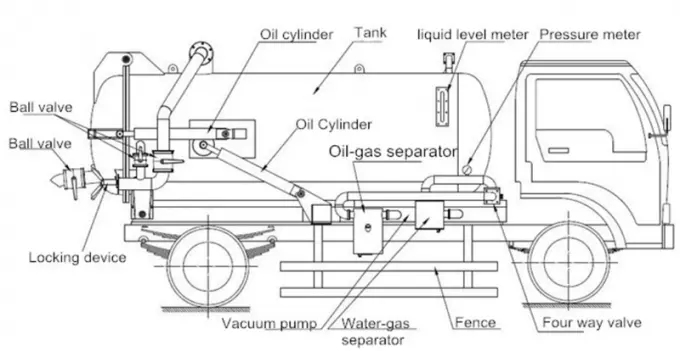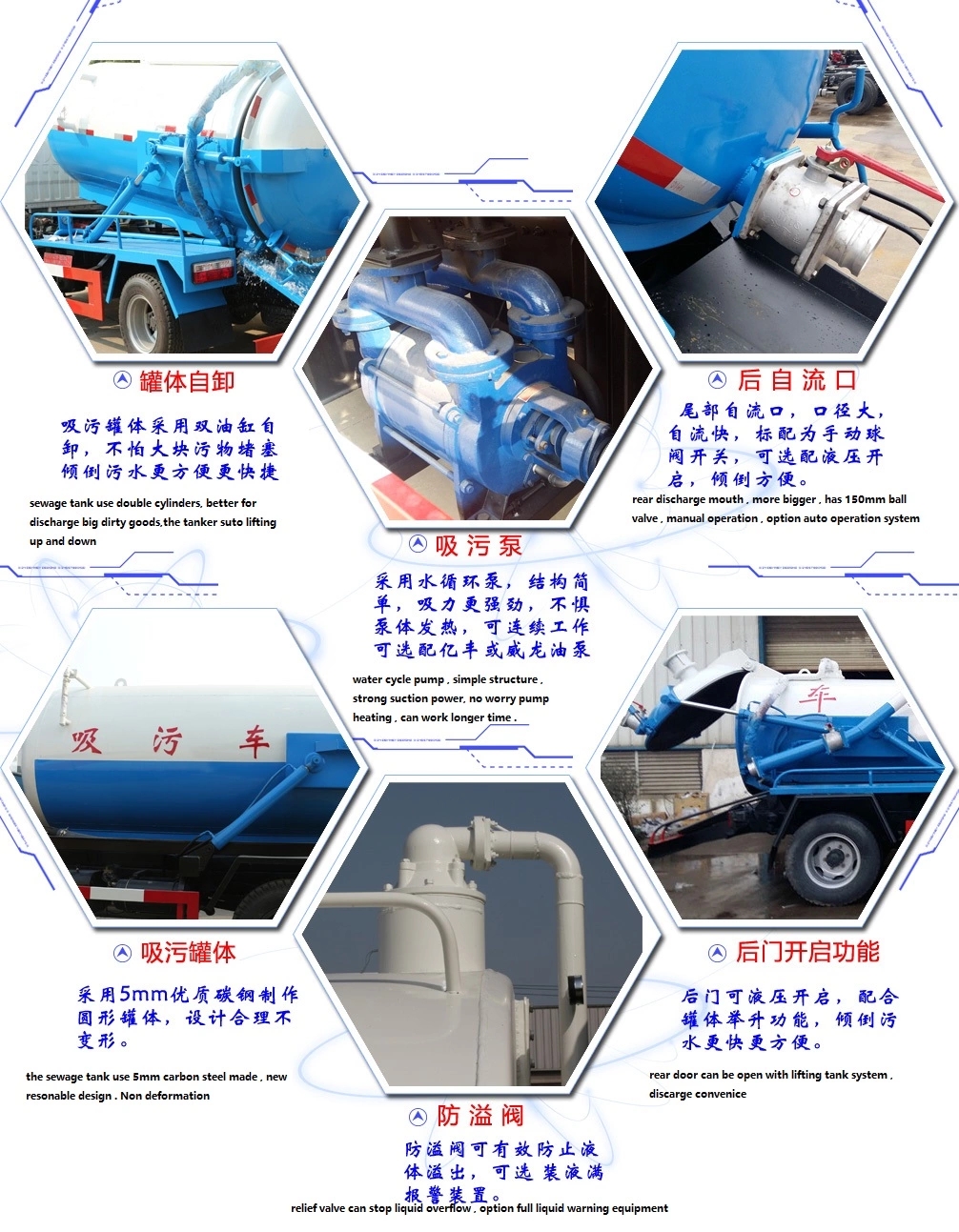 —- SGS, BV, COTECNA, CE certification.
—- Local engineer training support.


— Free parts for 12 months.
—- Supply of original parts.
—- DHL serves 7 days worldwide.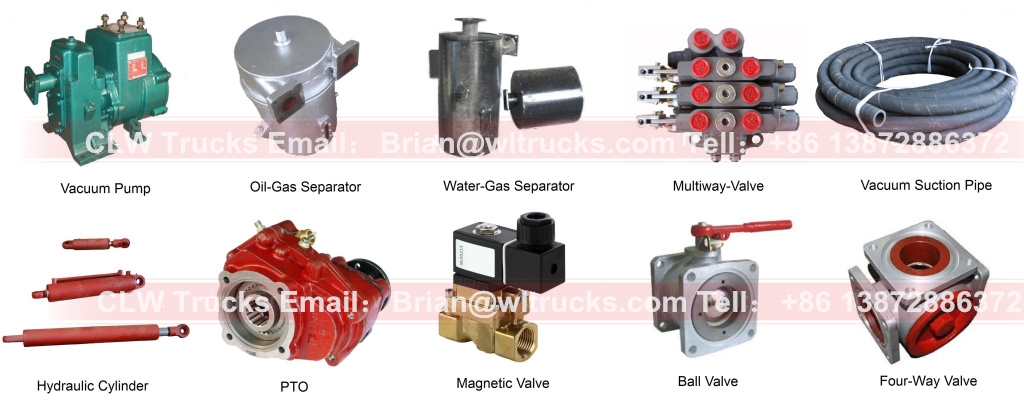 — 16 years of design and export experience.
—- 100% customized trucks.
—- Quick delivery guarantee.


—- Serving more than 80 countries and regions.
—- Professional guidance on import documents.
—- CO, FORM E, FORM P, pre-implantation inspection …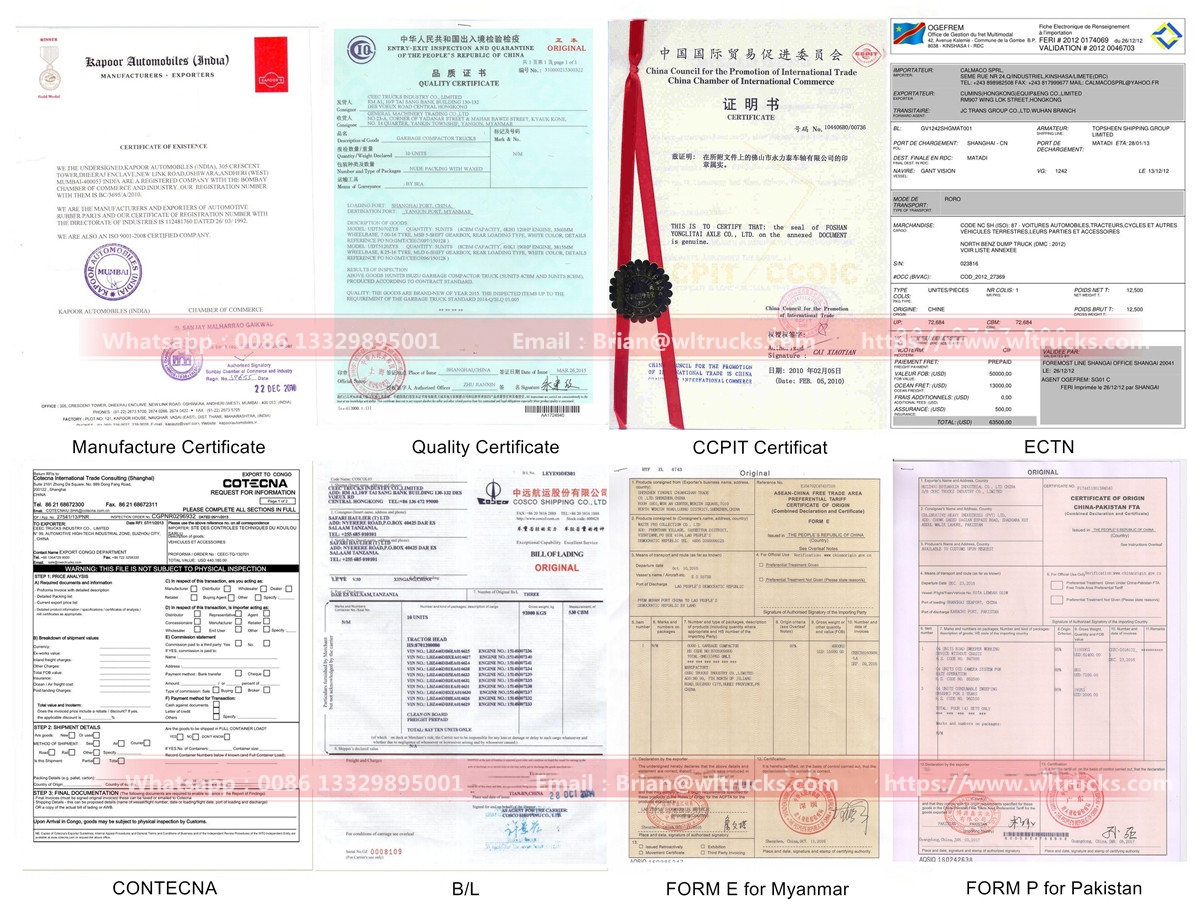 —- Maximize your shipping costs.
—- Professional guidance on import documents.
—- Safe, fast and timely


—- Fast shipping to all parts of the world.
—- The truck color and logo can be customized.