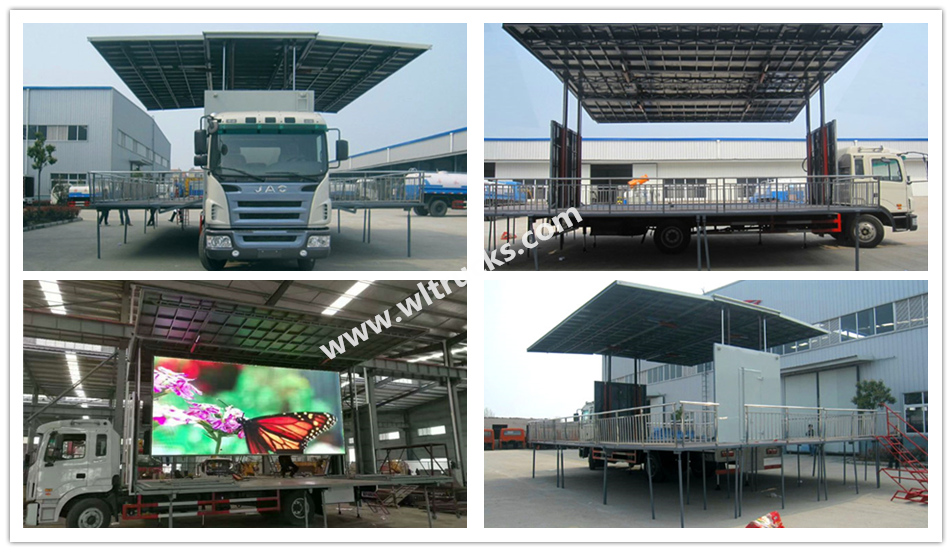 JAC 60 square meters flow stage truck trailer Vehicle model: CLW5160XWTD4, wheelbase 4700mm, 6.2m container, 5000mm wheelbase 6.8m container, 5700 wheelbase 7.6m container, Weichai 160 horsepower or Yuchai 190 horsepower engine Fast 8 gearbox, 9.00 -R20 steel wire tires.
It can be modified into single-stage unfolding stage car, double-sided unfolding stage car, and three-sided unfolding stage car according to requirements, and can be equipped with screen, screen lifting, stage enlargement, stage guardrail, stage amplifier sound, stage lighting, sound effect device, U-band microphones, mixers, aerospace cabinets and other equipment.
Product advantages:
---
1.The van roof is closed, and the truss structure, lifting, the two sides of the compartment plate can be unfolded, vehicle stage roof and ceiling;
2.Stage plate can be folded in carriages and installation exhibition was launched by fixed surface of the stage and formed vehicle surface of the stage;
3.Chassis beam part is provided with a supporting device.
4.The car is special vehicles of stage art performance. Side door using cold-formed steel / Q235, welded connections, door after using cold-formed steel / Q235, welded connections, after door section height of 100mm, cross-sectional width dimension of 50mm, edge height from the ground 490mm.
5.Remarks: LED screen is optional according to your needs.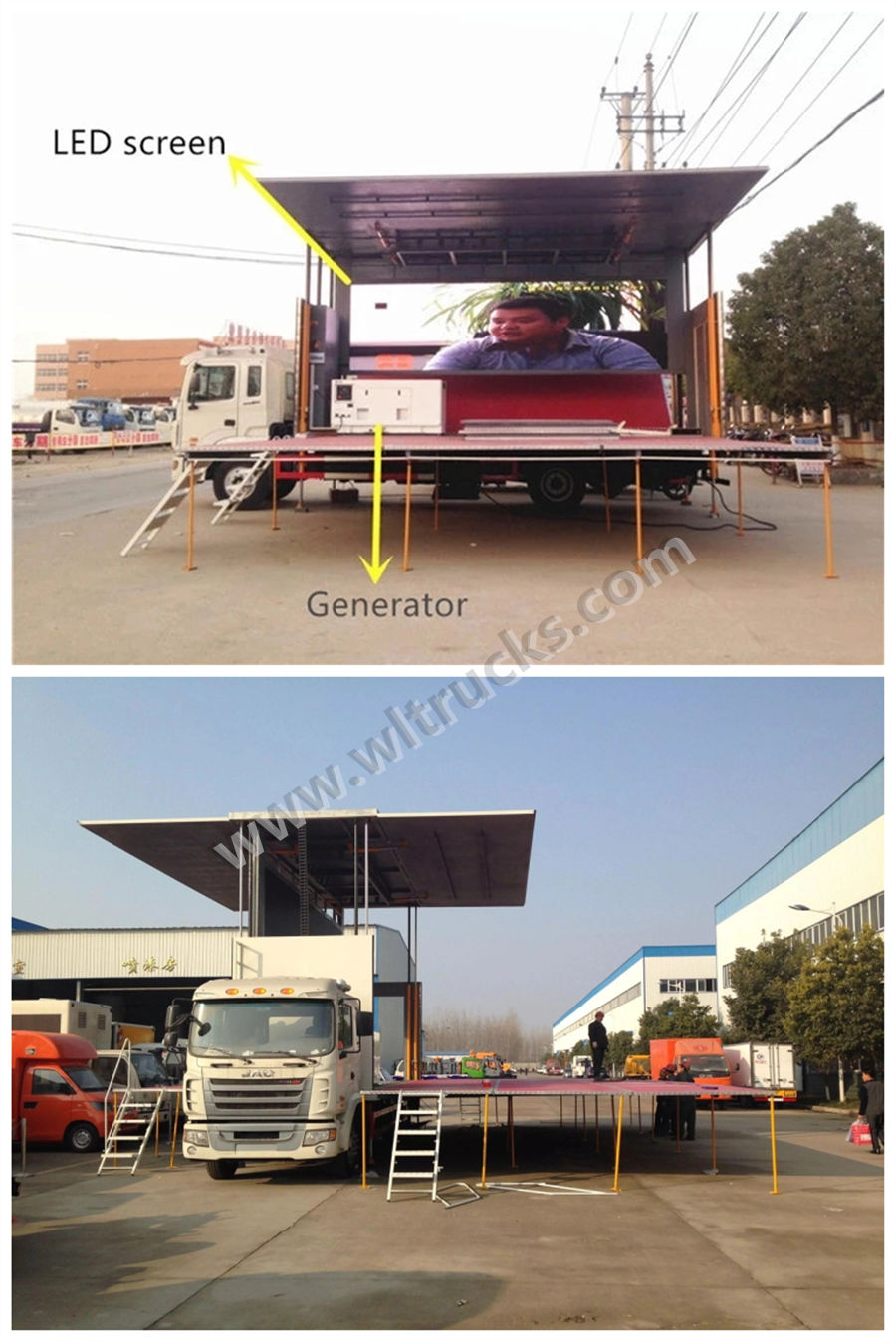 JAC 60 square meters flow stage truck trailer Specification:
---
| | | | |
| --- | --- | --- | --- |
| Vehicle name | JAC Gerfa mobile stage car | Vehicle model | CLW5161XWTY5 |
| Emission Standards | Eruo 5 | Chassis model | HFC5161XXYP3K2A47V |
| Environmental Notice | Have | Dimensions (mm) | 8980, 8400 × 2500 × 3950 |
| Fuel type | Diesel | Cargo compartment size (mm) | 7600 × 2480 × 2380 |
| Total mass (kg) | 16000 | Tire specifications | 9.00R20 16PR |
| Curb weight (kg) | 10700 | Rated passenger | 3 (person) |
| Wheelbase (mm) | 4700 | Maximum speed (km/h) | 100 |
| engine model | WP6.180E50 | Displacement (ml) |  6750 |
| Engine manufacturer | Weifang Weichai Deutz Diesel Engine Co., Ltd. | Power (kw) | 132 (180 hp) |
| | | | |
| --- | --- | --- | --- |
| Main stage area: | ≈ 60 ㎡ | Sub-stage area: | ≈ 3 ㎡ *2 |
| Top lift height: | ≈ 1800mm | Dance platen height from the top: | ≈4100mm |
| Stage height from the ground: | ≈1200mm | The height of the ground from the top: | ≈5800mm |
| Number of hydraulic cylinders: | 8-17 | screen: | 2 pieces |
| Stage legs: | 4 | Stage legs: | 10-20 folding legs |
| Stage board material: | Non-slip stage board, special bamboo rubber board | Cabinet skeleton: | 50mm-70mm |
| Expanding method: | Double-sided unfolding | Expanding power: | Fully automatic hydraulic deployment |
| Stage opening width: | ≈ 7000-1000mm | Stage depth: | ≈ 8000mm |
| Stage opening time: | 5-8 minutes | Stage closing time: | 5-8 minutes |
Stage vehicle Expand specifications:
---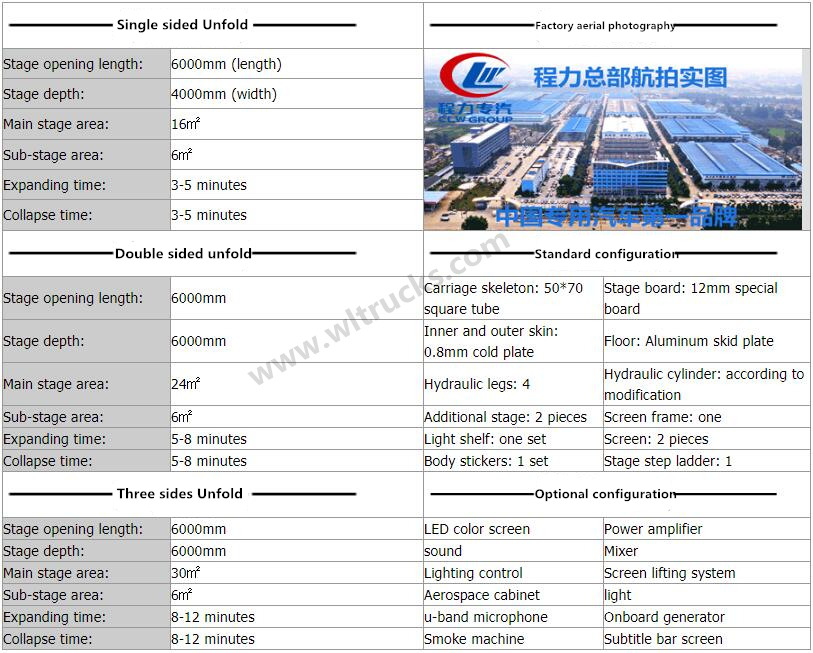 Stage car modification style picture:
---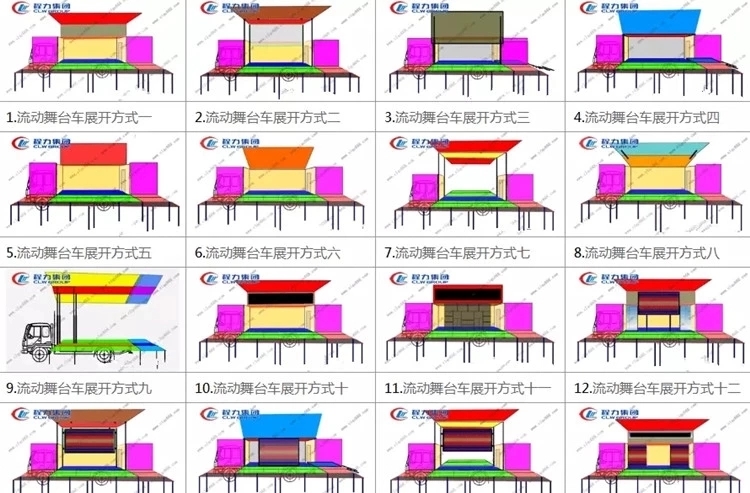 Led Stage vehicle Field of use:
---

Stage screen truck Composition structure:
---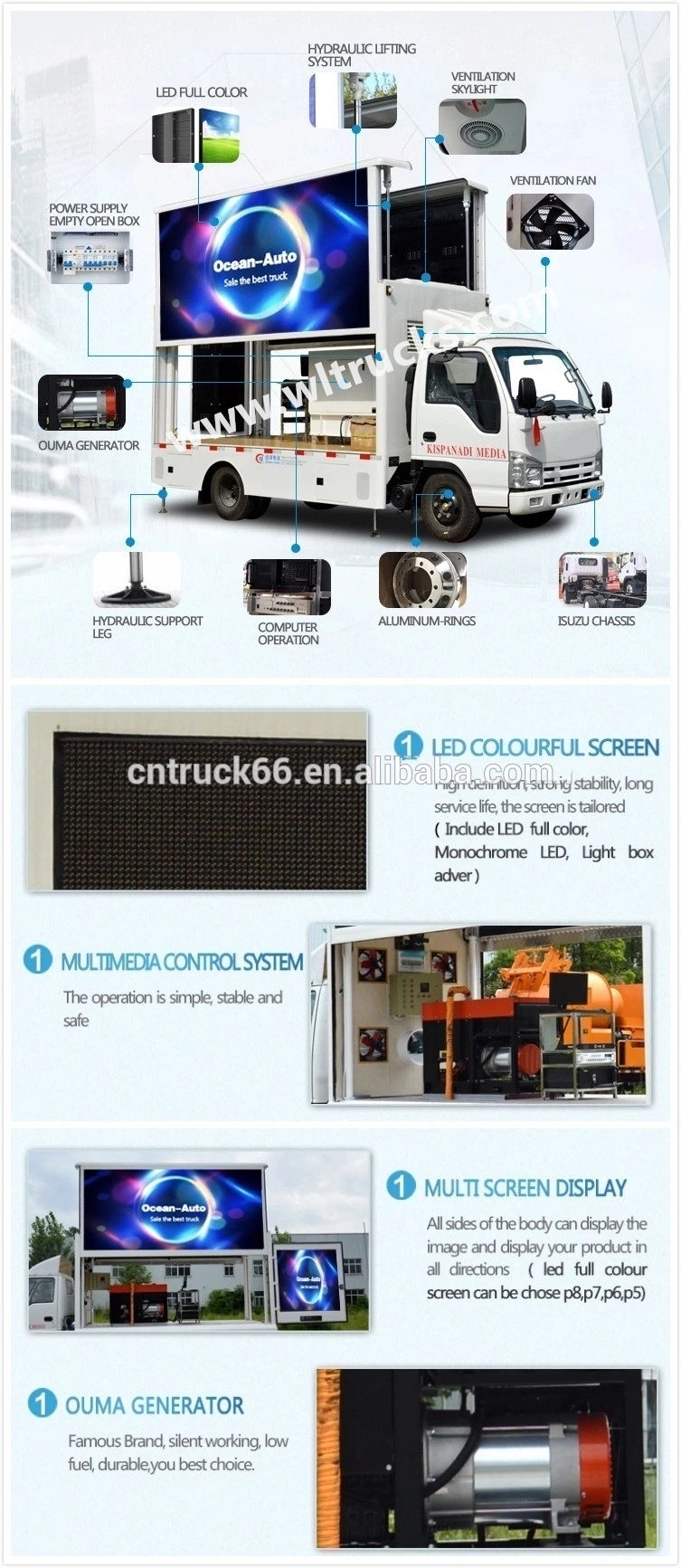 detailed picture:
---