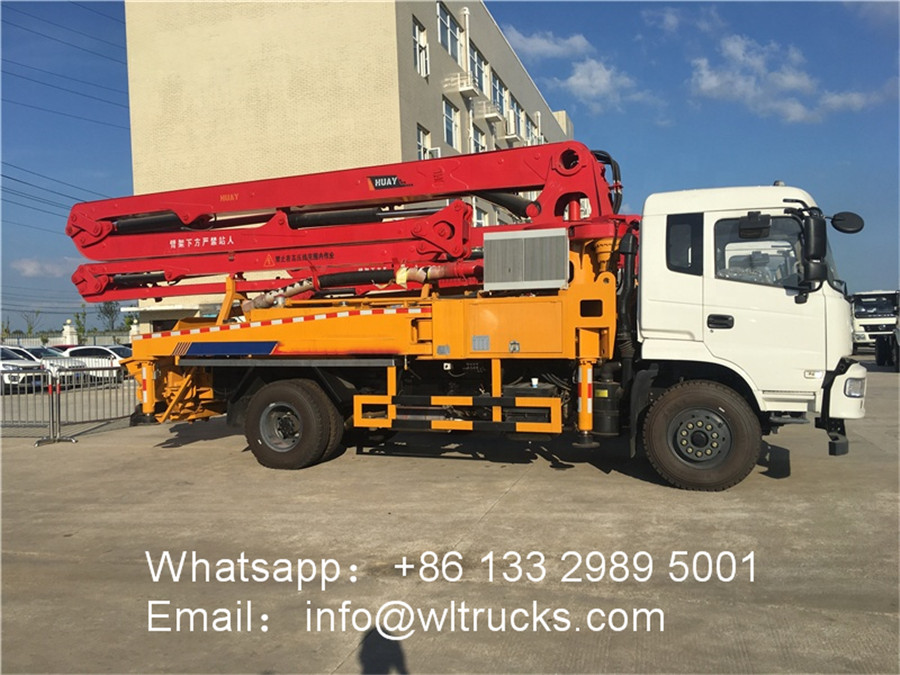 4×2 Dongfeng 26m 31m small mobile concrete boom pump truck 
Adopts Dongfeng D913 Cab, wheelbase:4500/5200mm,8 speeds gearbox, vehicle size:9850*2400*3780
mm, equipped with Cummins 190hp 210hp Eruo 3 diesel engine.
products description:
---
Concrete pump truck is a machine that uses pressure to continuously transport concrete along a pipe. It consists of a pump body and a delivery tube.
The pump body is mounted on the chassis of the car, and then equipped with a telescopic or inflected cloth boom to form a pump truck.
It is suitable for housing, roads, canals, dams, tunnels, mines, railways, electricity, bridges, ports and other concrete delivery.
4×2 Dongfeng 26m 31m small mobile concrete boom pump truck Specification:
---
26 meters pump trucks parameters

Name / model
Dongfeng 26m 31m concrete boom pump truck
Chassis
Chassis model
EQ5200
Emission Standards
Country five
engine
cummins 190 210 horsepower
Gearbox
8JS105
Tire specifications
9.00-20
Wheelbase mm
4700
Boom system
Maximum vertical height of the boom (m)
26
Boom horizontal cloth radius (m)
22.5
Cloth depth (m)
11.2
Angle of rotation of each arm
90/180/245/230
Front leg span distance ( mm )
5540
Rear leg span distance ( mm )
5540
Leg opening method
Front telescopic, rear swing leg
Tail hose length (m)
3
Concrete pipe diameter
125 (inside diameter)
Electrical control system
Control power supply
24V
Control module
SYMC
Operating Voltage
24V
Intermediate electrical appliance brand
Matsushita
Wireless remote control brand
Trinity Intelligence
Hydraulic drive system
Hydraulic system type
Open
System work pressure
31.5
Main hydraulic pump brand
Rexroth
Main oil pump model
VL0190
Main oil pump displacement ( ml )
140
Suction, oil return filter brand
Fine hydraulic
Boom balance valve brand
Rexroth
Outrigger multi-way valve brand
Taiwan Oil Power
Hydraulic lock brand
Eichbies
Cylinder hydraulic seal brand
German Pike
Hydraulic tank volume ( L )
350
Hydraulic oil cooling method
Air cooled
Main cylinder
Changsha Cooperation
Transfer case brand
Plant tooth
Slewing reducer brand
Phaeton
Hose connector brand
Eaton
Cleaning system
Pneumatic or plunger pump
Size / quality
Total vehicle length ( mm )
9850
Total vehicle width ( mm )
2300
The total height of the vehicle is about ( mm )
3780
The total mass of the vehicle is about ( kg )
19550
Pumping system
Concrete distribution valve form
S tube type
Maximum theoretical delivery (high pressure / lower)
50/80
Concrete piston brand
Trinity
Maximum concrete outlet pressure high pressure / low pressure
12/7
Delivery cylinder inner diameter / stroke
230×1450/1650
Maximum feeding height ( mm )
1380
Hopper volume ( L   )
600
Pumpable concrete slump ( mm )
180-230
Allowable maximum aggregate size ( mm )
30
Lubrication method
Centralized lubrication
cement pump truck detailed picture:
---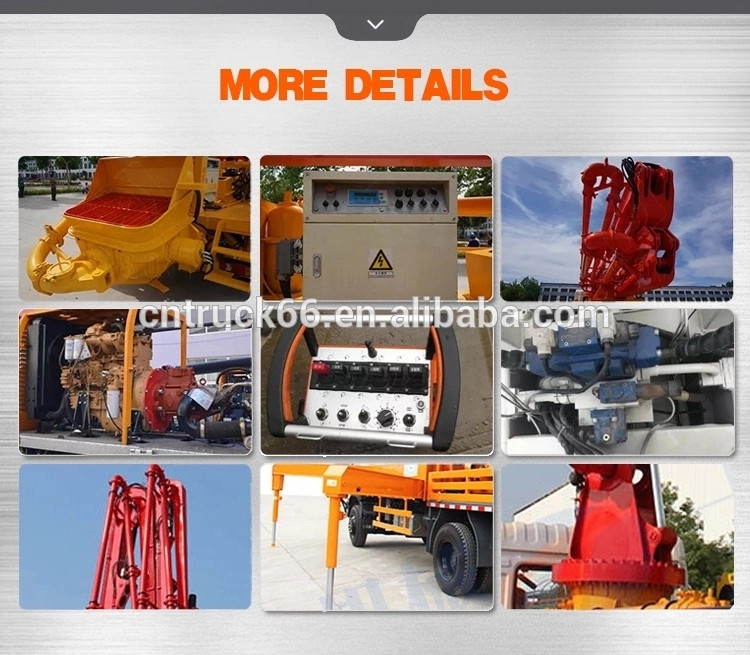 Concrete pumping truck Product Display:
---