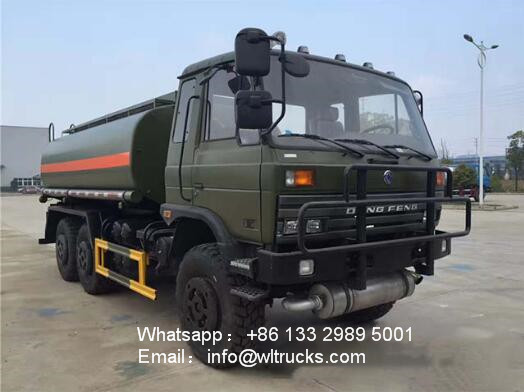 6×6 DFAC 12000l to 15000l Forest desert off-road water tank truck 
Adopt Dongfeng 6×6 chassis, 3200+1300mm wheelbase, 6-speed gearbox, 1200R20 tires, cummins 190hp engine.effective volume of tank is 10-15 cubic meters, water jet pump is 60/90.The tank body is pressed with 4mm thick national standard carbon steel plate, and the tank silo has a built-in baffle to prevent waves and sway.
products details:
---
1. Optional chassis brand of portable water truck: Dongfeng, Isuzu, Sinotruk, FOTON/Forland, Faw, Shacaman, etc.
2.Tank body is automatically welded by the national standard high-quality steel plate, which can be self-absorbed and added with water + fire hydrant with water + tank top with water.
3.Pipeline adopts large-diameter seamless steel pipe + large-diameter ball valve, with large flow and long range, 2 front hedges, 2 rear sprinklers for dust reduction, and 2 side spray irrigation.
4. Rear large platform is equipped with a green water cannon with a range of 28 meters and can be rotated in all directions. It can be continuously adjusted to straight, heavy rain, light rain, drizzle, and fog.
Working parameter:
---
Front nozzle
15 meters hedge, optional duckbill forward
Tank material
Carbon steel Q345/stainless steel 304
Rear sprinkler
Fan-shaped sprinkler, more than 20 square
Thickness of tank
4-6 mm
Car side nozzle
Sprinkler water, more than 6 meters
Tank shape
Square, square, oval
Green anti-aircraft gun
Water column 28 meters, adjustable large, medium and light rain
In-tank treatment
Standard anti-rust coating, can be used for anti-acid alkali polyurea epoxy treatment
Water pump brand
International well-known brand pump
Water way
Self-priming water, fire water injection, tank top water injection

Optional configuration

Cab electrical control, cab display cursor level gauge, sprayer, detachable snow shovel and snow roll device, front guardrail cleaning device
6×6 DFAC 12000l to 15000l Forest desert off-road water tank truck Specification:
---
Technical parameters of 6×6 water truck

Tank volume

15 cubic meters ( tons )

Sprinkling width

15 meters

Water cannon head

30 meters

Vertical suction

7 meters

Pump flow

30 cubic meters / hour

Pump head

90 meters

Total mass

15800 ( kg )

Load quality

12300 ( kg )

Curb quality

6405 ( kg )

Dimensions

8.18X2.48X3.1m

Tank size

5.2×2.27×1.49m

Number of passengers

3 (person)

Technical parameters of 12 tons Dongfeng Jincheng sprinkler chassis

Chassis name

Dongfeng Jincheng

Chassis model

EQ1160GSZ5DJ1

Number of axes

2

Number of tires

7 (including spare tire)

Wheelbase  (mm)

3950

Tire specifications

9.00/10.00R

Gearbox

5/8 file

Front and rear bridge

3.6/8 tons

Fuel type

Diesel

brake

Air brake

Emission Standards

GB17691-2005 country V , GB3847-2005

engine model

Engine company

Displacement (ml)

horsepower

ISB170 50/ YC4FA130-50

kangmingsi / Yuchai

5900

190

12- ton Dongfeng Jincheng sprinkler tops basic configuration

The standard configuration

  Dongfeng Jincheng 15- ton sprinkler tank material is thick 4mm thick steel plate, sprinkler pump, sprinkler cannon, work platform, power take-off, front punch, back sprinkler, universal nozzle, gravity valve, filter, distribution valve, Nozzle with self-priming and self-discharging function.

Optional configuration

   The Dongfeng Jincheng 15- ton sprinkler can be equipped with advanced facilities such as sprinkling medicinal plates, medicine pumps, anti-corrosion rust in the tank, multi-directional inlet and outlet joints, solenoid valves, pneumatic valves, etc. to meet the needs of different users.
Special function description:
1. Equipped with high power self-suction water pump that characterized by high-pressure and fast speed suction.
2. Equipped with front, rear and side sprinklers and high position sprinkler, and rear working platform.
3. The water cannon which is installed on the working platform can rotate by 360 degree and the water flow can be adjusted into various rain shape. There are straight shape, heavy rain, moderate rain and drizzle etc. The max range can reach 30m.
4. Equipped with fire coupling, flow valves, filter screen and water level gauge.
5. According to customers' request, the crane, high working platform and spraying machine also can be equipped.
6. Mainly used for washing on urban roads, watering and greening on trees, green belts and lawn and dust full of construction sites. And also used for drinking water delivery and fire fighting function etc.
water truck New craft:
---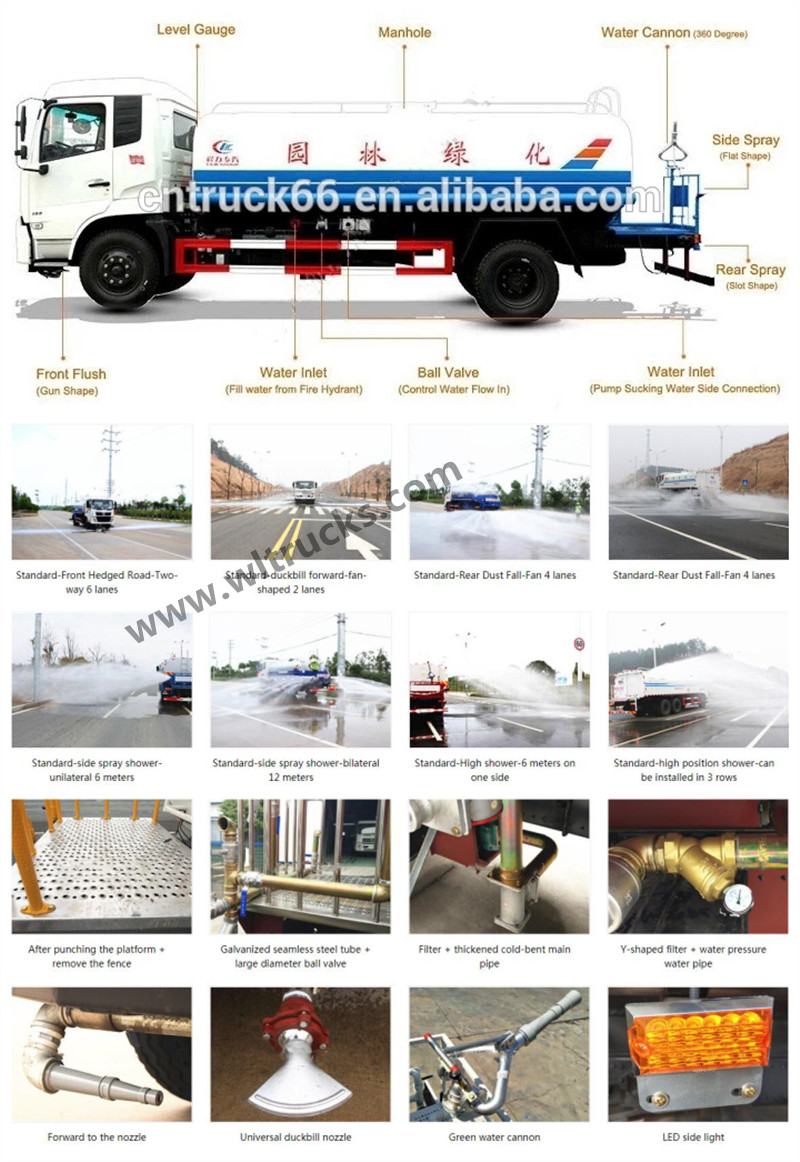 Optional configuration:
---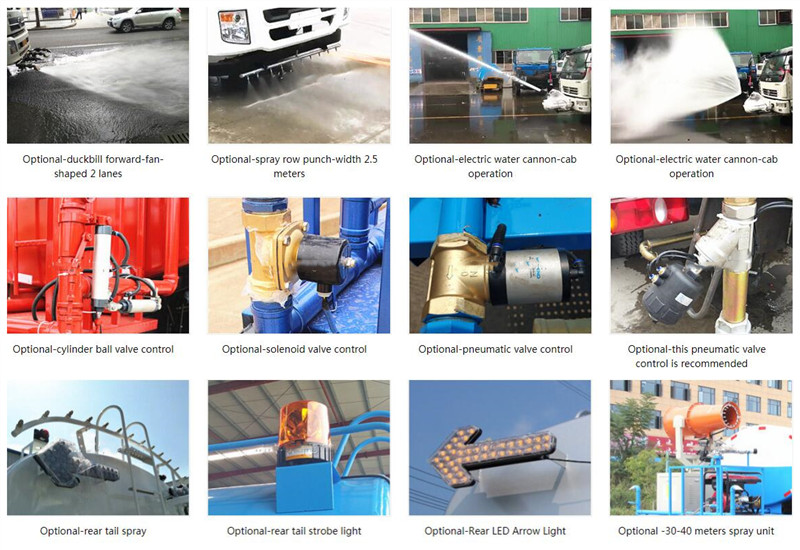 water spray truck Inspection Training:
---
—- SGS, BV, COTECNA, CE certification.
—- Local engineer training support.

Free Parts:
---
— Free parts for 12 months.
—- Supply of original parts.
—- DHL serves 7 days worldwide.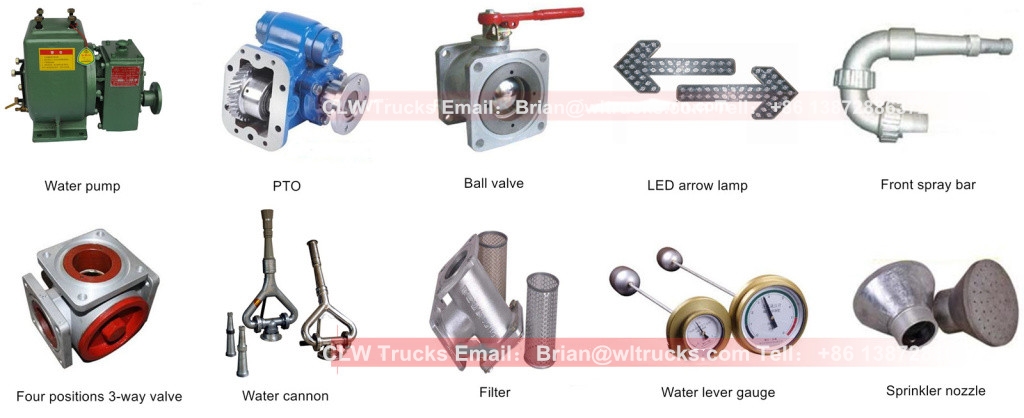 sprinkler truck Factory Advantage:
---
— 16 years of design and export experience.
—- 100% customized trucks.
—- Quick delivery guarantee.

Export Documents:
---
—- Serving more than 80 countries and regions.
—- Professional guidance on import documents.
—- CO, FORM E, FORM P, pre-implantation inspection …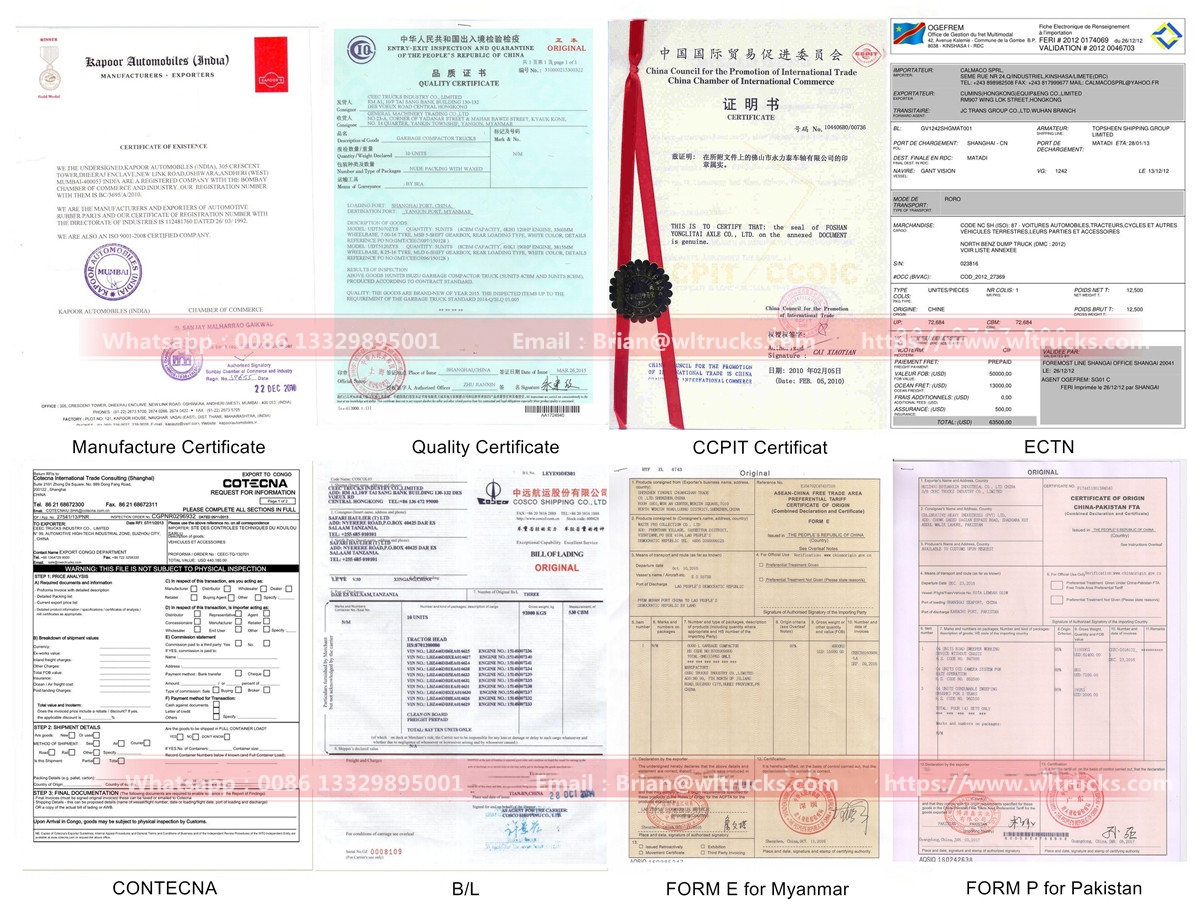 water Spray truck Shipping:
---
—- Maximize your shipping costs.
—- Professional guidance on import documents.
—- Safe, fast and timely

Bulk order case:
---
—- Fast shipping to all parts of the world.
—- The truck color and logo can be customized.