RHD/LHD DFAC 38 m to 45m Mobile hydraulic ladder truck
Adopt Dongfeng D9duolika chassis, which can accommodate 3 people, Cummins 170hp to 190 horsepower engine, and its external dimensions are 6480x2410X3840mm. working platform maximum load 400kg, maximum working height 38m to 45 meters, cantilever bracket span 1000mm , Retractable cantilever bracket 20s time, 7.00-16LT tires.the vertical height is equivalent to 15 floors, the maximum load of cargo is 400 kg, and the ladder arm is imported from South Korea.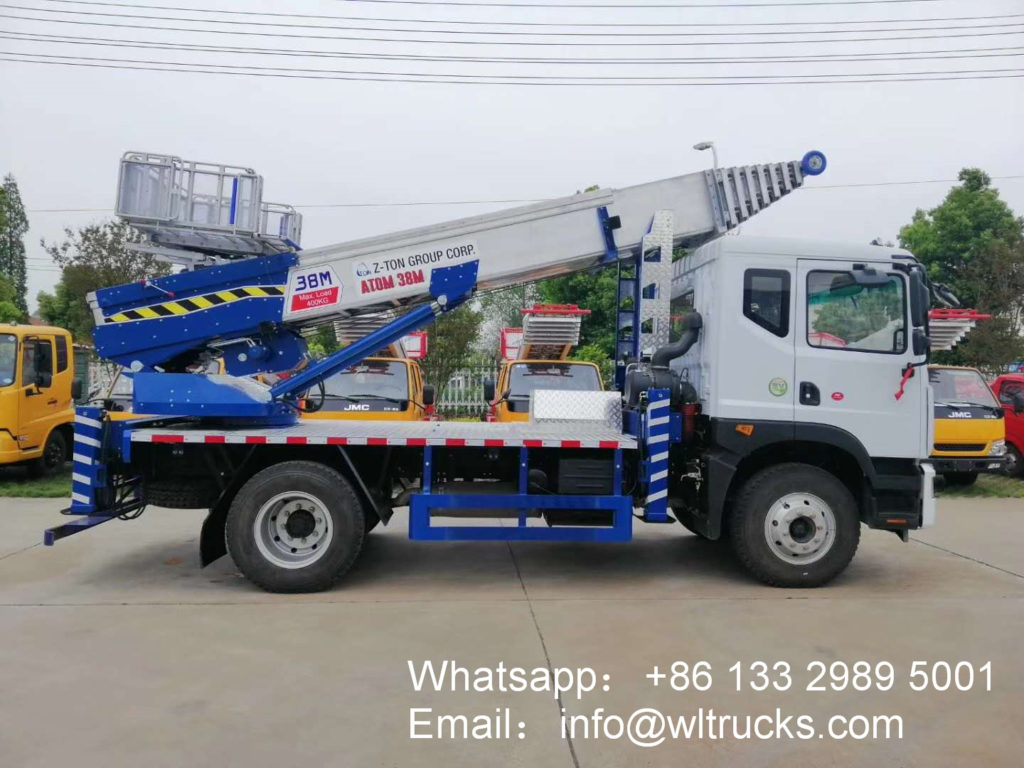 RHD/LHD DFAC 38 m to 45m Mobile hydraulic ladder truck Application area:
Aerial ladder truck, also called high altitude cargo delivery ladder truck, is specially designed and produced for transporting furniture or other house using goods, heavy cargos to high floor building; do operation works on high altitude.
28 to 45 meters ladder type multi-purpose overhead working truck, safe and reliable, and can be used for aerial work, high relief, high-rise cargo handling, suitable for villa floor decoration, outer wall paint, trim trees, billboards, street lamp, monitoring equipment, installation and maintenance convenient service, high-rise fire rescue and so on aerial work also can be widely used in: municipal construction, highway, railway, airport, hospital, ships, mines, tunnels, exploration, oil, terminals, pipelines, shipyards, power plant, drilling, steel mills, subway, factory, hotel, supermarket, office building, wide in the field of communications and companies..
RHD/LHD DFAC 38 m to 45m Mobile hydraulic ladder truck specification:
---
product name
RHD/LHD 38 m moving ladder truck,hydraulic ladder lift aerial truck
Dimensions (mm)
7280x2410X3840mm
Total mass (kg)
9655
Rated mass (kg)
1000
Chassis parameters
Chassis model
ZZ1107G421CE199
Maximum speed (km/h)
95
Front track (mm)
1885
Rear track (mm)
1825
Wheelbase (mm)
3950
Tire specifications
9.00-20
Engine parameters
engine model

China Cummins

Emission Standards
Euro III (diesel)
Engine manufacturer
ISB170-33
Horsepower
170
Top-loading configuration

38 meter ladder truck has a vertical height of 38 meters, which is equivalent to 13 floors. The maximum load is 400 kilograms. The configuration includes hydraulic legs, remote control, dump bucket and radiator.

Cheng Liyun ladder car advantages:
1, ladder truck: humanized design, more convenient, landing bucket 45 cm from the ground, work more effort
2, 100 meters remote control operation, within 100 meters can be remote control operation, no longer have to worry about It is more convenient to work under the sun and work.
3. The hopper of the self-unloading function can automatically unload the goods when transporting goods or sand, which greatly saves working time.
4. Hydraulic legs, H-type hydraulic legs and front hydraulic legs, two sections The horizontal leg has a large span and good stability. It can be operated at the same time or separately. The front leg strengthens the stability of the vehicle.
5. The 220V truck-mounted power supply is optional. The electric working tool can be connected at the work site for convenient operation
. The air pump can be connected at the work site, pneumatic working tools, it is convenient and labor-saving to work.
7. The navigation device is equipped with the navigation device. It integrates navigation, driving recorder, reversing image and audio and video playback functions. It is convenient for driving
8. Travel memory, through computer learning and memory the first operation mode, a key to reach the designated position, free lift speed regulation for multiple jobs at the same height and from
9, radiator automatic manual, automatic Temperature, when the temperature reached 55 degrees, automatic cooling, reduce the loss of the security configuration: a work vehicle can be achieved 400kg load platform, the maximum operating range 11 m.

1. Automatic interlocking device for getting on and off: used for interlocking between the upper and lower vehicles to prevent danger from misoperation.

2. Horizontal state tester for the whole vehicle: It can detect the tilting state of the vehicle in both horizontal and vertical directions.

3. The ladder limit alarm device: ladder Extending to reach the limit automatically alarm prompt

4, emergency brake device: used to force stop the platform operation

5, one-button ignition, flameout: the engine can be ignited and extinguished at the operating console

6, night safety lighting device: at the ladder There are engineering lighting on the arm

7. Safety warning device for the leg: used to warn that the leg is not received as required
RHD/LHD 38 m Mobile hydraulic ladder truck and manual handling:
---
         Workload
     Number of people
   Operating time
      cost
28m cloud ladder moving car
20 cubic meters of sand /600 bags of cement

(Move to the 2nd floor or higher)

        2 people
      6 hours
      1800$
Manual handling
        8 people
       2-4 days
Around 5,000$
Comparison of the ladder lift truck and other types of aerial work trucks:
It can be equipped with80 meters of wireless remote control. The wireless remote control includes the start of the whole vehicle, the lifting of the cargo bucket, the automatic stop when it reaches the specified position, and the hydraulic radiator switch.
All components of Yunti are imported from South Korea,with stable quality, rich experience and technical clearance.
Aself-unloadingbucket can be installed , and the bucket can reach the ground directly . Greatly saves manpower and makes the operation more efficient.
The cargo hopper can be unfolded. After unfolding, the length and width are2m*2.4m. Can hold larger volumes of goods.
RHD/LHD DFAC 38 m to 45m Mobile hydraulic ladder truck New craft:
---

RHD/LHD DFAC 38 m to 45m Mobile hydraulic ladder truck details:
---

ChengLi Aerial platform truck features:
---
◇ The truck adopts the international leading Qingling high-end chassis and is equipped with a special device for straight arm hydraulic lifting
◇ Three operating modes: wireless + wired + handle, more convenient to use, adapt to various working conditions, computer intelligent control, automatic limit range, automatic alarm device for dangerous working conditions, more safe and reliable
◇ The work bucket and the rear of the entrance and exit, easy to enter and exit, good passability
◇ Fully telescopic working arm, high operating efficiency, wide operating range
◇ Octagonal cross section of working arm, good love, made of high strength material, good reliability
◇ There is an emergency power source for more protection, and a 220V power socket is provided when getting off the car, which can easily lead the 220V power source to work at a high place.
◇ Remote control system of engine speed, easy to operate and high efficiency
◇ The support legs can be operated on both sides of the cab, which is convenient and efficient.
◇ The outrigger is H-shaped, the outrigger span is large, and the stability is good. It can be operated at the same time or separately, adapting to various ground conditions
◇ 360-degree turntable rotation, wide operating range, improve efficiency.