Ford Transit V348 long-axle mid-roof transport siren ambulance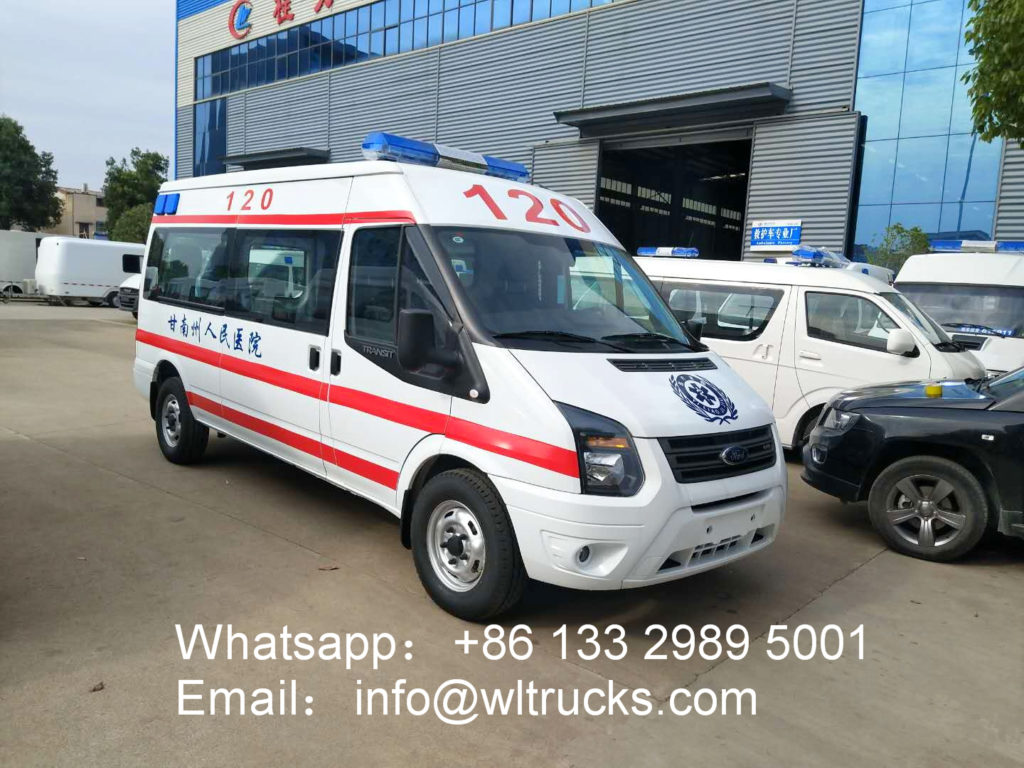 ---
Ford Transit V348 long-axle mid-top ambulance is fully prepared for active and passive safety. The 3H high-steel safety body structure is twice as strong as ordinary steel plates, and it has stronger impact resistance. The double airbags ensure the safety of drivers and passengers.
Security technologies such as ABS anti-lock braking system, EBD electronic braking force distribution, ESP body electronic stability system, etc., can more actively detect and analyze road conditions and solve problems such as oversteer or understeer that may be faced in slippery road conditions. The method guarantees driving safety. With excellent performance advantages, Ford Transit V348 long-axle mid-top ambulance sales have led its opponents all the way.
Equipment include one portable stretcher, one medical locker, one oxygen bomb,two transfusion hooks, one sterilizing lamp, one sewage barrel, three single seats, preserve with two soft cushion, soft back and life belt, one aluminum alloy slid window, one top alarm lamp, two headlamps, one converter, one power jack, handrail,footstep, plastic floor, ambulance cross sticker.
specification:
---
The

 main technical parameters of Cheng Liwei CLW5040XJHJ5 siren ambulance
Vehicle model
CLW5040XJHJ5
Emission Standards
Eruo 5
manufacturer

Chengli Special Purpose Vehicle Co., Ltd.

Fuel type
Diesel
Total quality
3550  kg
Curb quality
2300 kg
Number of passengers
3-9 people
Maximum speed
140 km/h
Front track
1745 mm
Rear track
1700 mm
Wheelbase
2933 mm
Tire specifications
215/75R16LT
Dimensions
4963×2000×2560, 2400, 2242 mm
other
Equipped with mechanical pedals or electric pedals, optional ordinary headlights; when the roof is equipped with forehead bosses with police lights or forehead bosses with LED screen mounted police lights, the height is 2400mm; the optional ventilator is 2560mm ; Optional low-roof cab with a height of 2242mm; single or multiple strobe lights around the top; vehicle appearance signs and lettering can be sprayed or pasted according to industry or user requirements; equipped with medical equipment cabinets, stretchers, oxygen bottles and other ambulances Special equipment; ABS system manufacturer, models are Bosch Automotive Parts (Suzhou) Co., Ltd., 6C11 2M110 A*.
Cheng Liwei CLW5040XJHJ5 ambulance

 engine parameters
engine model
Engine manufacturer
Displacement (ml)
Power (kw)
DURATORQ4D225H
Jiangling Motors Co., Ltd.
2198
100
Transport ambulance Configuration parameter:
---
basic configuration
1
Medical cabin air conditioner
1
2
Medical cabin heater
1
Circuits and electrical appliances
Alarm and warning system
1
Long row of standard police lights,
1
2
100W alarm and handheld control
1
Interior roof, interior, power supply
3
500W power inverter
1
4
Medical cabin rocker control switch
1
5
12V power port
1
6
220V power port
2
7
Top LED lighting
4
8
Positive and negative ventilation fan
1
9
Long delay disinfection lamp
1
Oxygen circuit and oxygen
Oxygen supply system
1
One 10-liter medical iron bottle and shock-absorbing clamp
1
2
One humidification bottle with oxygen pressure reducing valve, directly connected to the oxygen bottle
1
Medical cabin production
Inside the medical cabin
1
Original car interior
1
2
Partition wall
1
3
Sliding window for partition wall
1
4
1 medical cabinet behind the partition wall
1
5
Oxygen cylinder fixed beside the medicine cabinet
1
6
Wear-resistant non-slip blue medical floor leather
1
Seat
Seat system
1
Independent left seat
2
2
Independent right seat
2
First aid
medical system
1
Auto stretcher
1
2
Stretcher pad
1
3
1 sliding infusion stand
1
4
1KG fire extinguisher
1
Exterior
Outside the vehicle
1
Black sun film on the left side of the medical cabin
1
2
Translucent matte film on right and rear
1
3
Cross marks on the left and right doors
1
Ambulance car details:
---

Ford Transit V348 long-axle mid-roof transport siren ambulance equipment: