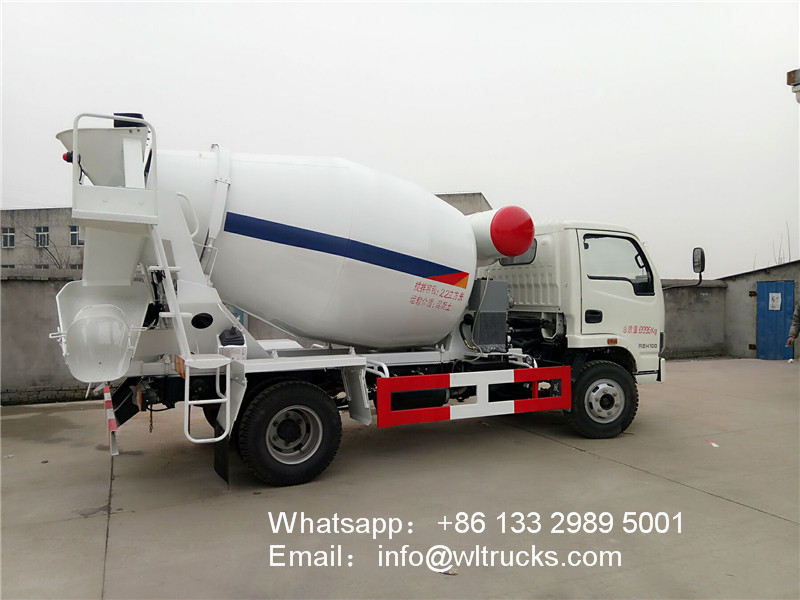 Yuejin 3m3 mini cement mixer truck 
Adopts Yuejin single-row cab, wheelbase 3300mm, 5th gear with auxiliary gearbox, vehicle size: 5900×2300×2600mm, equipped with Yunnei 105 horsepower Eruo 3diesel engine.
products description:
---
Our mixer truck is mainly used in cement mixing station, construction field and other place.The capacity ranges from 2m3 to 18m3, meeting customers' various needs.
It is can loading and unloading by itself. After discharging the concrete, the mixer drum will be cleaning automatically by its water suppling system.
Our concrete truck mixer consists of seven main parts. Theyare hydraulic pump, reducer, rotating drum mixer, operation system, drum cleaning system,concrete feed hopper,concrete outlet hopper.
---
Basic parameters
Vehicle name:
3m3 concrete mixer truck
Product trademark:
Yuejin
engine:
105 horsepower in the cloud
Cab:
Yuejin H100 white single-row cab
Gearbox:
5 Miles
Rear axle:
145 shortened rear axle
Dimensions:
5900×2300×2600(mm)
Actual volume:
3 parties
Total quality:
4497kg
Curb quality:
2725kg
Maximum speed:
80km/h
Displacement:
3298ml
Wheelbase:
3300(mm)
Tire specifications:
7.25-16 nylon tire
Drive method:
4×2
Braking method:
Steam brake
Fuel type:
Diesel
Emission Standards:
Eruo 3
Upload parameters
Head:
6mm thick high-strength manganese steel (Q345) material is more wear-resistant
Tank body:
5mm thick 16 fierce high alloy steel
blade:
4mm thick (520JJ) alloy steel material (addition of wear-resistant strips to increase service life)
Reducer:
Shijiazhuang Keyi (optional German ZF reducer)
Hydraulic system:
Long source oil pump, vigorous motor (optional Sally, Interpup oil pump motor)
cooling system:
Xinxiang Zhenhua (Changzhou Kaipeng and Xugong radiators are optional)
water supply system:
300L water tank pressure water supply
Operation method:
Trilateral operation on the left and right sides and the cab
Feeding speed:
3m3/min
Discharging speed:
2m3/min
Discharge residual rate:
Discharge residual rate≤0.5
Discharge range:
180° height adjustment
cement mixer vehicle detailed picture:
---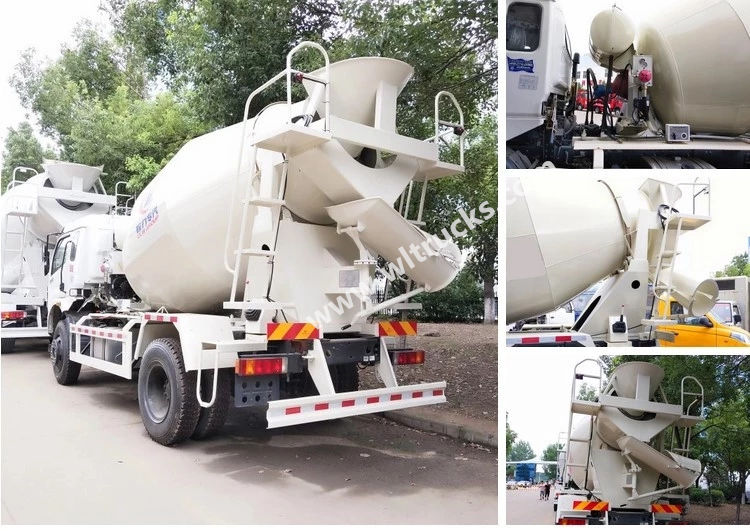 mixing trucks Structural composition drawings:
---