Shacman 8cbm Garbage compactor truck Product Description:
---
Shacman 8cbm Garbage compactor truck Chassis configuration: Shaanxi Automobile chassis, wheelbase 3.8 meters, Shaanxi Automobile Xuande 9 series wide-body single-row cab, Weichai 130 horsepower engine, 6-speed gearbox, 825 steel tires, 1068 rear axle, air brake, direction assist ABS.
Shacman 8cbm Garbage compactor truck Bodywork configuration: Compressed volume of 8 cubic meters, made of T420 special steel plate integrally bent, equipped with Xiamen Yinhua hydraulic cylinder oil leakage replacement, Changyuan 40 hydraulic pump, Zhongmei multi-way valve, Siemens PLC control, electro-optical switch, 2 sewage Collection box, 3 operation control boxes, with night light, equipped with two-way compression function, the two-way hydraulic lock does not leak water.
Shacman 8cbm Garbage compactor truck Optional configuration: optional double pump confluence + double valve control, optional hanging bucket rack, triangle bucket, fully sealed bucket, swing arm device. Can hold 120-135 barrels to produce garbage.
Shacman 8cbm Garbage compactor truck Specifications:
---
  Specifications of CLW5120ZYSX5 Garbage Compactor Truck
Model
CLW5120ZYSS5 garbage compactor truck
Chassis brand & Year
SHACMAN X9
Wheel Drive
4×2, LHD
Overall Dimension
7200*2300*3000mm
Volume of Garbage box
8CBM, 3mm side wall, 4mm floor
Gross Weight
12000kg
Curb Weight
6820kg
Rated Weight
5~8 Tons
Engine
WEICHAI WPEQ130E50 130HP Euro V diesel engine
Wheelbase
3800mm
Tires:
6+1,7.50R16 radial tires
Cabin
Shacman X9 luxury cabin, 3 seats, power window, A/C
Transmission
Manual, 6 front gears and 1 rear gear
Brake
Air brake
Max Speed
90km/h
Shacman 8cbm Garbage compactor truck Working parameter:
---
Hydraulic pump
Long source large flow 32-80 pump, optional double pump and double valve
Body material
High strength T420 special steel plate
Hydraulic cylinder
Xiamen Yinhua, Yantai Future
Box thickness
Lightweight design with 4mm at the bottom and 5 sides
Multi-way valve
Jiangsu Zhongmei, Italy imports
Sewage tank
2 (1 on the side and 1 on the rear)
Conversion mode
Photoelectric switch (formerly pressure relay)
Sewage seal
Tail diversion groove + rubber hydraulic lock
Automatic control
Standard configuration, Siemens PLC electronic control
Lighting device
Tail night light
Electric control box
3 (1 in the cab and 2 in the rear)
safety devices
Tail lift with hydraulic lock
Optional configuration
Hanging plastic buckets (120L, 240L, 360L, 480L, 660L), hanging iron buckets, triangle buckets, fully sealed buckets, swing arm racks, electric hydraulic system
Shacman 8cbm Garbage compactor truck New craft:
---

Shacman 8cbm Garbage compactor truck Detailed Images: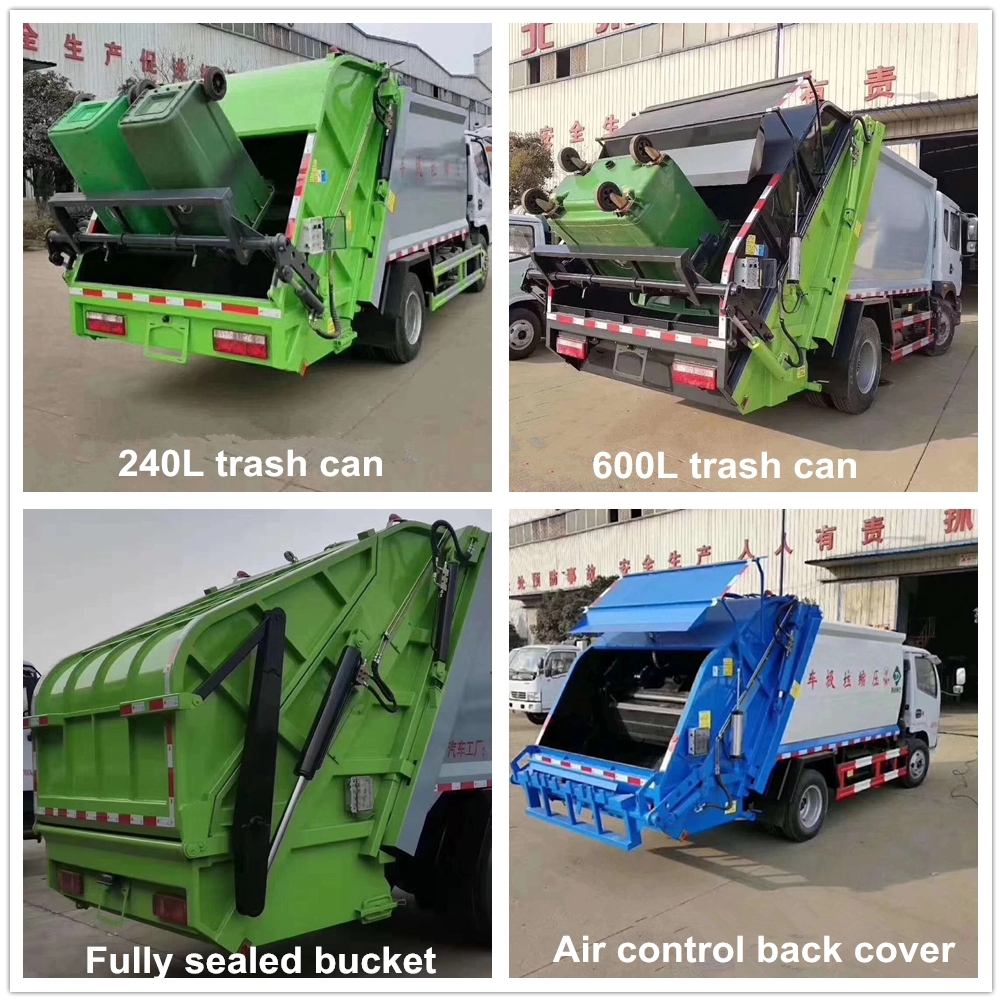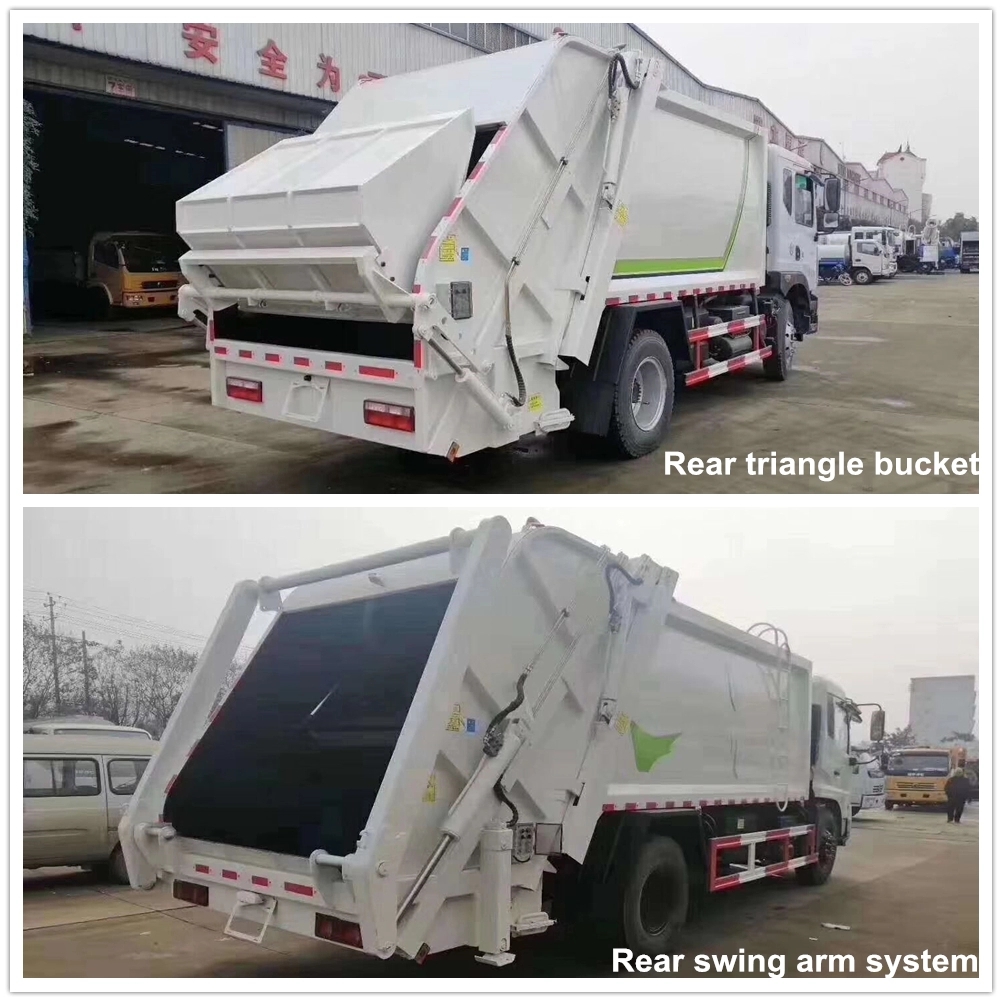 Shacman 8cbm Garbage compactor truck Structure diagram:
---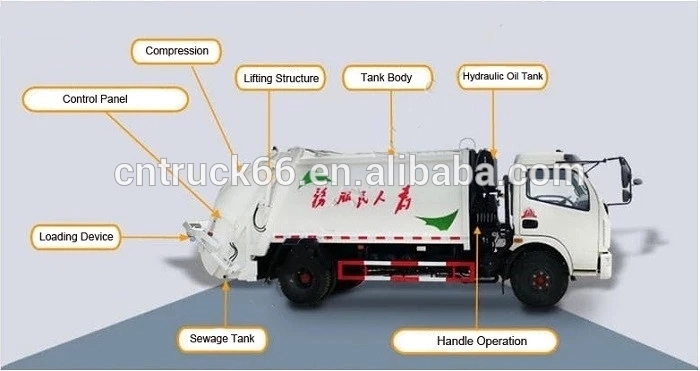 Shacman 8cbm Garbage compactor truck Detail drawing:
---

Customizable garbage truck models
---