JMC Teshun Diesel Transport Ambulance vehicle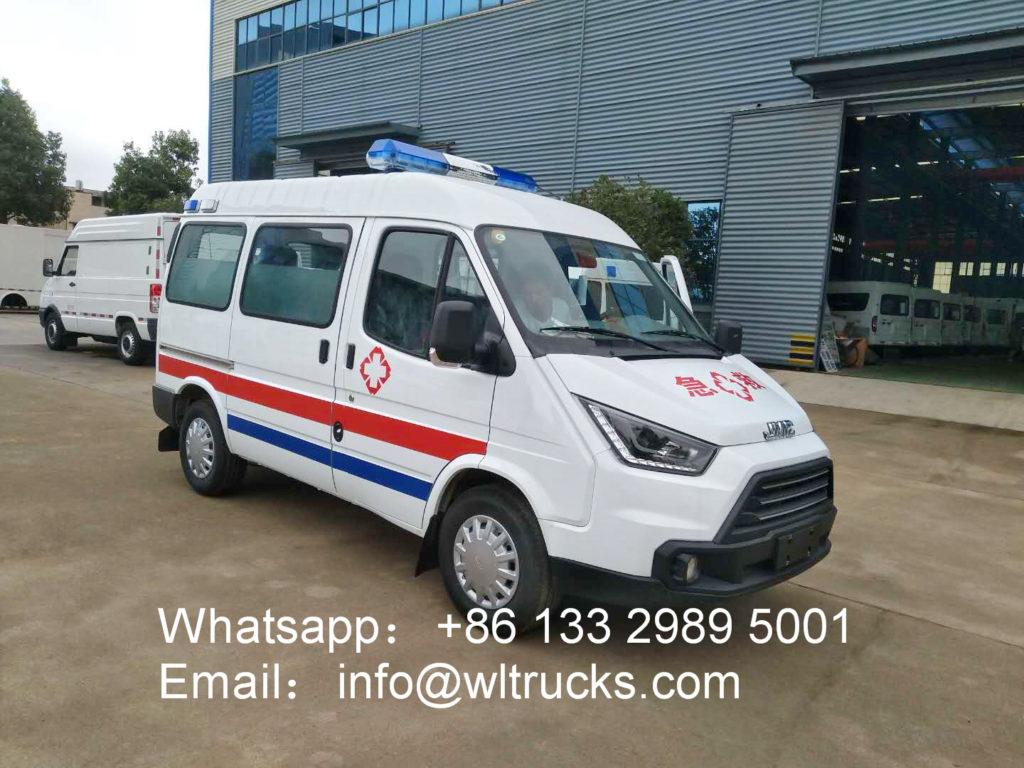 ---
JMC Teshun modified the front shape on the basis of classic Transit, while hanging JMC brand LOGO, and the price is very close to the people. The new car's quadrilateral headlights are very sharp and contain LED daytime running lights. Overall, the front face of the new car is very personal.
Equipment include one portable stretcher, one medical locker, one oxygen bomb,two transfusion hooks, one sterilizing lamp, one sewage barrel, three single seats, preserve with two soft cushion, soft back and life belt, one aluminum alloy slid window, one top alarm lamp, two headlamps, one converter, one power jack, handrail,footstep, plastic floor, ambulance cross sticker.
specification:
---
Main technical parameters of SZD5049XJHJ ambulance vehicle
Vehicle model
SZD5049XJHJ
Emission Standards
Eruo 5
manufacturer

Suizhou Dongzheng Special Automobile Co., Ltd.

Fuel type

Diesel

Total quality

3510

 kg
Curb quality

2100

 kg
Number of passengers

3-7

 people
Maximum speed

120

 km/h
Front track

1692

 mm
Rear track

1700

 mm
Wheelbase

2835

 mm
Tire specifications

215/70R15LT

Dimensions

4744, 4944×1972×2435, 2245

 mm
other

A flat roof is optional with the chassis, the height of the car is 2245mm. The rear pedal is optional, the length is 4944mm, and the corresponding rear suspension is 1083mm. The wheel cover is optional, the roof ventilating fan is optional, and the strobe light is equipped. It is equipped with a medical stretcher, oxygen bottle, and infusion clip. Holder and other special equipment. ABS system controller model: APG3550500G; ABS system controller manufacturer: Zhejiang Asia-Pacific Mechanical and Electrical Co., Ltd.
SZD5049XJHJ Ambulance

Engine parameters
engine model
Engine manufacturer
Displacement (ml)
Power (kw)

JX493ZLQ5

Jiangling Motors Co., Ltd.

2771

85
Transport ambulance Configuration parameter:
---
basic configuration
1
Medical cabin air conditioner
1
2
Medical cabin heater
1
Circuits and electrical appliances
Alarm and warning system
1
Long row of standard police lights,
1
2
100W alarm and handheld control
1
Interior roof, interior, power supply
3
500W power inverter
1
4
Medical cabin rocker control switch
1
5
12V power port
1
6
220V power port
2
7
Top LED lighting
4
8
Positive and negative ventilation fan
1
9
Long delay disinfection lamp
1
Oxygen circuit and oxygen
Oxygen supply system
1
One 10-liter medical iron bottle and shock-absorbing clamp
1
2
One humidification bottle with oxygen pressure reducing valve, directly connected to the oxygen bottle
1
Medical cabin production
Inside the medical cabin
1
Original car interior
1
2
Partition wall
1
3
Sliding window for partition wall
1
4
1 medical cabinet behind the partition wall
1
5
Oxygen cylinder fixed beside the medicine cabinet
1
6
Wear-resistant non-slip blue medical floor leather
1
Seat
Seat system
1
Independent left seat
2
2
Independent right seat
2
First aid
medical system
1
Auto stretcher
1
2
Stretcher pad
1
3
1 sliding infusion stand
1
4
1KG fire extinguisher
1
Exterior
Outside the vehicle
1
Black sun film on the left side of the medical cabin
1
2
Translucent matte film on right and rear
1
3
Cross marks on the left and right doors
1
Ambulance car details:
---

JMC Teshun Diesel Transport Ambulance vehicle equipment: