JMC 8000L Garbage compactor truck Product Description:
---
JMC 8000L Garbage compactor truck Chassis configuration: Jiangling original chassis, wheelbase 3.815m, new Kaiyun N800 white cab, Jiangling 152 horsepower engine, Jiangling 6-speed gearbox, power windows, power steering, 750R16 steel tire with spare tire, ABS, central control lock.
JMC 8000L Garbage compactor truck Bodywork configuration: Compressed volume of 8 cubic meters, made of T420 special steel plate integrally bent, equipped with Xiamen Yinhua hydraulic cylinder oil leakage replacement, Changyuan 50 hydraulic pump, Zhongmei multi-way valve, Siemens PLC control, electro-optical switch, 2 sewage Collection box, 3 operation control boxes, with night light, equipped with two-way compression function, the two-way hydraulic lock does not leak water.
JMC 8000L Garbage compactor truck Optional configuration: optional double pump confluence + double valve control, optional hanging bucket rack, triangle bucket, fully sealed bucket, swing arm device.
JMC 8000L Garbage compactor truck Specifications:
---
【Vehicle technical parameters】
product name
Compressed garbage truck
batch
312
Total mass (Kg)
8200
Rated load mass (Kg)
2005
Curb weight (Kg)
6000
Total mass of quasi-trailer (Kg)
Front passenger (person)
3
Rated passenger (person)
Dimensions (mm)
6400 x 2280 x 2780, 3380
Cargo compartment size (mm)
xx
Approach angle / departure angle (°)
23/15
Front / rear suspension (mm)
1125/1720
Axle load (Kg)
2950/5250
Maximum speed (Km / h)
80
Remarks
With a rear extension of 195mm, the truck is used for garbage transfer. The main special device is a box and a compression system. Side protection material is aluminum alloy, bolt connection; rear protection material is Q235, welding, cross-sectional size: 120mm × 50mm, height from ground: 450mm. ABS system model: VIE ABS-II, ABS system manufacturer: Shanghai Wanjie Automobile Control System Co., Ltd. The fuel consumption of the engine JX4D30A5H is 14.71L / 100km.
【Other parameters of vehicle】
Chassis model
JX1083TGA25
Brand name
Number of axes
2
Number of tires
6
Wheelbase (mm)
3360
Tire specifications
7.50R16LT 14PR
Front track (mm)
1585
Rear track (mm)
1530
Fuel type
Diesel
Emission standard
GB17691-2005 National V, GB3847-2005
engine model
Engine manufacturer
Displacement (ml)
Power (Kw)
JX4D30A5H
Jiangling Motors Co., Ltd.
2892
112
JMC 8000L Garbage compactor truck Working parameter:
---
Hydraulic pump
Long source large flow 32-80 pump, optional double pump and double valve
Body material
High strength T420 special steel plate
Hydraulic cylinder
Xiamen Yinhua, Yantai Future
Box thickness
Lightweight design with 4mm at the bottom and 5 sides
Multi-way valve
Jiangsu Zhongmei, Italy imports
Sewage tank
2 (1 on the side and 1 on the rear)
Conversion mode
Photoelectric switch (formerly pressure relay)
Sewage seal
Tail diversion groove + rubber hydraulic lock
Automatic control
Standard configuration, Siemens PLC electronic control
Lighting device
Tail night light
Electric control box
3 (1 in the cab and 2 in the rear)
safety devices
Tail lift with hydraulic lock
Optional configuration
Hanging plastic buckets (120L, 240L, 360L, 480L, 660L), hanging iron buckets, triangle buckets, fully sealed buckets, swing arm racks, electric hydraulic system
JMC 8000L Garbage compactor truck New craft:
---

JMC 8000L Garbage compactor truck Detailed Images: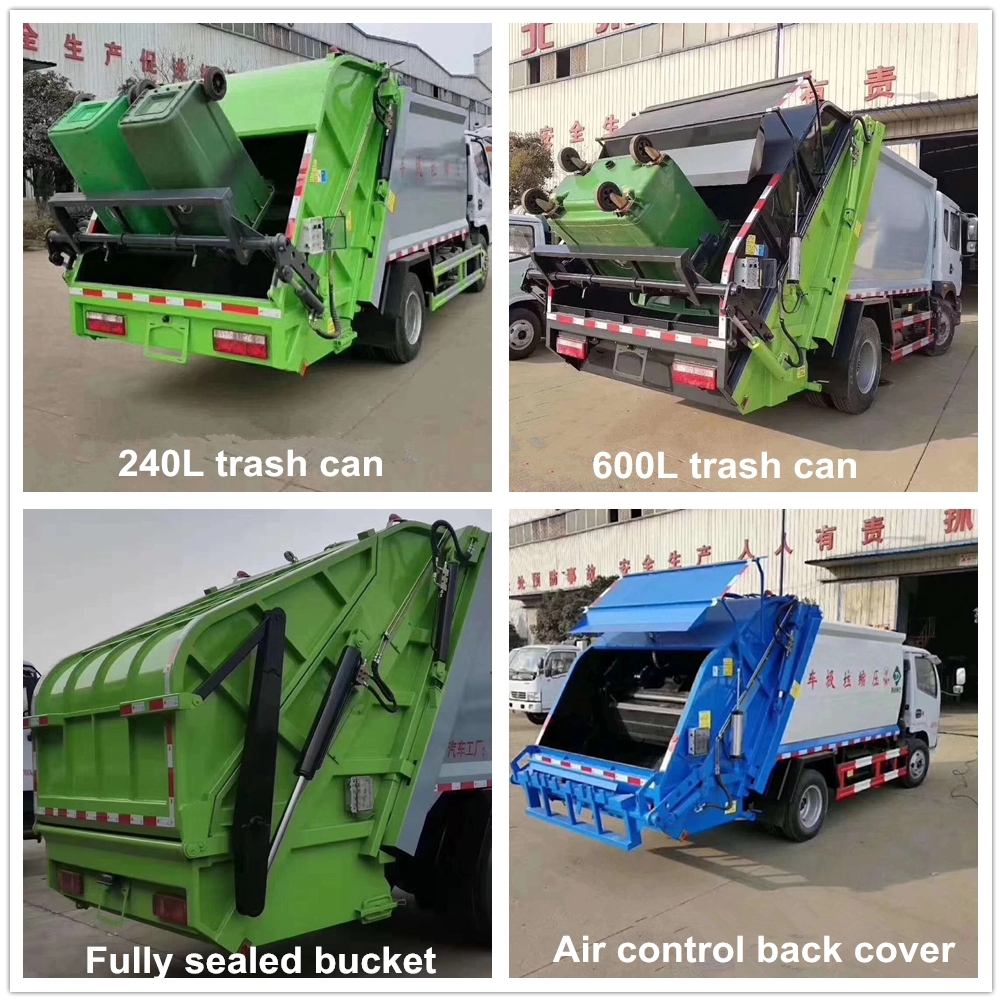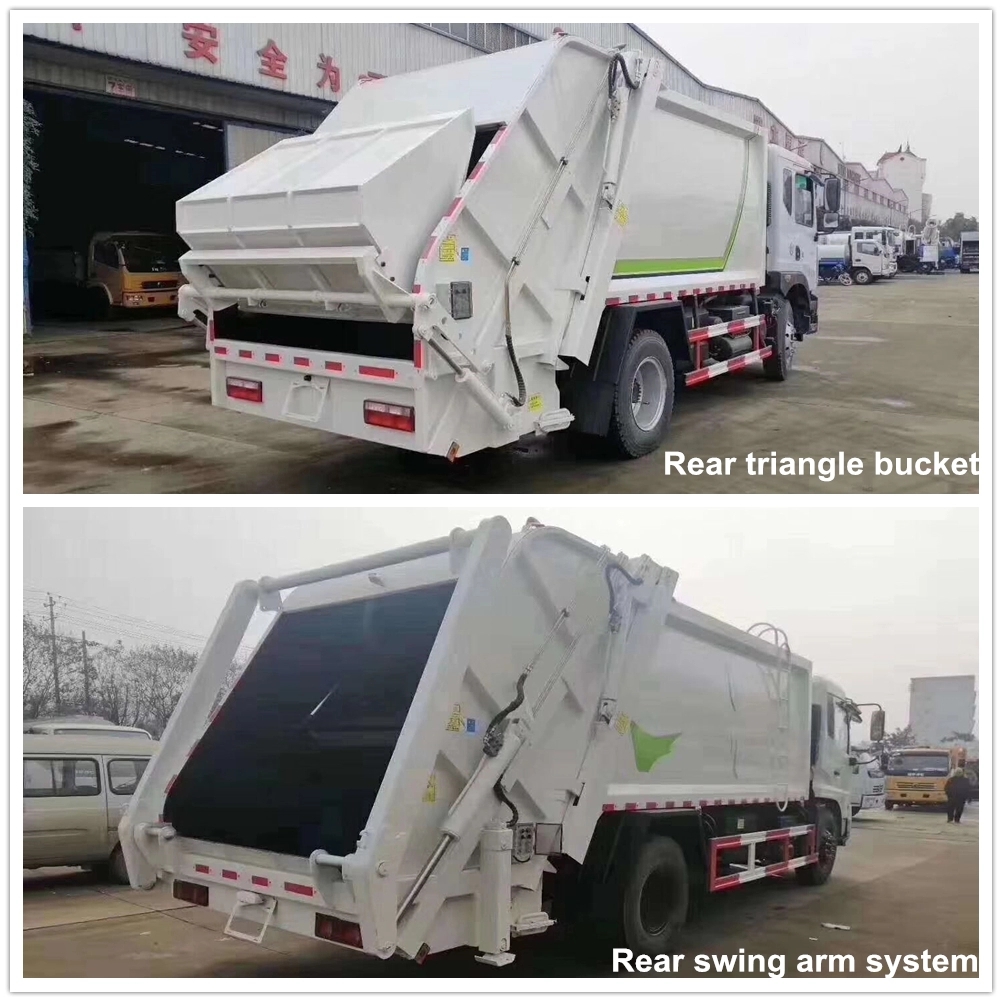 JMC 8000L Garbage compactor truck Structure diagram:
---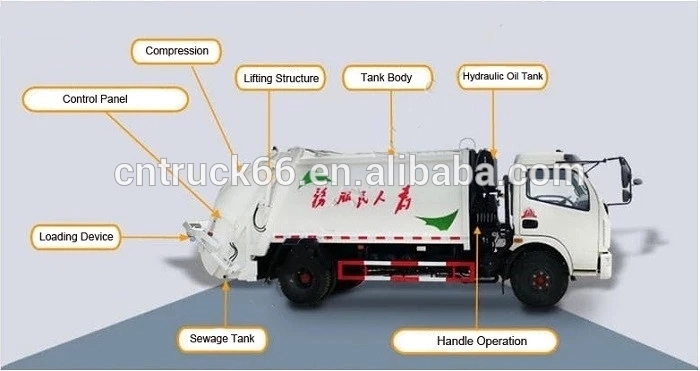 JMC 8000L Garbage compactor truck Detail drawing:
---

Customizable garbage truck models
---