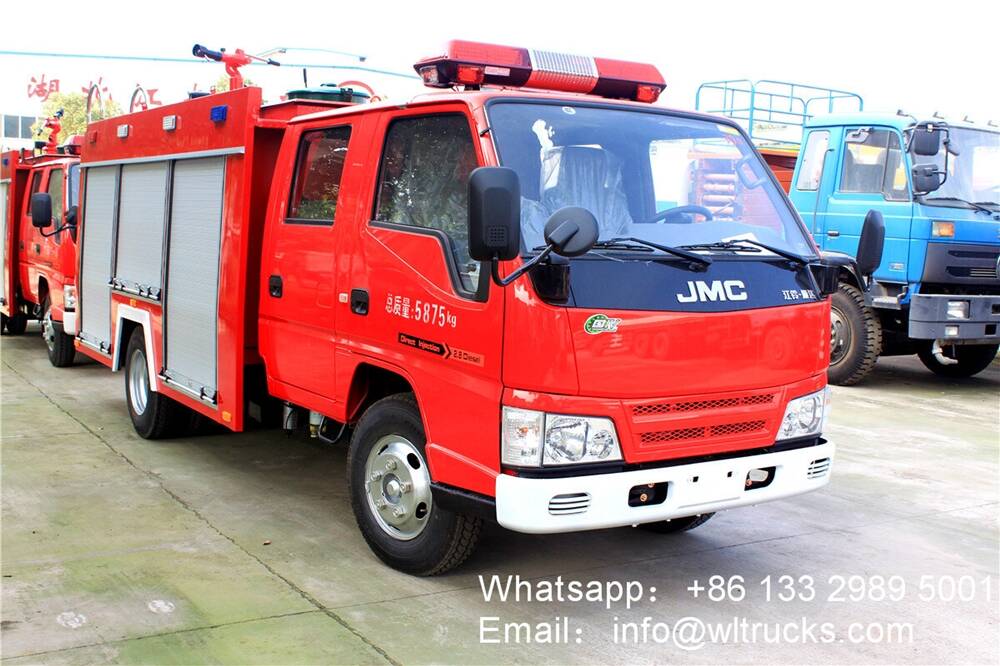 JMC 2 tons water tank fire truck, vehicle model: CLW5065GXFSG15/A type water tank fire truck, the car is modified by JMC JX1061TSG25 chassis. The vehicle is composed of two parts: the firefighter's cabin and the body. The cabin is the original double row and can take 2+3 people. The car has an internal warehouse structure. The front of the body is a water tank + equipment box, and the rear is a pump. room.
The liquid carrier tank is made of high-quality carbon steel, and is elastically connected to the chassis. It carries 1500kg of water (SG15A). It is equipped with a CB10/20-RS fire pump produced by Shanghai Rongshen Fire Equipment Co., Ltd., with a rated flow of 20L/S and roof installation. PS20W vehicle fire monitor produced by Chengdu West Fire Fighting Machinery Co., Ltd.
Product Specifications:
---
Vehicle name:
Jiangling Water Tank Fire Truck
Vehicle model:
CLW5065GXFSG15/A
Dimensions:
6225×1980×2810
Chassis model:
JX1061TSG25
engine:
Jmc 115hp/85kw
Tank volume:
1.5~2.5 cubic meters
Drive type:
4×2
Emission Standards:
Eruo 5
Number of people allowed in the cab:
2+3 people
Number of axes:
2
Front track:
1503,1485,1519mm
Tire specifications:
7.00R16LT 10PR
Wheelbase:
3360mm
Rear track:
1494mm
Number of leaf springs:
7/5+6
Axle load:
2920/3655kg
Maximum speed:
99km/h
Anti-lock brake system:
Have
Front suspension/rear suspension
1065/1730mm
Number of tires:
6
Approaching the departure angle:
25/13°
Total quality:
5815kg
Rated quality:
1470kg
Curb quality:
3970kg
other:
Brake system: service brake system, dual-circuit hydraulic vacuum assisted brake; parking brake, central drum brake.
Modified tops : mainly from power take-offs, cabs, equipment boxes, tanks, pump rooms, fire pumps, fire monitors and piping systems, electrical systems, control systems, etc.
PTO
Structure and form
Integral box type, full power, sandwich type, forced adjustable circulating water cooling, splash oil lubrication
Cab
Structure type
The overall four-door double-row flat head, additional crew room, a total of 5 seats. (3 people in the cabin and 2 people in the cab)
Equipped with fire-fighting facilities
Police lights and sirens, dialogue machines, air breathing apparatus, power takeoff switches
Equipment box
Structure and form
Full-quality carbon steel frame welded, built-in skeleton, outer skin, three doors at the rear of the vehicle, left and right rear, and aluminum alloy curtain door.
Equipped with fire fighting equipment
Conventional standard configuration can also be added according to special needs
Container
Structure and form
Built-in , integral rectangular welding, made of high-quality carbon steel plate, anti-sway plate inside, mesh format, manholes in adjacent compartments, manholes in tank top, overflow port, external water injection port, sewage The mouth, liquid level indicator and inner wall are all anti-corrosive.
Carrier volume
Water: 1500kg/ 1.5~2 cubic meters (effective volume)
Pump room
Structure and form
The full-quality carbon steel frame is welded, has a built-in skeleton, an outer skin, and is located at the rear of the vehicle. The left and right rear doors are opened, and aluminum alloy curtain doors are installed.
Equipped with fire-fighting facilities
Water filters, water collectors, water distributors, water guns, reducers, suction pipe wrenches, etc., can also be equipped according to special needs: such as hand-lifted motor pumps, fuel heaters, etc.
Fire Pump
model
CB10/20 low pressure pump
Structure and performance
structure
Rear, dual-piston vacuum pump, electromagnetic clutch
performance
Low pressure
Flow rate: 20L/S, pressure: 1.0MPa
Diversion time ≤35, the
maximum suction depth is 7m
Flow rate: 14L/S, pressure: 1.3MPa
Flow rate: 10L/s, pressure: 1.0MPa
Fire cannon
model
PS20
performance
Flow rate: 20L/S, range: ≥48m, pressure: ≤1.0MPa, pitch angle -22°~+81°, rotation angle 360°
Piping system
Internal water inlet pipe
The water inlet diameter is Ф100. Water enters the fire pump from the tank. A Ф100 manual butterfly valve is installed between the liquid tank and the water pump. A filter screen is provided at the water outlet of the container.
External water inlet pipe
There is a Ф100 external water inlet at the back of the pump, which is connected to the suction pipe, the pipe bud interface (seal cap sealing), and the water inlet is provided with a filter sheet.
Outlet pipe
There is a water outlet on the left and right of the pump, the water outlet diameter is Ф65, and the quick interface. (Seal cap seal)
Remaining water pipeline
The lowest part of the container is equipped with a residual water valve, and the lowest parts of the pump and power take-off are also provided with residual water valves.
Cooling water pipeline
The circulating cooling water pipeline is provided with an inlet valve at the outlet of the pump and a return valve at the inlet.
Electrical system
The top of the cab is equipped with long rows of police lights, the cab is equipped with 100W alarms and dialogue machines, the side lights on both sides of the vehicle are equipped with side indicator lights with retro-reflector combinations, the equipment box and the pump room are equipped with lights, and the roof There is a fire spot light (optional) in the department, and a rear door profile light is installed above the rear of the vehicle.
Control system
Additional instruments and switches are centrally arranged on the instrument panel. The instrument panel is equipped with liquid level indicators, tachometers, pressure gauges, vacuum gauges, instrument power supplies, front and rear lights, equipment box lights, pump room lights, and pump water diversion control. There is text on the left side of the switch and dashboard to explain the operation of the fire pump
Optional part
With sprinkler function: front flushing, rear sprinkling. Lights at the rear of the roof.
Fire truck detail structure diagram:
---

Fire equipment table:
---
| | | | | | |
| --- | --- | --- | --- | --- | --- |
| Serial number | name | specification | Quantity | unit | Remarks |
| 1 | straw | KD100×2 meters | 4 | root | Threaded |
| 2 | Water filter | FLF100 | 1 | Piece | Threaded |
| 3 | Trap | FII80/65×3-1.6 | 1 | Piece | Internal button |
| 4 | Water trap | JII125/65×2-1.0 | 1 | Piece | Internal button |
| 5 | Hose | 13-65-20 | 8 | plate | Low pressure; |
| 6 | Reducing interface | KJ65/80 | 2 | Piece | Internal button |
| 7 | Water-retaining cloth | DT-SB | 4 | Piece | Internal button |
| 8 | Hose hook | | 4 | Piece | |
| 9 | Ground fire hydrant wrench | QT-DS1; length 400 | 1 | Piece | |
| 10 | Underground hydrant wrench | Long 860 | 1 | Piece | |
| 11 | Suction pipe wrench | FS100 | 2 | Piece | |
| 12 | DC switch water gun | QZG3.5/7.5; 65 | 1 | support | Low pressure; |
| 13 | DC Flowering Water Gun | QZK3.5/7.5; 65 | 1 | support | Low pressure; |
| 14 | Fire bucket | | 1 | Pc | |
| 15 | Fire extinguisher | 3KG | 1 | With | |
| 16 | Fire waist axe | Length 390; GF-285 | 1 | Piece | |
| 17 | Rubber hammer | | 1 | Piece | |
| 18 | Rechargeable portable lighting | | 1 | Piece | |
Optional fire equipment table:
---
| | | | | | |
| --- | --- | --- | --- | --- | --- |
| Serial number | name | specification | Quantity | unit | Remarks |
| 1 | Automatic charging device | 12V | 1 | set | |
| 2 | Air backrest | | 3 | set | |
| 3 | Air breathing apparatus | Number of members | | set | |
| 4 | Hose bridge | rubber | 2 | vice | |
| 5 | Telescopic ladder | | 1 | vice | |
| 6 | Hand lift the pump | | 1 | station | |
| 7 | Breaking tools | | 1 | set | |
| 8 | Other fire equipment | | | | |
Fire truck equipment diagram:
---