JAC 8000 liter Kitchen garbage Truck Product Description:
---
JAC 8000 liter Kitchen garbage Truck cab adopts high-strength steel "birdcage" frame structure, streamlined cab (2071 wide), car-like interior, five-ring instrument (tube-beam instrument panel skeleton), double-layer laminated glass Thermal sound insulation, boneless wiper (improve rain safety), eagle eye combination headlights, daytime running lights to improve driving safety, air pressure drum, moving, air conditioning, electric doors and windows, MP3 player, wide angle , Blind mirror, clutch assist, central control lock, steering wheel (entertainment button module), top debris box, dryer, exhaust-assisted brake, air brake, anti-splash device, 7.50R16 14PR steel tire
Gold drivetrain: 156 horsepower of Euro Six Jianghuai or 130 horsepower of Weichai, LC6T450 gearbox (6 gears), two-stage shock-absorbing clutch, American AAM rear axle, dual-axis variable nozzle supercharging technology, strong power, high strength spring Bearer.
JAC 8000 liter Kitchen garbage Truck Bodywork configuration: The square box (volume is about 5 cubic meters) all uses Q235 high-quality carbon steel edge 5 bottom 6; push shovel discharge (without lifting function); with dry and wet separation function; Italian Hyde valve group; hydraulic back cover; With sealing strip; rear door hydraulic locking;
Inlet cover pneumatic switch; rear door locking and rear cover switch operation has anti-misoperation; hydraulic chain hoist; side hanging standard 120L / 240L plastic trash can; built-in cab and body external centralized electronic control (PLC electric Control system); box with cleaning device (hydraulic motor drives high-pressure pump, with clear water tank); high-level body contour lights / side lights / work lights.
New technology: aluminum alloy mudguard, aluminum alloy guardrail, stainless steel ladder, stainless steel platform, stainless steel tail slot.
JAC 8000 liter Kitchen garbage Truck Specifications:
---
Chassis technical parameters
Chassis name
JAC
Chassis model
HFC1081P91K1C5ZV
Number of axes
2
Number of tires
7 (including spare tire)
Wheelbase
3800MM
Tire specifications
750R16
Gearbox
6 files
Rear axle
5 tons
Fuel type
Diesel
brake
Air brake
Emission standard
Eruo 5
engine model
Engine manufacturer
Displacement (ml)
horsepower
HFC4DF1-2D2

WP3Q130E50

Jianghuai Power

WeiChai

3970

3970

156

130
JAC 8000 liter Kitchen garbage Truck Working parameter:
---
【Vehicle technical parameters】
Tank volume (m3)
3-12 cubic meters optional
Tank material
Carbon steel Q235, stainless steel 304
Structure inside the tank
Dry-wet solid-liquid separation
Thickness of tank (mm)
4-6mm
Unloading method
Self-unloading, pushing plate, twisting dragon
Feeding method
Hydraulic bucket flip
Tailgate leakproof
Thickened rubber + hydraulic lock
Bucket method
Chain lifting, lever lifting
Control position
Cab, right side of body
Hydraulic pressure (MPa)
16
control method
Manual + electric control, PLC automatic control
Hydraulic pump brand
Long source and large flow
Cleaning device
Hydraulic pump + plunger high pressure pump + 7 meter cleaning gun
Multi-way valve brand
Jiangsu Electromagnetic
safety devices
Rear door lock and rear cover switch interlock to prevent misoperation
Hydraulic cylinder brand
Yantai future
Optional configuration
Optional PLC one-button operation, optional 304 stainless steel box, optional sealed twisted dragon discharge, etc.
Optional barrel weighing function, can count the number of barrels, single barrel weighing, set the company name of the barrel collection, GPS positioning of the barrel collection, data background upload, display screen cab monitoring and other functions.
If customers have other unconventional requirements, they can organize technical solutions and customize production according to requirements.
JAC 8000 liter Kitchen garbage Truck Operation display:
---
Kitchen garbage Truck Round tank process: cylindrical tank body with tie rod hoist, double cylinder hydraulic lifting and self-unloading at the bottom of the tank body, hydraulic opening and locking of the tank tail door + manual locking device, solid and liquid separation device inside At the end of the tank, a liquid self-flow valve, a liquid level window, a tool box and a hand washing device are installed.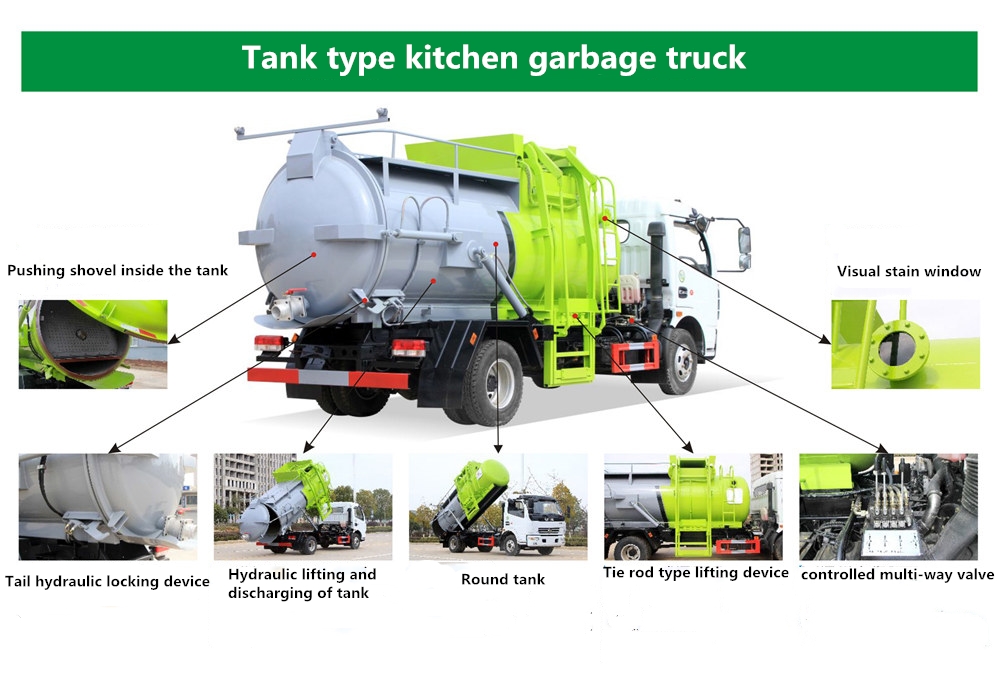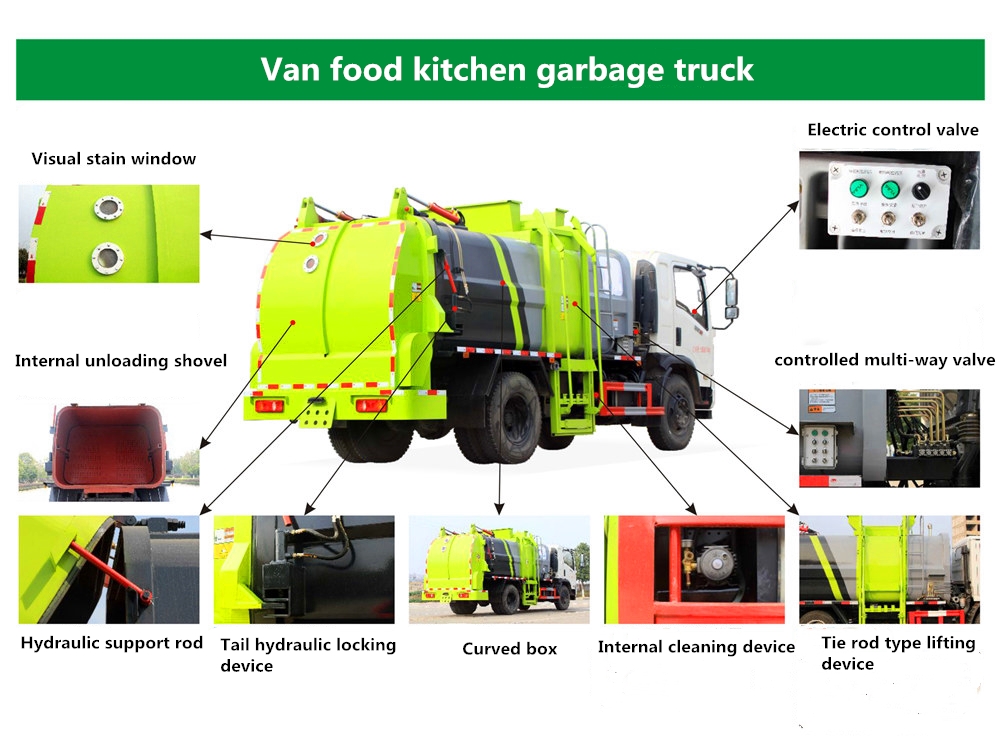 JAC 8000 liter Kitchen garbage Truck New craft:
---

JAC 8000 liter Kitchen garbage Truck Optional configuration:
---

JAC 8000 liter Kitchen garbage Truck Detail drawing:
---

Customizable garbage truck models
---