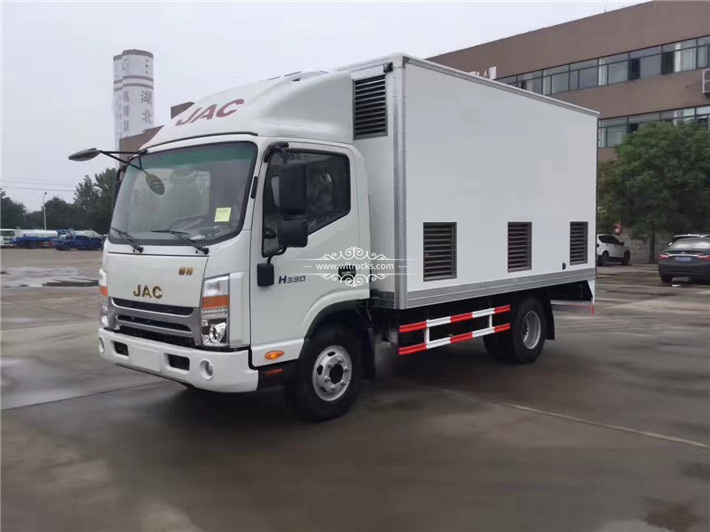 JAC 4m chicks transportation truck Adopt JAC Shuailing cab, 130 horsepower diesel engine, 6 speed gearbox. Box volume 16m3
product Introduction:
---
Chengli poultry transporter (chick transporter) is mainly a special transport vehicle for chicks, ducklings, and other live birds. It is mainly used in special farms, and it is an indispensable tool to improve the efficiency of breeding enterprises and reduce transportation costs.
There are ventilation devices and heating devices in the car body, and there are ventilation fans on the upper part of the car body, which can be ventilated and air-intaked to ensure the oxygen of the chickens inside the car body is sufficient. There are small doors on the left and right sides of the car to ensure air circulation.
The chick transporter can be ventilated, heated and ventilated to ensure adequate supply of oxygen to the chicks. The car body is customized according to user requirements. Other tops can not be opened as a whole, and there are ventilation and ventilation holes for ventilation. The temperature change caused by the optional air conditioner is within 3%. Special requirements can be directly communicated with the manufacturer.
Product advantages:
---
1. The temperature of the special transporter car is constant temperature, and it also has the characteristics of refrigeration, heating, exhaust, and large transportation. It can transport the chickens in hot summer or cold winter. Chicken seedling survival rate.
2. The chick transporter can install a temperature display in the cab so that the temperature inside the cabin of the chick carrier can be monitored at any time.
3. There are several ventilation and heating equipment in the compartment of the chicken carrier transporter, and there are multiple exhaust vents in the compartment. The air is ventilated and ventilated to ensure that the chicks in the compartment have sufficient oxygen.
4, the special transport vehicle for chicks also has the characteristics of environmental protection, dustproof, sunscreen, corrosion resistance, etc. The materials used are made of high quality FRP materials.
Our company can customize the chicken carrier transport according to the special requirements of the users.
---
product name:
CLW5050XLC5 chicks transporter
Dimensions:
5995×2150×3050(mm)
Chassis model:
HFC1047JKA33
Cargo compartment size:
4000×2000×2050(mm)
Total mass:
4495(Kg)
Approach/departure angle:
20/14(°)
Rated quality:
1215(Kg)
Front suspension and rear suspension:
1040/1647(mm)
Quality of preparation:
3150(Kg)
Maximum speed:
100(km/h)
engine
Engine manufacturer
Displacement (ml)
Power (kw)
WC4100
Weichai
3790
95
Emission Standards:
Eruo 5
Number of axes:
2
Front track:
1503,1485,1519,1595(mm)
Wheelbase:
3308,2800
Rear wheelbase:
1494,1516,1540(mm)
Number of tires:
6
Tire specifications:
7.00-16 8PR
Fuel type:
Diesel
Number of springs:
6/6+5
Axle load:
1800/2695
Number of passengers in the cab:
2
Chick transport vehicle detailed picture:
---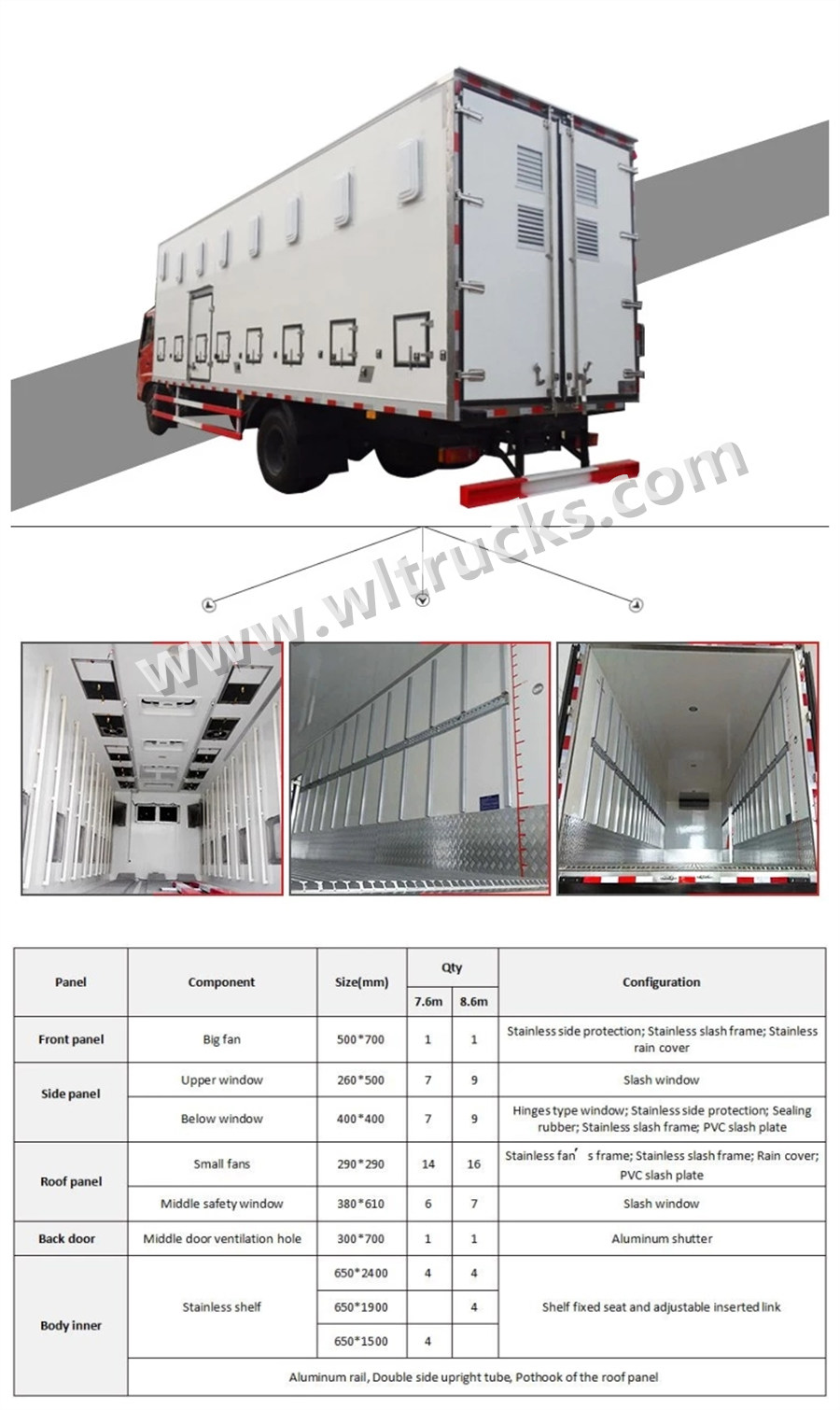 Box manufacturing process:
---