JAC 3 ton crane truck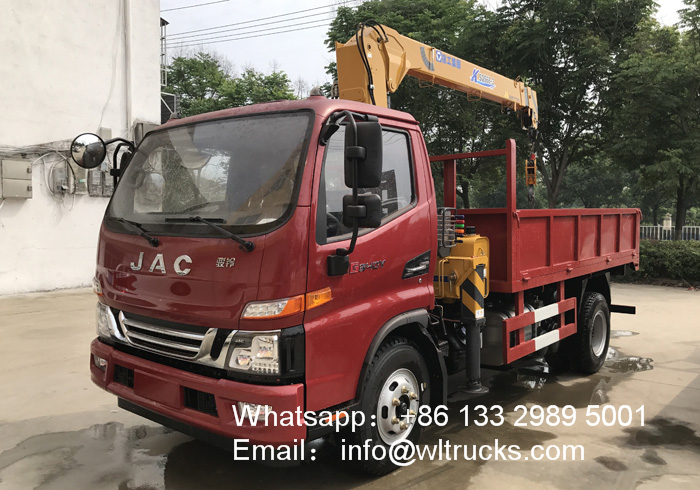 ---
JAC 3 ton crane truck Adopt Junling single-row reversible cab, 117 horsepower, 5-speed gearbox, 4 tons rear axle, 200 double-layer beam, optional 3 tons 3 section straight arm crane (full swing), lifting height 9.5 meters The working radius is 7.7 meters, the cargo box is 3500 * 2300 * 550, and the self-unloading function can be added according to customer requirements.
Our company are professional manufacturer in truck area, guarantee all goods Brand-New and China-Origined. 
1. Chassis Model: ISUZU,JAC,JMC,IVECO,Dongfeng,FAW,Foton,HOWO,North Benz and etc.
2. Engine Model:Cummins,Yuchai,Weichai,Xichai,Sinotruk and etc.
3. Drive Model: 4×2,4×4, 6×2,6×4,6×6, 8×4,  and three axis crane semi-tailer
4. Crane rotation angle: 360° with hydraulic systems straight /folding boom crane max loading weight:2T,3.2T,4T,5T,6.3T,8T,10T,12T,14T,16T,20T, 30T, 60T, 150T,Two-arm, three-arm and four-arm are optional.
5. Cargo box's length:3-13m.Widely used in oil fields, weighing and inspection, telecommunications, power, factories, cement board factories, etc.
---
SQ3.5SA2 (3.5 tons three-section arm truck crane) parameters
Crane model
SQ3.5SA2 (3.5 tons two straight arms)
Maximum lifting mass (kg)
3500
Maximum lifting torque (nm)
70000
Sectional form
hexagon
Slewing mechanism
Rotation speed r/min
2.5
Section number
3 (two sections)
Swing range (°)
360
Length m
3.5-7.6
Outrigger
Type
Upright leg
Maximum working radius m
7.6
Span m
1.85-3.1
Extending speed m/s
3/30
Hydraulic system
System pressure mpa
17.5
Range of amplitude
0-73°
Tank volume L
40
Arm speed
73/14°/s
safety equipment
Overturn alarm
Maximum lifting height m
9.5
Self weight kg
1050
Single rope allowed tension N
8750
Match truck
Loading trucks with a mass of more than 1 ton
Maximum single rope speed m/min
36
Note: The above table parameters are rated parameters when the engine speed is 1500r/min.
Wire rope diameter mm
8
Wire rope length m
55
Working radius m
2.0
3.0
4.0
5.0
6.0
7.6
Rated load kg
3500
1880
1080
780
580
430
JAC 3 ton crane truck Working parameter:
---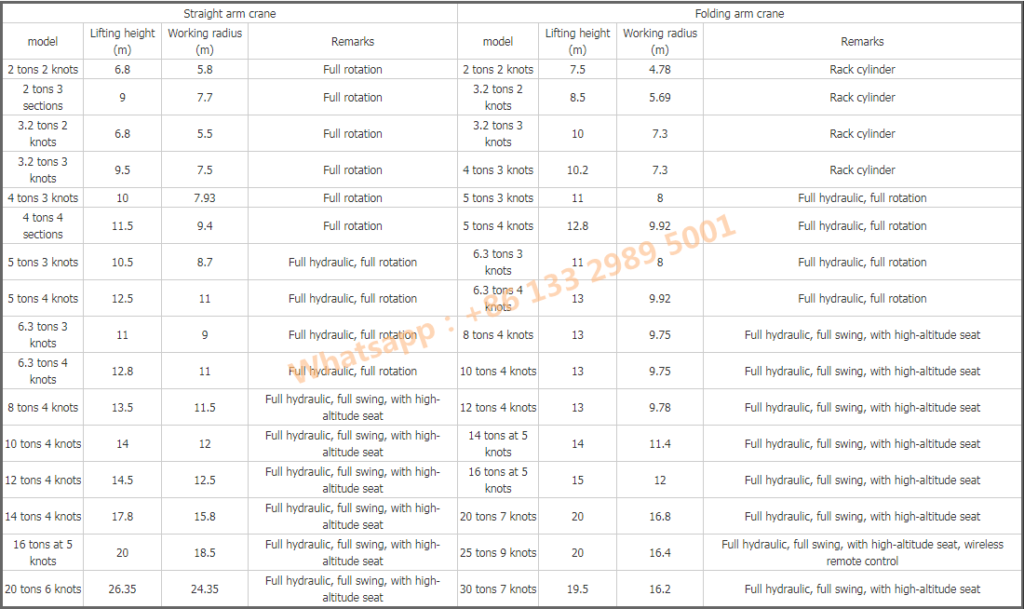 JAC 3 ton crane truck New craft:
---

JAC 3 ton crane truck Optional configuration:
---

JAC 3 ton crane truck details:
---

Dongfeng 2 ton truck crane type exhibition:
---

Chengli truck-mounted crane can choose 3 or 4 booms, and can choose straight arm or folding arm crane. Cargo boxes or cranes with different lengths and tonnages can be selected according to user requirements.
The design of different forms of truck-mounted cranes is similar to truck-mounted crane models, such as railway truck-mounted cranes, fixed ship cranes, truck-mounted strap claws, truck-mounted strap dumpers, truck-mounted strap drills, etc.