JAC 16cbm to 18cbm garbage compactor truck Product Description:
---
JAC 16cbm to 18cbm garbage compactor truck Chassis configuration: JAC original chassis, 6 * 4 rear dual-axle drive, new JAC Gerfa wide-body white cab, Yuchai 240 hp, Fast 9-speed gearbox, electric windows, original air conditioner, power steering , Air brake, 1000R20 steel wire tire with spare tire, ABS.
JAC 16cbm to 18cbm garbage compactor truck Bodywork configuration: Compression volume 16-20cbm, made of T420 special steel plate integrally bent, equipped with Xiamen Yinhua hydraulic cylinder oil leakage replacement, standard configuration 63 + 20 double hydraulic pump and 3 + 2 double valve control, Zhongmei multi-way valve , Siemens PLC control, electro-optical switch, 2 sewage collection boxes, 3 operation control boxes, with night lighting, equipped with two-way compression function, two-way hydraulic lock drip-proof.
Optional configuration: optional bucket rack, triangle bucket, fully sealed bucket, swing arm device. It can hold 15-18 tons of domestic garbage.
JAC 16cbm to 18cbm garbage compactor truck Specifications:
---
CLW Garbage trucks are widely used in sanitation, municipal, factory and mining enterprises, and residential areas where have a lot of garbage. Garbage trucks are classified into compressed garbage trucks, swing arm type, dump type, sealed type, docking type, hook type arm type, and pull arm type garbage truck. Garbage trucks can carry multiple compartments in one vehicle, which can effectively prevent secondary pollution during the loading and unloading process. The modified part is separable from the original car chassis, which is easy to maintain and maintain the mobility and driving performance of the original car. Customers who have special requirements for garbage trucks please contact with us at any time. 
product name

JAC 16 to 20 cubic garbage compactor truck

Chassis model

CLW5148GSSD3

Actual volume ( cubic )

20cubic

Total mass (kg)

25000

Engine horsepower

340

Rated load mass (Kg)

165

Engine name

J

Emission Standards

Euro III

Dimensions (MM)

10320×2500×3420

Fuel type

Diesel

Number of tires

6

Tire specifications

1100R20

Wheelbase (MM)

4475

Maximum speed (km/h)

95

Front track

1495

Rear track

1490

Performance profile

   Compressed Garbage Truck Adopts Electromechanical and Hydraulic Integration Technology. With The Combined Automatic Control System of Machine, Electricity and Liquid, Computer Control and Manual Operation System, IT CAN the Realize The dumping, Crushing or pressing of Garbage through Special Devices SUCH AS Filler and Pusher The compressed garbage truck has the functions of automatic repeated compression and Peristaltic Compression, high compression ratio, good sealing performance, large load capacity, convenient operation, good environmental protection, and high power utilization of the whole vehicle.

Dedicated configuration

 New non-ribbed box body, flat arc with beautiful appearance, effective compression volume of 2 cubic meters, tail with reverse feeding mechanism, electronically controlled manual dual control system, double control box for cab and tail, tail belt 3 After the centimeter , the rubber sealing bead has a sewage collection tank, a large-capacity sewage tank, and the cabinet can be printed with patterns and words as required.
JAC 16cbm to 18cbm garbage compactor truck Working parameter:
---
Hydraulic pump
Long source large flow 32-80 pump, optional double pump and double valve
Body material
High strength T420 special steel plate
Hydraulic cylinder
Xiamen Yinhua, Yantai Future
Box thickness
Lightweight design with 4mm at the bottom and 5 sides
Multi-way valve
Jiangsu Zhongmei, Italy imports
Sewage tank
2 (1 on the side and 1 on the rear)
Conversion mode
Photoelectric switch (formerly pressure relay)
Sewage seal
Tail diversion groove + rubber hydraulic lock
Automatic control
Standard configuration, Siemens PLC electronic control
Lighting device
Tail night light
Electric control box
3 (1 in the cab and 2 in the rear)
safety devices
Tail lift with hydraulic lock
Optional configuration
Hanging plastic buckets (120L, 240L, 360L, 480L, 660L), hanging iron buckets, triangle buckets, fully sealed buckets, swing arm racks, electric hydraulic system
JAC 16cbm to 18cbm garbage compactor truck New craft:
---

JAC 16cbm to 18cbm garbage compactor truck Detailed Images: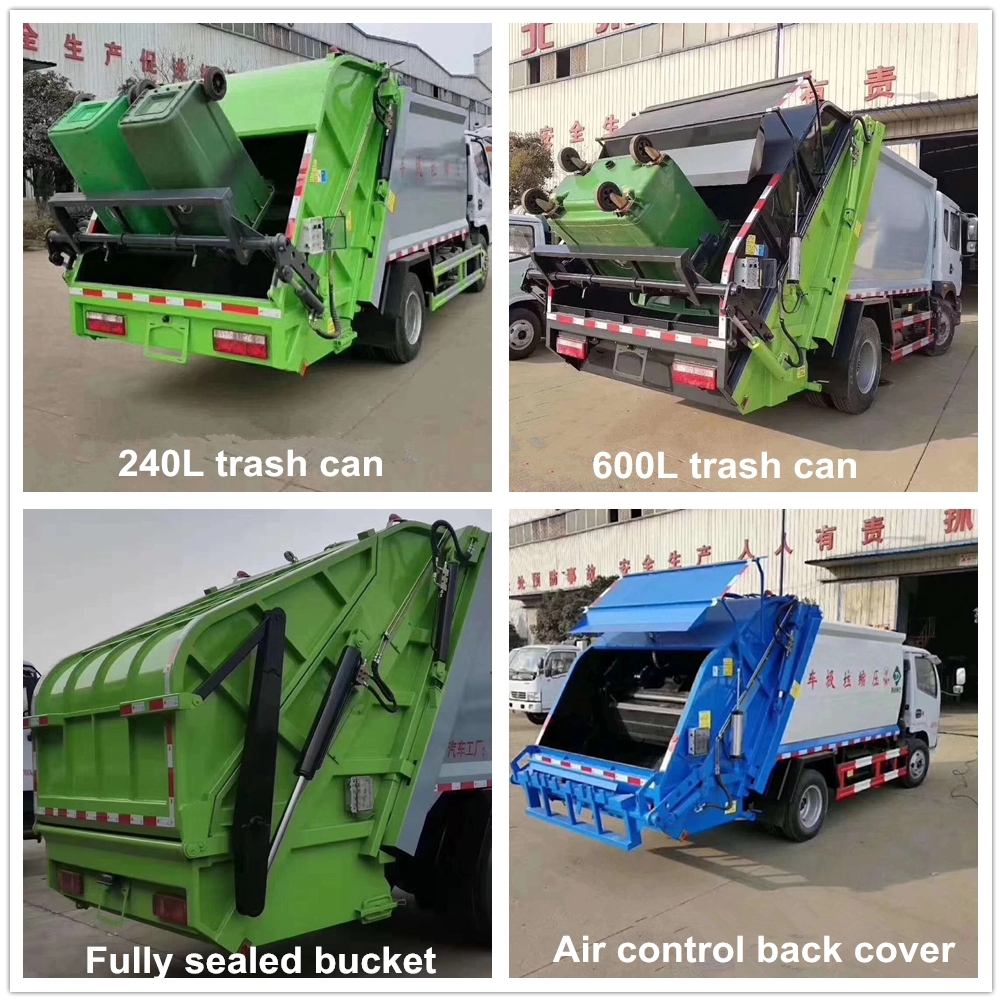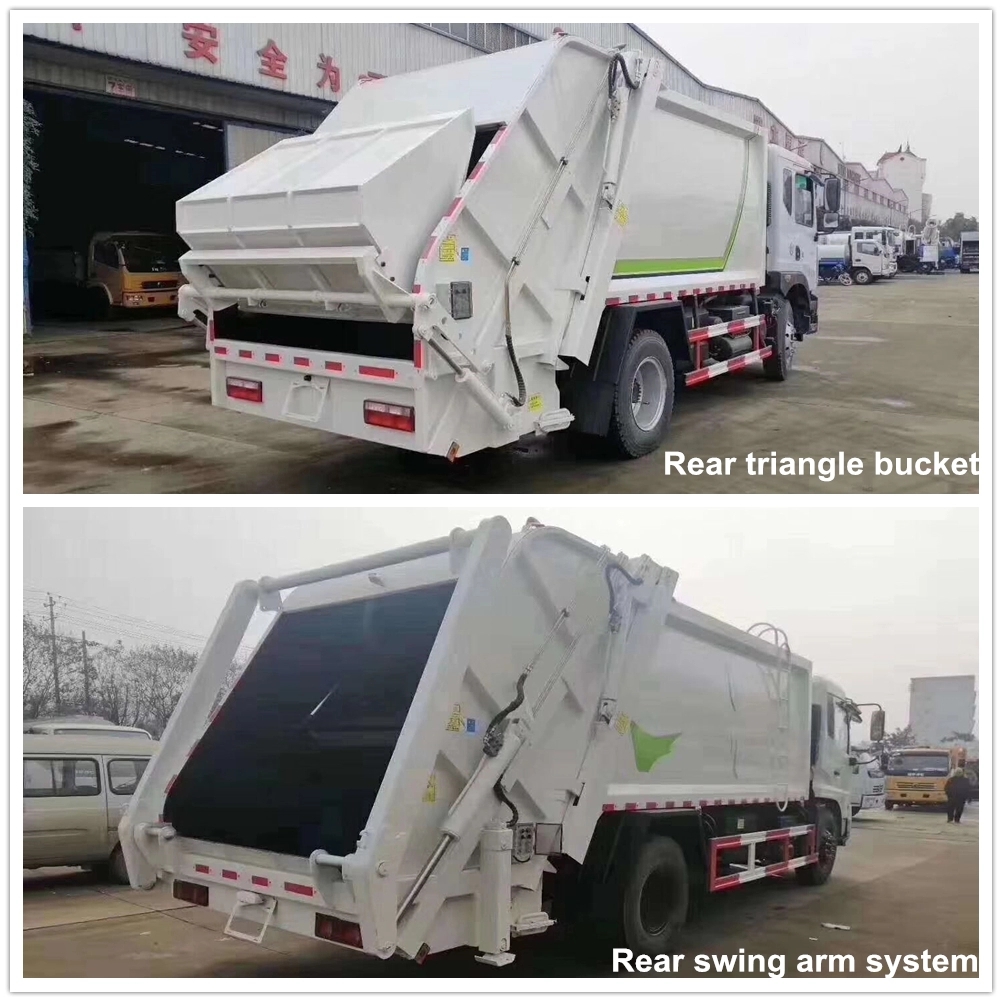 JAC 16cbm to 18cbm garbage compactor truck Structure diagram:
---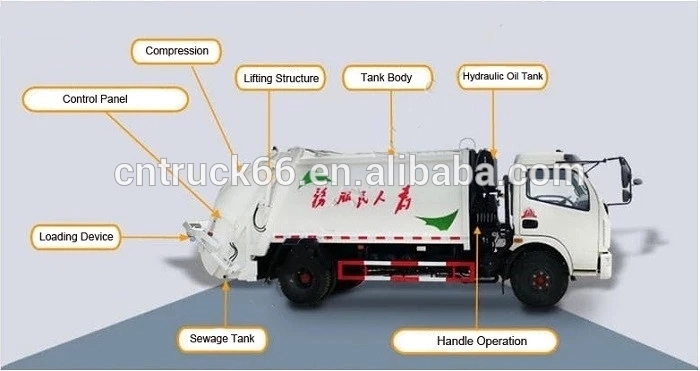 JAC 16cbm to 18cbm garbage compactor truck Detail drawing:
---

Customizable garbage truck models
---