ISUZU 8m3 Garbage compactor truck Product Description:
---
ISUZU 8m3 Garbage compactor truck Chassis configuration: ISUZU standard 600P, single-row cab can be turned over, ISUZU 4KHCN5HS engine, 120 hp, ISUZU MSB five-speed transmission, with air conditioning, direction assist, 2-25 tons front axle, 4.8 tons rear axle, with ABS Tires, dual-circuit oil brake.
ISUZU 8m3 Garbage compactor truck Top-loading configuration: curved box with a volume of about 8 cubic meters, made of special steel plate, box bottom plate 5mm, side plate 4mm, Xiamen Yinhua oil cylinder, Jiangsu multi-way valve, Changyuan hydraulic oil pump, loader lifting cylinder with hydraulic pressure The lock device adopts imported Siemens PLC electric control system (with one-key operation and manual control), and three electric control operation boxes.
With 2 sewage collection boxes, rubber sealing strip at the end. After the filler is installed, the rear lights, the paint and spraying of the box are customized according to user requirements.
ISUZU 8m3 Garbage compactor truck Specifications:
---
Specification of ISUZU compactor garbage Truck 
Item
Specification
Item
Specification
General
Truck Name
 Garbage Truck
Overall Dimension (mm)
6665X2050X2600
Truck Brand
 Chusheng
Gross / Curb Weight (kg)
 7300/5600
Truck Model
 CSC5070ZYSW6
Rated Loading Weight(kg)
Cab
 600P ISUZU
Cab Capacity
 3 persons
Approach / Departure Angle (°)
 24/12
Front / Rear Overhang (mm)
 1015/2090
Front / Rear Axle Load (kg)
 2580/4720
Wheelbase (mm)
 3360
Number of Axles
 2
Max. Speed (km/h)
 95
Quantity of Tyre
 6
Tyre Model
 7.00R16
Front  Wheel Tread (mm)
 1504
Rear Wheel Tread (mm)
 1425
Leaf Spring
 8/6+5
Traction System
 Compactor Truck
Chassis
Chassis Brand
 ISUZU
Chassis Model
 QL1070
Type of Fuel
 Diesel
Emission Standard
 Euro 2/3/4/5
Engine (Motor)
Model
Displacement (ml)
Max. Power (KW/hp)
Brand
 4KH1CN6LB
 2999
 88/119
 ISUZU
Truck Body
Body Capacity (L)
 6000
 Body Material
 Carbon steel
Painting
Optional
ISUZU 8m3 Garbage compactor truck Working parameter:
---
Hydraulic pump
Long source large flow 32-80 pump, optional double pump and double valve
Body material
High strength T420 special steel plate
Hydraulic cylinder
Xiamen Yinhua, Yantai Future
Box thickness
Lightweight design with 4mm at the bottom and 5 sides
Multi-way valve
Jiangsu Zhongmei, Italy imports
Sewage tank
2 (1 on the side and 1 on the rear)
Conversion mode
Photoelectric switch (formerly pressure relay)
Sewage seal
Tail diversion groove + rubber hydraulic lock
Automatic control
Standard configuration, Siemens PLC electronic control
Lighting device
Tail night light
Electric control box
3 (1 in the cab and 2 in the rear)
safety devices
Tail lift with hydraulic lock
Optional configuration
Hanging plastic buckets (120L, 240L, 360L, 480L, 660L), hanging iron buckets, triangle buckets, fully sealed buckets, swing arm racks, electric hydraulic system
ISUZU 8m3 Garbage compactor truck New craft:
---

ISUZU 8m3 Garbage compactor truck Detailed Images: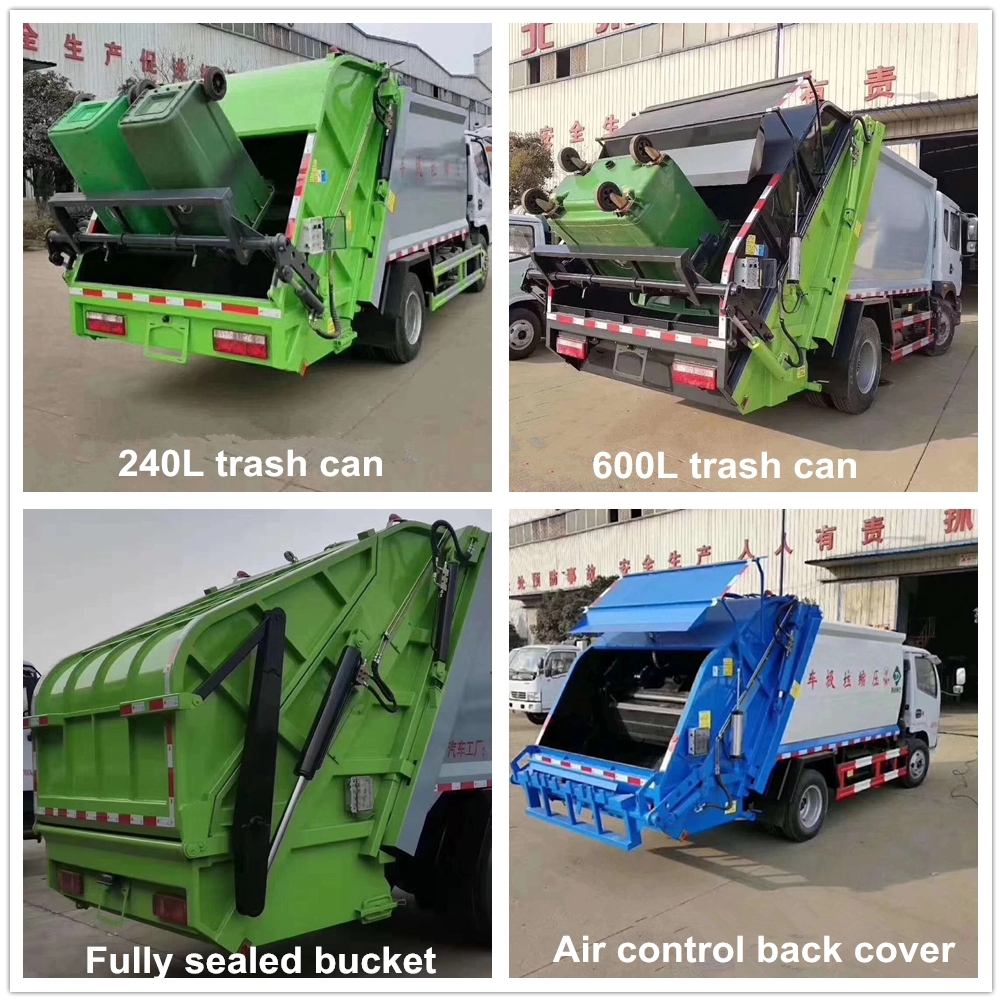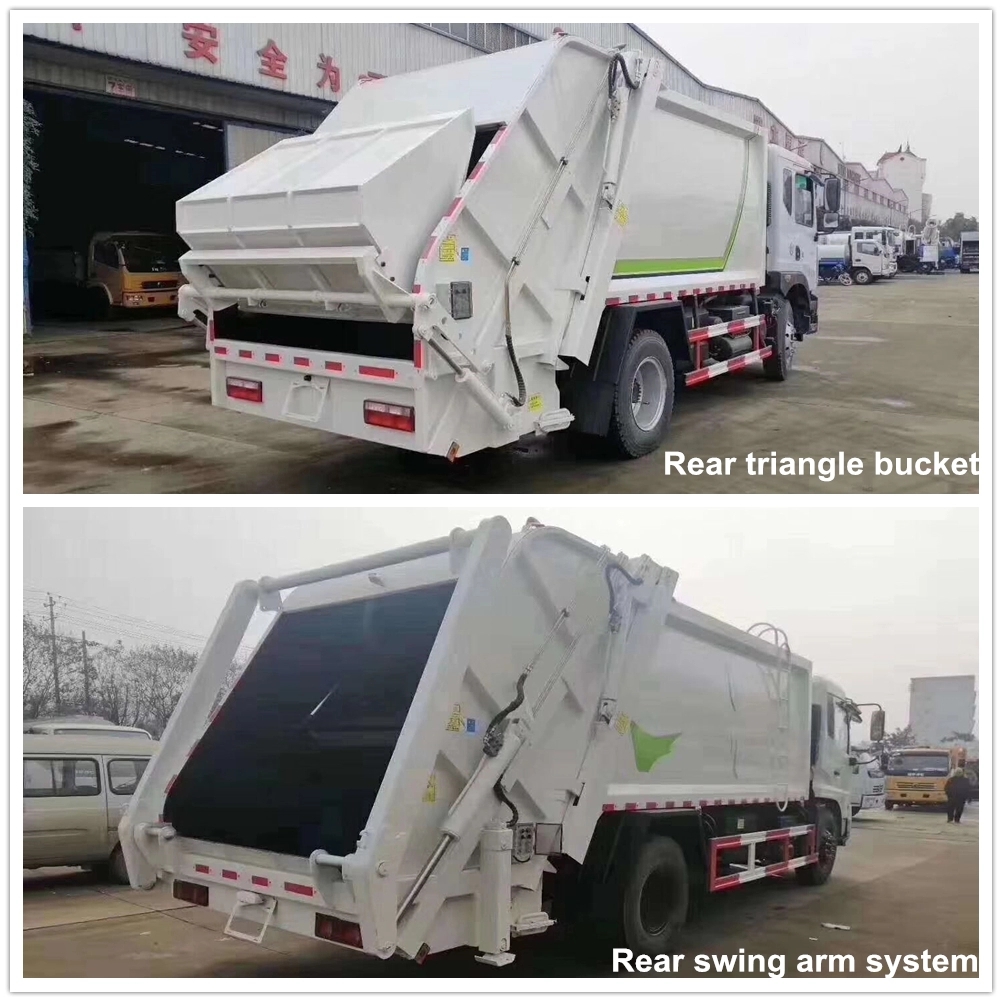 ISUZU 8m3 Garbage compactor truck Structure diagram:
---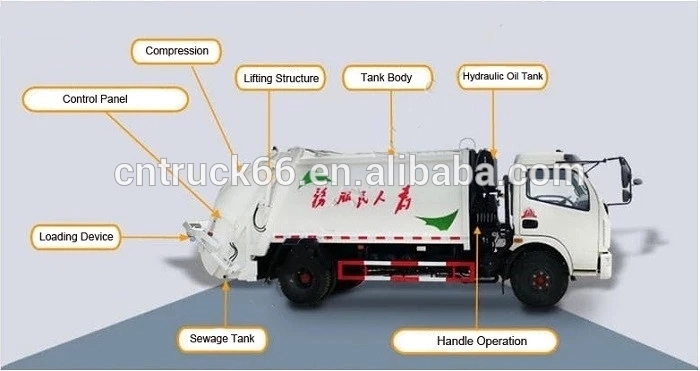 ISUZU 8m3 Garbage compactor truck Detail drawing:
---

Customizable garbage truck models
---