ISUZU 600P 8000 liter Food liquid waste trucks Product Description:
---
ISUZU 600P 8000 liter Food liquid waste trucks Chassis configuration: Isuzu white 600P chassis, Isuzu 120 horsepower engine, Isuzu 5-speed gearbox, 700R16 tires, oil brake, directional boost, 4.8 tons rear axle.
ISUZU 600P 8000 liter Food liquid waste trucks Top configuration: new box style, effective volume of 8 cubic meters, equipped with hydraulic bucket elevator, tailgate hydraulic locking to prevent sewage dripping, solid-liquid separation filter plate, liquid self-flow valve, solid push plate discharge, equipped with high pressure pump + mobile Clean the gun. Optional sealed twisting dragon unloading, stainless steel box, and good heating in the box.
ISUZU 600P 8000 liter Food liquid waste trucks Specifications:
---
【Vehicle technical parameters】

product name

Catering garbage truck

batch

300

Total mass (Kg)

7300

Rated load mass (Kg)

2525

Curb weight (Kg)

4645

Total mass of quasi-trailer (Kg)

Front passenger (person)

2

Rated passenger (person)

Dimensions (mm)

6860 x 2198 x 2750

Cargo compartment size (mm)

xx

Approach angle / departure angle (°)

24/18

Front / rear suspension (mm)

1015/1485

Axle load (Kg)

2580/4720

Maximum speed (Km / h)

110

Remarks

1. The truck is used for the collection and transportation of kitchen waste. The main special devices are the car body, the lifting mechanism of the feeding mechanism and the push shovel. 2. The side protection adopts cold-formed steel / Q235, bolt connection, the rear protection is replaced by the body structure, and the lower edge is 450mm above the ground. The model of ABS and its controller is: APG3550500A4, and the manufacturer is: Zhejiang Asia-Pacific Mechanical and Electrical Co., Ltd.

【Other parameters of vehicle】

Chassis model

Brand name

Number of axes

2

Number of tires

6

Wheelbase (mm)

3360

Tire specifications

7.00-16 14PR, 7.00R16 14PR

Front track (mm)

1504

Rear track (mm)

1425

Fuel type

Diesel

Emission standard

GB17691-2005 National V, GB3847-2005

engine model

Engine manufacturer

Displacement (ml)

Power (Kw)

4KH1CN5HS

Qingling Isuzu (Chongqing) Engine Co., Ltd.

2999

88
ISUZU 600P 8000 liter Food liquid waste trucks Working parameter:
---
【Vehicle technical parameters】
Tank volume (m3)
3-12 cubic meters optional
Tank material
Carbon steel Q235, stainless steel 304
Structure inside the tank
Dry-wet solid-liquid separation
Thickness of tank (mm)
4-6mm
Unloading method
Self-unloading, pushing plate, twisting dragon
Feeding method
Hydraulic bucket flip
Tailgate leakproof
Thickened rubber + hydraulic lock
Bucket method
Chain lifting, lever lifting
Control position
Cab, right side of body
Hydraulic pressure (MPa)
16
control method
Manual + electric control, PLC automatic control
Hydraulic pump brand
Long source and large flow
Cleaning device
Hydraulic pump + plunger high pressure pump + 7 meter cleaning gun
Multi-way valve brand
Jiangsu Electromagnetic
safety devices
Rear door lock and rear cover switch interlock to prevent misoperation
Hydraulic cylinder brand
Yantai future
Optional configuration
Optional PLC one-button operation, optional 304 stainless steel box, optional sealed twisted dragon discharge, etc.
Optional barrel weighing function, can count the number of barrels, single barrel weighing, set the company name of the barrel collection, GPS positioning of the barrel collection, data background upload, display screen cab monitoring and other functions.
If customers have other unconventional requirements, they can organize technical solutions and customize production according to requirements.
ISUZU 600P 8000 liter Food liquid waste trucks Operation display:
---
Kitchen garbage Truck Round tank process: cylindrical tank body with tie rod hoist, double cylinder hydraulic lifting and self-unloading at the bottom of the tank body, hydraulic opening and locking of the tank tail door + manual locking device, solid and liquid separation device inside At the end of the tank, a liquid self-flow valve, a liquid level window, a tool box and a hand washing device are installed.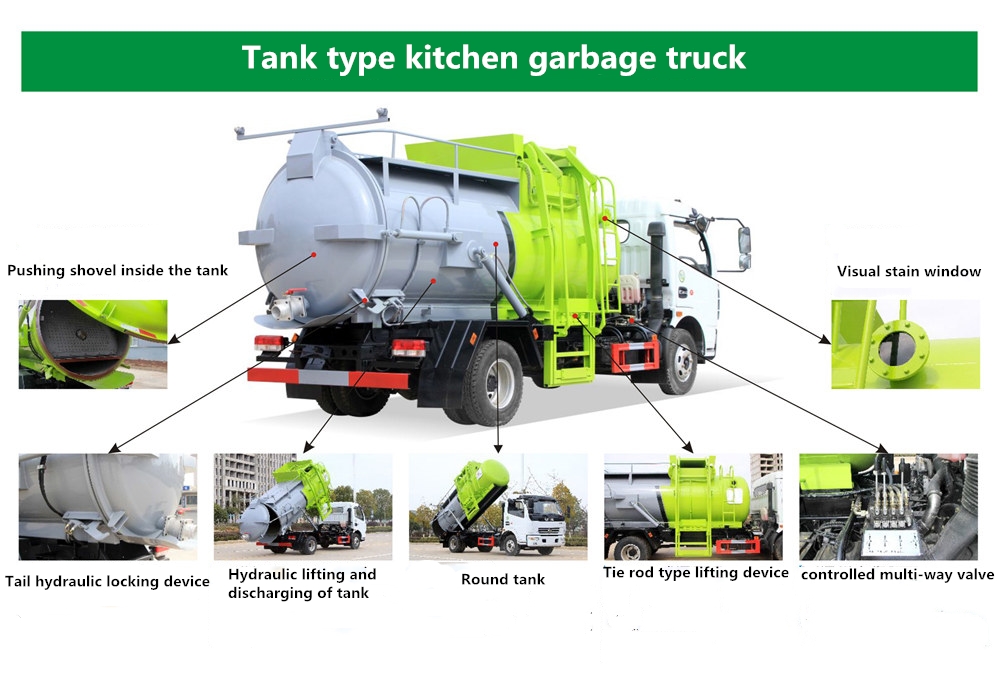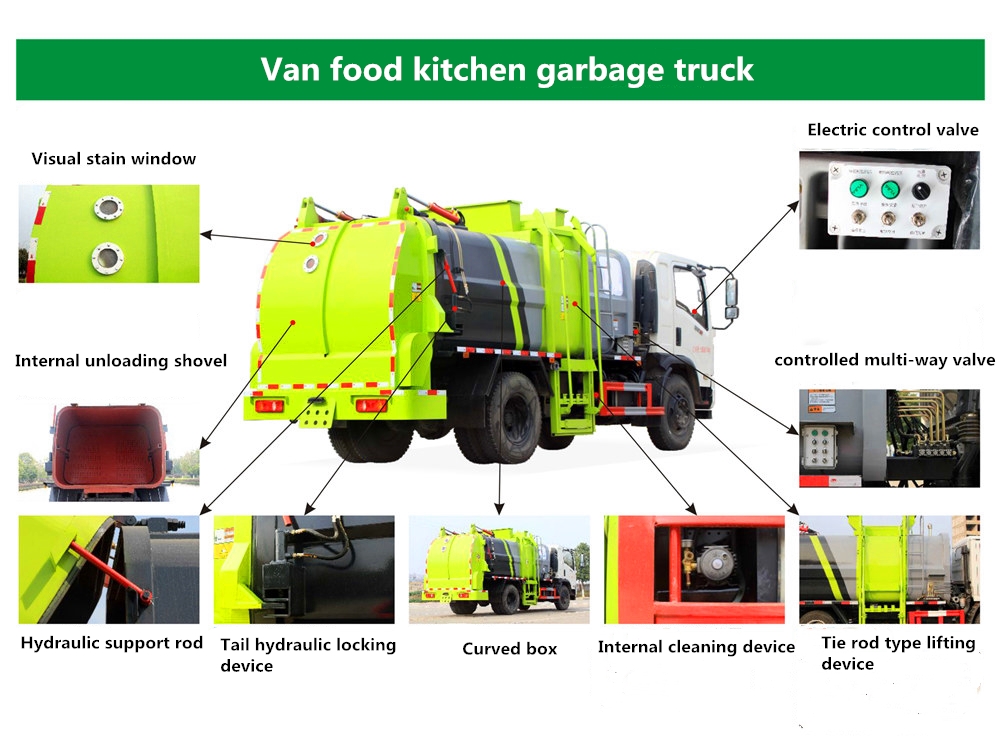 ISUZU 600P 8000 liter Food liquid waste trucks New craft:
---

ISUZU 600P 8000 liter Food liquid waste trucks Optional configuration:
---

ISUZU 600P 8000 liter Food liquid waste trucks Detail drawing:
---

Customizable garbage truck models
---