ISUZU 5000 liter vacuum septic tank truck Specification:

       ISUZU 5000 liter vacuum septic tank truck is cylindrical in shape, using WISCO 6mm thick high-quality carbon steel plate, with a suction window in the front of the tank, hand washing device, lifting device, 5 meters of suction pipe, and more Various colors are selected, and the rest are made according to the standard configuration in the factory.
      The truck is equipped with a high-power vacuum suction pump and a high-quality hydraulic system. The tank head is die-casted at one time, the tank can be opened back, and the double top is self-unloading. The dirt in the tank can be directly dumped through the back cover, which has the characteristics of high vacuum (larger suction power than the suction truck), large tonnage, high efficiency and wider use.
      ISUZU 5000 liter vacuum
septic tank truck
(vertical suction: ≥8 m, working pressure: 8500Pa, theoretical pumping speed: 120L / S, shaft power: ≤13kw, inlet and exhaust caliber: 50mm, pumping time for full tank: <5 min, time to drain the tank: <4min.
Optional configuration: hand washing device, liquid level sight tube, rear window, hydraulic alarm device, sprinkler function, high pressure cleaning function.
---
Truck model

CLW

Model

CLW1100TKARY

Vehicle size

(mm)

5900×2000×2350

A/D angle

20/16

F/R hang

(mm)

1015/1525

Total mass

(Kg)

6495

Rated mass

(Kg)

4000

Curb weight

(Kg)

2050

Max speed

(km/h)

98

Axles

2

Wheelbase

3360

Wheel loading

1805/2690

Steel spring NO

3/3+2

Tyre NO

6

Tyre size

7.00R16 8PR

Front tread

1504

Rear tread

1525

Engine

Model

Euro 4 engine

Power

80

Horse power

98HP

More tanker equipment

Oily water separator, air water separator, special vacuum excrement suction pump, pressure volume gauge, pipeline system, the
sucking tube, flow valve, vacuum tank, a communicating device (as the dung window), automatic anti-overflow valve these parts

Vacuum pump

Vane rotor pump with 4-way-value

Suction tube diameter

108mm

High pressure water pump

Bentian brand

assembly

Oil-water separator,
gas-water separator,
Hydraulic self-unloading device,
Special vacuum suction pump,
Pressure volume table,
Pipe network system,
Aspiration catheter,
Gravity valve,
Vacuum tank,Connector ( depending on the dung window ),
automatic anti-overflow valve,
ISUZU 5000 liter vacuum septic tank truck Working parameter
---
Suction speed
Fill up in 10 minutes
Tank material
Carbon steel Q345, stainless steel 304
Blowdown speed
Finished in a single 8 minutes
Medium and small tank thickness
5 mm tank, 6 mm head, 4 mm partition
Suction horizontal distance
Up to 80 meters
Thickness of large tank
Tank body 6-8 mm, head 8 mm, partition 5 mm
Vertical depth of suction
Up to 9 meters
Sewage suction pump
Small Veyron single pump, large Veyron double pump
Operation method
Manual + pneumatic + hydraulic
Leak-proof treatment
Rubber strip + hydraulic lock + manual lock
Operating position
Cab + car side
Tailgate form
The tailgate is fully open, the tail is fully open
Blowdown method
Hydraulic lift dumping + air blowdown
Other standard
Sight liquid window, hydraulic gauge, 8 meter suction pipe, tail gravity valve, anti-overflow valve, negative pressure meter.
Optional configuration
Liquid full alarm self-stop, water ring vacuum pump, anti-corrosion treatment in the tank, solid-liquid separation filter cartridge + hydraulic auger, Honda sprinkler pump + sprinkler
ISUZU 5000 liter vacuum septic tank truck Working parameter New craft
---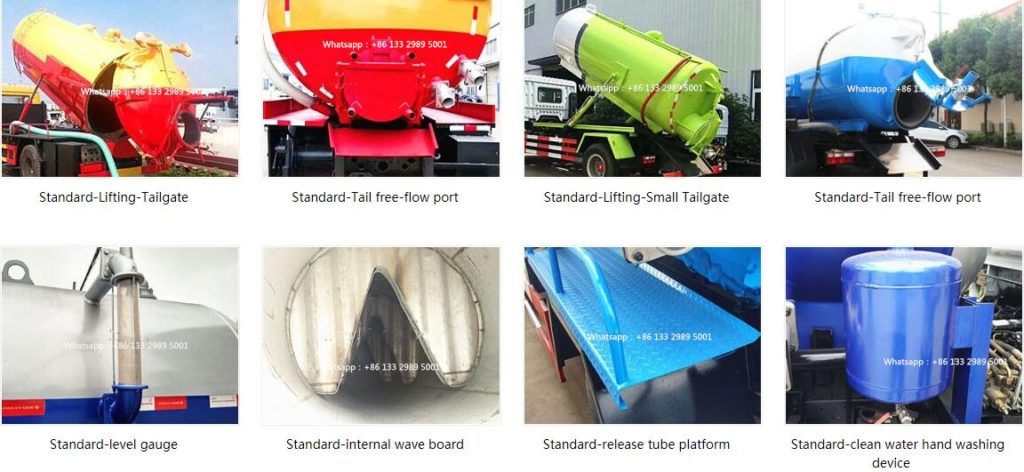 ISUZU 5000 liter vacuum septic tank truck Optional configuration
---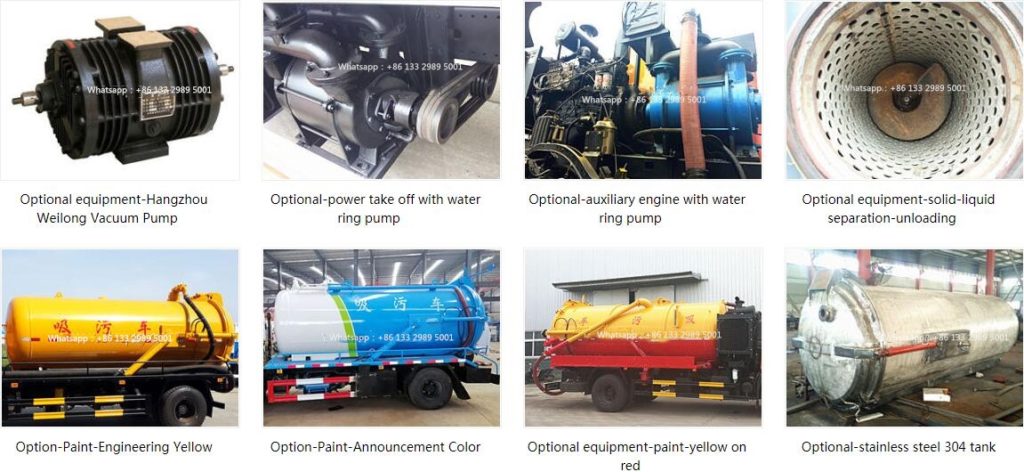 ISUZU 5000 liter vacuum septic tank truck Detailed image
---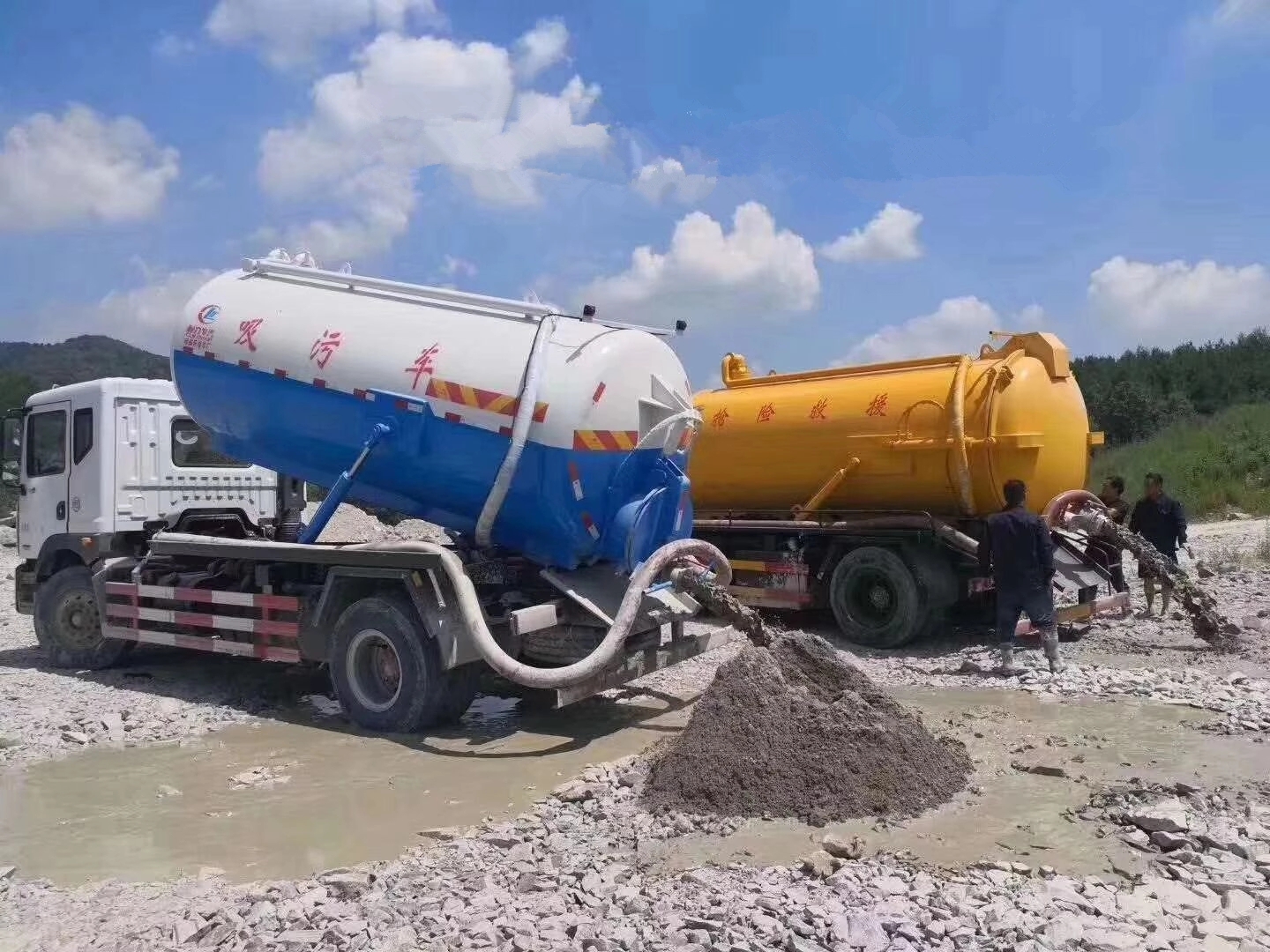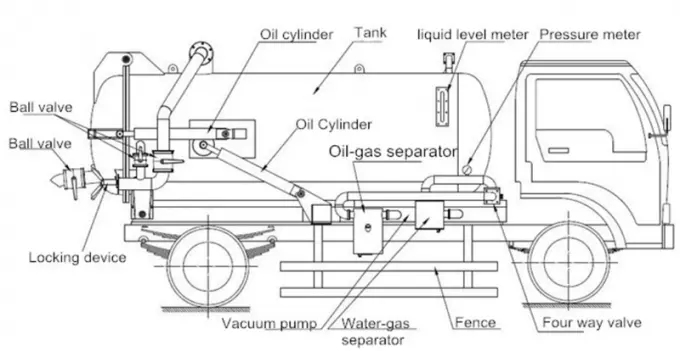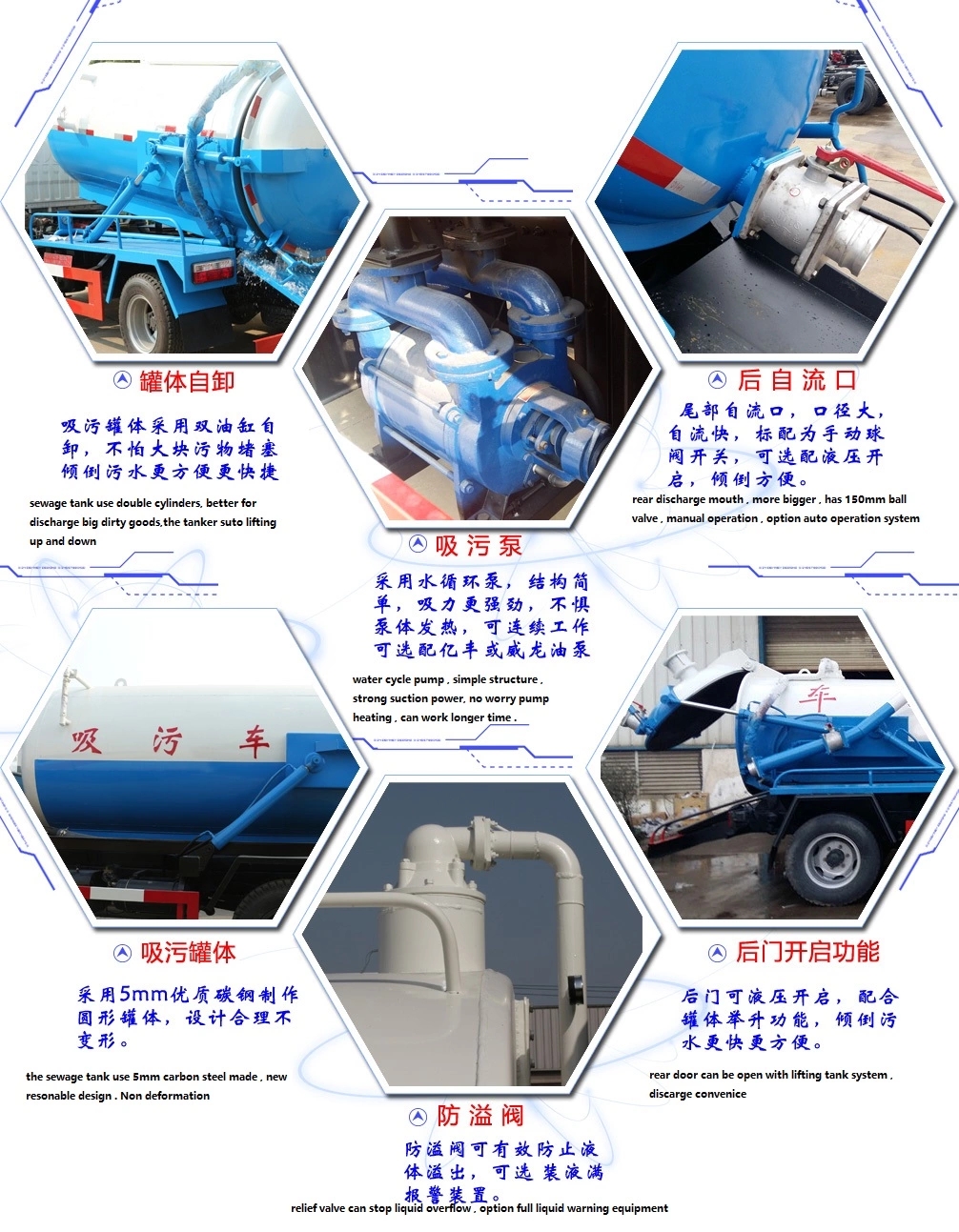 —- SGS, BV, COTECNA, CE certification.
—- Local engineer training support.


— Free parts for 12 months.
—- Supply of original parts.
—- DHL serves 7 days worldwide.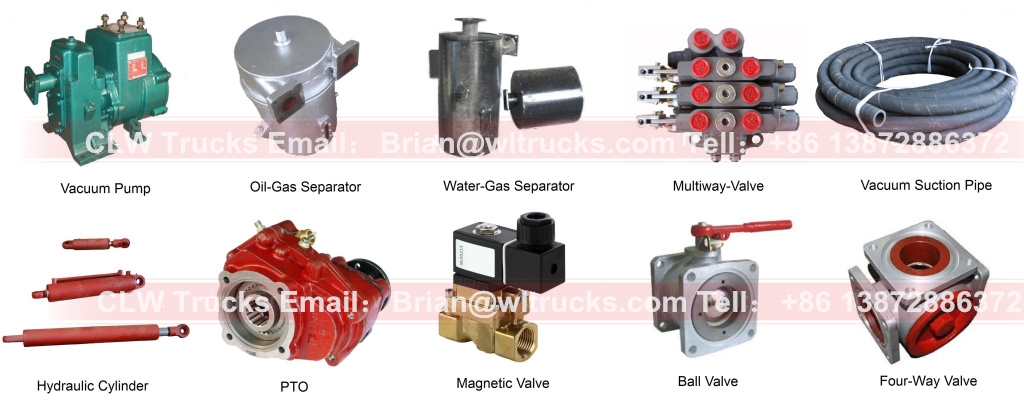 — 16 years of design and export experience.
—- 100% customized trucks.
—- Quick delivery guarantee.


—- Serving more than 80 countries and regions.
—- Professional guidance on import documents.
—- CO, FORM E, FORM P, pre-implantation inspection …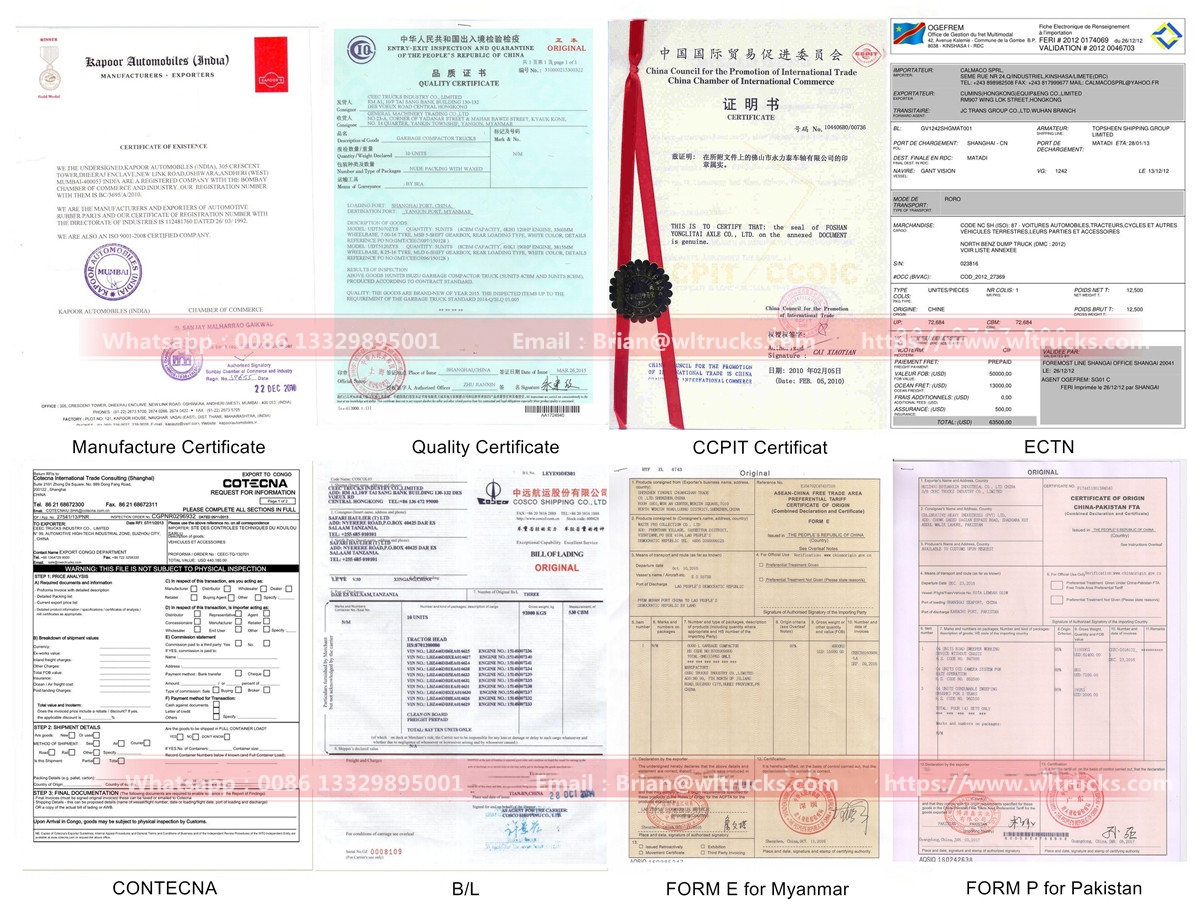 —- Maximize your shipping costs.
—- Professional guidance on import documents.
—- Safe, fast and timely


—- Fast shipping to all parts of the world.
—- The truck color and logo can be customized.