ISUZU 3 ton flatbed tow truck
---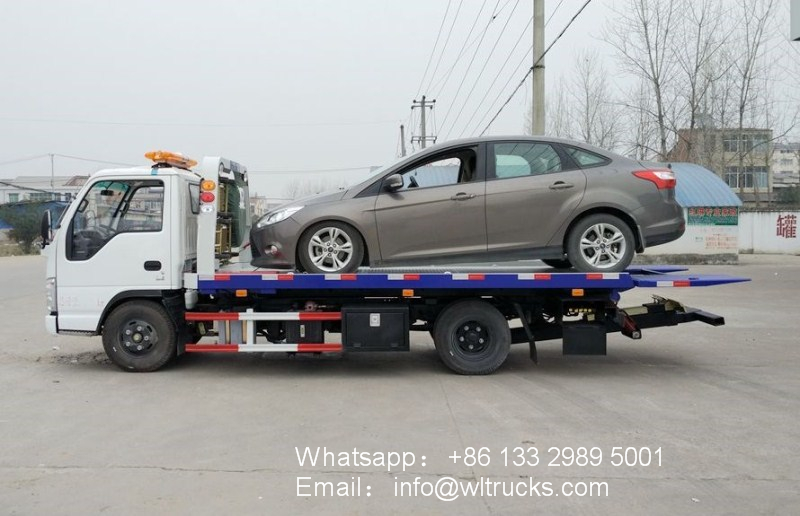 Adopt Qingling Isuzu elf 100p chassis, cab bridge car interior, Isuzu 98 horsepower engine, 5 speed gearbox, wheelbase 3360mm, 3.5 tons rear axle, 7.00 original steel tires, flat stamping with mold, original abs, belt Directional booster, clutch booster, oil brake, original air conditioner.
ISUZU 3 ton flatbed tow truck Bodywork configuration:
The truck has a length of 4.2 meters and a width of 2.32 meters. The plate can use 4 thick checkered plates or one-time forming stamping plates. The tail plate adopts a flip plate and a new pull type tail plate. The length of the tail plate is 1.2 meters.
3 tons of tops, equipped with 4 tons of hydraulic winches, 25 meters of steel wire rope, double-sided linkage operation, paired with auxiliary wheel trolley, pair of 7-character forks, pair of square sleeves, one set of tools, four sets of straps, chain Hook, two work lights, with long yellow LED warning lights.
ISUZU 3 ton flatbed tow truck specification:
---
Vehicle technical parameters

product name

Wrecker

Dimensions

5.995×2.3×2.2 meters

Total quality

4.495 tons

Curb quality

3.7 tons

Tablet size

4.2×2.32

Hydraulic tail plate

1.2 meters

Winding specifications

4 tons

Tops

3.5 tons

Chassis technical parameters

Chassis name

Isuzu

Chassis model

QL1040A6HAY

Number of axes

2

Number of tires

7 (including spare tire)

Wheelbase

3.36 meters

Tire specifications

7.00R16

Gearbox

5 speeds

Rear axle

3.5 tons

Fuel type

Diesel

brake

Oil brake

Emission standard

GB17691-2005 National V, GB3847-2005

engine model

Engine manufacturer

Displacement (ml)

horsepower

4KH1CN5LS

Qingling Isuzu

2999

100

Basic upload configuration 

Standard configuration

3 tons of tops, 4 tons of winches, 25 meters of wire rope, a pair of auxiliary wheel trolleys, a pair of 7-character forks, a pair of square sleeves, 4 sets of straps, chain hooks, two work lights, yellow electronic engineering warning lights A set of tools on board.

Optional configuration

Imported parts, tow forks, tow fork seats, hand-washing boxes, LED long row of flashing warning lights, and full floor can be installed.
ISUZU 3 ton flatbed tow truck Advantage:
---
The loading surface of the platform is formed by stamping die once. The endurance is strong and the shape is not deformed. The plate surface is smoother, the structure is more professional and the strength is higher. The hydraulic parts adopt internationally renowned brands, and the product quality is guaranteed.
It integrates multiple functions such as lifting, carrying, dragging, pulling and so on. The hydraulic oil pipe is made of galvanized steel, which has good pressure resistance, strong heat dissipation performance, beautiful and durable.
ISUZU 3 ton flatbed tow truck Structure:
---

ISUZU 3 ton flatbed tow truck operations:
---

ISUZU 3 ton flatbed tow truck details:
---