HOWO 10ton 12ton Garbage compactor truck Product Description:
---
HOWO 10ton 12ton Garbage compactor truck Chassis configuration: Sinotruk original chassis, wheelbase 3.95 meters, 4.5 meters or 4.7 meters, white cab, Yuchai 160 horsepower, Sinotruk 180 horsepower engine, 8 speed, 10 speed gearbox, power steering, air brake, 1000R20 Steel wire tires with spare tires.
HOWO 10ton 12ton Garbage compactor truck Bodywork configuration: Compression volume 10m3 to 14m3, made of T420 special steel plate integrally bent, equipped with Xiamen Yinhua hydraulic cylinder oil leakage replacement, double pump confluence + double valve control, Zhongmei multi-way valve, Siemens PLC control, electric light switch 2 sewage collection boxes, 3 operation control boxes, with night lighting, equipped with two-way compression function, the two-way hydraulic lock does not leak.
Optional configuration: optional bucket rack, triangle bucket, fully sealed bucket, swing arm device.
HOWO 10ton 12ton Garbage compactor truck Specifications:
---
HOWO 10cbm to 14CBM Garbage Compactor Truck

Overall Dimension
8470×2490×3250 mm
Gross Vehicle Weight
15800 kg
Curb Weight
9460 kg
Loading Weight
6145 kg
Wheel Base
4600 mm
Front / Rear Axle
4500 kg / 9000kg
Cabin
Left Hand Driving, 2 Passengers Allowed, with Air Conditioner, Radio,
Engine
Engine horsepower
180HP, EURO II
Max Driving Speed
90 km/h
Gear Box
6 Forward Gear, 1 Reverse Gear,
Tire
9.00R20 (6 pieces with one spare)
Garbage Bin
Capacity
14CBM
Material
4mm Carbon Steel for Garbage Bin Body
Design
Whole unit with Leakage Proof Design
Ways of Loading
Rear Loading with optional Bucket Lifting System
Garbage Compact Ratio
1/3 – 1/4
Control System
One control Panel on the back, One Control system in back of Cabin
Dispensing System
1. Equipped with air-tight dustbin, hydraulic system and operating system.
2. Automatic loading, compressing and discharging, all handled by 1 person
3. Sewage water collection tank to avoid any pollution during handling.
4. Large Pressure, Good Leakage Proof, Convenient Operation
Dependable Security
5. Electrical Control Panel for compacting system.
6. Cycling time<14~18s
Remarks
1. Color is optional
2. Customized LOGO painting as per customer request
HOWO 10ton 12ton Garbage compactor truck Working parameter:
---
Hydraulic pump
Long source large flow 32-80 pump, optional double pump and double valve
Body material
High strength T420 special steel plate
Hydraulic cylinder
Xiamen Yinhua, Yantai Future
Box thickness
Lightweight design with 4mm at the bottom and 5 sides
Multi-way valve
Jiangsu Zhongmei, Italy imports
Sewage tank
2 (1 on the side and 1 on the rear)
Conversion mode
Photoelectric switch (formerly pressure relay)
Sewage seal
Tail diversion groove + rubber hydraulic lock
Automatic control
Standard configuration, Siemens PLC electronic control
Lighting device
Tail night light
Electric control box
3 (1 in the cab and 2 in the rear)
safety devices
Tail lift with hydraulic lock
Optional configuration
Hanging plastic buckets (120L, 240L, 360L, 480L, 660L), hanging iron buckets, triangle buckets, fully sealed buckets, swing arm racks, electric hydraulic system
HOWO 10ton 12ton Garbage compactor truck New craft:
---

HOWO 10ton 12ton Garbage compactor truck Detailed Images: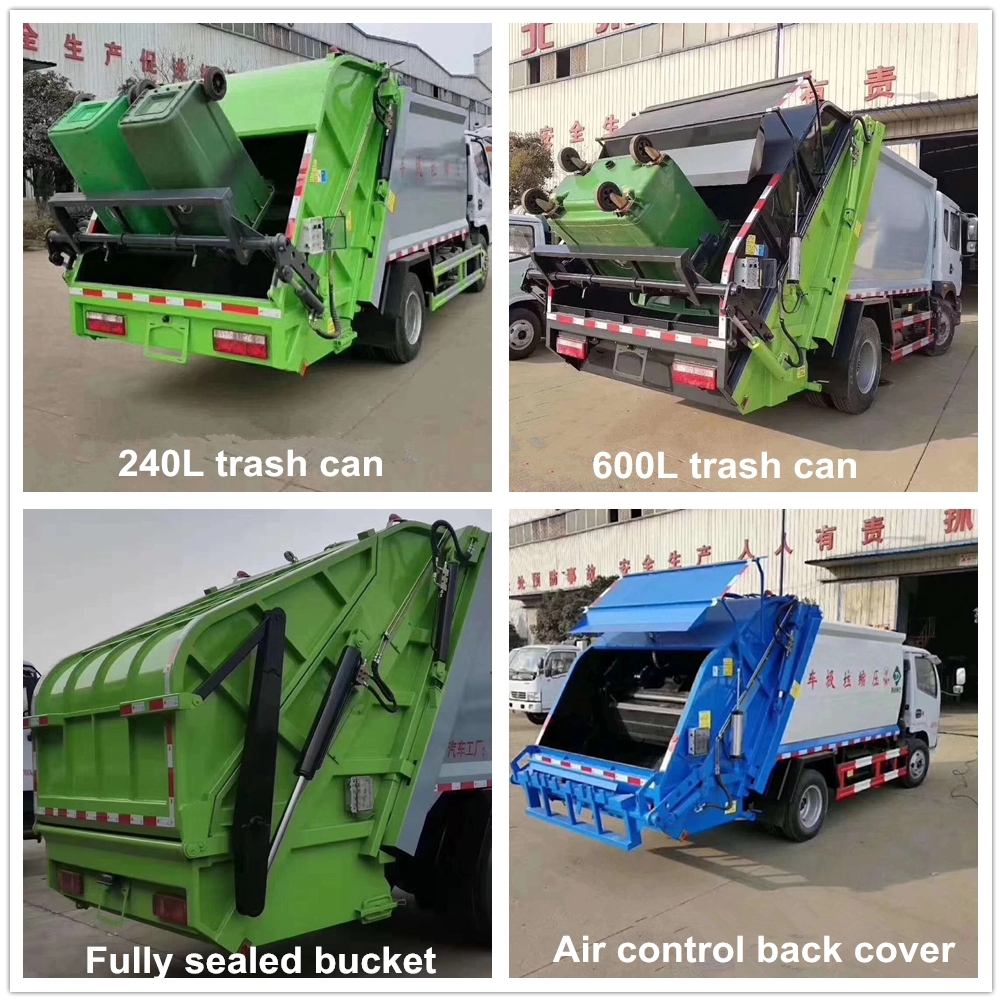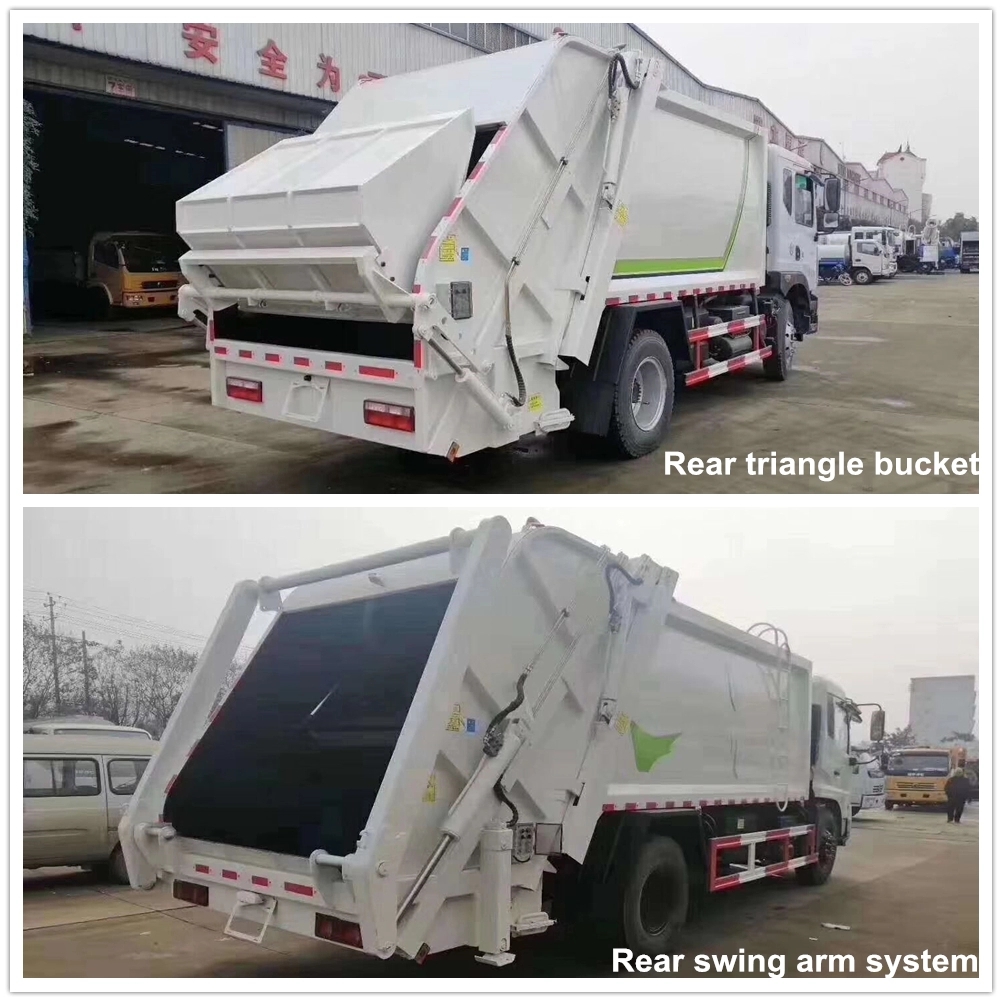 HOWO 10ton 12ton Garbage compactor truck Structure diagram:
---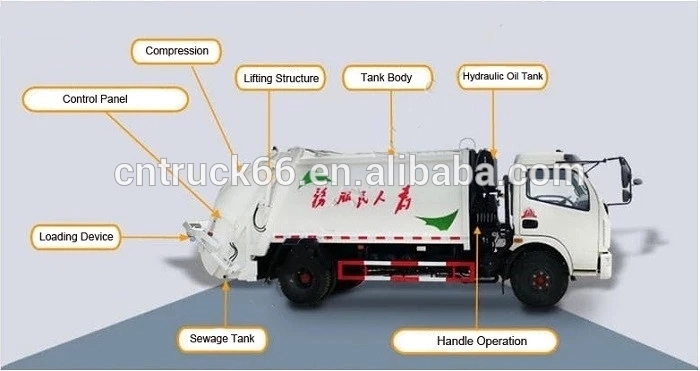 HOWO 10ton 12ton Garbage compactor truck Detail drawing:
---

Customizable garbage truck models
---