Foton 5cbm hanging bucket garbage truck Product Description:
---
Foton 5cbm hanging bucket garbage truck Chassis configuration: 3 times body of the small star of the era, 1900mm wide single-row forward-turning cab, 3300mm wheelbase, National Sanquan diesel engine, 95 horsepower, 5-speed gearbox, 6.50 tires.
Foton 5cbm hanging bucket garbage truck Top-loading configuration: The bucket-type garbage truck uses a chain and hydraulic cylinder linkage device to realize the lifting and turning of the garbage hopper, automatically collect the garbage in multiple garbage hoppers into the car, and dump it to the destination at one time. Self loading and unloading function, hydraulic operation.
The bucket-type garbage truck is a vehicle that can be equipped with dozens of garbage bins. It can realize the joint operation of one vehicle and multiple garbage bins. The circular transportation fully improves the transportation capacity of the vehicle. It is especially suitable for short-distance transportation. Composed of compartment, hydraulic system and operating system.
The lifting oil cylinder (2 pcs) garbage box can be lifted and laid down, the next working cycle time ≤50S. For example, the sanitation department cleans and transports urban garbage. It is applicable to the garbage cans of the national general standards: iron drums, plastic drums, and a large supply of garbage hanging bins.
Foton 5cbm hanging bucket garbage truck Specifications:
---
Overall Dimension
5900*1900*2290 mm
Gross Vehicle Weight
5495 kg
Curb Weight
3150 kg
Loading Weight
2215 kg
Wheel Base
3300 mm
Front / Rear Axle
1800 kg / 3500 kg
Cabin
Left Hand Driving, 2 Passengers Allowed, with Air Conditioner, Radio,
Engine
Quanchai  90HP
Engine horsepower
90HP, EURO 2or3
Max Driving Speed
90 km/h
Gear Box
5 Forward Gear, 1 Reverse Gear,
Tire
650-16
Garbage Bin
Capacity
5CBM
Material
Side 3mm, Bottom 4mm; Carbon Steel
Design
Whole unit with Leakage Proof Design
Ways of Loading
Side Bucket Lifting System
Garbage Compact Ratio
1/3 – 1/4
Control System
One control Panel on the back, One Control system in back of Cabin
Dispensing System
1. Equipped with air-tight dustbin, hydraulic system and operating system.
2. Automatic loading, compressing and discharging, all handled by 1 person
3. Sewage water collection tank to avoid any pollution during handling.
4. Large Pressure, Good Leakage Proof, Convenient Operation
Dependable Security
5. Electrical Control Panel for compacting system.
6. Cycling time<14~18s
Remarks
1. Color is optional
2. Customized LOGO painting as per customer request
Foton 5cbm hanging bucket garbage truck Working parameter:
---
| | | | |
| --- | --- | --- | --- |
| Optional volume | 3-15 cubic | Bucket time | Less than 10 seconds |
| Bucket type | Plastic bucket or iron bucket | Unloading time | Less than 15 seconds |
| Hanging bucket size | 120 liters, 240 liters | Operating position | Car right |
Foton 5cbm hanging bucket garbage truck Operation display:
---

Foton 5cbm hanging bucket garbage truck detailed images:
---

Foton 5cbm hanging bucket garbage truck Structure diagram:
---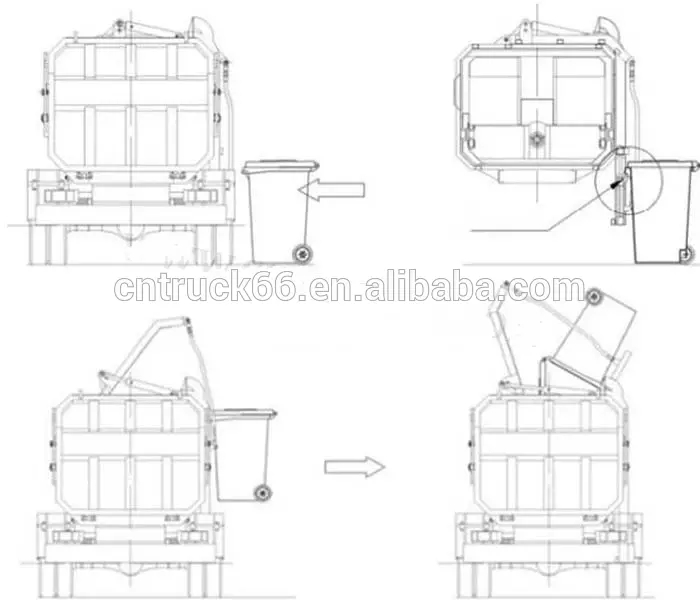 Foton 5cbm hanging bucket garbage truck Detail drawing:
---

Customizable garbage truck models
---