Foton 5000 liter Catering garbage truck Product Description:
---
Foton 5000 liter Catering garbage truck Chassis configuration: 3360mm wheelbase Futian small card star chassis, sheep fat white, single-row cab with 5-speed gearbox, oil brake, full diesel 90 horsepower engine, the chassis is more durable and affordable.
Foton 5000 liter Catering garbage truck Top loading configuration: made of 4mm international plate Q235 high-quality steel, square tank body, flexible operation, hydraulic lifting and unloading, the front right side of the tank body has a bucket lifting mechanism to load and unload barreled garbage, and the back cover of the kitchen garbage truck can be hydraulic Open and lock, which is very convenient for customers.
Foton 5000 liter Catering garbage truck Specifications:
---
GVW4495kg                                                 Driving Type 4×2

Model

CLW5041TCAB

Cab

Single cab, tilted

Engine(Hp)

90

Power(Kw)

70

Wheelbase

3300

Front/Rear Suspension

1230/1420

Steering

Power steering optional

Approach/departure angle

21/17

Wheels & tire

650-16

Tire number

6+1

Garbage bin capacity(m3)

2/3

RHD or LHD

optional

Overall Dimensions(mm)

5900×2200×2600

Curb weight (Kg)

3257

Engine
Model

4A1-68

Horsepower

90

Maximum output Kw

70

Maximum torque N.m

200

Type

4 cylinders ,4-stroke,in-line, water-cooled , diesel engine

Displacement

3600L

Quanchai brand, Euro 2 or Euro 3
Driving passenger
2,3
Transmission
5 speed forward and one reverse, manual
Front Axle
2T
Rear Axle
3.5T
Brake System
Oil brake
Color and LOGO
customized
Electric system
24V
Standard configuration
Bin lift system , garbage tank with dump function, hydraulic open rear door
Feature
High level of automation, reliable working ,well sealed , bulk loading ,easy control and good environmental protection.
Delivery date
Within 20 days after receipt advance
Packing
Nude Pack .The packing of the commodity shall be in accordance with the export standard packing of the manufacturer, be suitable for long distance transportation of ocean and inland. The Seller shall be take measures against moisture, shocks and rust according to the special needs of the commodity.
Foton 5000 liter Catering garbage truck Working parameter:
---
【Vehicle technical parameters】
Tank volume (m3)
3-12 cubic meters optional
Tank material
Carbon steel Q235, stainless steel 304
Structure inside the tank
Dry-wet solid-liquid separation
Thickness of tank (mm)
4-6mm
Unloading method
Self-unloading, pushing plate, twisting dragon
Feeding method
Hydraulic bucket flip
Tailgate leakproof
Thickened rubber + hydraulic lock
Bucket method
Chain lifting, lever lifting
Control position
Cab, right side of body
Hydraulic pressure (MPa)
16
control method
Manual + electric control, PLC automatic control
Hydraulic pump brand
Long source and large flow
Cleaning device
Hydraulic pump + plunger high pressure pump + 7 meter cleaning gun
Multi-way valve brand
Jiangsu Electromagnetic
safety devices
Rear door lock and rear cover switch interlock to prevent misoperation
Hydraulic cylinder brand
Yantai future
Optional configuration
Optional PLC one-button operation, optional 304 stainless steel box, optional sealed twisted dragon discharge, etc.
Optional barrel weighing function, can count the number of barrels, single barrel weighing, set the company name of the barrel collection, GPS positioning of the barrel collection, data background upload, display screen cab monitoring and other functions.
If customers have other unconventional requirements, they can organize technical solutions and customize production according to requirements.
Foton 5000 liter Catering garbage truck Operation display:
---
Kitchen garbage Truck Round tank process: cylindrical tank body with tie rod hoist, double cylinder hydraulic lifting and self-unloading at the bottom of the tank body, hydraulic opening and locking of the tank tail door + manual locking device, solid and liquid separation device inside At the end of the tank, a liquid self-flow valve, a liquid level window, a tool box and a hand washing device are installed.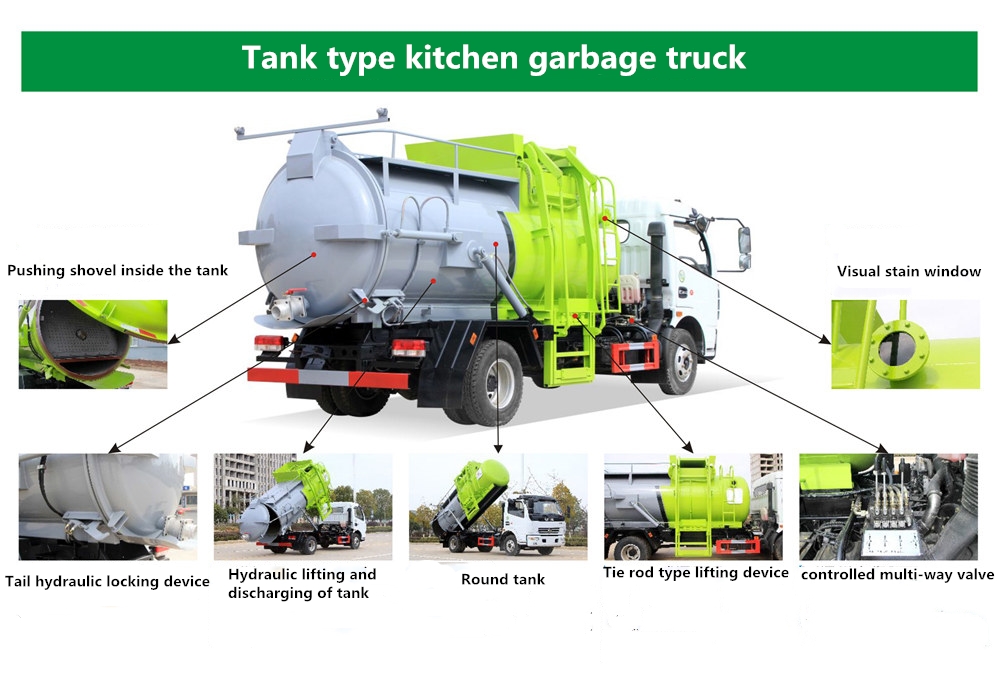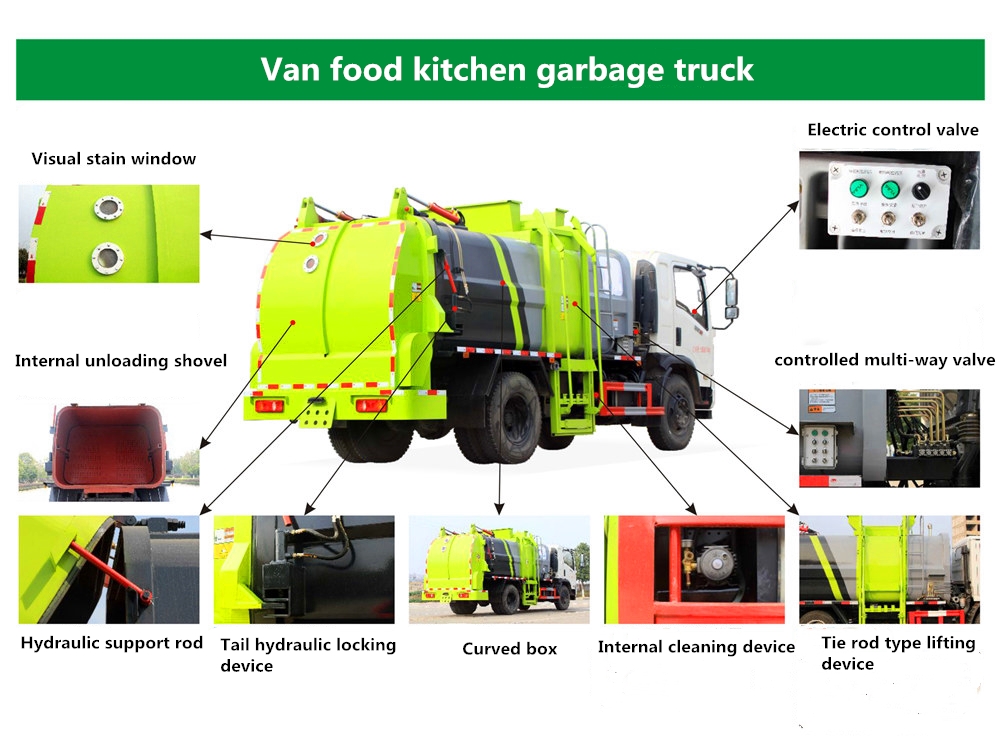 Foton 5000 liter Catering garbage truck New craft:
---

Foton 5000 liter Catering garbage truck Optional configuration:
---

Foton 5000 liter Catering garbage truck Detail drawing:
---

Customizable garbage truck models
---