Ford V348 ICU intensive care ambulance vehicle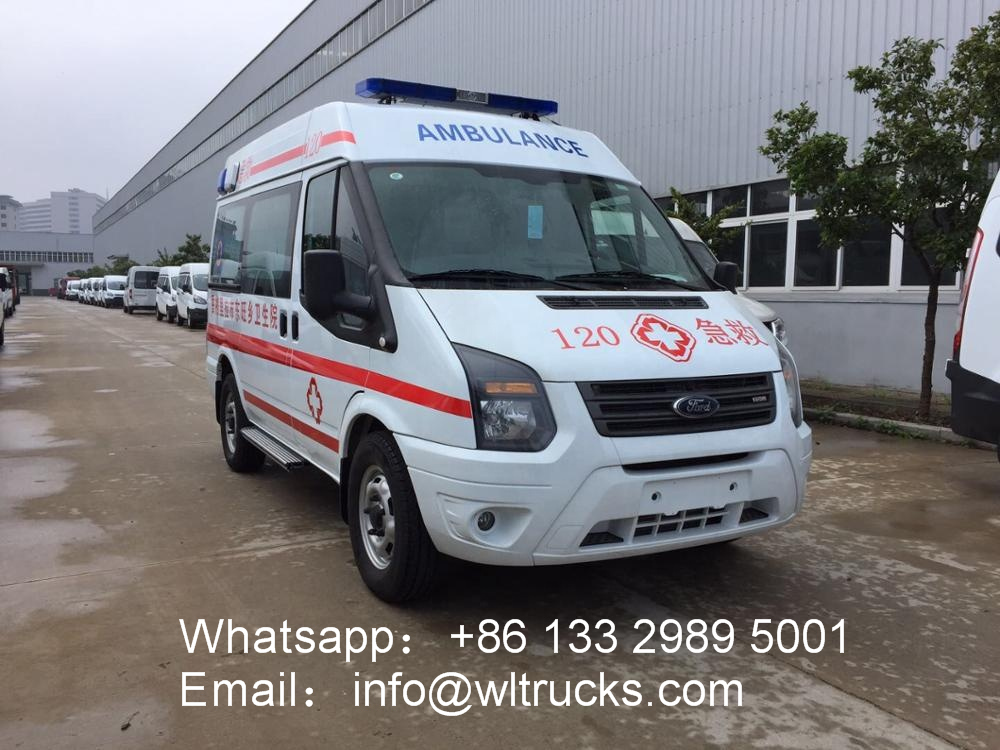 ---
Ford V348 ambulance long-axis high-roof is the most luxurious ambulance vehicle, modified superman roof.equipment include one portable stretcher, one medical locker, one oxygen bomb,two transfusion hooks, one sterilizing lamp, one sewage barrel, three single seats, preserve with two soft cushion, soft back and life belt, one aluminum alloy slid window, one top alarm lamp, two headlamps, one converter, one power jack, handrail,footstep, plastic floor, ambulance cross sticker.
specification:
---
The

 main technical parameters of Cheng Liwei CLW5041XJHJ5 ambulance vehicle
Vehicle model

CLW5041XJHJ5 

Emission Standards
Country Five
manufacturer

Chengli Special Purpose Vehicle Co., Ltd.

Fuel type

Diesel

Total quality

3700

 kg
Curb quality

2540, 2690, 2860

 kg
Number of passengers

3-8

 people
Maximum speed

145

 km/h
Front track

1740

 mm
Rear track

1704

 mm
Wheelbase
3750 mm
Tire specifications

215/75R16LT

Dimensions
5780×2000×2580, 2360, 2590, 2690, 2810 mm
other

Different tops are optional, and the position of the warning light and forehead boss is changed, and the LED screen is optional for the forehead boss. The corresponding heights are mm: 2580, 2810, 2590, 2360, 2690. Optional single or multiple strobe lights around the roof. Optional special equipment such as ventilating fan, side pedal, equipped medical equipment cabinet, oxygen bottle, stretcher, infusion holder, disinfection lamp, etc. Optional ordinary headlights. According to the requirements of the user industry, spray or paste the exterior signs and decorative strips. The optional manufacturer and model of the ABS system are Bosch Automotive Parts (Suzhou) Co., Ltd. and 6C11 2M110 A*.
Cheng Liwei CLW5041XJHJ5 ambulance

 engine parameters
engine model
Engine manufacturer
Displacement (ml)
Power (kw)

DURATORQ4D225H

Jiangling Motors Co., Ltd.

2198

100
Intensive care ambulance configuration:
---
basic configuration
1
High-power medical air-conditioning
1
2
Medical cabin high-power heater
1
Circuits and electrical appliances
Alarm and warning system
1
Long row of standard police lights
1
2
100W alarm and handheld control
1
3
Tail blue rectangular flash
2
4
Blue rectangular flashing on the left and right sides
2
5
White rectangular lights on the left and right sides
2
In-car power system
1
1000W positive spin wave inverter electrical system
1
2
Integrated circuit integrated control and protection system
1
3
Medical switch integrated switch control panel
1
4
Medical compartment national standard 220V power port
3
5
Medical compartment national standard 12V power socket
1
6
LED lighting on top of medical cabin
4
7
Time delay function disinfection lamp installed in the medical cabin
1
8
Medical cabin can be installed with positive and negative ventilation fans
1
9
Intercom system before and after medical cabin installation
1
Oxygen circuit and oxygen
Oxygen supply system
1
Two 10 liter medical oxygen cylinders and special shock-absorbing clamps
2
2
Hidden oxygen piping system
1
3
Install two oxygen ports of national standard for medical cabin column
2
4
1 humidification bottle
1
Medical cabin production
Inside the medical cabin
1
The polymer hardtop interior is easy to clean and disinfect
1
2
Polymer material special-shaped partition wall
1
3
Transparent sliding observation window for partition wall
1
4
Left upper walker board medical long hanging cabinet
1
5
Walker Sheet Medical Device Cabinet, Central Left
1
6
Walker sheet vertical oxygen cabinet on the left rear
1
7
Install hidden safety embedded parts for the whole vehicle
1
8
Medical cabin full set of blue anti-collision soft package wall
1
9
Environment-friendly wear-resistant, non-slip blue medical floor and cushion
1
Seat
Seat system
1
Reverse folding soft seat 1
1
2
1 forward-mounted independent backrest seat on the right side
1
3
Right side 2 people long horizontal soft bag seat and seat belt
1
First aid
medical system
1
Auto stretcher
1
2
Stretcher pad and guide plate
1
3
1 sliding infusion stand
1
4
Fire extinguisher
1
Exterior
Outside the vehicle
1
Black sun film on the left side of the medical cabin
1
2
Translucent matte film on right and rear
1
3
Standard medical appearance customization
1
Ambulance car details:
---

Ford V348 ICU intensive care ambulance vehicle equipment: