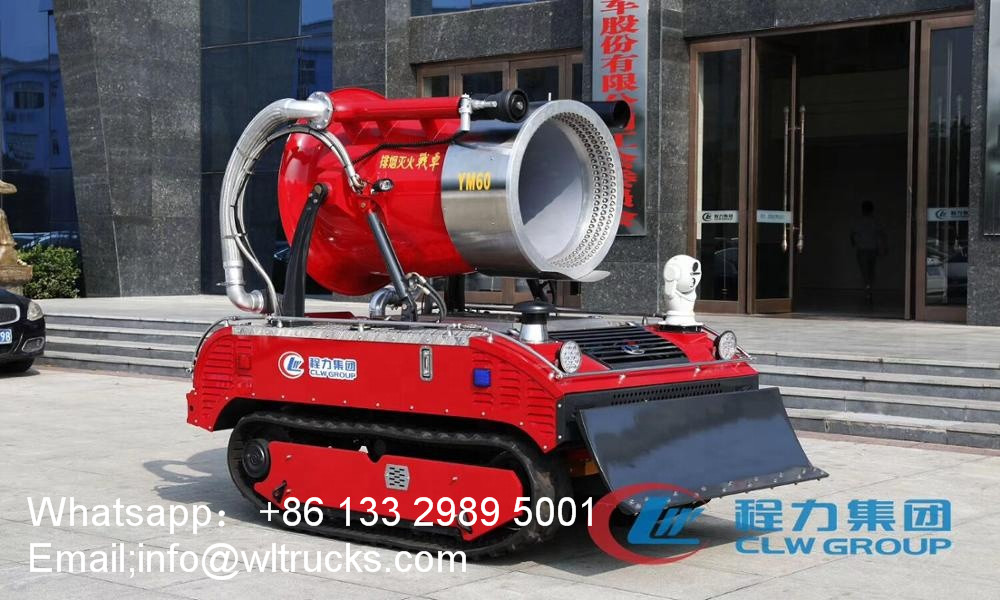 Fire fighting smoke extinguisher robot Applicable fields: fire extinguishing in subway, highway, railway tunnel, underground facilities and cargo yards, petrochemical refineries and oil depots, on-site rescue, video surveillance, dangerous goods removal and removal or obstacle removal for occasions where toxic gas leakage, large area smoke and flammable and explosive accidents occur, and personnel are not easily accessible.
II. Introduction of Functions
Fault diagnosis: real-time on-line monitoring of the working status of smoke exhaust and fire fighting vehicles, such as smoke exhaust and fire extinguishing devices, mainframe, wireless communication, cameras and other working status, timely alarm when found fault, and take active safety measures.
Image acquisition: 1080P high-definition image with low delay, real-time display of live pictures, smooth image. To provide clear images for the rescue field command, so that the commanders can make a correct and reasonable rescue plan, the transmission distance can reach 200 m.
Cloud platform control: can realize the camera movement control in horizontal and vertical angle, horizontal 0-360 degree range, vertical 0-180 degree range, camera focus, zoom in and zoom out. Cloud platform is equipped with infrared night vision function.
Injection mechanism control: it can realize the vertical angle movement control of fog gun, water cannon and foam gun. The vertical angle 0~45 degree can control various water spraying modes (flowering and DC) of water cannon.
Barrier removal function: hydraulic shovel can be used to clean up road obstacles at the explosion site; promote the establishment of fire-retardant belts in sand at the disaster relief site.Standby oil source: through the standby oil outlet set up by the hydraulic system, the external hydraulic components can be driven to carry out emergency rescue operations, such as driving the drainage pump, hydraulic dismantling tools, hydraulic jacking equipment and mobile hydraulic rescue equipment such as hydraulic exhaust fan.
Lighting and warning system: The necessary lighting operation can be provided for the rescue site through the lighting lamp set in the front of the equipment.
Product Specifications:
---
Product number

CLW5367GSSD3

ATV hydraulic self-propelled

Basic configuration parameters

Field of application

Fire fighting, disaster relief materials transportation, petrochemical plants in various fields

Control method

Maintenance free cooling system, wireless control and emergency manual

Dimensions

2860mm × 1485mm × 2100mm

Driving speed

0-3km/h (infinitely variable speed)

Walking mechanism

All-terrain high-strength track, internal full metal skeleton

Walking speed

0-3km/h

Obstacle height

190mm

Gradeability

30°

Water cannon flow

≥120L/s

≥80L/s

Water gun range

≥100m

≥70m

Extinguishing agent type

Water and foam, easy to replace

Spray method

DC, flowering atomization, continuous adjustable

Rotation angle

Horizontal 360, vertical -20 degrees to 90 degrees can be set

Turning radius

In situ rotation

Way to control

Wireless remote control, semi-autonomous driving or autonomous driving

Continuous walking time

>6.5 hours

Operating hours

>12 hours

Wading attempt

500mm
IV. Overview of smoke exhaust and fire extinguishing devices
(1) Long-range water cannon (80X1/DN65X1 internal button interface, flow rate 0-80L/S automatic adjustment under 5-10 bar pressure, range (> 70m), DC and blossom converted by wireless remote control)
(2) foam gun (80X1/DN65X1 inner button interface), under the pressure of 5~8 bar, the flow rate of foam mixture is 60L/S, the range is more than 50m.
(3) Water mist gun (inlet 65 internal buckle interface, muzzle 720mm, 216 water mist nozzles inside, range_40m, flow rate 400L/min under 10-16bar pressure).
(4) Smoke exhauster: air supply (exhaust) capacity: > 60,000 cubic meters/hour
(5) Injection Angle: Vertical Injection Angle 0-45 degrees
V. Overview of Control Systems
1. Supporting one-way image transmission, 200 m transmission distance;
2. Supporting one-way digital transmission, bidirectional, 200m transmission distance;
3. The real-time communication between the robot and the handheld control equipment is high.
4. Supporting simultaneous control of motion control of pan-tilt cameras, mainframes and water cannons;
5. The whole system is easy to install, debug and maintain.
6. The equipment is equipped with emergency operation handles to ensure the practicability of rescue operations.
6. Selection and assembly:
1. Special duty truck: It can transport smoke exhaust and fire fighting truck to the rescue site quickly and smoothly through the transport carrier. It has universal fixture, convenient loading and unloading, safe and efficient. It can also be used to transport other rescue materials, practical and fast.
2. Audio output: control fire alarm sound output
3. Autonomous obstacle avoidance: automatic identification of obstacle distance, timely return to the control end, the control personnel make control judgments, or can also make autonomous evasive actions.
4. Hydraulic drainage pump: It can quickly remove water in sudden waterlogging areas such as underground garage, underground shopping malls and tunnels. It has the characteristics of large flow and high lift.
Fire fighting smoke extinguisher robot detail structure diagram:
---

---
1. Equipment layout
| | |
| --- | --- |
| 1 | According to the actual needs of firefighting, according to the firefighting operation procedures, take it nearby. |
| 2 | Use special jigs for anti-corrosion, anti-vibration, anti-shedding and anti-scratch. |
| 3 | Signs are eye-catching, multi-person operation, non-interference. |
2. Equipment and equipment (standard)
| | | | | | |
| --- | --- | --- | --- | --- | --- |
| 1 | straw | 150×4 meters | 2 | root | Threaded |
| 2 | Water filter | FLF150 | 1 | Piece | Threaded |
| 3 | Trap | FII80/65×3-1.6 | 1 | Piece | Internal button |
| 4 | Water trap | JII150/65×2-1.0 | 1 | Piece | Internal button |
| 5 | Hose | 13-65-20 | 6 | plate | Low pressure; |
| 6 | Hose | 13-80-20 | 6 | plate | Low pressure; |
| 7 | Reducing interface | KJ65/80 | 2 | Piece | Internal button |
| 8 | Water-retaining cloth | DT-SB | 4 | Piece | |
| 9 | Hose hook | | 4 | Piece | |
| 10 | Ground fire hydrant wrench | QT-DS1; length 400 | 1 | Piece | |
| 11 | Underground hydrant wrench | Long 860 | 1 | Piece | |
| 12 | Suction pipe wrench | FS100 | 2 | Piece | |
| 13 | DC switch water gun | QZG3.5/7.5; 65 | 1 | support | Low pressure; |
| 14 | DC Flowering Water Gun | QZK3.5/7.5; 65 | 1 | support | Low pressure; |
| 15 | Foam gun | PQ4/0.7Z | 1 | support | |
| 16 | Foam pipette | 40*2700 | 1 | Piece | |
| 17 | Fire bucket | | 1 | Pc | |
| 18 | Fire extinguisher | 3㎏ | 1 | With | |
| 19 | Fire waist axe | Length 390; GF-285 | 1 | Piece | |
| 20 | Rubber hammer | | 1 | Piece | |
| twenty one | Rechargeable portable lighting | | 1 | Piece | |
Optional fire equipment table:
---
| | | | | | |
| --- | --- | --- | --- | --- | --- |
| Serial number | name | specification | Quantity | unit | Remarks |
| 1 | Automatic charging device | 24V | 1 | set | |
| 2 | Air backrest | | 3 | set | |
| 3 | Air breathing apparatus | Number of members | | set | |
| 4 | Hose bridge | rubber | 2 | vice | |
| 5 | Telescopic ladder | | 1 | vice | |
| 6 | Hand pump | | 1 | station | |
| 7 | Breaking tools | | 1 | set | |
| 8 | Other fire equipment | | | | |
Fire truck equipment diagram:
---