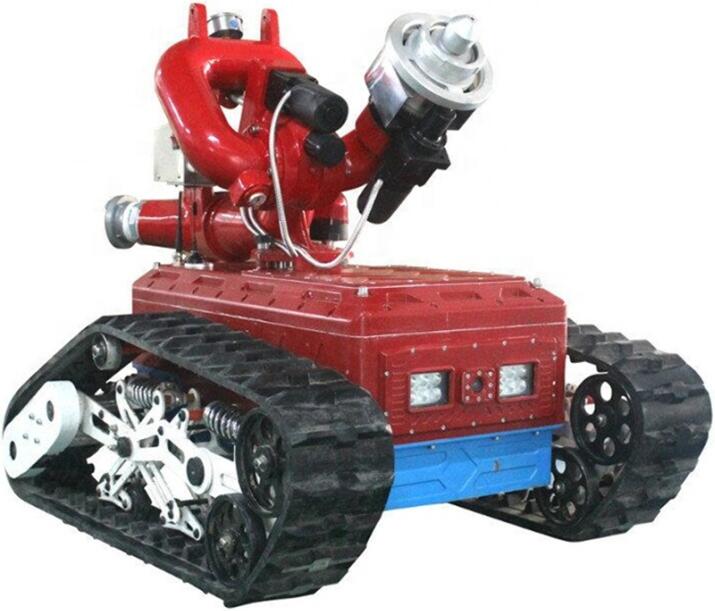 Fire fighter rescue robot  – Create a new direction for unmanned fire in the future. Fire fighting robots, also known as fire rescue robots , are composed of robot bodies, fire cannons, high-definition cameras, lights, and remote controls. It is mainly used for fire fighting and image shooting in various fields. It is especially suitable for flammable and explosive environments such as petrochemicals and gas. It is of great significance to improve rescue safety and reduce casualties.
Features:
1. Internal combustion engine drive, closed hydraulic system, small volume and strong power.
2. The track adopts external high temperature resistant, flame retardant rubber and internal metal frame. Even if the external rubber melts under high temperature, it will not affect the walking and stability of the robot.
3, four water belt water supply, with waterproof belt knot design.
4, the traction is large, drag four 200m long water-filled water belt to walk.
5. Remote control of fire cannon rotation, pitching, high flow, high range, multiple injection methods.
6, fire cannon automatic spray, water spray, foam freely switch.
7, high-definition wireless map transmission system, to achieve line-of-sight, non-line-of-sight remote real-time video surveillance (500m or more).
8, using advanced wireless communication technology, image transmission and integration, easy to carry, can simultaneously access drone control.
9. The ability to overcome obstacles is strong, and it is possible to carry out large-angle climbing and obstacles.
10, strong mobility, fast moving speed, adjustable speed, the maximum can be more than 10km / h.
11, can be equipped with automatic dewatering belt function, automatically remove the water belt after completing the fire fighting task, lightly return.
12. Continuous walking time is more than 6 hours.
Product Specifications:
---
Product Features:
1, Internet functions: network communication function is strong, the transmission of data to the command center, to provide a reliable basis for decision making rescue manager, while the drone with the realization of "Trinity" fire command and control.
2, remote diagnostics Function: Remote diagnosis and fault analysis of fire fighting robot through Internet function
3. Hot eye detection function: Detection and tracking of heat source through infrared thermal imaging (optional)
4. Sound collection function:The live sound can be collected in real time to facilitate understanding of the situation of the trapped person.
5, image acquisition function: 5-channel camera uses only live images and uploads in real time, including robot panoramic images, God's perspective.
6, autonomous obstacle avoidance function (optional).
7. On-site rescue: The robot has a strong load capacity, can drag the rescue vehicle into the disaster site, and timely rescue the trapped personnel.
Product number

CLW5368GSSD3

RXR-M80D

Basic configuration parameters

Field of application

Fire fighting and disaster relief materials transportation in various fields

Imported device

Engine, hydraulic pump, hydraulic motor, water cannon, electric winch, etc.

Dimensions

Length 1900mm × width 1500mm × height 1500mm

Curing weight

1000kg

Walking mechanism

All-terrain high-strength track, internal full metal skeleton

Walking speed

2.7m/s

Obstacle height

240mm

Gradeability

70% (350) slope or 38 degree staircase

Water cannon flow

≥120L/s

≥80L/s

Water gun range

≥100m

≥70m

Extinguishing agent type

Water and foam, easy to replace

Spray method

DC, flowering atomization, continuous adjustable

Rotation angle

Horizontal 360, vertical -20 degrees to 90 degrees can be set

Turning radius

In situ rotation

Way to control

Wireless remote control, semi-autonomous driving or autonomous driving

Continuous walking time

>6.5 hours

Operating hours

>12 hours

Wading attempt

500mm

Controller configuration parameters

Dimensions

290mm × 180mm × 95.35mm

Weight

3.5kg

Display

8.3-inch high-brightness LCD screen

Display image

Multiple video signals can be switched or displayed on the same screen
Fire fighter rescue robot detail structure diagram:
---

---
1. Equipment layout
| | |
| --- | --- |
| 1 | According to the actual needs of firefighting, according to the firefighting operation procedures, take it nearby. |
| 2 | Use special jigs for anti-corrosion, anti-vibration, anti-shedding and anti-scratch. |
| 3 | Signs are eye-catching, multi-person operation, non-interference. |
2. Equipment and equipment (standard)
| | | | | | |
| --- | --- | --- | --- | --- | --- |
| 1 | straw | 150×4 meters | 2 | root | Threaded |
| 2 | Water filter | FLF150 | 1 | Piece | Threaded |
| 3 | Trap | FII80/65×3-1.6 | 1 | Piece | Internal button |
| 4 | Water trap | JII150/65×2-1.0 | 1 | Piece | Internal button |
| 5 | Hose | 13-65-20 | 6 | plate | Low pressure; |
| 6 | Hose | 13-80-20 | 6 | plate | Low pressure; |
| 7 | Reducing interface | KJ65/80 | 2 | Piece | Internal button |
| 8 | Water-retaining cloth | DT-SB | 4 | Piece | |
| 9 | Hose hook | | 4 | Piece | |
| 10 | Ground fire hydrant wrench | QT-DS1; length 400 | 1 | Piece | |
| 11 | Underground hydrant wrench | Long 860 | 1 | Piece | |
| 12 | Suction pipe wrench | FS100 | 2 | Piece | |
| 13 | DC switch water gun | QZG3.5/7.5; 65 | 1 | support | Low pressure; |
| 14 | DC Flowering Water Gun | QZK3.5/7.5; 65 | 1 | support | Low pressure; |
| 15 | Foam gun | PQ4/0.7Z | 1 | support | |
| 16 | Foam pipette | 40*2700 | 1 | Piece | |
| 17 | Fire bucket | | 1 | Pc | |
| 18 | Fire extinguisher | 3㎏ | 1 | With | |
| 19 | Fire waist axe | Length 390; GF-285 | 1 | Piece | |
| 20 | Rubber hammer | | 1 | Piece | |
| twenty one | Rechargeable portable lighting | | 1 | Piece | |
Optional fire equipment table:
---
| | | | | | |
| --- | --- | --- | --- | --- | --- |
| Serial number | name | specification | Quantity | unit | Remarks |
| 1 | Automatic charging device | 24V | 1 | set | |
| 2 | Air backrest | | 3 | set | |
| 3 | Air breathing apparatus | Number of members | | set | |
| 4 | Hose bridge | rubber | 2 | vice | |
| 5 | Telescopic ladder | | 1 | vice | |
| 6 | Hand pump | | 1 | station | |
| 7 | Breaking tools | | 1 | set | |
| 8 | Other fire equipment | | | | |
Fire truck equipment diagram:
---