FAW 8000 liter compactor Garbage truck Product Description:
---
FAW 8000 liter compactor Garbage truck Chassis configuration: adopting the FAW Qingdao State V special sanitation vehicle series chassis, the Tiger VH can turn the cab forward, equipped with Dachai 120 horsepower diesel engine, six gear box, ABS, air brake, air brake, dynamic rotation, clutch booster, 750R16 steel tire , Cruise at fixed speed, with urea tank and exhaust purification system that meets the national five emission standards, GB7258-2017 new regulations chassis. The wheelbase is 3900mm. The environmental protection announcement has been issued, and there are no worries for the households.
FAW 8000 liter compactor Garbage truck Top-loading configuration: the effective volume of the trash bin is 8 cubic meters, the arc-shaped box or the square box are available for selection. It adopts electric, gas and liquid joint control, and has two complete operating systems of manual and electric; tail
The loading system is a one-key cycle operation, one set at the left and one at the rear of the car;
A set of electric unloading operating system inside the cab; Hebei Xingtai Xiaolongwang gear pump, pump displacement: 85ml / r, Jiangsu Tengda / Suizhou Xingguang hydraulic oil cylinder, Yangzhou Zhongmei gas control multi-way valve, Taiwan Yonghong (programmable Controller) Imported PLC, Henan Litong brand hydraulic flexible tubing, working pressure: 16MPa, effective volume of filler: 1.5m3, loading cycle time: ≤40s, garbage dumping time: ≤45s,
Rear flip mechanism: 1. Hang standard 200-liter iron drum, 2. Hang standard 120-liter / 240-liter plastic drum, 3.1-square flip bucket (commonly referred to as pinch bucket), 4.1.2-square fully-sealed flip bucket. 5. The swing arm is equipped with a 3.5-square garbage hopper; the lower part of the rear filler is provided with a sewage collection box, which is convenient for collecting sewage in the car, and the sewage is periodically discharged through the ball valve. Sewage tank volume: 500 liters.
FAW 8000 liter compactor Garbage truck Specifications:
---
Vehicle parameters:
Overall dimensions (length * width * height)
Barrel Turning Device: 7160×2250×2650mm
Tipping Device: 7460×2250×2650mm
Total mass
8275Kg
Rated contained mass
1500Kg
Curing quality
6580Kg
Wheelbase
3800mm
Front overhang / rear overhang
1210/2150,1210/2450
Approach / departure angle
24/13
Chassis parameters
Chassis type
Dongfeng Dolika
Cab color
White
Drive form
4*2
Wheelbase
3800mm
engine model
CY4SK251(Euro V )
Engine power (kw)
115
Emission Standards
GB17691-2005 (Euro V),GB3847-2005
Tire
7.50 Steel Wire Tyres (7)
Top loading parameters:
Effective volume of the box
8CBM
Box shape
arc
Box material
Bottom 4 sides 4
Compression ratio
≥2.5
Loading cycle once
≤35 s
Pushing garbage time
≤35s
control method
automatic / manual
Hydraulic system pressure
16MPa
Hydraulic oil pump
Hefei Changyuan (Zhonglian Heavy Industry)
Hydraulic cylinder
Zoomlion supporting
PLC control system
Siemens, Germany
Engine power control
Fully automatic control
Tumbler mechanism
Hang two 240L trash cans at the same time (Optional other types of flip frame)
FAW 8000 liter compactor Garbage truck Working parameter:
---
Hydraulic pump
Long source large flow 32-80 pump, optional double pump and double valve
Body material
High strength T420 special steel plate
Hydraulic cylinder
Xiamen Yinhua, Yantai Future
Box thickness
Lightweight design with 4mm at the bottom and 5 sides
Multi-way valve
Jiangsu Zhongmei, Italy imports
Sewage tank
2 (1 on the side and 1 on the rear)
Conversion mode
Photoelectric switch (formerly pressure relay)
Sewage seal
Tail diversion groove + rubber hydraulic lock
Automatic control
Standard configuration, Siemens PLC electronic control
Lighting device
Tail night light
Electric control box
3 (1 in the cab and 2 in the rear)
safety devices
Tail lift with hydraulic lock
Optional configuration
Hanging plastic buckets (120L, 240L, 360L, 480L, 660L), hanging iron buckets, triangle buckets, fully sealed buckets, swing arm racks, electric hydraulic system
FAW 8000 liter compactor Garbage truck New craft:
---

FAW 8000 liter compactor Garbage truck Detailed Images: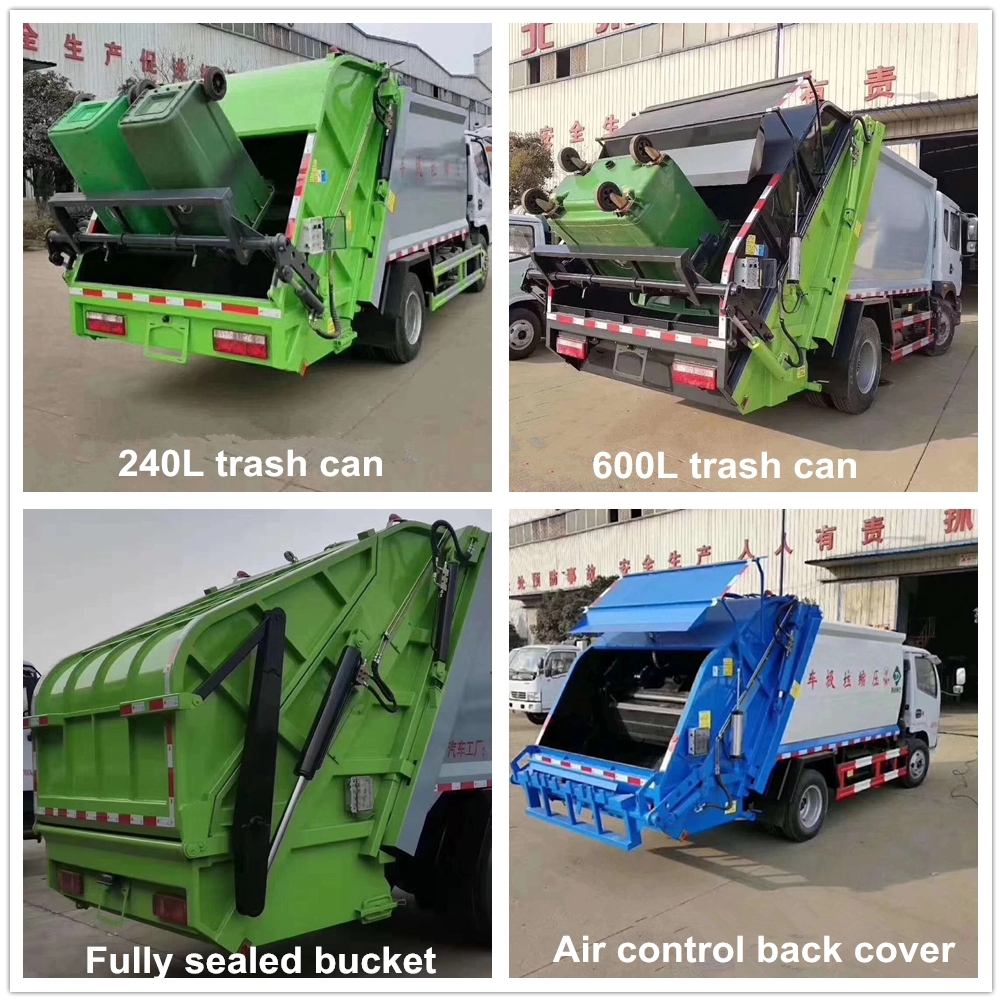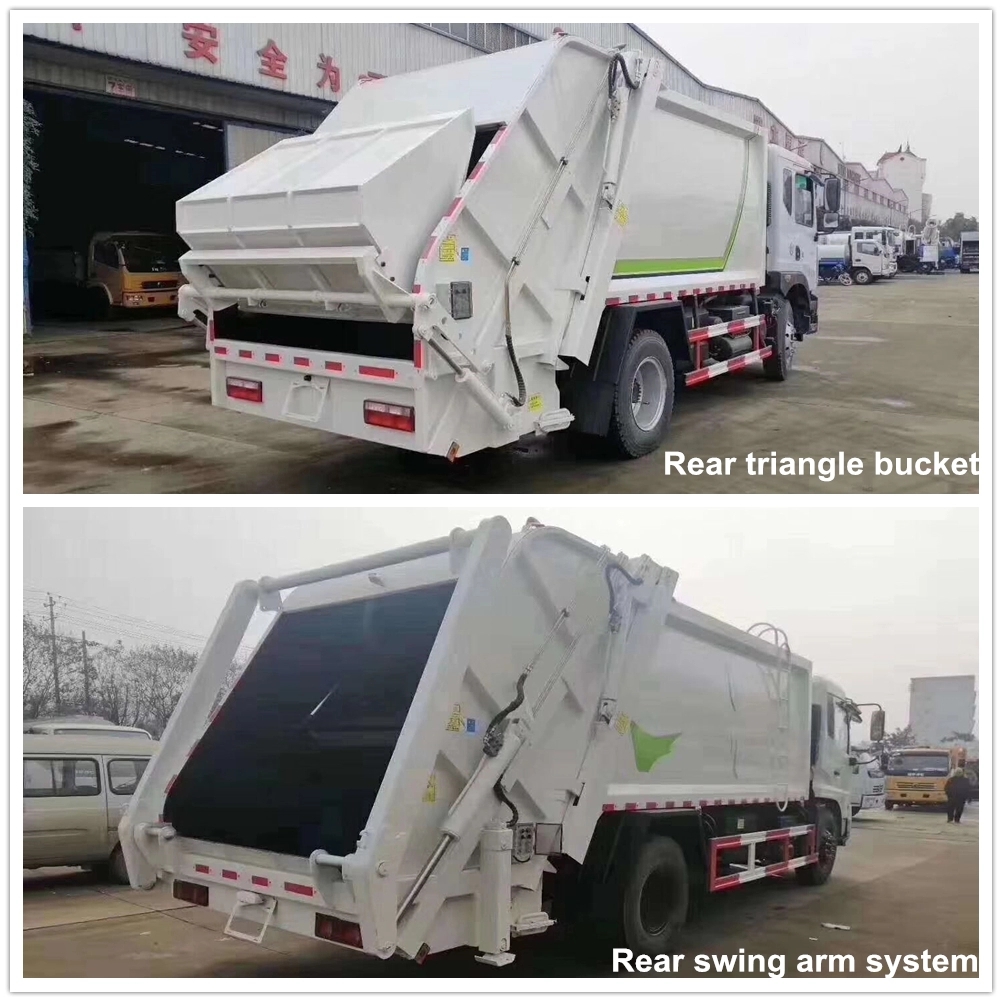 FAW 8000 liter compactor Garbage truck Structure diagram:
---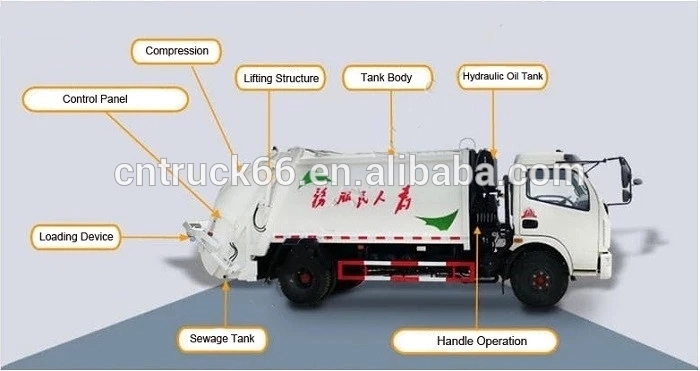 FAW 8000 liter compactor Garbage truck Detail drawing:
---

Customizable garbage truck models
---