FAW 8 ton truck mounted crane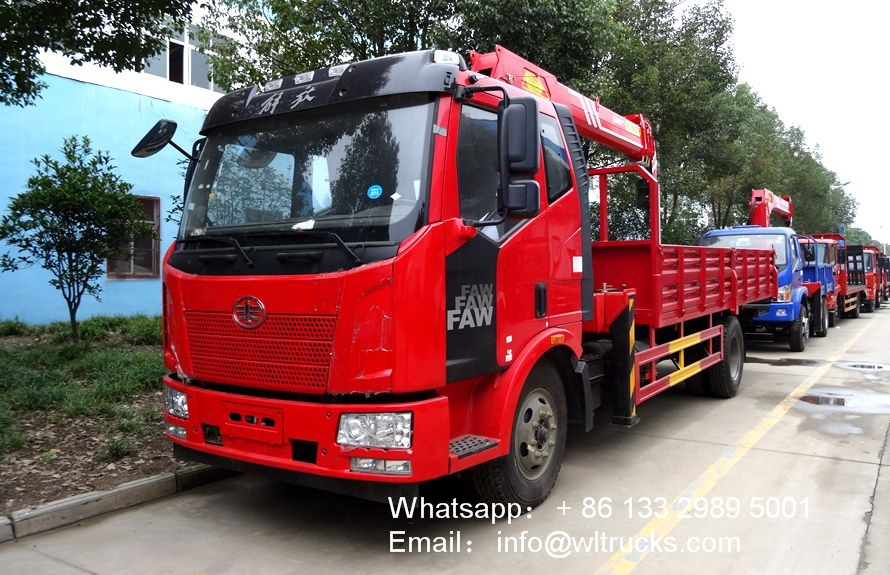 ---
FAW 8 ton truck mounted crane Adopt Jiefang J6 row semi-flat roof cab, Dachai 180 horsepower engine, National V emission standard, FAW 6-speed gearbox, 378 cast rear axle, full-vehicle 9.00 steel tire, wheelbase 5000mm, cargo box standard can be 5.46 meters, optional It is equipped with manual telescopic or hydraulic telescopic cargo boxes, and the rear can be equipped with ladders, pull excavators, and multi-function vehicles.
Our company are professional manufacturer in truck area, guarantee all goods Brand-New and China-Origined. 
1. Chassis Model: ISUZU,JAC,JMC,IVECO,Dongfeng,FAW,Foton,HOWO,North Benz and etc.
2. Engine Model:Cummins,Yuchai,Weichai,Xichai,Sinotruk and etc.
3. Drive Model: 4×2,4×4, 6×2,6×4,6×6, 8×4,  and three axis crane semi-tailer
4. Crane rotation angle: 360° with hydraulic systems straight /folding boom crane max loading weight:2T,3.2T,4T,5T,6.3T,8T,10T,12T,14T,16T,20T, 30T, 60T, 150T,Two-arm, three-arm and four-arm are optional.
5. Cargo box's length:3-13m.Widely used in oil fields, weighing and inspection, telecommunications, power, factories, cement board factories, etc.
---
Vehicle technical parameters
Vehicle Brands
FAW
Card type
Yellow card B photo
Adaptation crane
6.3 tons / 8 tons
Crane brand
CLW / Xugong
Boom form
Straight arm / folding arm
Cab
J6
engine
Dachai 180 horsepower
Gearbox
FAW 6 files
Dimensions
9×2.495×3.55 m
Total mass
15.6 tons
Container size
5.465×2.3×0.6 m
Curb quality
9.66 tons
Frame
300mm special girders
Tire model
9.00 wire tire
Axle
378 rear axle
Braking System
Air brake
Wheelbase
5000 (mm)
Number of passengers
3
Displacement
6060 (ml)
Maximum speed
102 (km/h)
Liberation of Sany 7 tons / 8 tons truck crane parameters
Trinity 7 tons four-section arm
Trinity 8 tons four-section arm
Xugong 6.3 tons four-section arm
Xugong 8 tons four-section arm
Lifting capacity (kg)
7000
8000
6300
8000
Farest lifting weight(kg)
690
800
600
1100
Working radius (m)
12
14
11
11.5
Lifting height (m)
14.6
16.1
12.8
13.5
Crane weight (kg)
2650
3820
2290
3315
Leg span (mm)
2280-5200
2280-5600
2280-5100
2280-5580
Swing angle
360 degree full swing
360 degree full swing
360 degree full swing
360 degree full swing
FAW 8 ton truck mounted crane Working parameter:
---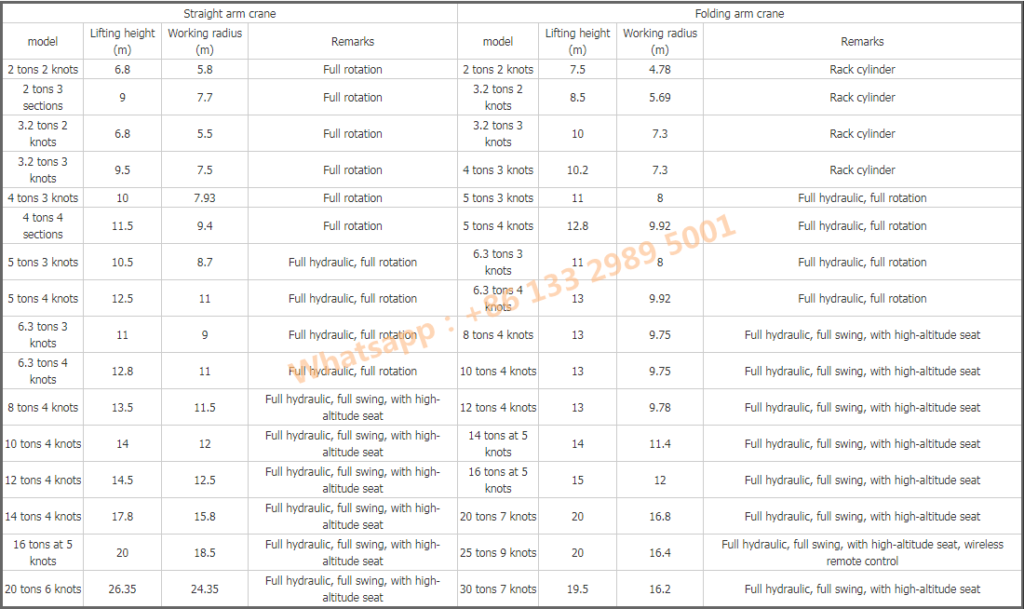 FAW 8 ton truck mounted crane New craft:
---

FAW 8 ton truck mounted crane Optional configuration:
---

FAW 8 ton truck mounted crane details:
---

Dongfeng 2 ton truck crane type exhibition:
---

Chengli truck-mounted crane can choose 3 or 4 booms, and can choose straight arm or folding arm crane. Cargo boxes or cranes with different lengths and tonnages can be selected according to user requirements.
The design of different forms of truck-mounted cranes is similar to truck-mounted crane models, such as railway truck-mounted cranes, fixed ship cranes, truck-mounted strap claws, truck-mounted strap dumpers, truck-mounted strap drills, etc.