FAW 3 ton refrigerated delivery truck
Adopt Tiger VN flat-top single-row cab, Xichai 130-horsepower engine, Wanliyang six-gear box, ABS, air brake, 5T rear axle, 7.00R16 steel tires, multi-function steering wheel, air conditioning, electric door and window center lock, cruise , Overall dimensions: 5998×2310×3180 (mm), cargo compartment dimensions: 4130×2100×2100 (mm).
glass inside and outside of the box, 8cm high-density insulation board, anti-skid aluminum plate on the bottom plate, stainless steel door locks, additional orders Side door, installed -5 to -18 degree refrigeration unit, the rest is standard.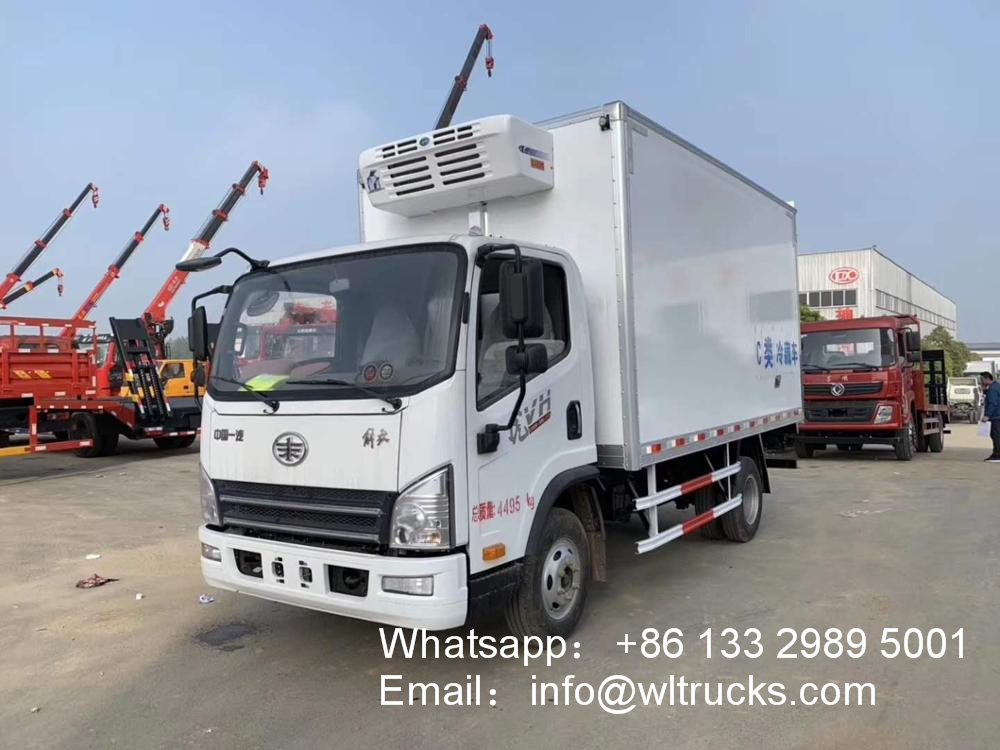 1. Introduction of special technology and manufacture of vacuum adsorption equipment, good thermal insulation effect and high flatness.
2. The car body adopts the integral skeleton "sandwich" board bonding process, which is resistant to impact, corrosion and aging
3. The bottom plate adopts integral cast-in-situ glass fiber reinforced plastic, which has good thermal insulation and high overall strength; the bottom plate of the cabin is equipped with a ventilation slot, which is convenient for the cold air flow to the whole vehicle and maintain the temperature inside the cabin.
4. Refrigeration units have well-known domestic and imported units, with simple structure, convenient operation, reliable operation, low energy consumption, large cooling capacity, low noise and easy installation and maintenance.
FAW 3 ton refrigerated delivery truck specification:
---
FAW VH refrigerated truck [main technical parameters]

product name

Liberation Tiger VH Refrigerator

Product number

CA5044XLCP40K2L1E5A84

Rated mass (Kg)

1100

Dimensions (mm)

5998×2110×3180

Curb weight (Kg)

3200

Cargo clearance mm)

4130×1900×1900

Total mass (Kg)

4495

Cargo container volume (m3)

14.9

Number of passengers in the cab (person)

3

Emission Standards

Country five

Approach angle / departure angle (°)

21/17

Front overhang / rear overhang (mm)

1150/1548

Number of axes

2

Wheelbase (mm)

3300

Axial load (Kg)

1850/2645

Maximum speed (Km/h)

110

Liberation Tiger VH4.2 m refrigerated truck [chassis technical parameters]

Trade name

Liberation card

Chassis model

CA1044P40K2L1BE5A84

Tire model

7.50R16

Number of tires

6

Engine company

China First Automobile Group Corporation

Engine horsepower

Weichai 130 horsepower

FAW VH refrigerated truck chassis configuration: Tiger VH wide cab, Weichai 130 hp engine, 6-speed gearbox, 7.50R16 wire tire, direction assist, air conditioning, clutch assist, air brake, ABS, central control door lock.

Car body material optional

Standard special FRP / optional stainless steel

Base material optional

Standard aluminum pattern skid plate / optional FRP

Cold machine optional

Domestic / import / independent / non-independent

Cold machine installation location

Standard front/optional skirt, overhead

Cold machine inner frame

Optional

Heating equipment (constant temperature refrigeration)

Optional

Floor ventilation slot

Optional

Meat hook

Optional

Insulated curtain

Optional

External power supply

Optional

Temperature and humidity recorder micro printer

Optional

Alarm system

Optional
FAW 3 ton refrigerated delivery truck Working parameter:
---
| | | | | | |
| --- | --- | --- | --- | --- | --- |
| Insulation thickness | 80mm ester urethane | Inside and outside materials | 2.2mm FRP / Stainless steel plate | Unit brand | Domestic, imported / independent, non-independent |
| Floor material | FRP / Aluminium skid plate / Stainless steel skid plate | Installation location | Front, skirt, top | Bottom ventilation slot | Optional, aluminum alloy profile |
| Cooling time | 30 minutes | Thermal curtain | Optional | Control position | Cab |
| Meat hook | Optional | Insulation effect | 24 hours temperature rise 5 degrees | External power supply | Optional |
| Cooling temperature | Minus 20-5 degrees | Constant temperature unit | Optional | Temperature and humidity printer | Optional |
FAW 3 ton refrigerated delivery truck New craft:
---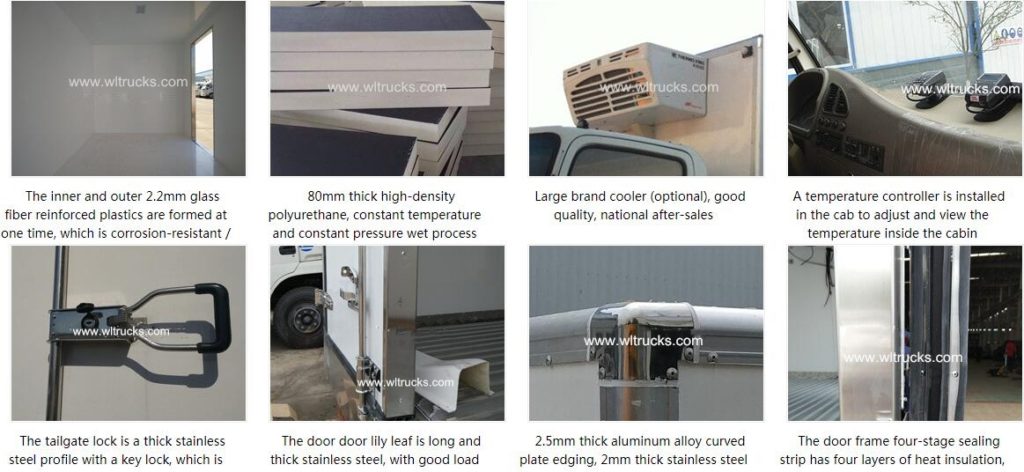 FAW 3 ton refrigerated delivery truck Optional configuration:
---

FAW 3 ton refrigerated delivery truck Bodywork details:
---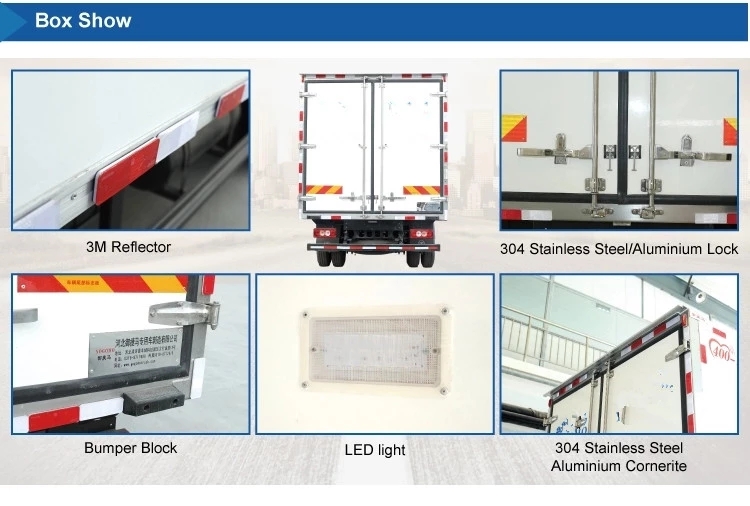 FAW 3 ton refrigerated delivery truck Internal details:
---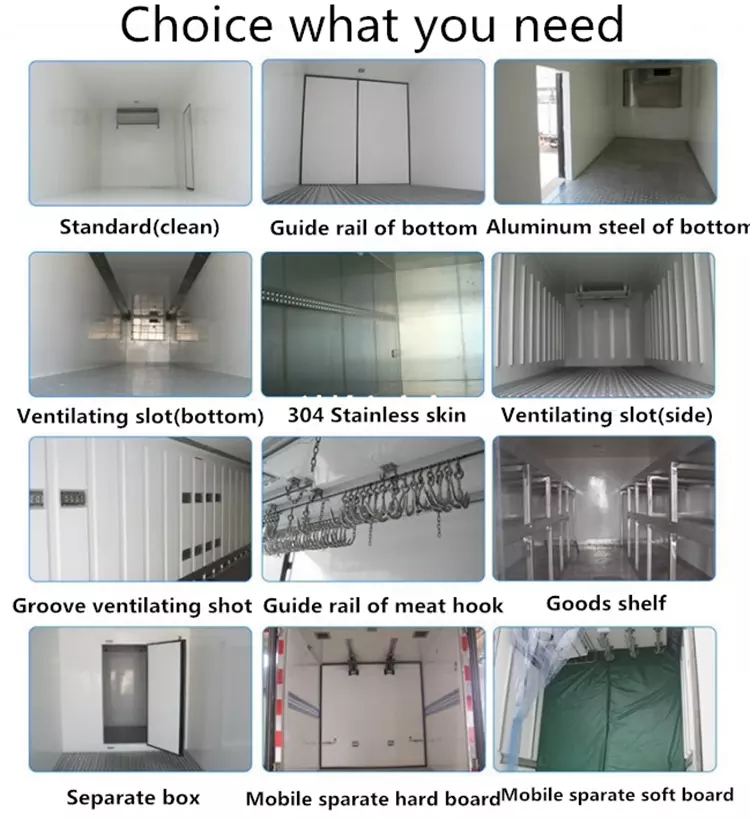 Chengli 1ton to 40ton refrigerator truck product Display:
---

Our Services:
---
1, 12 months whole vehicle warranty
We could support you original spare parts. Besides, we can give assistance in the following days by email or telephone. If necessary, our outwork engineer could go for technical assistance.
2,We will provide customers with the mos economical design according to the loading equipment and the payload.ODM & OEM customize, professional and technical team provide you the best design , free logo print.Trailer assembled under strict quality control, any process is inspected .
3,With years of export experience along with excellent quality, advanced services and competitive prices, Chengli truck has won numerous customers' trust and support.
4,Packaging Details : nude , covered with wax, small type can be put into 20'GP OR 40'GP container , over sized can be carried by bulk carriers or ro-ro ship , or according to your requirements.
5. Drive model: 4*2, 4*4, 6*2, 6*4, 6*6,8*4;4wd , 6wd,off-road , 10 wheel , 12 wheeler , 18 wheel;
6. Cargo tonnage: 1 ton to 40tons
7. Product type :bread refrigerated truck, van refrigerated truck, refrigerated semi-trailer, fresh fish transport truck, milk fresh-keeping transport truck, etc.
8. Right/Left hand drive, with A/C, single row or one and a half rows with sleeper.
9.Brand:Foton.JAC. FAW .JMC .Dongfeng.Chery.HOWO.Sinotruk.Shacman.I-SUZU.I-VECO or other imported brands of new truck
10.Engine emission standard:Euro 3,Euro 4,Euro 5,Euro 6