Dongfeng 8cubic meters hook arm garbage truck Product Description:
Dongfeng 8cubic meters hook arm garbage truck Chassis configuration: wheelbase 3.8 meters, new D7 wide body cab, single-row reversible, 4-cylinder diesel engine, 6-speed gearbox, 7.50 tires, with directional boost, air brake, clutch boost, with warm air
Dongfeng 8cubic meters hook arm garbage truck Bodywork configuration: high-strength alloy steel integrated main hook arm, reinforced auxiliary beam, cast steel tail roller, manual + electronic control dual control device, hydraulically complete the upper box + lower box + locking + self-unloading, etc. The car is equipped with multi-case circulation transfer.
Dongfeng 8cubic meters hook arm garbage truck Hook arm trash bin: One hook arm trash bin is equipped with the car, made of Q235 high-quality carbon steel plate produced by Wuhan Iron and Steel, the side plate is 3 mm and the bottom plate is 4 mm, the interior is treated with anti-corrosion and anti-rust, the delivery windows are opened on the left and right sides of the top of the box, with pneumatic support Rod, water baffle inside the box, cast steel roller at the bottom of the box, tail door manually opened with quick lock.
Dongfeng 8cubic meters hook arm garbage truck Specifications:
---
product name

Dongfeng 8 cubic meters hook arm garbage truck

Chassis model

CLW5165GSSD3

Actual volume ( cubic )

8 cubic

Total mass (kg)

7890

Engine horsepower

120

Rated load mass (Kg)

165

Engine name

Dongfeng

Emission Standards

Euro III

Dimensions (MM)

7200x2380x2430

Fuel type

Diesel

Number of tires

6

Tire specifications

750-16

Wheelbase (MM)

3800

Maximum speed (km/h)

95

Front track

1495

Rear track

1490

Performance profile

   Compressed Garbage Truck Adopts Electromechanical and Hydraulic Integration Technology. With The Combined Automatic Control System of Machine, Electricity and Liquid, Computer Control and Manual Operation System, IT CAN the Realize The dumping, Crushing or pressing of Garbage through Special Devices SUCH AS Filler and Pusher The compressed garbage truck has the functions of automatic repeated compression and Peristaltic Compression, high compression ratio, good sealing performance, large load capacity, convenient operation, good environmental protection, and high power utilization of the whole vehicle.

Dedicated configuration

 New non-ribbed box body, flat arc with beautiful appearance, effective compression volume of 8 cubic meters, tail with reverse feeding mechanism, electronically controlled manual dual control system, double control box for cab and tail, tail belt 3 After the centimeter , the rubber sealing bead has a sewage collection tank, a large-capacity sewage tank, and the cabinet can be printed with patterns and words as required.
Compression ratio

3-4 times

Compression density

0.8-0.9T/M3

Trash bin volume

5 cubic

Filling time

≤15 seconds

Lift cycle

≤15 seconds

Discharge time

≤23 seconds

engine

Chaochai 102/Yuchai 115 hp

Compression method

Bidirectional compression

Optional configuration

Flip bucket, hanging bucket rack, PLC automatic control
Dongfeng 8cubic meters hook arm garbage truck Working parameter:
---
| | | | |
| --- | --- | --- | --- |
| Box time | Less than 15 seconds | Roller material | Cast iron or forged steel |
| Unboxing time | Less than 15 seconds | Control method | Electronic control + manual |
| Dump time | Less than 10 seconds | Operating position | Cab + car side |
Dongfeng 8cubic meters hook arm garbage truck New craft:
---

Dongfeng 8cubic meters hook arm garbage truck Optional configuration:
---

Dongfeng 8cubic meters hook arm garbage truck detailed images:
---

ISUZU 600P 8000 liter hook arm garbage truck Structure diagram:
---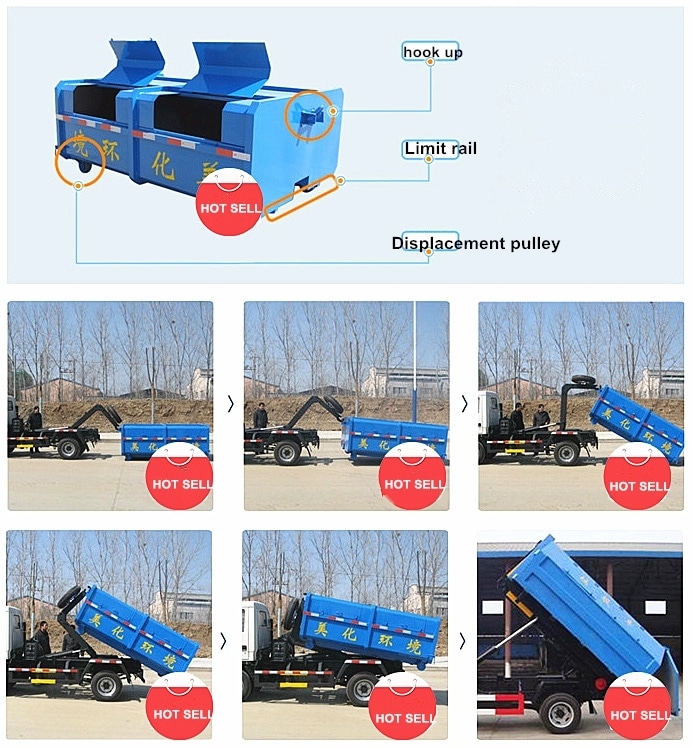 ISUZU 600P 8000 liter hook arm garbage truck Detail drawing:
---

Customizable garbage truck models
---