Dongfeng 5m3 hanging bucket garbage truck Product Description:
---
Dongfeng 5m3 hanging bucket garbage truck Chassis configuration: Dongfeng D6 series cab, 3300mm wheelbase, Chaochai 95hp Euro III diesel engine, 5-speed gearbox, 7.00 tires, 3.5-ton rear axle, air brake, power steering.
Dongfeng 5m3 hanging bucket garbage truck Top-loading configuration: The bucket-type garbage truck uses a chain and hydraulic cylinder linkage device to realize the lifting and turning of the garbage hopper, automatically collect the garbage in multiple garbage hoppers into the car, and dump it to the destination at one time. Self loading and unloading function, hydraulic operation.
The bucket-type garbage truck is a vehicle that can be equipped with dozens of garbage bins. It can realize the joint operation of one vehicle and multiple garbage bins. The circular transportation fully improves the transportation capacity of the vehicle. It is especially suitable for short-distance transportation. Composed of compartment, hydraulic system and operating system.
The lifting oil cylinder (2 pcs) garbage box can be lifted and laid down, the next working cycle time ≤50S. For example, the sanitation department cleans and transports urban garbage. It is applicable to the garbage cans of the national general standards: iron drums, plastic drums, and a large supply of garbage hanging bins.
Dongfeng 5m3 hanging bucket garbage truck Specifications:
---
Vehicle parameters
Vehicle Type
Dongfeng 5cbm bucket garbage truck
Dustbin volume
5 cubic
Dimensions
5900X2100X2280mm
Drive form
4×2
Hoist matching
240L / 360L trash can
Self-unloading method
Center jacking
Total quality
7350kg
Rated mass
3575,3640kg
Curb quality
3580kg
Maximum speed
90km / h
Fuel type
Diesel
Emission Standards
Country Ⅴ
Wheelbase
3308mm
Tire specifications
7.00R16
Chassis model
Dongfeng EQ1070
engine model
Asahi / CY4BK551
Engine horsepower
Chaochai 102 (optional Yuchai)
Displacement
3707mL
top loading
East side hanging bucket garbage truck 5 by the sealed garbage car, lift structure, a hydraulic system, hydraulic lifting structure, operating system components; east side hanging bucket 5 garbage truck center Lift cylinder oil system (2), the elevator may be The trash can is hung up and down, the next working cycle time is ≤50S , and the loading and unloading work can be completed by operating the handle of the multi-way directional valve.
Dongfeng 5m3 hanging bucket garbage truck Working parameter:
---
| | | | |
| --- | --- | --- | --- |
| Optional volume | 3-15 cubic | Bucket time | Less than 10 seconds |
| Bucket type | Plastic bucket or iron bucket | Unloading time | Less than 15 seconds |
| Hanging bucket size | 120 liters, 240 liters | Operating position | Car right |
Dongfeng 5m3 hanging bucket garbage truck Operation display:
---

Dongfeng 5m3 hanging bucket garbage truck detailed images:
---

Dongfeng 5m3 hanging bucket garbage truck Structure diagram:
---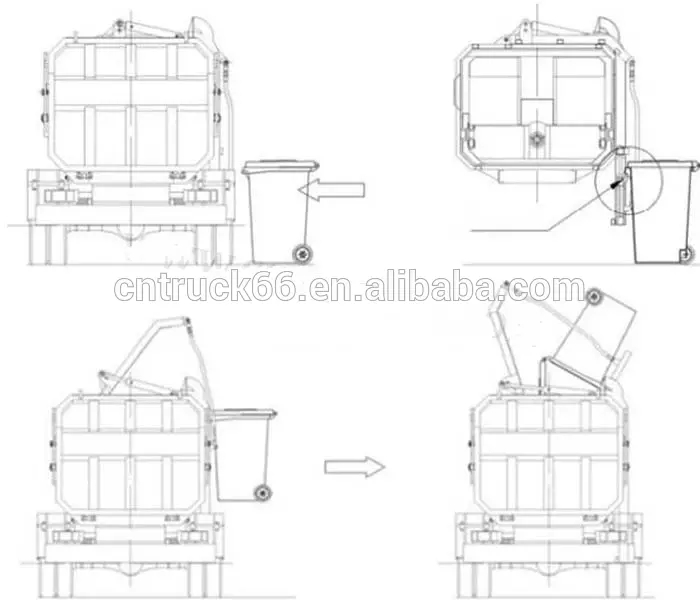 Dongfeng 5m3 hanging bucket garbage truck Detail drawing:
---

Customizable garbage truck models
---