Dongfeng 5m3 garbage trucks Product Description:
---
Dongfeng 5m3 garbage trucks adopts electromechanical-hydraulic integration technology, with the help of machine, electricity, and liquid automatic control system, through special equipment such as car compartment, filler and push shovel, to achieve garbage pouring, crushing or flattening, Powerful filling, squeezing garbage into the carriage and compacting and unloading. Its main features are simple and efficient garbage collection method, with automatic repeated compression and peristaltic compression functions, high compression ratio, large loading quality, automatic operation, good power and environmental protection, and high vehicle utilization efficiency.
Chassis configuration: The car uses Doric D6 series, Euro III emissions, fat jade white, 3308, cab 1730 single row, Chaochai 95 horsepower engine, 5A100 (5TS40), front axle 1.8 / rear axle 3.5T, 190, plate Spring 6/6 + 5, 7.00 tires.
Top-loading configuration: new ribless box, flat arc with beautiful appearance, effective compression volume of 4-5 cubic meters, tail with reversing feeding mechanism, electronically controlled manual dual control system, double control box for cab and rear of the car, tail with 3 Centimeter rubber seal bead, with sewage collection tank, large capacity dirt, the box can be sprayed with patterns and words as required.
Dongfeng 5m3 garbage trucks Specifications:
---
Dongfeng 5CBM Garbage Compactor Truck

Overall Dimension
6220×2050×2570 mm
Gross Vehicle Weight
7360 kg
Curb Weight
5400 kg
Loading Weight
1830 kg
Wheel Base
3308 mm
Front / Rear Axle
5000 kg / 10000kg
Cabin
Left/right Hand Driving, 2 Passengers Allowed, with Air Conditioner, Radio,
Engine
Engine horsepower95
HP, EURO II
Max Driving Speed
90 km/h
Gear Box
5 Forward Gear, 1 Reverse Gear,
Tire
7.00R16 (6 pieces with one spare)
Garbage Bin
Capacity
6CBM
Material
4mm Carbon Steel for Garbage Bin Body
Design
Whole unit with Leakage Proof Design
Ways of Loading
Rear Loading with optional Bucket Lifting System
Garbage Compact Ratio
1/3 – 1/4
Control System
One control Panel on the back, One Control system in back of Cabin
Dispensing System
1. Equipped with air-tight dustbin, hydraulic system and operating system.
2. Automatic loading, compressing and discharging, all handled by 1 person
3. Sewage water collection tank to avoid any pollution during handling.
4. Large Pressure, Good Leakage Proof, Convenient Operation
Dependable Security
5. Electrical Control Panel for compacting system.
6. Cycling time<14~18s
Remarks
1. Color is optional
2. Customized LOGO painting as per customer request
Dongfeng 5m3 garbage trucks Detailed Images: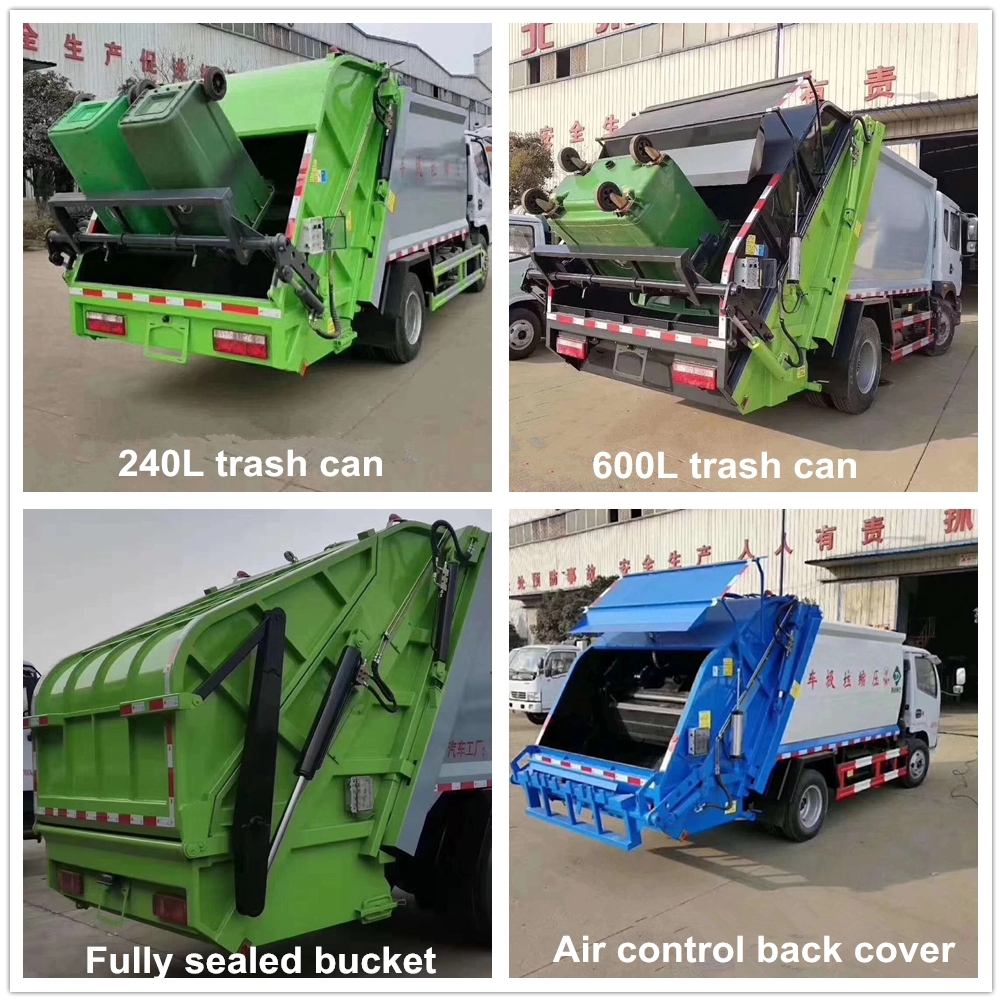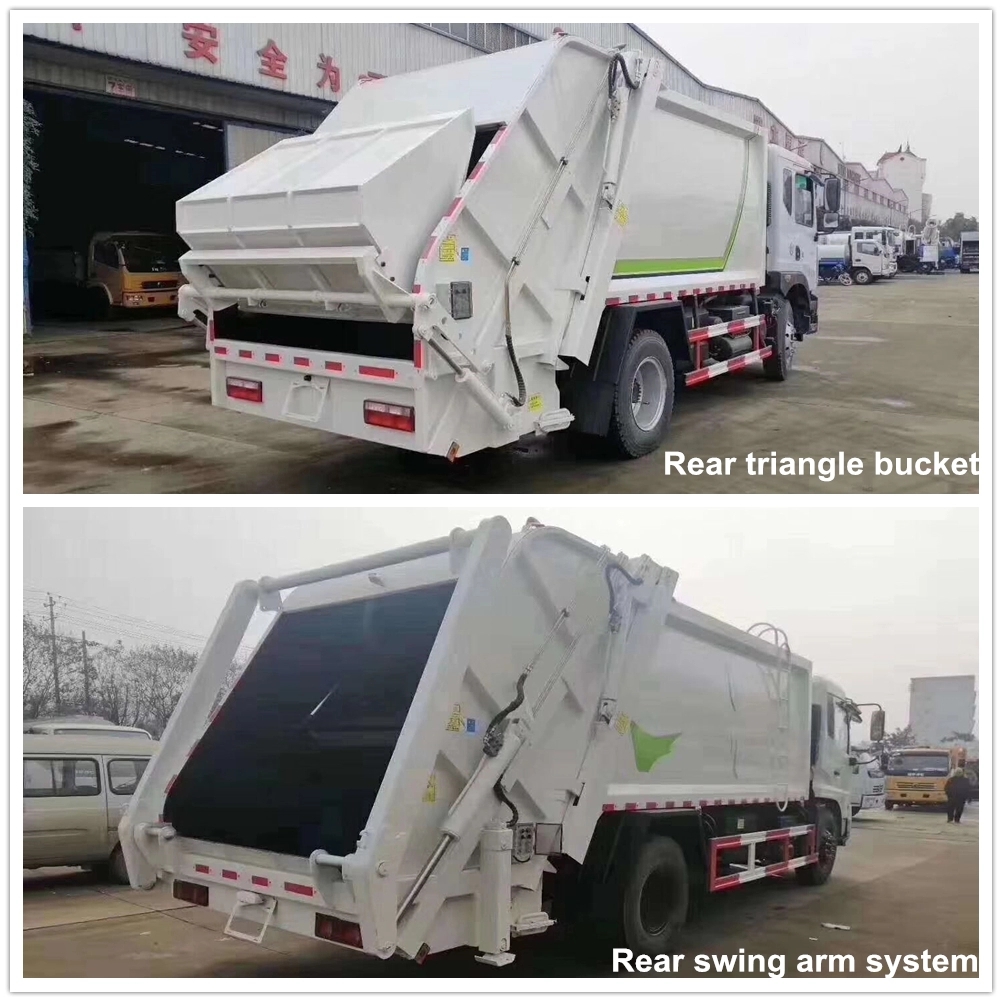 Dongfeng 5m3 garbage trucks Structure diagram:
---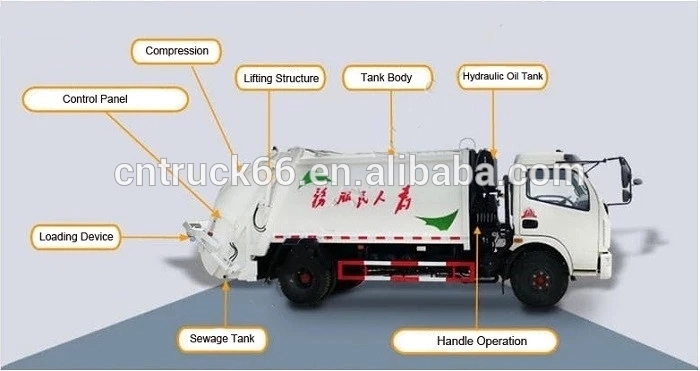 Dongfeng 5m3 garbage trucks Detail drawing:
---

Customizable garbage truck models
---