Dongfeng 5000liter Compression Docking garbage truck Product Description:
---
Dongfeng 5000liter Compression Docking garbage truck Chassis configuration: the classic cab of Dorica series is used, which is stylish and generous, with spacious space and high comfort. The cab is designed with manual overturning for easy maintenance. Equipped with original direction assist and air brake, standard configuration makes you more comfortable driving, 2 tons front axle, 3.5 tons rear axle, 700-16 tires, stronger carrying capacity, Dongfeng Chaochai 95 horsepower diesel engine, Powerful, with 5-speed gearbox, no pressure under heavy load.
Dongfeng 5000liter
Compression Docking garbage truck
Special configuration: It is composed of hydraulic mechanism composed of car body, discharge mechanism, oil pump, oil cylinder, control valve and so on. The material of the car body is high-quality carbon steel, thickness (unit: mm): side 3 bottom 4, car body volume: 5m³, fully hydraulic drive during the working process, double oil cylinder lifting self-unloading, hydraulic opening and closing of the waste bin tailgate, high quality hydraulic Valves and hydraulic cylinders have low failure rates and higher transmission efficiency!
Dongfeng 5000liter Compression Docking garbage truck Specifications:
---
Classification
Item
Unit
Parameter
Vehicle
Overall dimensions
mm
5600*2000*2250
Curb weight
kg
4030
Traction system
4×2
Max speed
km/h
95
Chassis
Number of axles
2
Wheel base
mm
3308
Tire specification
7.00-16
Number of tires
6
F/R track base
mm
1040 /1250
Engine
Engine model
CY4102-C3F
Fuel type
Diesel
Power
kw
70
Engine horse power
hp
95
Displacement
ml
2982
emission standard
Euro 3
Instruction
1.  Garden   tanks , the effective volume reaches 90%
2.  Equipped   with rubbish drum lifting system , the system has dustbin lock structure make   sure that loading and unloading safe and reliable.
3.   Equipped   with hydraulic system and operating system.
4.  The   feature : high level of automation , reliable working , well sealed , bulk   loading , easy control and good environmental protection.
Color &Painting
According to customer's requirements
Dongfeng 5000liter Compression Docking garbage truck Working parameter:
---
Hydraulic pump
Long source large flow 32-80 pump, optional double pump and double valve
Body material
High strength T420 special steel plate
Hydraulic cylinder
Xiamen Yinhua, Yantai Future
Box thickness
Lightweight design with 4mm at the bottom and 5 sides
Multi-way valve
Jiangsu Zhongmei, Italy imports
Sewage tank
2 (1 on the side and 1 on the rear)
Conversion mode
Photoelectric switch (formerly pressure relay)
Sewage seal
Tail diversion groove + rubber hydraulic lock
Automatic control
Standard configuration, Siemens PLC electronic control
Lighting device
Tail night light
Electric control box
3 (1 in the cab and 2 in the rear)
safety devices
Tail lift with hydraulic lock
Optional configuration
Hanging plastic buckets (120L, 240L, 360L, 480L, 660L), hanging iron buckets, triangle buckets, fully sealed buckets, swing arm racks, electric hydraulic system
Dongfeng 5000liter Compression Docking garbage truck New craft:
---

Dongfeng 5000liter Compression Docking garbage truck Detailed Images: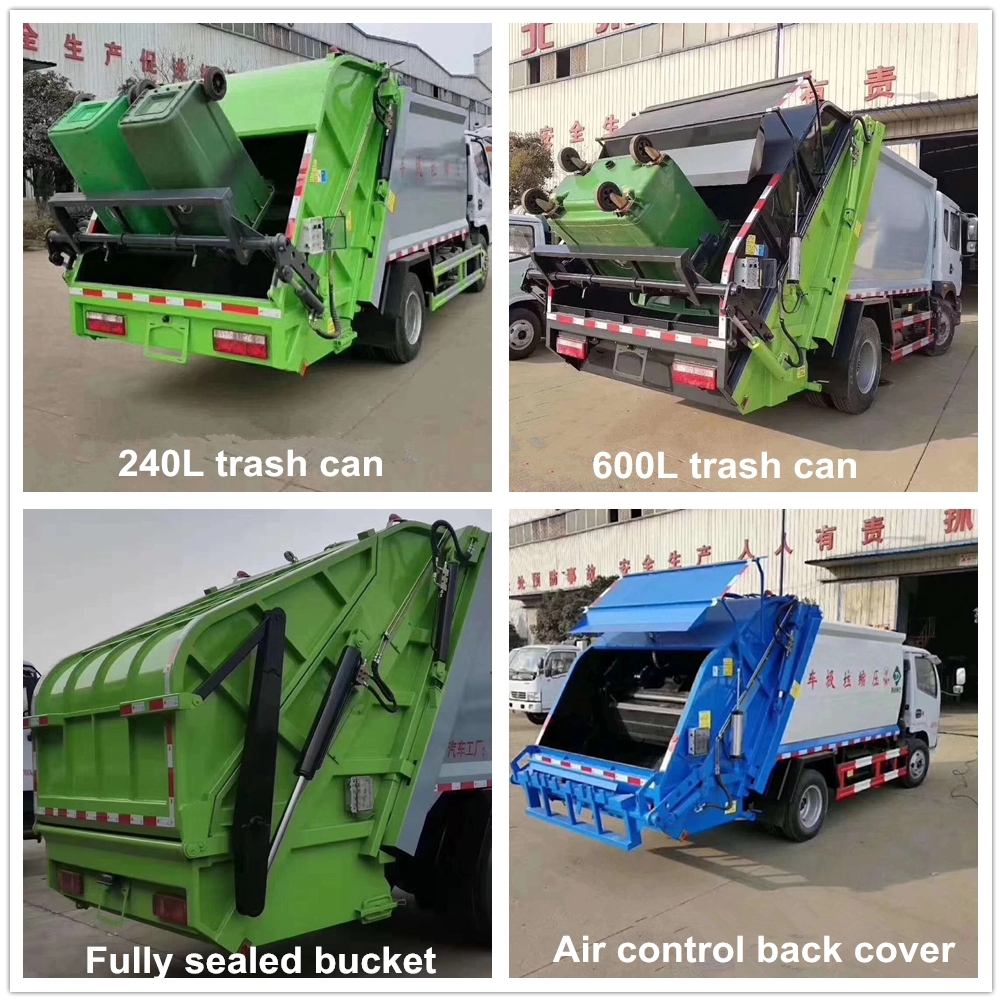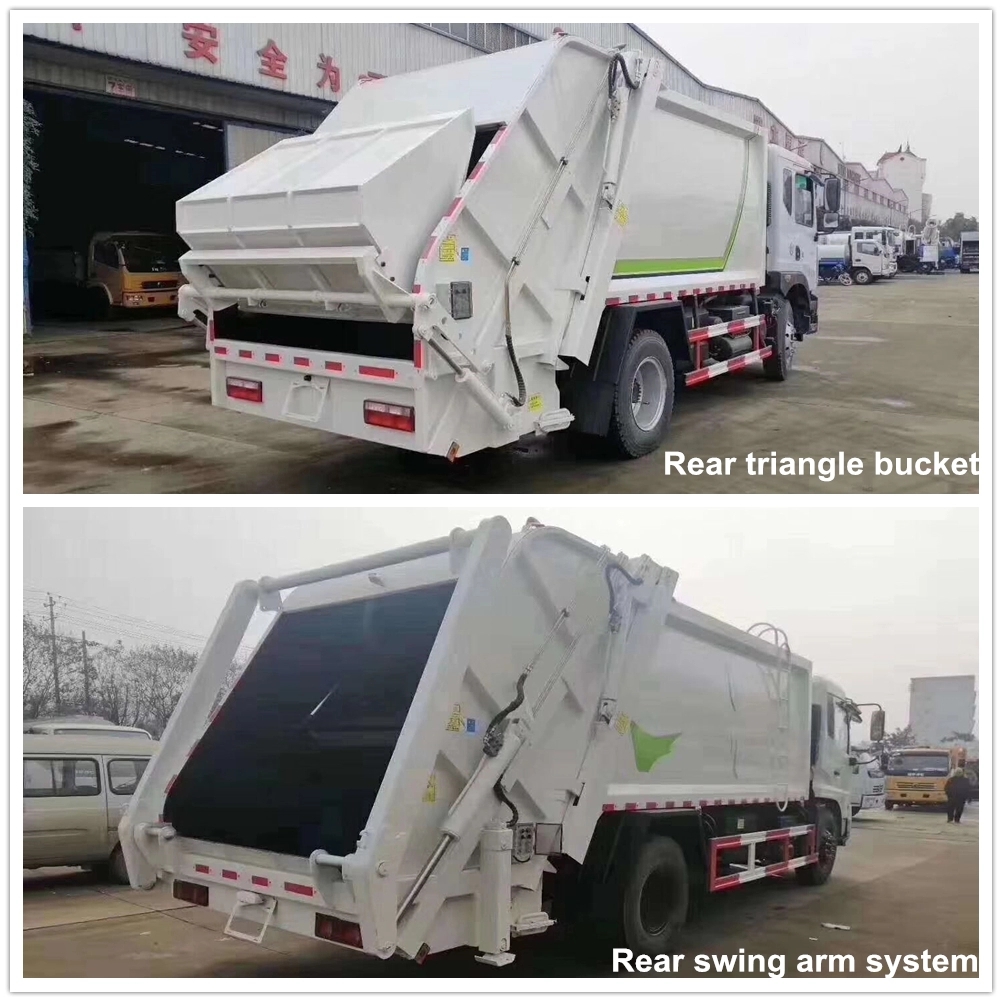 Dongfeng 5000liter Compression Docking garbage truck Structure diagram:
---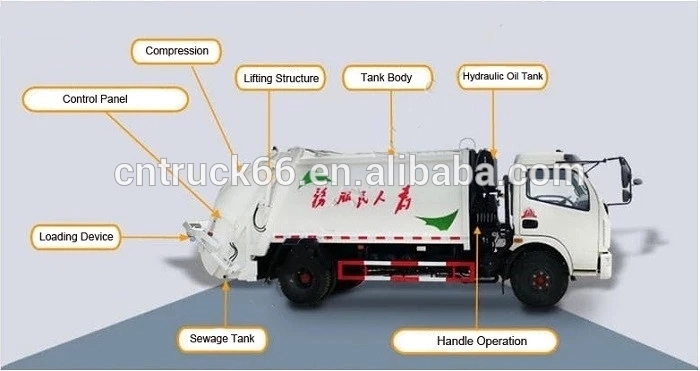 Dongfeng 5000liter Compression Docking garbage truck Detail drawing:
---

Customizable garbage truck models
---