Dongfeng 5 ton Grab dredging truck Specification:

Dongfeng 5 ton Grab dredging truck Chassis configuration: Dongfeng Duolika original chassis, 3308 wheelbase, Chaochai engine, 95horsepower, five-speed gearbox, central control lock, electric lifting glass, multi-function steering wheel, steel tire, ABS.
Dongfeng 5 ton
Grab dredging truck
Bodywork configuration: rear of cargo compartment: adopts automatic opening function and is sealed with sealing strips. A wave board is designed around the cargo compartment to increase the volume of the compartment and prevent garbage from being thrown out of the road during transportation.
The vehicle is equipped with a two-petal slide Hydraulic manipulator, hydraulic pipe with steel wire, high pressure resistance, with multi-way valve with synchronous auxiliary function of steel wire rope, equipped with 150 liter water tank, 120 watt electric water pump, convenient for vehicle self-cleaning, manipulator descending depth 8/10 meters, operation mode: manual Two operation modes, wireless remote control, simple operation, safe and reliable, save time and effort, and high efficiency.
 Cheng Li grabs the dredging truck, also known as sludge dredging truck, silt grab truck, hydraulic grab bucket digging machine, Shujing dredging truck, sewer dredging truck.
It is mainly used for special construction vehicles for urban sewers to prevent and block dredging. It can directly excavate silt and debris in the sewer pipe to keep the sewer pipe unblocked. It can block the sludge and blockage in the pipe network of 200-800-1500mm pipe diameter. The objects are cleaned up by a dedicated digging device. When it is slightly blocked, it can be flushed and dredged by the self-contained high-pressure water system. The sludge tank self-cleans after self-unloading garbage. When heavy siltation is carried out, the stone can be cleaned out by the operation of the digging device, and the dredging rate is over 95%, which achieves the purpose of treating both the symptoms and the root causes.
Dongfeng 5 ton Grab dredging truck Product parameters
---
Top-loading configuration: The product fully realizes mechanization of underground operation, cleans up silt bricks and other debris in the underground pipe network, and is easy to operate, saves manpower and material efficiency, and greatly reduces the labor intensity of the municipal department to clear the pipeline. At the same time, 2-3 people can easily complete the workload of the original 30 people. The workers can reduce the risk of work without going down the well. The equipment can also be used for the cleaning of sediments in communities, factories, mining areas, septic tanks, biogas tanks, etc. jobs.
Special functions: 1 ton crane, double top self-unloading, rear door fixed slope type, boom length 2840-3740CM, working arm can rotate 180 degrees, with 2 grab hoppers, small grab hopper diameter 810mm, large grab hopper 1105mm.
The rear part of the dredging truck cargo compartment: fixed slope design, the vehicle is equipped with two- and four-valve slide hydraulic manipulators, hydraulic pipe with steel wire, high pressure resistance, wire rope synchronous auxiliary function, medium multi-way valve , equipped with 150 liter water tank 120 watt electric water pump is convenient for the vehicle to clean itself. The maneuvering depth is 8/10 meters. The operation mode is manual and wireless remote control. It is easy to operate, safe and reliable, saving time and effort, and high efficiency.
Self-unloading container size

Box material and thickness

Designed with a fixed slope to ensure the use of leak-proof water in any season

Horizontal rotation angle

Two- and four-lobed slide hydraulic manipulator

Flushing work surface and car wash function
Product features:
---
1. Adaptability: It can be used to clean up the sediments in kiln wells and debris pools, oil pools, biogas tanks and septic tanks in any environment.
2. The depth of the excavation is large: the maximum can be dug up to the depth of 10 meters of kiln waste, the working range of the robot is 1000-1200 , the volume is 0.075 cubic meters, and the dredging rate is 95 %.
3. The self-unloading is large: the volume of the dredging car is 3.5 squares, the U shape is bucket type, and the bottom is designed with two cylinders and three-section hydraulic tops. The service life is long, the lifting angle is large, and the garbage can be unloaded completely during self-unloading.
4. Good structural performance: the slide-type manipulator runs without friction, has low energy consumption and long service life.
5. Operation mode: manual and wireless operation, which realizes simple operation, safe and reliable, saving time and labor, and high efficiency.
6. The Cheng Liwei dredging vehicle is equipped with two- and four-valve hydraulic slide-type manipulators, which can be freely replaced according to the excavation environment. The equipment is also suitable for urban and rural factories to produce domestic garbage, mine pools, oil pools, biogas pools, septic tanks. Cleaning of sludge, sand stones, bricks and other sediments in the well.
Dongfeng 5 ton Grab dredging truck Working parameter
---
Suction speed
Fill up in 10 minutes
Tank material
Carbon steel Q345, stainless steel 304
Blowdown speed
Finished in a single 8 minutes
Medium and small tank thickness
5 mm tank, 6 mm head, 4 mm partition
Suction horizontal distance
Up to 80 meters
Thickness of large tank
Tank body 6-8 mm, head 8 mm, partition 5 mm
Vertical depth of suction
Up to 9 meters
Sewage suction pump
Small Veyron single pump, large Veyron double pump
Operation method
Manual + pneumatic + hydraulic
Leak-proof treatment
Rubber strip + hydraulic lock + manual lock
Operating position
Cab + car side
Tailgate form
The tailgate is fully open, the tail is fully open
Blowdown method
Hydraulic lift dumping + air blowdown
Other standard
Sight liquid window, hydraulic gauge, 8 meter suction pipe, tail gravity valve, anti-overflow valve, negative pressure meter.
Optional configuration
Liquid full alarm self-stop, water ring vacuum pump, anti-corrosion treatment in the tank, solid-liquid separation filter cartridge + hydraulic auger, Honda sprinkler pump + sprinkler
Dongfeng 5 ton Grab dredging truck Working parameter New craft
---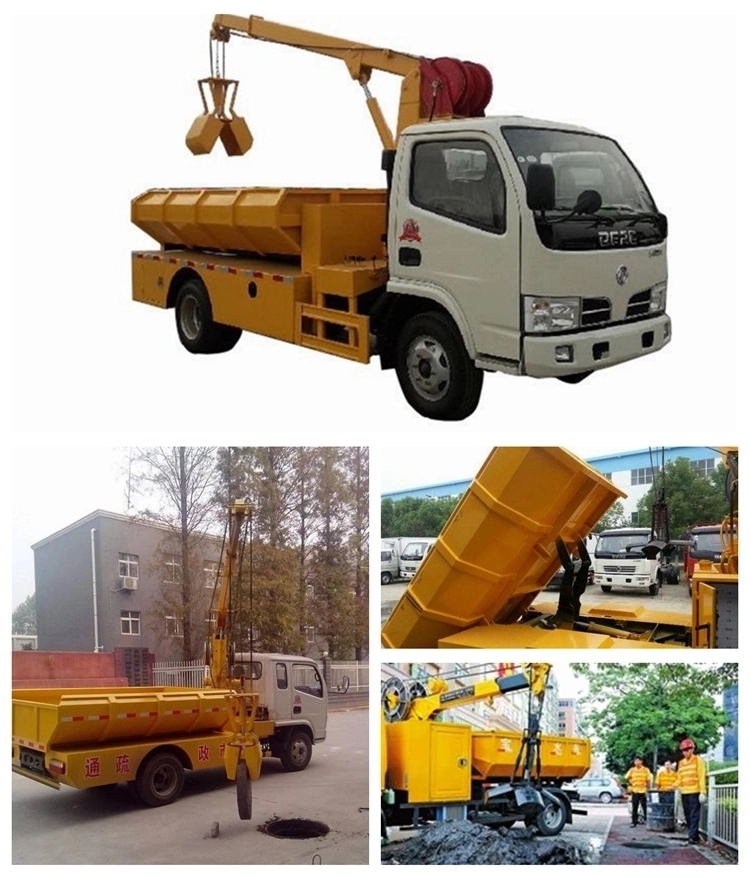 ---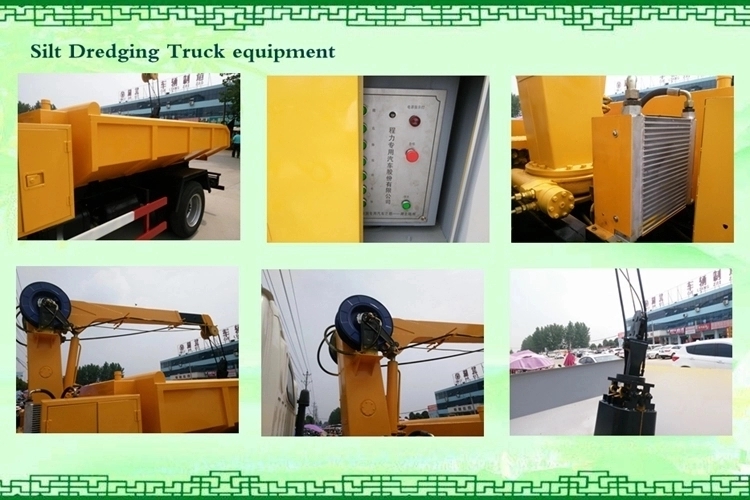 ---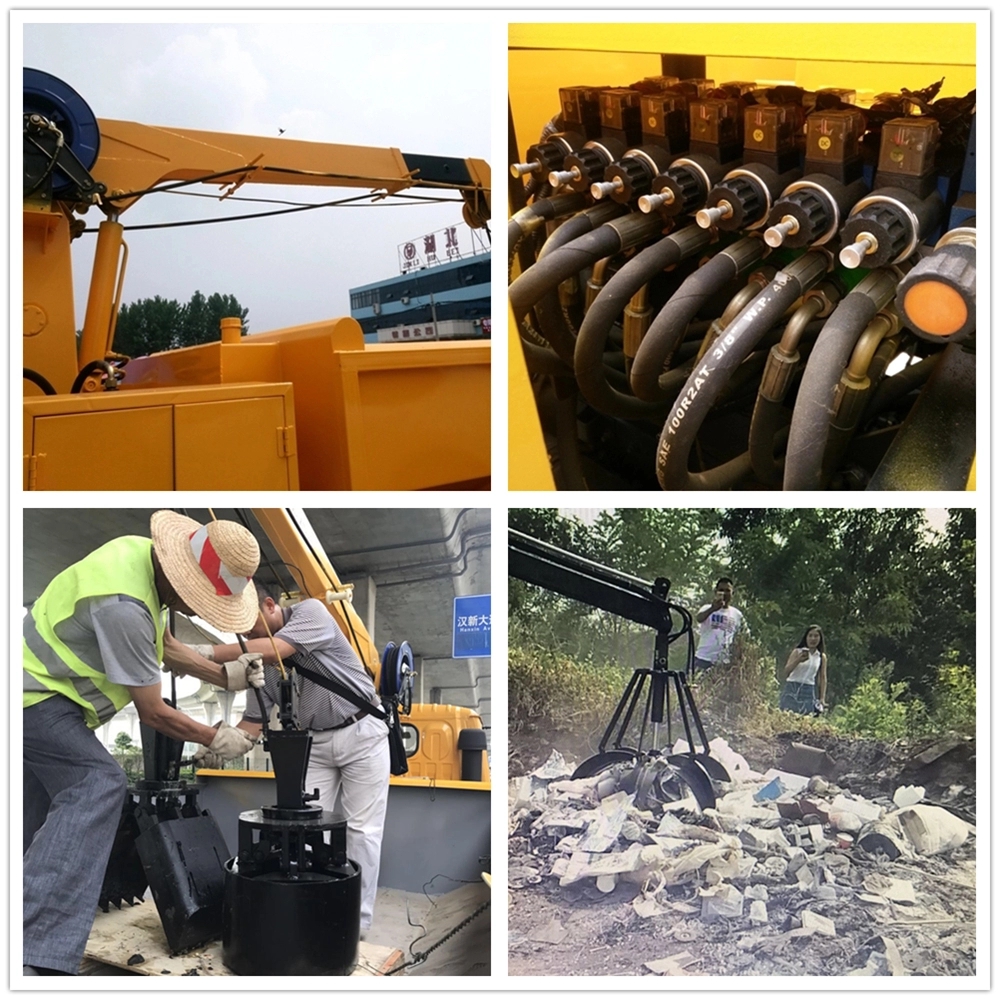 —- SGS, BV, COTECNA, CE certification.
—- Local engineer training support.


— Free parts for 12 months.
—- Supply of original parts.
—- DHL serves 7 days worldwide.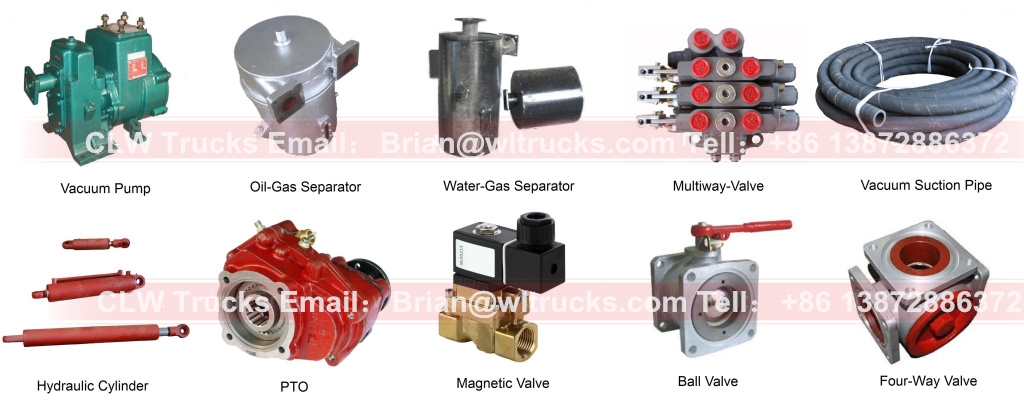 — 16 years of design and export experience.
—- 100% customized trucks.
—- Quick delivery guarantee.


—- Serving more than 80 countries and regions.
—- Professional guidance on import documents.
—- CO, FORM E, FORM P, pre-implantation inspection …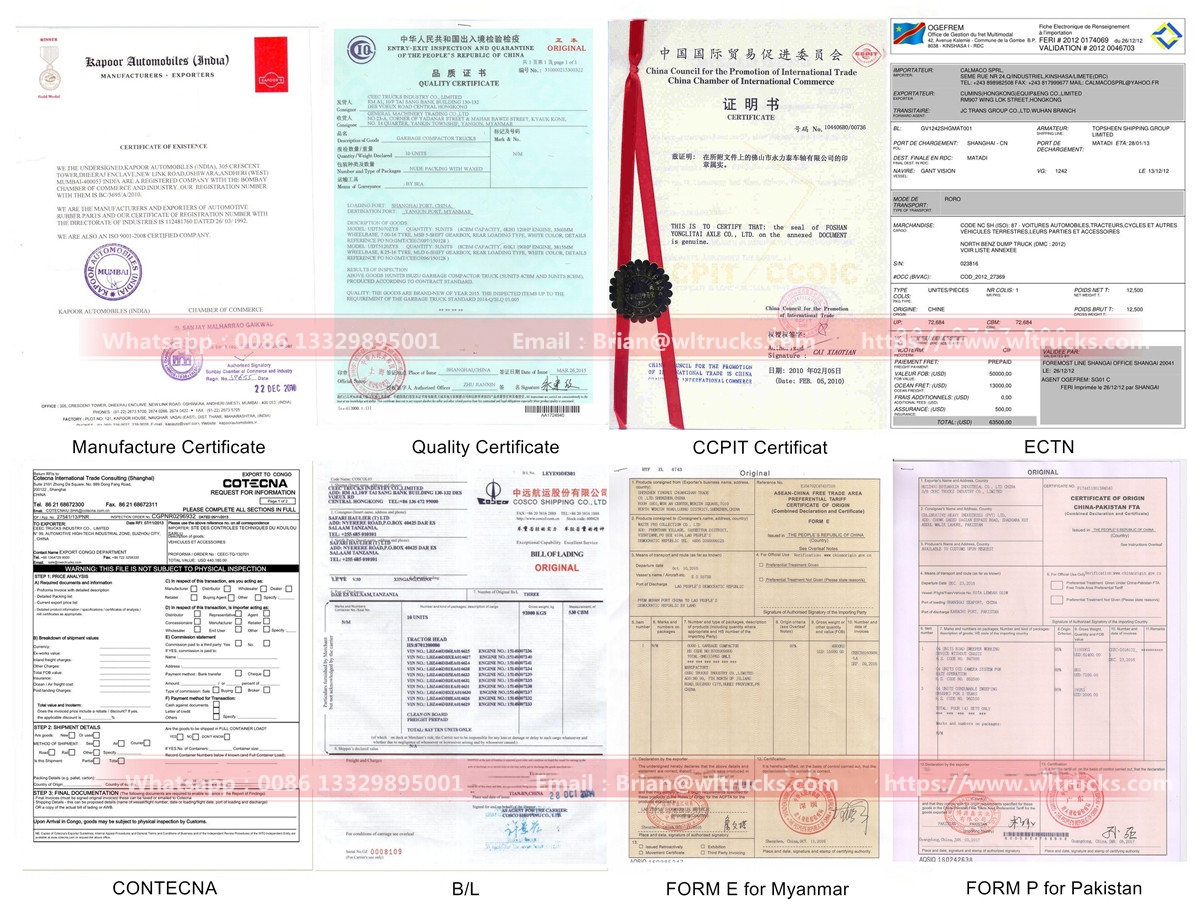 —- Maximize your shipping costs.
—- Professional guidance on import documents.
—- Safe, fast and timely


—- Fast shipping to all parts of the world.
—- The truck color and logo can be customized.