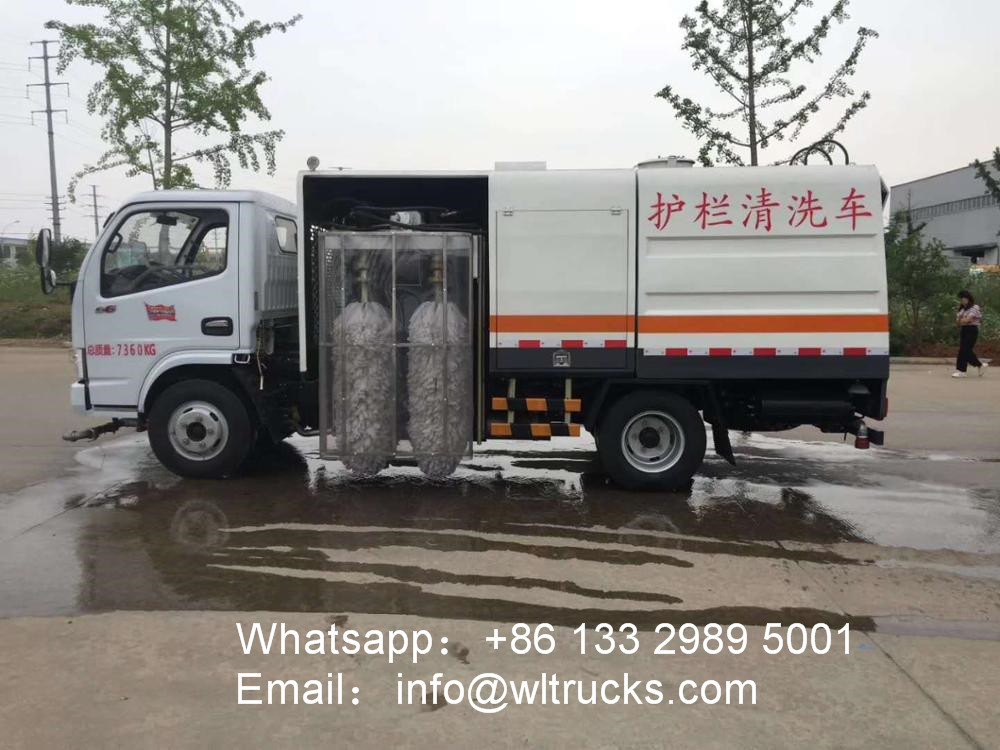 Dongfeng 4000L Road Sidework Guardrail Cleaning Truck
Adopts Dongfeng Duolika D6 white cab with a wheelbase of 3.308 meters, a 95-horsepower diesel engine, a 5-speed gearbox, 700-16 tires, air brakes, and power assistance.
Bodywork configuration: Standard equipped with Jiangling 78 horsepower auxiliary engine, Renault hydraulic motor with Debon clip roller brush + white cloth brush strip cleaned at a time. The stainless steel water tank has a volume of 4 cubic meters, and is equipped with a German Pinfu high-pressure water pump + stainless steel nozzles (6-8 front and rear), four rows of vertical nozzles + low pressure flushing nozzles, and strong decontamination.
Built-in video monitoring function, double yellow line cleaning. Sprinkler pre-washing function can be added.
Guardrail vehicle products Features:
---
1. Main engine and auxiliary engine are domestic first-line brands, which are easy to maintain.
2. Automatic retractable door of the automatic guard rail cleaning car is installed at the front of the car body. The cleaning work device is built in the non-working state to avoid the exposed work device and improve the service life of the device.
3, Cleaning effect is good: multi-directional cleaning work mode, no cleaning residual dead angle. Double-sided, two-flush, two-wash cleaning process, the guardrail cleaning degree is 80-90%.
4,Rear engine rear installation design, maintenance and maintenance is convenient, reduce the vibration and noise of the auxiliary machine to interfere with the passengers, improve the driving and riding comfort of the passengers.
5. Self-adjusting cleaning work device: During the operation process, the cleaning work device automatically tracks with the position of the guardrail, automatically adjusts the position of the brush roller with the position of the guardrail, and there is no distortion movement after the Guardrail is cleaned.
6, strong adaptability, good cleaning effect: optional multiple working devices, cleaning different shapes of isolation barriers.
7. Auxiliary engine is equipped with a forced air change system to improve the efficiency of the auxiliary engine.
8, brush roller diameter ≥ 520 mm.
9, mobile intelligent hydraulic operating platform: easy to operate control.
Road Guardrail Cleaning Truck advantage:
---
10. It can be equipped with multi-variety brush wire. It is suitable for multi-material guardrails such as dip, steel and stainless steel. It is applied to multi-shaped guardrails such as columns, squares and strips. Brushing wire (lifetime The texture is flexible, so that the cleaning is more thorough without leaving angle, and there is no scratch on the surface of the guardrail.
11, special controllable nozzle valve: can be adjusted according to the height of the guardrail, the spray height and dosage can be adjusted as needed, fully pre-wet and rinse the guardrail.
12, water-saving effect is good: the use of angle-adjustable spherical stainless steel nozzle, the product 4 tons of water workload can reach 6 tons of water cleaning operations of similar products.
13. Optional telescopic operation monitoring system to improve work safety.
14. There are warning lights on the front and rear of the vehicle and on the cleaning device to ensure the safety of pedestrians and vehicles.
15. Adjustable work lighting, suitable for night work, to ensure visibility and safety of night cleaning.
16. Configure high-pressure water pump and water gun (optional) to complete high-pressure flushing operation.
17, Brush roller speed can be adjusted continuously in multiple stages to adapt to different types and different pollution levels of guardrail cleaning operations.
18, the vehicle water tanks are all made of high-quality stainless steel material, high-strength anti-corrosion and anti-rust, the optimal capacity of the water tank is 4 tons, no overload phenomenon, and improve the safety factor of urban Operation.
---
Vehicle name

Dongfeng 4000 liter guardrail cleaning truck

Dimensions (mm)

5990×2200×2600

Tank material

Carbon steel

Tank thickness (mm)

4

High pressure pump brand

Tianjin Tongjie / Italy Import

Pressure (Mpa)

16-19

Washing water flow rate (L/min)

120

Spray flow rate (L/min)

120

Cleaning width (m)

≥ 16

Washing water flow rate (L/min)

500-800

Flow rate (m3/h)

8

Water gun range (m)

38

Total mass (kg)

4495

Rated mass (kg)

300

Curing quality (kg)

4065

Maximum speed (km/h)

99

Fuel type

Diesel

Emission Standards

euro 3

Wheelbase (mm)

3308, 2800

Tire specifications

7.00-16, 7.00R16

Chassis brand / model

Dongfeng / EQ1070SJ3BDF

Engine brand / model

Dongfeng Chaoyang Chaochai / CY4BK551

Power / horsepower (kW / ps)

70/95

Displacement (mL)

3707
Top loading configuration parameters

The standard configuration

Install the sandwich power take-off, drive shaft, high-pressure cleaning pump, rated pressure 16Mpa, hydraulic reel, water level gauge, washing pipe, operation valve at the rear of the tank, equipped with a 60m 19mm high pressure pipe, 10 high pressure flushing heads .

Optional configuration

Sprinklers, green sprinklers, front and rear sprinklers, side sprays, snow shovels, hydraulic lifting platforms, guardrail cleaning brushes can be added to meet the needs of different users.
Guardrail Cleaning Truck working diagram:
---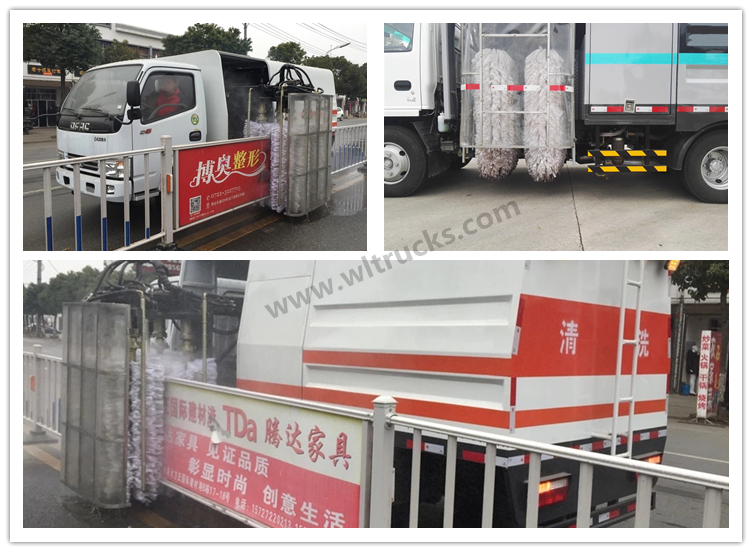 water spray truck Inspection Training:
---
—- SGS, BV, COTECNA, CE certification.
—- Local engineer training support.

Free Parts:
---
— Free parts for 12 months.
—- Supply of original parts.
—- DHL serves 7 days worldwide.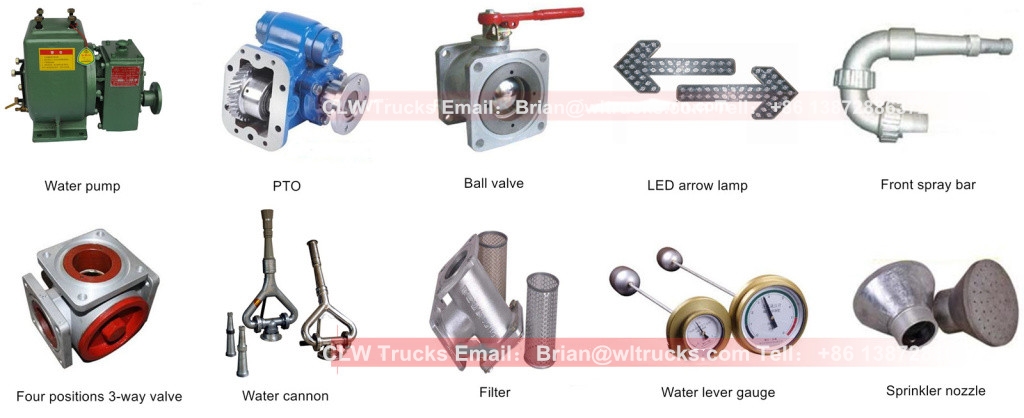 water trailer Factory Advantage:
---
— 16 years of design and export experience.
—- 100% customized trucks.
—- Quick delivery guarantee.

Export Documents:
---
—- Serving more than 80 countries and regions.
—- Professional guidance on import documents.
—- CO, FORM E, FORM P, pre-implantation inspection …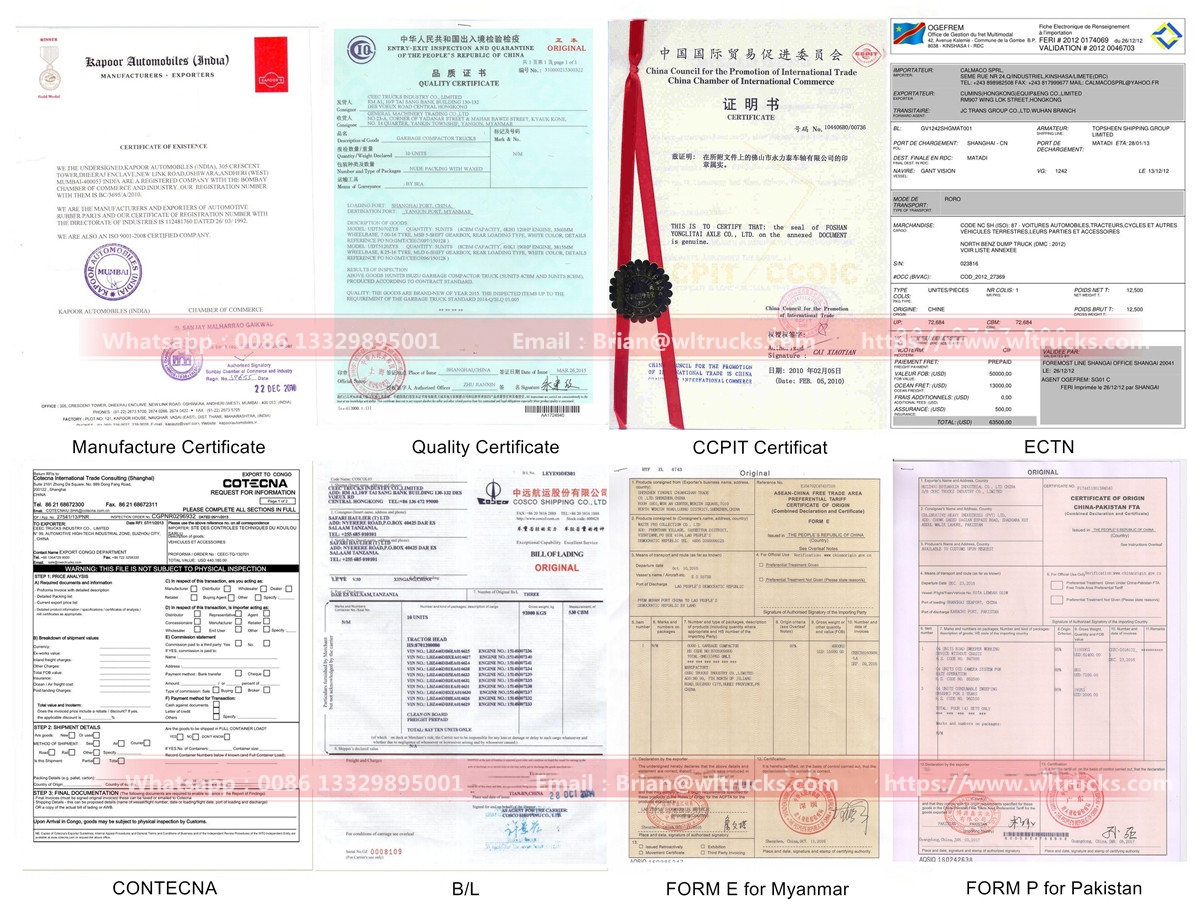 water Spray truck Shipping:
---
—- Maximize your shipping costs.
—- Professional guidance on import documents.
—- Safe, fast and timely

Bulk order case:
---
—- Fast shipping to all parts of the world.
—- The truck color and logo can be customized.