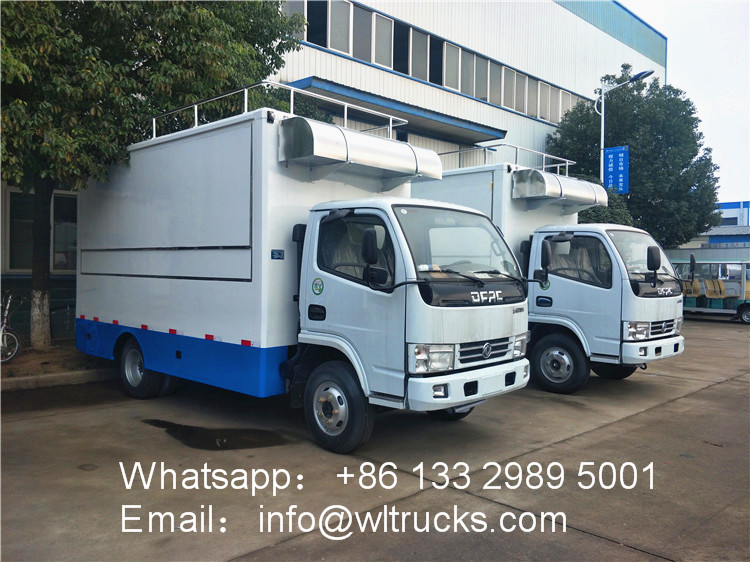 Dongfeng 4.2 meter stainless steel food catering truck 
Adopt Dongfeng D6 single-row cab, Wheelbase 3300mm,the whole vehicle size:5995x2120x3250m
m, cargo box size:4100x1970x1990mm,equipped with Chaochai

 95hp diesel 
engine.
products description:
---
We can customize various types of food trucks of 3 meters, 4 meters, 5 meters, 6 meters, 7 meters in size, mobile food trailers and so on.
The kitchen can be equipped with various cooking equipment, such as fryers, steamers, barbecue grills, hot dog machines, sinks, refrigerators, ice cream machines, sugar cane juicers, coke machines, coffee machines, generators, air conditioners, stainless steel operating tables , Stainless steel storage cabinets, etc.
Mobile food carts are used to sell fast food (ice cream, drinks, hot dogs, pizza, donuts, cookies, etc.) on the street.
Dongfeng 4.2 meter stainless steel food catering truck 
Specification:
---
Technical parameter

Model

Dongfeng 4.2 meter mobile dining car and food truck trailer mobile kitchen

Vehicle size (length * width * height)

5995*2120*3250

Car size (length * width * height)

4100*1970*1990

Drive mode

Back drive

Shaft distance

3300

Engine model

SD4BW754U

Displacement / power

2545ml/75kw

Gearbox

5-speed manual

Emission Standards

Country five

Tire specifications

7.00-16PR

Car body material

Outer FRP, inner stainless steel, heat insulation and fire insulation

Car thickness

50cm

The standard configuration

1. electric/gas dual-purpose rice cooker (for 300 people at the same time) Specifications: single door, 10 layers; steaming plate material: stainless steel; steamed rice plate size: length 0.6* width 0.4 m; steaming cabinet size: It is 0.68 meters long, 0.54 meters wide and 1.32 meters high. The steamed rice is 300 people; the steaming time is 35 minutes.

2. Double-eye cooktop: Specification: Double cooktop; Material: Stainless steel; Size: Length 1.8/1.5*0.8*0.82 m; Fuel: Methanol/diesel/natural gas.

3. Refrigerator / freezer: stainless steel, 1.5 * 0.6 * 0.8 m

4. Sales window: Specifications: up and down; up: sun visor; next exhibition: sales window, window sill height (high from the ground): 1.33 meters

5. Operation console:

Operation panel: Material: brushed / patterned stainless steel; size: length 4.18 * width 0.64 m

Sink: Material: stainless steel; size: length 0.42* width 0.37 m

Dish rack: Specification: 2 layers; Material: Stainless steel; Size: Length 4.18*Width 0.64m

6. Wall cabinet: size: 1500*400*300mm

7. Range hood: Material: stainless steel; device: wall fan, overhead exhaust.

8. Clean water tank: Specifications: stainless steel, with booster pump; volume: 290L, 0.5 square; position: front section of the compartment.

9. Sewage tank: Specifications: stainless steel, with stainless steel ball valve; volume: 0.3 square; position: car seat skirt.

10. Fuel tank: Specification: Stainless steel; Volume: 120L; Position: Cabin skirt.

11. Top window: Specifications: Manual; Size: 60*60CM

12. Ladder/Guardrail: Material: Stainless steel

13. Circuit: electric control box, main power switch; lighting circuit; 15m external power cord

14. Ventilation window: size: 0.39*0.48 meters; quantity: 3

Optional configuration

1. Silent fuel generator: gasoline / Cape 3KW / light generator

2. Air conditioning: 1P wall-mounted (Gree / beautiful) (suitable within 14m2)

3. Soymilk: Multi-functional juice soymilk

4. Insulation barrel: Material: stainless steel; volume: 50L; thermal insulation performance: 6-12 hours

5. Multi-function sealing machine: manual / automatic sealing machine

6. Insulation selling table: material: stainless steel; specification: 6 grid / 12 grid

7. Oven: Midea 21-30L; Specification: 450*300*230mm

8. Water heater: fast heat, hanging water heater; volume: 30L/40L/60L

9. Accept other special customizations.
Food cart Standard and installed equipment pictures:
---

---